How to sign up for SmartRoutes
How to set up an account and start your subscription
In just a few minutes you can sign up for SmartRoutes and start using fully optimized routes!
Every account at SmartRoutes starts as a 7 day free trial. There are very few restrictions on our trial but if you do find yourself needing full access from the beginning, you must still register in the same way.
You do not need to enter payment details for our trial so there is no need to cancel before the 7 days are over. You can at any point upgrade your account to access additional features available with our monthly subscriptions.
To set up your account open https://smartroutes.io/sign-up in your browser or from any of our webpages click on 'Try it for Free' in the top right-hand corner.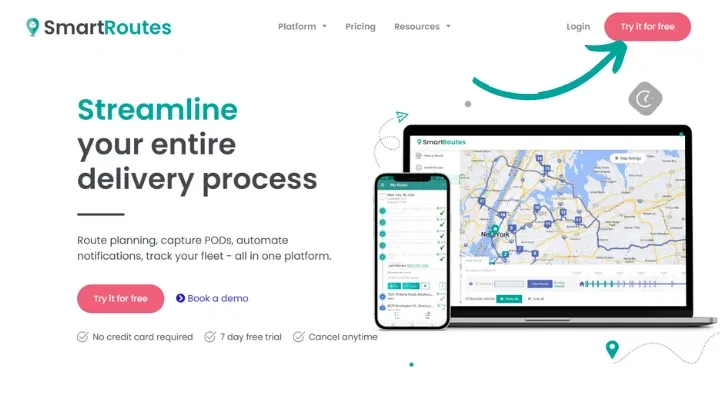 From here you will be asked to enter your:
Full name
Company name
Work email
Phone number
Password
Now you have access to SmartRoutes! From here you can click on the banner at the very top to upgrade your account. You can choose from any of the offered subscriptions. If you need to know more about pricing monthly vs annual or what is included at each level, you can find more information on our pricing page.
Happy Routing!
Didn't answer your question?
You can see our other guides here or contact support at support@smartoutes.io.