5 Tips on how to plan a route
When planning routes for your business, there are a few things you can do from the outset that will help to ensure successful deliveries.
By preparing a solid process from the outset, you can make your route planning a success. We look at some of the things to consider below:
Ensure you have a process for attaining clean & accurate addresses from customers.
Your route plan will only be as good as the addresses and data that you use.
Let us explain.
Every address has 2 obvious identifying factors:
1. The named address
2. The Postcode
Nine times out of ten, a Postcode will get your delivery to the customer. After all, every address has only one unique code.
But that doesn't tell the whole story.
Oftentimes you will find that customers have omitted a postcode when making a purchase online. When you go to look for the address, you can run into some problems.
For example, some rural addresses have a number of houses within one yard and it can leave the driver with a parcel in their arms and scratching their head.
This can lead to drivers stressing on the job and losing value time on a stop
For this reason, it is wise to set postcodes as required fields on your shopping cart or order form, and also give them a field to add any specific instructions for the driver (e.g concealed entrances, gate passcodes, angry dogs etc.).
Pro Tip: If you're running large, multi-stop routes, it will really help to ensure that you have a robust 'address validation workflow'. This is basically a hierarchy of how your route planner looks for addresses when routing. You can learn more about how SmartRoutes handles address validation here.
Establish a process of communicating with drivers effectively.
Route Planning is not a 'static exercise'.
As is the nature of deliveries, things change from minute to minute. For instance, an order for a perishable foodstuff needs to be refrigerated upon arrival.
But what if the customer calls the office to say they've unexpectedly been called to collect their kid from school?
Routes will need to be rescheduled and re-optimised through the working day. Most dedicated route planners will allow for this both on the depot/office side and on the driver side.
But ensuring that any changes to plans are communicated to drivers is critical. The problem is, you don't want to distract drivers while they are on the road. Similarly, you don't want drivers to have to spend their time calling the office to find out why a customer might not be there to accept delivery as agreed.
There is a whole host of ways for drivers to quickly communicate information to the office without having to make calls from the roadside.
Another challenge for companies is communicating the actual route to drivers in advance. Having drivers come to the office in the morning to find out where their route will take them can be avoided by having an automated solution to send the routes to the drivers the night before. This has the benefit of allowing drivers to plan breaks, and allow them to begin loading their vehicle without any delays in the morning.
Pro Tip: A dedicated route planning software like SmartRoutes will allow you to send routes directly to driver mobile apps, ready for the day ahead.
The same app will allow drivers to feed POD's (Proof-of-Delivery) and undeliverables back to the office in real-time on the road at the touch of a button. As a consequence, your office staff can then communicate in a timely and honest way when dealing with customer queries.
Communicate your planned ETA's to customers.
We've just touched on it, but communication is the key to successful deliveries.
When planning routes for a business, a great way to increase customer confidence and satisfaction is by communicating the planned ETA directly to them.
As you optimise your routes, you will have a good estimate as to what time you or your driver will drop off a parcel.
This is not only valuable information for you, but also for your customer
By communicating your planned ETA to customers, they can also make plans to be present to accept delivery or notify you if they won't. By incorporating these communications into your business, you have the ability to build up a rapport with your customer and show that you're willing to go the extra-mile to ensure they get their delivery.
Pro Tip: When using a delivery route planner, make use of automated SMS and Email notifications to communicate ETA's to customers. By automating this process, you don't need to invest any additional human resources but can really improve customer satisfaction.
Assign drivers to geographic territories they're familiar with to leverage 'Driver Knowledge'.
When it comes to any business, your employees are your greatest asset.
When it comes to a business that operates a delivery service, your drivers are the key to your success.
If you have a number of drivers working as part of your team, they will continually build up route and customer knowledge over time. Avoiding busy commuter bottlenecks at certain times, for example, is the kind of thing they learn pretty quickly.
Similarly, they can also get to know your customers in specific geographic areas over time and cement your business relationship with them. In fact, research by McCarron coates in 2020 found that more than half of the UK public (57%) say their attitude to delivery drivers and couriers has become more positive.
When planning routes for a business, assigning drivers to specific territories can have a remarkable effect on customer loyalty over time. Leveraging off the newfound respect for delivery drivers amongst the public will do your business no harm at all.
Pro Tip: Dedicated Delivery Route Planners allow you to allocate drivers to specific geographical territories. This helps to familiarise the driver with their route and build up relationships with repeat customers.
Use the correct VRP solution for your business needs.
Earlier in this post, we looked at 3 different solutions you can use to plan routes for your business. Each one has its limitations but it is important to identify what exactly you need from your route planner from the outset.
If you only deliver to 10 addresses once per week, you will probably find everything you need in Google Maps. As the largest tech company in the world, they've built a solution that you can rely on to do exactly what it says it does. You're likely to already be familiar with the solution too which is a bonus.
But if you're doing deliveries everyday, it's definitely worth looking to a dedicated delivery route planner. The time and cost savings can quickly see a positive ROI and it will give you an edge on competitors spending their valuable time on manual routing. The additional features such as customer notifications, proof-of-delivery and live vehicle tracking can also bring your business to the next level and leave customers with a great experience.
Pro Tip: If you're unsure about what solution is best for your business, run a simple test. Outline your current delivery process and try to analyse how much time and resources go into planning over a week. Next, try using Google Maps for a week and do the same exercise. Finally, sign-up for a 7-day free trial of SmartRoutes Delivery Route Planner and see which solution worked best for you.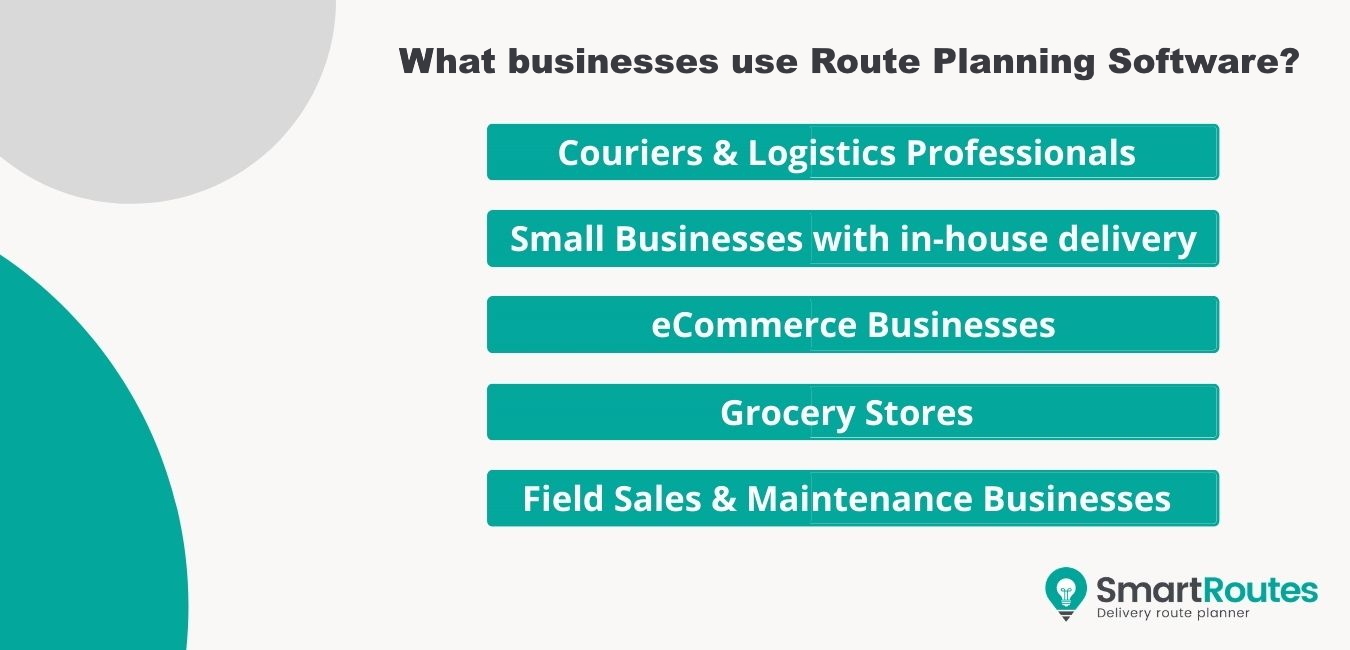 Just some of the businesses that use use route planning software