Top 5 Delivery Route Planners
Delivery route planners save huge amounts of time and costs in managing delivery operations but which of the software solutions on the market are right for you?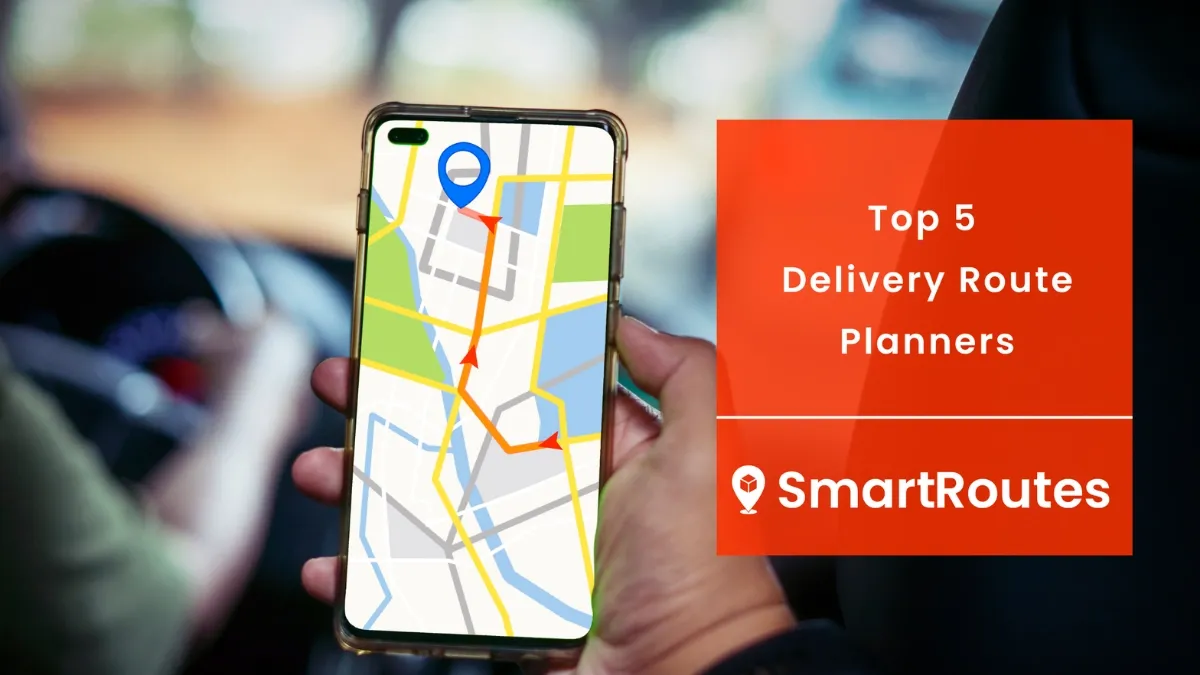 Home deliveries have become the norm in the past 18 months and the infrastructure of delivery vehicles, drivers, depots and so on has been changed radically to meet that demand. Delivery route planners are software solutions to the problem of planning and optimizing routes for drivers. In the past a human sat down and mapped out the best route for each driver and gave them a list of stops. This isn't working anymore for businesses, whether that is a logistics company, a large corporation or just a small local business delivering to their customers.
In this article we will cover:
What is a delivery route planner?
Challenges that make delivery route planners necessary
5 best delivery route planners

What is a delivery route planner?
A Delivery Route Planner is a software that manages drivers, routes and customers to coordinate the delivery routes in the most efficient way possible. A key component is the ability for everyone to see what is going on at any moment in time. It is also important for the manager of the whole process to have reports and insights on activity.
Typically, multi stop route planners will offer multi-stop route optimization, driver management, driver apps and fleet tracking of progress out in the field. Mapping routes is the easy part but the magic happens when advanced algorithms  work in the background to optimize routes. These algorithms factor in things like traffic conditions, vehicle sizes, road restrictions and driver workload.
SmartRoutes Delivery Route Planner
Save time and money in delivery management. Cut carbon emissions. Get oversight on your fleet. Impress your customers with superb communication tools.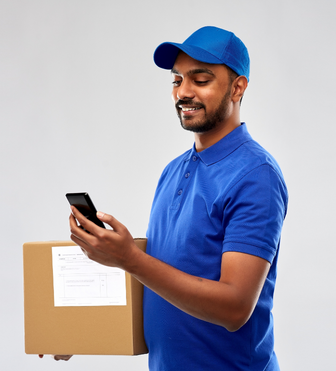 Challenges that make delivery route planners necessary
Real-world variables in route planning
As a logistics manager or dispatch supervisor you might be able to assemble the fastest route to multiple stops but if there are changes to that plan for any reason it can cause huge upset for you, for your drivers and, most of all, for your customers. Customers might change their order or availability to receive, traffic conditions might change or any other number of reasons might change your best laid plans.
Delivery route planners will allow you to press a button and re-optimize the route based on the changed conditions so the updated route is automatically synced to the drivers app. Job done. Real-world variables are important to consider and are the focus of a large research project being conducted by MIT into route optimization currently.

Driver tracking
GPS tracking on a delivery driver app is a game changer that makes delivery route planners incredibly powerful for organizing work. In the past, drivers left the depot and you didn't really know where they were from one minute to the next. Equally, your customers didn't know where their package was and when exactly it might arrive. GPS tracking means logistics managers and dispatch supervisors can now see a live-map of all their drivers and manage accordingly. Customers too can login to a live portal to see where their package is and when it will arrive. The challenges of efficiency and customer satisfaction are met with this functionality.
Growing your delivery business
Because of many of the reasons we have spoken about including the time it takes to plan routes, manage drivers, and deal with customer queries, it is obvious that scaling an operation like that is not possible without huge manpower. Even if your business isn't growing but customer habits are changing (as we have seen recently) you may experience a challenge with delivery management that you cannot cope with.
Being aware of these challenges should help you to make an informed decision about whether or not your business needs a delivery route planner. Before we go into the top 5 route planners on the market it can be helpful to have a look at your business to see tell-tale signs that you are struggling to manage the challenge.  

Signs that your business needs a delivery route planner
You have a list of delivery stops that need to be put together on a spreadsheet every week
You are spending time each week assembling routes and thinking about how best to split those routes up for drivers
Drivers are complaining about routes or are changing the routes themselves
Your expenses around deliveries in terms of wages, fuel or vehicles is increasing
You are receiving a lot of customer queries around orders, missed deliveries or check ins on ETA
You are struggling to communicate effectively with drivers in the field
You don't know whether deliveries are being done efficiently
You don't have any proof that deliveries have been completed except the word of your drivers
Advantages of using a delivery route planner
You don't need to spend time managing deliveries, just import your address list and let the software calculate the routes
You can predict ETAs for your customers effectively
You can give a live-tracker link to your customers to avoid them calling you
You can integrate your orders with your eCommerce or ERP system to further streamline activity
You can get visibility into driver behaviour and plan for better operational efficiency
You can reduce fuel costs and increase your green credentials
You can counteract the danger of drivers leaving by making drivers happier and onboarding new drivers if and when necessary

5 best delivery route planners
Ok, so let's take a look at the best delivery route planners available and try to compare them in terms of features and pricing to see if we can get a verdict on each of them.
1) SmartRoutes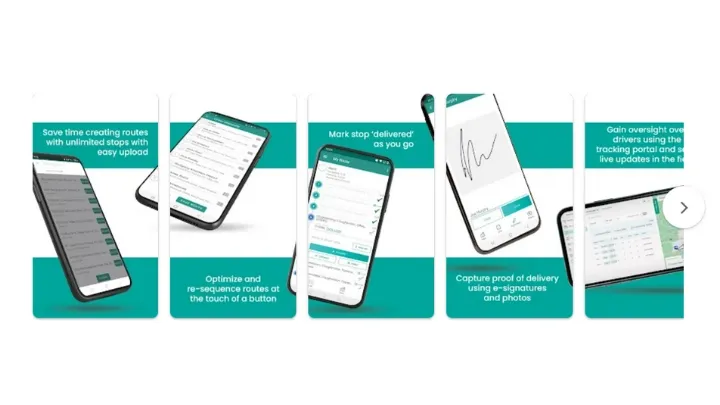 SmartRoutes is a total delivery management software for anyone from small businesses to large logistics teams. It allows you to plan and optimize your routes while tracking drivers and capturing  proof-of-delivery. SmartRoutes keeps recipients informed of their delivery with up-to-the-minute notifications and a delivery tracking portal.  
SmartRoutes is an Irish company but works across North America, Europe and internationally to make deliveries simpler for all types of businesses in different industries. It provides savings of 33% per delivery and increases customer satisfaction scores with a host of delivery experience features.
Price
$32 per vehicle monthly for driver app and route optimization
$52 per vehicle monthly for full functionality excluding custom work or notifications
For enterprise you can contact us for personalized pricing
Verdict
Probably the best mix of functionality and price on the market. Makes sense for small businesses all the way up to large logistics operations. Entry level pricing from just $32 per month with the full-suite of features including custom-build work, last-mile tracking and proof of delivery. The key distinction in pricing is around users versus vehicles. With SmartRoutes you can have multiple drivers and admin staff that come for free, you only pay for the number of vehicles you have on the road. Free trial for 7 days available.

2) Circuit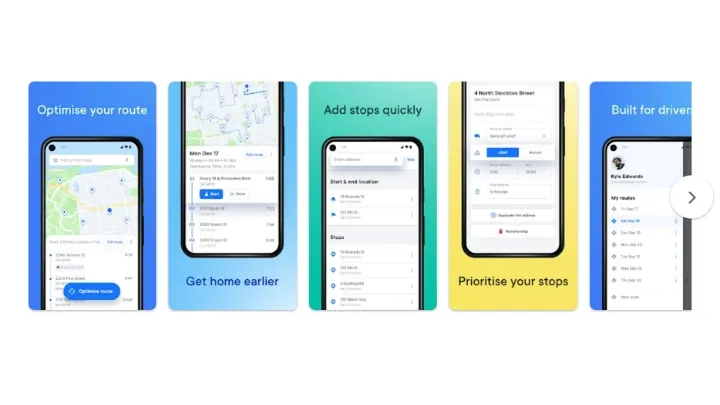 Circuit started out as an app-only routing software and became popular with drivers as it was free to use. It has since added what it calls 'teams' to be more of a logistics operations solution. It is a nicely designed app and platform with most of the functionality required by the industry at a relatively high per-user cost.  
Price
$100 per user monthly for driver app and route optimization
$200 per user monthly for route optimization, proof of delivery and customer notifications
$500 per user monthly for full functionality
Verdict
Circuit is a nice looking routing app and interface with credible functionality for most operations. However, it is quite expensive for what you get and works best if you have few drivers operating at very high volume so you can keep it cost effective.

3) RoadWarrior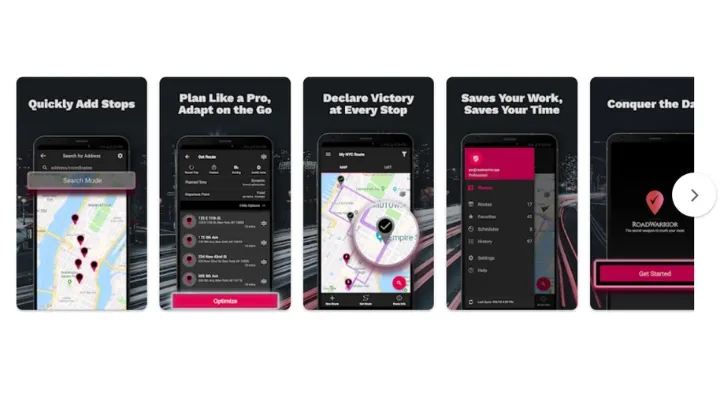 RoadWarrior is a simple route planning tool aimed at drivers but also teams. It does not have the full feature set that we see with other tools and focuses on route planning and optimization avoiding things like customer notifications and proof of delivery. RoadWarrior is one of the most affordable solutions if you just need route planning functionality costing just $10 per user per month though that does include admin staff and all drivers, even if they aren't working all the time.  
Price
$10 per user monthly for driver app, route optimization and data export [Max Route Size 120 Stops]
$10 standard + $10 per user for team features and [Max Route Size 200 Stops]
Verdict
RoadWarrior is very straightforward and has the driver in mind with its focus on the app rather than the administration dashboard. It has a very low price point that allows it to compete with Google Maps or cheaper options. Notable that it has an integration with FedEx data that makes it a great fit for FedEx drivers in particular. If you want a simple routing solution at the cheaper end of the market this is a good fit. If you think you will need proof of delivery or customer notification features in the future it might not be a good long term solution.

4) Onfleet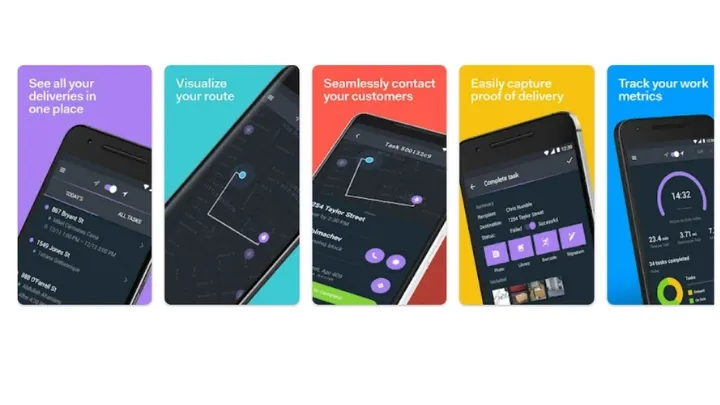 Onfleet is the trusted last mile delivery solution for companies across dozens of industries including food and beverage, retail, grocery, construction, pharmacy, and more. Onfleet has the most advanced route planning feature set, promising leaner operations, smarter decisions, and a delightful customer experience.

Onfleet is one of the market leading solutions for delivery management and telematics. As such it comes with high price points and full feature sets. It is US based and serves many industries including retail, construction, pharmaceutical and FMCG.
Price
The basic plan starts at $449 monthly and supports unlimited users and unlimited drivers
Premium starts at $999 monthly and includes customer notifications and barcode scanning
Professional starts at $2499 monthly and includes private label tracking and multi-depot accounts
Verdict
A very clean platform with everything you need for delivery route planning but also team management. It does come with a high price tag however and may only be affordable for larger organizations. Even for larger organizations the feature set is available at a lower price point with other solutions.
5) Route4Me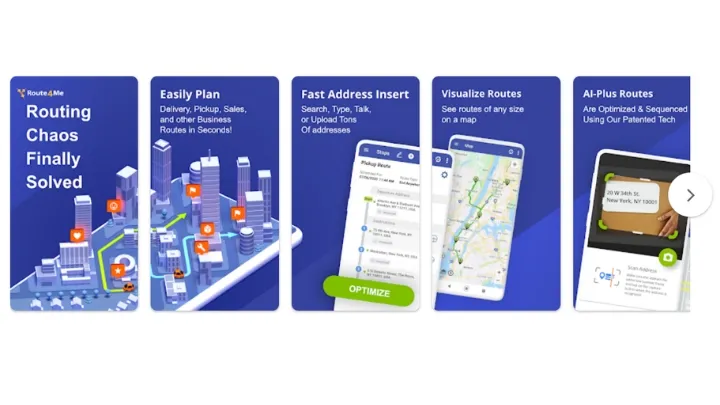 Route4Me offers route optimization, route monitoring, customer communications, and proof of delivery. It is an established product for the logistics industry with a wide range of features as part of the Route4Me 'marketplace'. It comes with a high price point to enter and additional features such as fleet tracking and customer notifications can push the price up significantly.  
Price

Route Management allows you to plan routes but not optimize them
Route Optimization offer route optimization for just one driver
Route Optimization Plus plan offers both route optimization and multi-driver routes and costs $299 per month.
Add-on features from the marketplace catalog (like real-time driver tracking) come with additional fees.
All plans includes 10 team members as standard with additional members costing $50 monthly
Verdict
A quality product that might look slightly dated compared to newer offerings and the pricing logic results in potentially very high costs when you add in all the features that are considered standard in other products. Route4Me is a good option but be clear about what you need when you get a quotation so you are not surprised later on.

Looking for a Delivery Route Planner?
Delivery route planners are hugely valuable to any business that has vehicles on the road doing multi-stops daily. It saves significantly on drivers wages, fuel costs and the administrative burden of planning routes. However, the real value is contained in the certainty in delivery times so your customers are happy. Customers who can login and view their deliveries in real-time are going to come back to you again and again which is ultimately the point of deliveries in the first place.

If you're looking for a delivery route planner for your business, you can try a 7-day free trial of SmartRoutes or book a demo to discuss your needs. We can get you up and running in minutes and help you to make the most of it from the outset.
Enjoyed this blog? You can read similar blogs here.