Delivery experience [Complete guide]
What makes a great delivery experience? Customer notifications...on time delivery....package tracking portals for customers. This is your definitive guide if you are in last mile operations.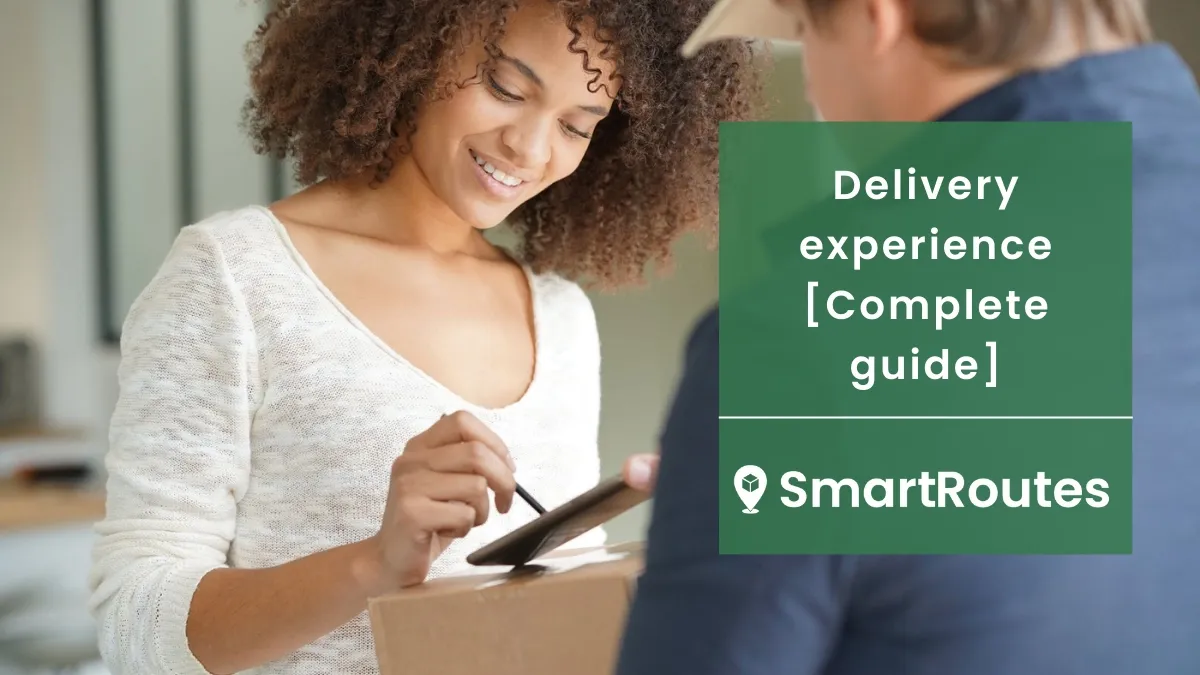 What makes a great delivery experience?
A great delivery experience is simple: deliver on-time, keep customers informed of ETA at all times, and then make sure the package is as expected [or better].
Simple, right?
With the explosion of e-commerce in recent years, shoppers have become accustomed to getting their goods delivered directly to their doorstep. While businesses have been quick to react to this trend by creating their own websites and third-party seller accounts on Amazon, many are still learning how to do delivery management in a way that delights their customers.
Every one of us has our own story about missed packages, sitting and waiting for delivery vans and so on. Now that home delivery has become very much the norm it is a good time to think in detail about the delivery experience and your delivery route planner.
In this article you will learn:
Dangers of a poor delivery experience
What happens when you [or your outsourced delivery company] gets the delivery experience wrong? They don't deliver on-time, the goods are damaged or the delivery person was rude?
As we will see below 32% of customers will not buy from you again!
You will have to handle angry customers through your service team
You will have to respond to brand damage on social media when customers post about their experience
You will need to spend time and money training drivers and improving processes to avoid this experience for customers
What is delivery experience?
We define the delivery experience as the experiences your customer has with your business throughout the entire delivery journey, from point-of-purchase to receiving their goods and how that looks and feels.
The delivery experience is a critical part of the wider customer journey and the reason why it's important is because a customer who has a positive experience when ordering and having goods delivered is more likely to trust a company and become a repeat customer. More to the point, if a customer has a bad delivery experience, their package is lost or not delivered on time, or damaged, or the delivery person is rude, then that customer is statistically less likely to repeat a purchase from you. In fact, according to PWC research, 32% would stop doing business with you, even if they love your brand! So it is essential to get it right if you can.
While previously businesses would have focused on an in-store experience, managing the experience of customers within the confines of their own homes is a further challenge. When it comes to delivery, there's one player who leads the way - Amazon.
Whatever your feelings about the world's largest retailer, they are definitely the leaders in delivery experience. A quick Google search at the time of writing this blog, shows that they are currently hiring for 78 roles in the DEX (their acronym for Delivery Experience) team, so they take this pretty seriously.
But at SmartRoutes, we're also obsessed with the delivery experience, and we believe that independent retailers like you can provide a better experience than Amazon. So, let's break down the delivery experience and how your business can delight your customers.
SmartRoutes helps you create a great delivery experience
Deliver on time, everytime. Take control of your delivery operations. Impress your customers with superb communication tools.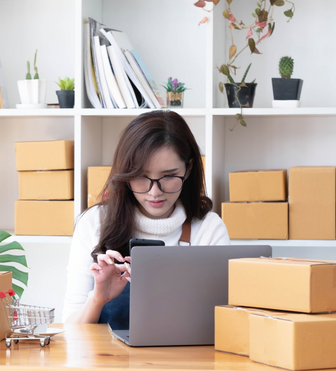 5 steps to a great delivery experience
SMS and email notifications that are personalized for the customer
Live package tracking portal so customers can see their delivery guy in real-time....fully branded for maximum effect
Trained and resourced drivers who can communicate and coordinate with customers directly
Contactless delivery options to protect customers and avoid missed deliveries
A seamless ordering experience for customers from website, to delivery notifications, to tracking portal, to the actual delivery. All branded, all good experiences.
1. Personalized delivery notifications

With online shopping, you're missing out on the opportunity to speak to your customers face-to-face. For all the benefits of eCommerce, the only human interaction you had with your customer is gone.
By sending personalized, automated notifications your business can:
Build a rapport and relationship with your customer
Show them you care about them
Allow them to make arrangements to accept delivery
Build excitement and get them thinking about their delivery and your brand
It's also worth thinking about whether you send an SMS or email notification. For B2B. emails can work best, and with B2C deliveries, direct to customers mobiles as an SMS can be the better option. This aspect of last mile carrier tracking is the critical one in establishing a successful delivery operation.
Home Delivery Route Planner Case Study
Prior to the CoronaVirus pandemic, Le Patissier, a local bakery in Dublin, Ireland sold the bulk of their products through their brick-and-mortar store and corporate events. However, when they were forced to close their store and large gatherings were prohibited, they began selling their baked goods through a new online store, and delivering them directly to customers with their home delivery route planner.
Selling a premium product, they had always focused on providing a 5-star customer service. Now that they were delivering directly, they had to re-examine their customers' journey and ensure that the delivery experience was equally as good.
2. Live parcel tracking map for your customers

Your customer parted with their cold, hard cash for one of your products. While it might just be another sale for you, it could be a big deal for them.
By providing your customer with a way to track the progress of the order, you can:
Show you appreciate their business
Give piece-of-mind about their purchase
Allow them to go about their day and not have to wait around for the delivery
Eliminate calls to you and your support staff for updates on delivery time
Tracking portals can seem like something reserved for big players in home delivery, but implementing your own system (such as SmartRoutes!) can be super quick and cost-effective to implement.
It might seem obvious, but delivering on-time is one of the cornerstones of your commitment.  
As part of your delivery notifications, you have the opportunity to include the ETD (estimated time of delivery). By doing so, you can:
Show the customer that you are professional and organized
Allow them to make arrangements to receive delivery, or let you know how to gain access to the premises in their absence
Give your drivers the opportunity to reach out to the customer if they're delayed
3. Happy drivers make for a great delivery experience

As the saying goes, your employees are your greatest asset.
And if that's true for the wider business, it's importance is amplified when it comes to delivery drivers. As we've already mentioned, your delivery person may be the only 'human touchpoint' your customer has with your business.
A smile and a pleasant exchange may only take 30 seconds for your driver, but your customer may base their entire opinion of your business on those brief seconds.
An extensive study from PWC has shown 59% of customers feel that brands have lost touch with the human element of customer experience.
Whether you do your own deliveries, or you have a team of drivers, you have a 30 second window to smile and take a significant advantage over the big players. Take that opportunity.
4. Contactless delivery options
As we've just seen, delivering directly to customers can provide a big opportunity.
But let's face it, not every customer gets excited about EVERY delivery. When they're not home, you still need to ensure that the delivery experience is seamless in their absence.
Contactless delivery is when you make a delivery without any face-to-face exchange with the customer. When making a contactless delivery, you need to ensure:
The goods are left safely and securely where they won't get stolen, damaged or wet
The customer is notified of the delivery immediately
You and your customer support team are instantly updated with photo-proof-of-delivery in case of any queries or complaints
Making sure your customers are informed is the key here, but making sure that you and your drivers take care with each delivery is also crucial to providing a great experience.
5. A seamless customer experience from point-of-sale to delivery
We've given you the pieces of the puzzle from point-of-sale to delivery, but the magic is in how you put it all together in a multi stop route planner.
Making sure that your customer is informed from the moment they make their purchase, right the way through to accepting their delivery can make you memorable. It's worth using a tool like UXpressia to draw your customer's delivery journey. No two businesses are the same, so it can be a great way to identify how you can provide extra value to your customer throughout the delivery experience.
By making the whole experience uniform, you can:
Expose the customer to your brand multiple times, making you more memorable and multiplying the possibility of word-of-mouth referrals
Ensure that the customer is happy and friendly to the driver at the point of delivery
Save you and your team hours of time spent dealing with queries about deliveries
The internet has opened up the options available to everyone, so it's worth setting yourself apart with a seamless delivery experience.
What practical steps can my business take to improve the delivery experience?

If you're doing your own deliveries, you probably want to ensure that you're doing everything you can to make the delivery experience a memorable one for your customers (for the right reasons, of course!)
To get started we've put together a checklist based on our suggestions above. Getting a process in place, and educating your delivery drivers about the importance of it is the first step in  the right direction. Like everything, it can take a bit of time for everyone to get onboard, but it quickly becomes second-nature once the framework is clear.
Take your delivery experience to the next level now with:
automated customer notifications
electronic proof-of-delivery
real-time order tracking
How to use SmartRoutes to give a great delivery experience for your customers
Improve the experience for your drivers first
Your drivers are your greatest asset in your delivery team. They are the ones that your customers will remember and it is important they have the best tools at their disposal to do their job. Giving drivers the SmartRoutes delivery app lets them navigate their route effectively and see dispatch notes while taking down delivery notes. The SmartRoutes app tells a driver exactly when they will return to depot which provides assurance to their working day allowing them to plan their lives more effectively. Happy drivers naturally lead to happy customers as it is a sign that your delivery management system is working correctly. Stressed drivers rarely equates to happy customers.
Use our route planner to organize better
Route planning is highly complex, especially if you are dealing with hundreds of packages, or lots of drivers and vehicles. Getting this streamlined will allow you to deliver on-time and keep customers in the loop which is really what they want. At SmartRoutes we can connect your eCommerce provider like Shopify, WooCommerce or your own internal ERP system to your route planning dashboard. Label printing, automated ordering, territory management, driver skills and many other functions will help your logistics people to coordinate and automate the grunt work. For drivers and depot staff the important thing is to have orders printed and assigned to drivers easily. Drivers should be able to see the correct order in which to load their vehicles or it should be done for them. This means the stress is gone from their daily routine and they can focus on driving and giving customers their packages with a five-star service.
Use our route optimizer to speed up your deliveries
Route optimization takes the millions of possible routes and finds the best way. It saves up to 33% of time on the road which means less fuel and wages or it means getting more deliveries done per day - you can decide which. Route optimization is as simple as clicking Optimize on your SmartRoutes dashboard so drivers never have to figure out the best way from A to Z again. The beauty of this computational muscle is that you can re-optimize based on changed circumstances and that new routing automatically syncs with the driver app. Traffic conditions change, customers change their delivery windows, vehicles break down, nothing is ever simple in last mile deliveries so it is critical to have a route optimizer on hand to solve these daily crises.
Communicate with customers constantly
In delivery management communication with end customers is the difference between retaining customers or seeing them disappear from your brand. Here are some of the things we have built in the past few months to give you incredible communications with your customers:
Automated customer delivery notifications by SMS and email to update them on ETA
Link to live-package tracker so they can see in real-time where their delivery driver is [oh yes people love this!]
Link to call driver directly if they need to give specific delivery instructions
Driver SMS templates so they can update customers directly while out on their delivery route
Automated proof of delivery follow-up to customer by email with photo or e-sign evidence
Ask your customers to post about their delivery experience so everyone knows you do it right
If you make the effort to give a great delivery experience to your customers you should be able to ask them to reward you for that, right? It's ok to ask people to post about their experience if they liked it. Take a photo of their package arriving, take a photo of the live-package tracker and say you are wowed, just say thanks on social. You can ask people to do this in your automated delivery follow-up SMS or you can ask your drivers to ask customers if they feel it is appropriate. Word of mouth is a powerful growth factor for any business so try to harness it if you deserve the praise!
Looking to create a great delivery experience for your customers?
If you're looking to create a great delivery experience for your customers then look no further than SmartRoutes. You can try it out with our 7-day free trial or speak to one of our team today. We can get you up and running in minutes and help you to make the most of it from the outset.
Frequently asked questions
1. What makes a good delivery experience?
A good delivery experience involves several key elements:
Reliability: Timely delivery as promised, meeting or exceeding estimated delivery times.
Transparency: Clear communication about the delivery process, including tracking information and updates.
Efficiency: Safe handling of packages, secure packaging, and professional delivery personnel.
Flexibility: Options for customers to choose delivery times, locations, or delivery speed.
Customer Support: Accessible customer service for inquiries, complaints, or issues related to deliveries.
2. How can I offer faster delivery?
To offer faster delivery options:
Optimize Logistics: Streamline warehouse operations for quicker order processing.
Regional Warehouses: Establish warehouses closer to major customer bases for faster shipping.
Partner with Couriers: Collaborate with delivery services offering expedited or express shipping.
Use Technology: Utilize route optimization software or AI algorithms to find the fastest delivery routes.
Offer Priority Shipping: Provide expedited shipping options for customers willing to pay extra for faster delivery.
3. How can I keep my customers informed about their delivery?
To keep customers informed about their delivery:
Tracking Systems: Provide real-time tracking information via email, SMS, or a dedicated tracking page.
Regular Updates: Send regular updates about the status of their order, including shipping, dispatch, and estimated delivery time.
Personalized Notifications: Allow customers to set preferences for notifications regarding their delivery status.
Customer Portals: Offer an online portal where customers can log in to check their order status and receive updates.
Proactive Communication: Anticipate and inform customers about potential delays or changes in delivery schedules beforehand.
If you enjoyed this blog, you might also be interested in: