Home Delivery Route: Case Study
Home delivery routing can be expensive for small businesses and the potential for missed deliveries and unhappy customers is high. Learn how to do it right.....right here.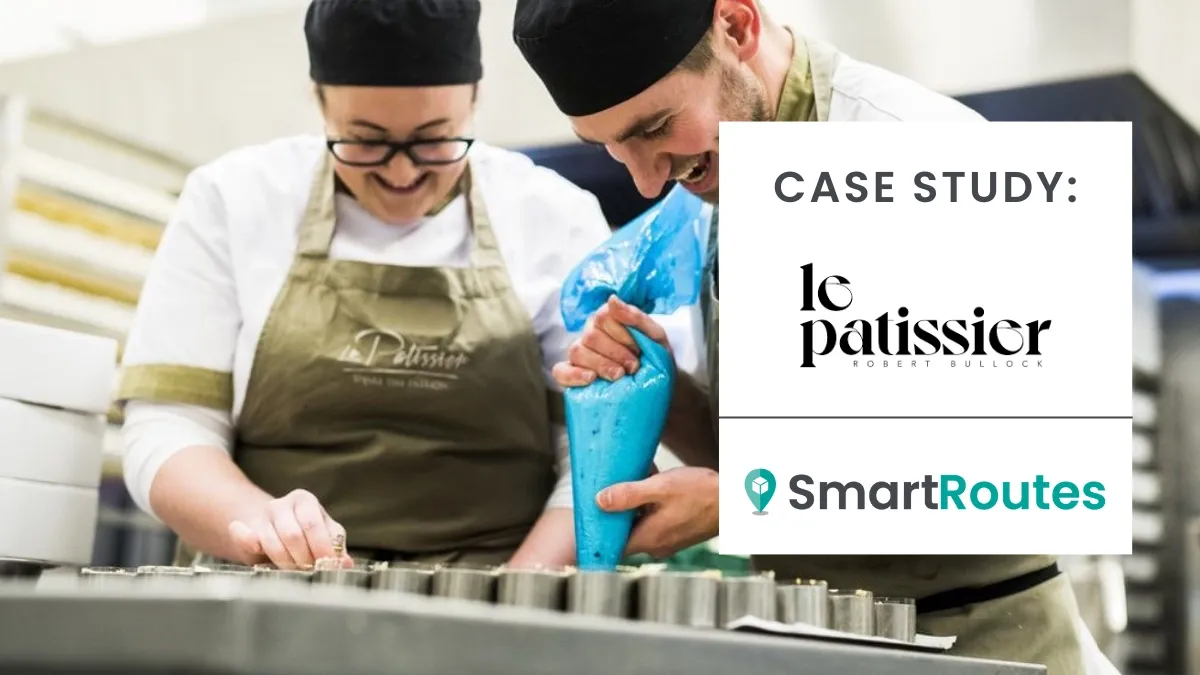 Le Patissier is an award-winning patisserie business based in Dublin, Ireland. The business is made up of a team of talented pastry chefs led by chef and owner Robert Bullock. Up to this year, they were creating in excess of two million handmade desserts and patisserie annually working with leading hotel groups, catering companies, food service, retail and wedding venues throughout Leinster.
COVID changed that when they pivoted to home delivery routing for the consumer market and so began their relationship with SmartRoutes' delivery route planner.

What we will take a look at in this case study:
Le Patissier
Like many other businesses, 2020 threw up the COVID challenge. Over the first week of lockdown in March, they lost almost 50% of their regular customers as public gatherings ceased and events were cancelled or moved to digital platforms. The second week of the lockdown brought more of the same as this number increased to 90%. They were left with 2 wholesale clients. Although not ideal, it did represent a flicker of hope. It allowed them to continue operations at a reduced capacity and keep the wheels of their business moving while they looked to establish other sales and distribution channels where they could offer their products.
As it happened, Le Patissier had plans to set-up an online store at some stage during the year, but they were still at a very early stage of development. Although they had identified it as an area they wanted to invest in, it had not been a priority for the business.
Luckily, with the support of a family member, they built a temporary online shop in 24 hours and began offering a collection service direct to consumers from their wholesale kitchen. Within 2 weeks they offered a limited home delivery service and by the third week of lockdown they had rolled the delivery service out to the County of Dublin.
Goals of the home delivery team
Establish a way of efficiently route optimizing for their new home delivery service
Reclaim as much time as possible from manual routing and answering customer enquiries
Maximize the number of deliveries in a day per van in keeping with driver working hours
Ensure that the solution could be scaled up or down according to demand and number of vans in operation
The challenge of home deliveries
As they promoted their online store and home-delivery service, demand began to steadily increase. Le Patissier had two delivery vans and one driver. As the volume of orders increased, they drafted in family members to drive the vans and eventually had to increase capacity by leasing a third van.
Although a welcome success problem, it was one that quickly began to throw up new and unexpected challenges. Le Patissier said:
"We used Google Maps for a few weeks to map the driver's routes, and then we tried some other routing solutions that just added more problems with poor routing, wrong addresses and no support. Things were getting stressful and I remember saying to myself, 'we're not logistics, we're food. Can we actually do this?'"

To handle the additional deliveries, and to account for the unpredictability of the way everything was changing, Le Patissier looked at the possibility of outsourcing some of the deliveries to a third-party logistics company but it quickly became apparent that this was not an option due to cost and service. The quality of their produce is dependent on strict refrigeration conditions in transit. Not only were the costs of outsourcing significantly more than what Le Patissier were charging customers, but the risk of the product being damaged in transit was also too high.
Running three vans on the road, 3 days a week meant that Le Patissier were spending 3-4 hours every evening planning the driver's routes for the next day. Dealing directly with consumers also increased incoming calls with product, shop and delivery enquiries.
Le Patissier were right; their food business had found itself with a logistics problem that needed quick solutions.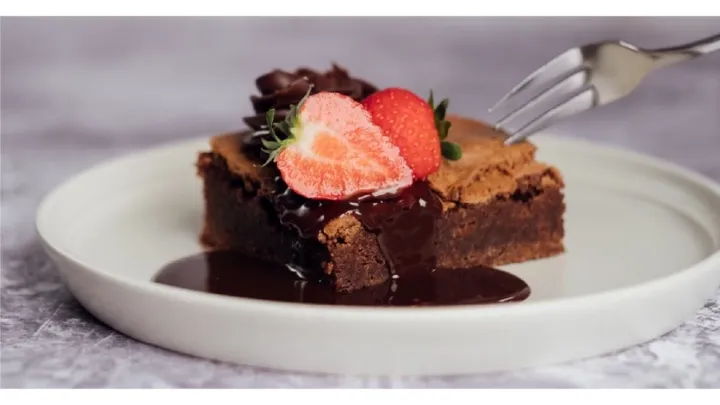 The Solution
Whilst the challenges that Le Patissier ran into were new and somewhat unexpected, it was typical of what we hear from other food businesses that move into home delivery. We knew our solution was the answer to their problems and we immediately set about helping them to get set up.
Automation
Le Patissier were able to extract customer delivery data from their online store and upload it into SmartRoutes allowing them to quickly and efficiently build a route plan for each van. This immediately saved them several hours of work each day.
An additional benefit, was that they were able to maximize the number of deliveries per van with the technology, allowing them to drive more sales.
Reliable Routing
When they had approached us initially, they had tested one other routing solution that had resulted in a day of carnage for the business. After this they were reluctant to work with any company that didn't have proven domestic knowledge and experience.
We offered them a free trial for one week to test the software and ensure that it worked properly for them. We helped them set up the routes and oversaw their initial plans to make sure that everything worked effectively and efficiently. They quickly realized the massive benefits for their business and subscribed to the service at the end of the trial.
Customer Satisfaction & Better Oversight
Le Patissier were keen to stress that their business was built off the back of quality produce, attention to detail and impeccable customer service. They had complete trust in their drivers to provide excellent service, but they knew that they needed extra details to ensure a flawless customer experience.
SmartRoutes live tracking and real-time ETAs proved valuable to Le Patissier. With the extra volume of orders, the team had seen a steady increase in the number of queries about deliveries.
Working with SmartRoutes, we helped to automate ETA emails to customers the evening before they were due. This immediately reduced the number of customer queries received on the day of delivery by almost 80%.
On the day of delivery, the ability to see where each vehicle was in real-time on the SmartRoutes Desktop Planner, meant they were able to give customers instant and honest updates when requested.
Flexibility & Support
The unpredictability of 2020 was a challenge for most businesses. Like many of us, the team at Le Patissier sometimes didn't know what to expect. A 2-van fleet had turned to a 3-van fleet running close to capacity, but once restrictions were lifted, would they reduce to 2 again?
At SmartRoutes, we appreciate that the landscape is rapidly changing by the day. We've learned as much about ourselves as any other this year and we appreciate that it can be stressful to alter your business operations. That's why we provide full support and flexibility to scale and to each of our clients at every stage in their journey with us.
We worked collaboratively with Le Patissier to help them to onboard with us, get the drivers and admin staff trained up.
"SmartRoutes is an integral part of our online consumer business now. I feel like the role it plays in successfully serving our customers would be otherwise challenging."
- Louisa Goodliffe, Le Patissier
The Outcome
Since onboarding with SmartRoutes, we have helped Le Patissier put a structured and robust Delivery Route Planning solution in place.
They've now got the ability to serve the maximum number of home deliveries possible, whilst giving their full attention to the products and business that has made them the successful business that they are today.
They saw a significant reduction in time spent planning routes and answering customer queries. By reducing the time spent on planning & admin, this removed the need to hire an extra employee part-time. Le Patissier now have the flexibility of amending the settings in Smartroutes to adjust the volume of deliveries dependent on the traffic which changes with the fluctuating lockdown situation. This ensures that they can maximize the deliveries whilst ensuring they keep the drivers to their working hours. In addition, they also brought visibility to their delivery operations and made life easier and more predictable for their drivers.
The Results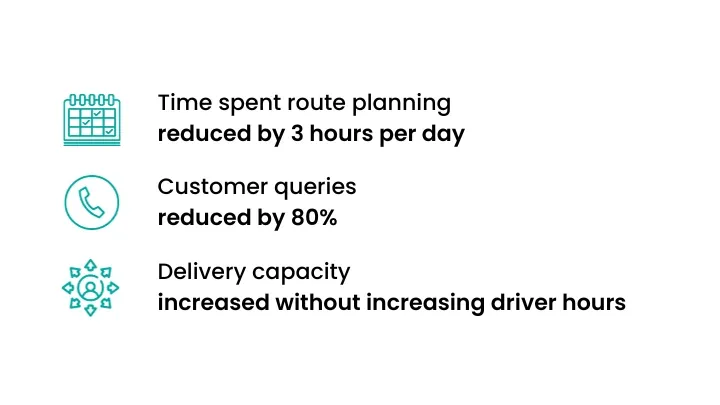 To read more case studies you can check them out on our Customer Stories page. If you would like to know more about our services, you can book a demo with a member of our team for a personalized walkthrough of the platform.
You might also be interested in: