How to do grocery home delivery
Grocery home delivery is a challenging environment requiring superb organizational systems. Get the complete guide.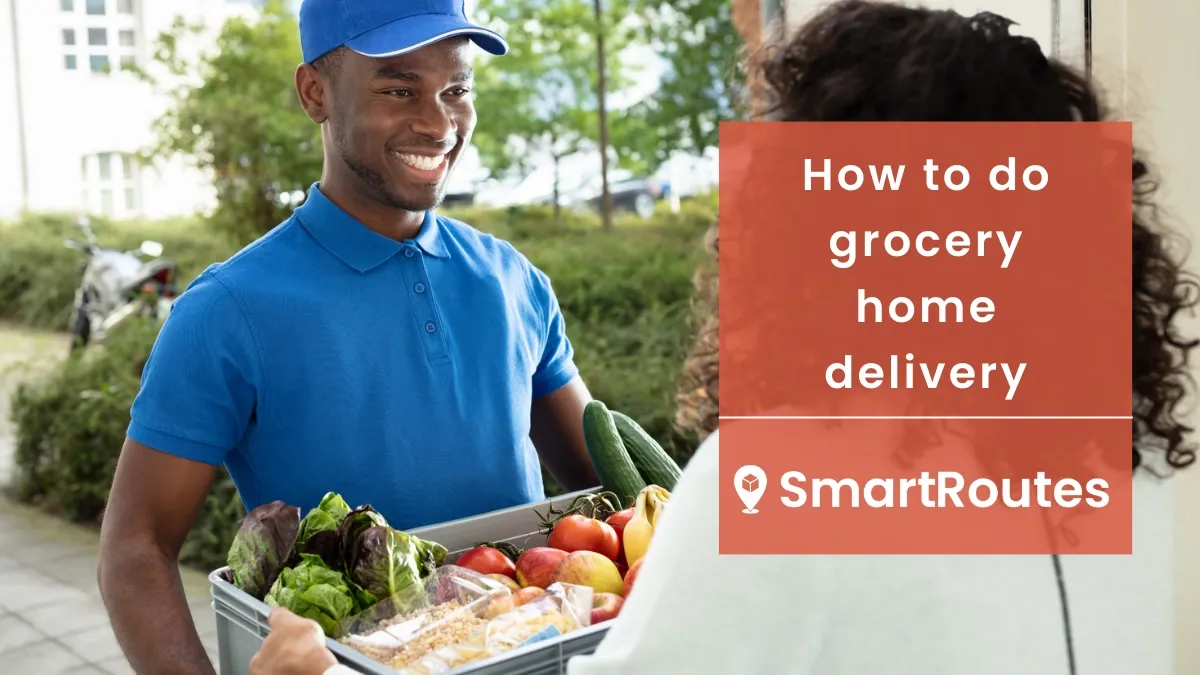 Grocery home delivery is a challenging environment requiring superb organizational systems. If you can do this then you will benefit from efficiencies that can transform your costs and you can benefit from a far greater delivery experience for your customers that will transform the amount of repeat orders you can achieve.
SmartRoutes is working with some of the largest grocery fulfillment departments on delivery operations and it can be useful to consider some of the improvements we have been able to make for these teams.
SmartRoutes is a grocery delivery software consisting of web dashboard and driver mobile apps that route-optimize, track and notify all the various stakeholders in the home delivery system. It has been designed to take into account some of the unique requirements of grocery home delivery.
Benefits of using a grocery home delivery platform
1. Reduction in miles driven
SmartRoutes' intelligent routing algorithm is proven to reduce miles driven up to 33% and provide you with certainty around your efficiency in this area. We use travel time data and the latest route optimization technology to plot the optimal route for your drivers saving fuel, salary costs and reducing wear and tear on vehicles.
Grocery home delivery involves multiple stops on each route but SmartRoutes takes into account other factors like driver territories, load balancing and different vehicle sizes.
Reducing miles driven is far more complex than just using Google Maps or Waze to find the best route. SmartRoutes takes responsibility for this routing, bringing insight and efficiency and ensuring your systems are robust even if you are adding new drivers who do not know the routes.
With routing efficiency often comes the possibility of using fewer vehicles or staff to get the same work done. This is the case in many of our rollouts. Staff that leave do not need to be replaced or it is possible to sell-off vehicles. The savings from reducing staff overheads or vehicle servicing can often dwarf fuel-cost savings.
2. Operational improvements at packing centre
The packing centre is the heart of your grocery home delivery operation and SmartRoutes improves every aspect of its operation. The workflow that typically takes place for packing teams is as follows:
Online orders are automatically synced to the SmartRoutes platform ready for picking and dispatch
The store manager or dispatch manager clicks a button to run the routes based on online orders. This saves on average 90 minutes of administration for that person.
The pick sheets or orders are then printed off by the pickers to assemble into totes or boxes.
The totes are then assembled in lanes or collection areas for drivers as they arrive for their shift.
Drivers check the totes against their SmartRoutes mobile app to ensure they have the correct orders.
Drivers load their vehicles with the totes in their collection area and begin their delivery route at the correct time.
As you can see from this simplified workflow there is no need to do administrative work, manual entry or team meetings to discuss how best to do deliveries that day. All of the process is managed by the SmartRoutes system and everyone is clear in what they have to do. It does not matter if the packing centre has 1 or 100 drivers, the system can handle and scale as necessary. If a driver is missing that day, you can simply slot in a replacement driver and the mobile app will direct them around their route.
3. Improved oversight on driver routes
Once vehicles leave the store the dispatch management teams can continue to see where they are and what they are doing. SmartRoutes' simple driver tracking system is connected to the mobile app on the driver's phone and reveals incredibly useful information for future planning and oversight. Adherence to the correct routing and delivery windows are, of course, an immediate benefit but this vehicle tracking often reveals deeper operational improvements. We have seen grocery operations with outlier customers that are costing a huge amount of money to service. Customer density is critical to keeping per-delivery costs low. Equally, we have seen stores in neighboring districts overlapping in their delivery zones which is an unnecessary waste in the delivery process.
4. Improved communication with end-customers
The delivery experience of your grocery operation is being compared to your competitors by customers. They will make decisions as to who they shop online with based on their delivery experience. Studies have shown that 1 in 3 consumers will not buy online again from a brand if the experience is poor.
SmartRoutes provides automatic SMS or emails notifying customers when exactly their delivery will arrive. These can be set up easily by dispatch or management so they send before, during and after the delivery. This cuts down on customer service management around delivery times and increases successful delivery rates.
SmartRoutes also provides a live-delivery tracking portal for all customers so they can see their delivery van in real-time. This is a branded experience with your logo attached. We have seen grocery stores increase their repeat ordering, NPS scores and delivery rates immediately after implementing this live tracker system.
5. Dispatch and driver notes
Dispatch notes are hugely important in grocery home delivery operations and allow the organization to capture much of the combined intelligence from years of experience. Dispatch notes might be as simple as letting the driver know that contactless delivery is requested or that there is a guard-dog at the property. It might be an entry code or protocol for gaining access or it might be a reminder that the customer has a dietary requirement that is relevant..
Driver notes after a delivery capture details about the delivery and can also feed into future dispatch notes. This note taking system is the intelligence of the driver network captured securely so the company intelligence grows over time and fewer mistakes are made, even with new staff.
6. Proof of delivery
SmartRoutes has the ability to capture proof of delivery electronically to generate total assurance around delivery completion. Drivers can take a photo of the delivery on the doorstep or in the customer's house. They can attach the photo to the delivery so there is a time-stamped record and it can then be automatically sent to the customer so there is full transparency.
More commonly, drivers can capture an e-signature proving collection or delivery which, again, is time stamped for records and notification to the customer. These proofs can be made obligatory for drivers so you are certain all deliveries are completed and recorded.
7. Better reporting on operations
SmartRoutes reporting capabilities can be customized to suit your needs but our standard reporting includes order completion, deliveries outside of time windows, customer notifications delivered, and detailed reports on individual deliveries including photo and e-sign proof. Talk to us about your specific requirements and we can build it for you.
8. Field operations and route planning
At SmartRoutes we don't talk about route planning we talk about fleet orchestration which is closer to what it feels like when you get used to directing hundreds of vehicles from depots and stores nationwide. Our territory manager tool ensures your stores never overlap delivery routes and drivers stay in areas that they know well. We give you the ability to stagger shift times for drivers making sure there are never any hold-ups at the loading areas and reducing driver hours. We see drivers leaving and returning to the store within minutes of the estimated route completion time. This means that customers have been delivered within narrow time windows of just 5-10 minutes. All of these elements drive efficiency and a good customer experience.
Multi-stop route planning is a hugely time consuming and uncertain process if it is allowed to remain with individuals and our algorithm has never been beaten by manual planning or local driver knowledge.
---
If you would like to talk to us about implementing grocery home delivery for your business, you can avail of a 7-day free trial with SmartRoutes or get in touch today and a member of our team will be in touch.
Frequently asked questions
1. What delivery fees should I charge for grocery home delivery?
Delivery fees can vary based on several factors, including distance, order value, and the service level provided. Some businesses opt for a flat-rate delivery fee, while others might have a tiered structure based on order totals. It's important to factor in operational costs, such as fuel, labor, and packaging, when determining these fees. Consider market research and competitor analysis to ensure your fees are competitive yet sustainable for your business.
2. How can I schedule timeslots for grocery deliveries?
Utilizing a robust delivery management system or software can streamline the scheduling process. These systems often allow customers to select preferred delivery windows based on availability. Implementing a user-friendly interface where customers can choose from available time slots or even offering flexible scheduling options can enhance customer satisfaction. It's also crucial to optimize routes to maximize efficiency and minimize delivery times.
3. How can I ensure perishable goods are kept fresh during delivery?
Proper packaging and temperature control are key factors in maintaining the freshness of perishable items during delivery. Using insulated bags or containers and refrigerated vehicles when necessary can help regulate temperature. Additionally, strategic planning of delivery routes to minimize transit time can prevent perishables from being exposed to unfavorable conditions for an extended period. Communicating guidelines for receiving and storing perishable goods upon delivery can also aid in maintaining their freshness.
If you enjoyed this blog, you might also be interested in: