The complete guide to multi-stop route planning
Multi-stop route planning is incredibly complex and difficult to do well. Luckily for you we have put considerable resources into developing technological solutions that are proven to work.
Multi-stop route planning is incredibly complex and difficult to do well. Luckily for you we have put considerable resources into developing technological solutions that are proven to work.
What is multi-stop route planning?
A multi-stop route planner is a tool that allows you to find the most efficient route between multiple stops but it is also much more. It allows you to capture information as you go and build up a picture of your customers for future routes. It also allows you to automate communications with customers updating them about when exactly they will be visited thereby improving delivery success and the delivery experience.
Google maps is the world's most popular route planner but is typically used for single journeys rather than planning multi-stops at once. There is a cap of 10 stops that you can input into Google Maps and so it is not suitable for business situations where greater oversight and planning is required.
If you are looking at solutions for multi-stop route planning then this article will cover some of the best software providers and give you 7 genius tips for thinking about multi-drop route planning. Let's get started.
Here is what you will learn in our complete guide to multi stop route planning:
7 genius ways to do multi-stop route planning
Invest in computer love
The computational power of algorithms has changed multi-stop route planning forever. It has essentially solved the complex and time-consuming issue of finding the best routes to get stops done. Algorithms take into account time-travel data and are able to re-optimize routes if things change. Invest in computer power and it will save you time and money immediately.
Get connected
Delivery operations can often be seen as an add-on activity after an online order has been placed or for sales reps to visit customers. Nothing could be further from the truth. The reality is that multi-stop routing is deeply connected to a business' overall operations. Do it inefficiently and you will soon see knock-on problems with your packing teams, your factory 'up-time' or elsewhere. For this reason it is critically important to get your systems connected. Your online ordering system should feed orders directly through to your packing teams and your delivery drivers. There is no excuse for this as it is available with all serious route planning softwares. Equally, if you are doing field sales you can connect your CRM system to a multi-stop route planner to ensure you reach your customers regularly and efficiently.
Get territorial
One of the smartest things any multi stop operation can do is divide up its delivery areas into territories. What this does is create customer density (which is the key to reducing per-stop costs) and it also helps drivers to stay within an area that is well-known to them and easy to get to from their home base.
Territory management in deliveries can be done by assigning a territory to a particular driver so they don't have to commute far to their first stop. In this case orders going to this territory will be automatically assigned to this driver. This efficiency alone can reduce miles driven by 10-15%.
SmartRoutes' Multi Stop Route Planner
Save time and money in delivery management. Cut carbon emissions. Get oversight on your fleet. Impress your customers with superb communication tools.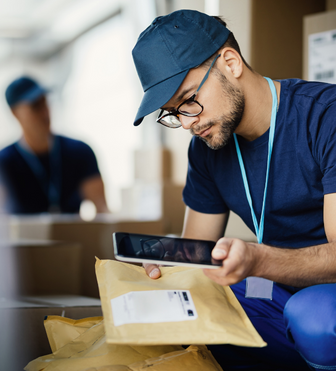 Territories can also be assigned to a particular day of the week. Each territory is serviced by one vehicle but they only deliver in a certain area on a Monday (say) and a different area on a Wednesday. This builds customer density and ensures drivers go out fully loaded on that day and keep cost-per-delivery low.
Go white glove
Multi stop route planning can become all about the numbers. How many stops did we squeeze in? How efficient were we? What is our return-per-stop? However, it is clear from research with consumers that they want two things, fast delivery and premium service. If you are to choose one of those things to be your differentiator then premium service is a better choice. If you decide to compete on fast delivery then you are going to be under huge pressure and likely to make multi stop delivery a very unprofitable part of your business. If you decide to go with white-glove service as your differentiator then most of what you need is already contained in software systems. Customers have full visibility on the delivery including live tracking maps. All you have to do is ensure your delivery people are well presented and they make the effort in the final few steps to your customer. Branded vehicles, well-presented uniforms and trained staff to give a great delivery experience will set you apart.
Conduct your deliveries
Route planning should and can be like conducting an orchestra. Here at SmartRoutes we talk about fleet orchestration, not management. Multiple vehicles and drivers can be coordinated to collect loads at staggered times to avoid pile ups and wasted time at the depot. Vehicles and drivers can be coordinated to all return to the depot at the same time so there is certainty around finish times and a good work-life balance.
Build your delivery recipe
You'll be glad to hear that multi stop route planning gets easier the longer you do it. Why? Because your team gets used to route and build up localized knowledge that helps them drop quicker. The customers also get used to your delivery routines and ways of doing things, helping them to coordinate better to receive the delivery. However, this knowledge, the 'recipe' for delivering effectively must be maintained as a company-level intelligence and not just in the heads of your delivery people. As you add new people to your team this intelligence can be passed on seamlessly through detailed dispatch notes and customer tags. No-one needs to tell new drivers all the little details because they are already contained in the dispatch notes for a stop and they can continue to add to them by updating driver notes with new information. Your delivery recipe is now contained in the company intellectual property going forward.
Automate the small talk
Finally, if you are going to succeed at multi-stop routing you need to cut down on customer support calls. Where is my package? When is the driver going to be here? Can I change my delivery window? Can you deliver it to my work address actually? Automating customer communications is the most liberating thing you can do for your multi-drop team, freeing up time and giving your customers a better experience all round. Customers receive automated email/SMS in advance of delivery letting them know when it is due to arrive. They are given a live tracking map on the day of the delivery so they can see exactly where the delivery vehicle is. And they are automatically sent a post-delivery thank you message with proof of delivery photo or e-signature.  No more customer calls, no more confusion, no more missed deliveries. That's the power of software and it is so simple to set up.
Now let's take a look at some of the best providers of multi stop route planners in the world so you have the research done for you.
What features must multi-stop route planning software have?
Route planning
Poor planning of last mile deliveries can increase your overall logistical costs by 20-40% making your operations unprofitable. Poor planning leads to long time windows and missed deliveries resulting in customer churn. Using a delivery planning software solves this problem for you. Reduction in the administrative overhead of planning routes frees up your time.
Route optimization
Our route optimizing algorithm will reduce cost per delivery by at least 33% versus traditional planning and allow you to factor in complex variables like time windows, load balancing, zonal territories and even vehicle variables to avoid missed deliveries and deadlines. Vehicles leaving the depot fully loaded results in greater profitability.
Fleet tracking
Visualize your delivery fleet with a live map to manage and adjust routes in real-time. Be more efficient and take the guesswork out of delivery operations. Be less dependent on a driver's local knowledge by implementing a data-driven model of fleet tracking.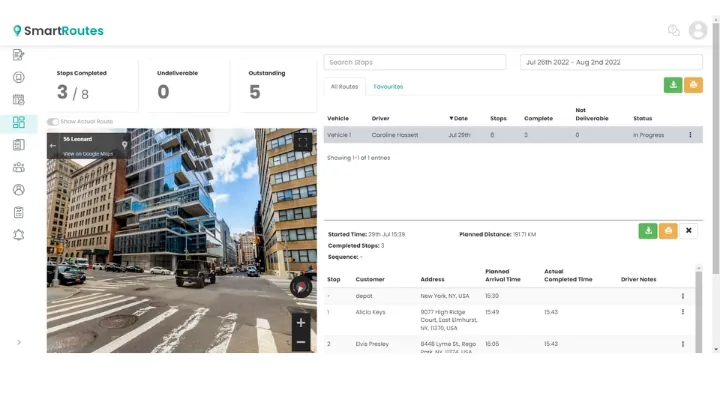 Delivery management
A total solution to delivery management is critical for all business types in order to control costs and protect the customer experience with you. Lack of investment in delivery management can result in 38% customer churn and spiralling delivery costs as a result particularly of missed deliveries that need to be repeated.
For logistics professionals and business owners SmartRoutes gives visibility and control over their entire operation allowing them to make data-driven decisions.
Delivery experience
Excel at the delivery experience for your customers keeping them in the loop with real-time notifications and a live package tracking portal. Cut out missed deliveries and unhappy customers with a simple to implement solution that anyone in your business can use. Increase customer return rates and control your costs on the most expensive section of your logistics journey.
Driver app
Your drivers are your greatest asset and you need to give them great tools. Our mobile apps optimize and navigate their delivery route. It also allows them to capture proof of delivery and keeps them in constant contact with the depot through dispatch and driver notes. With driver turnover rates at 25% on average annually driver apps will help to retain staff and improve efficiency.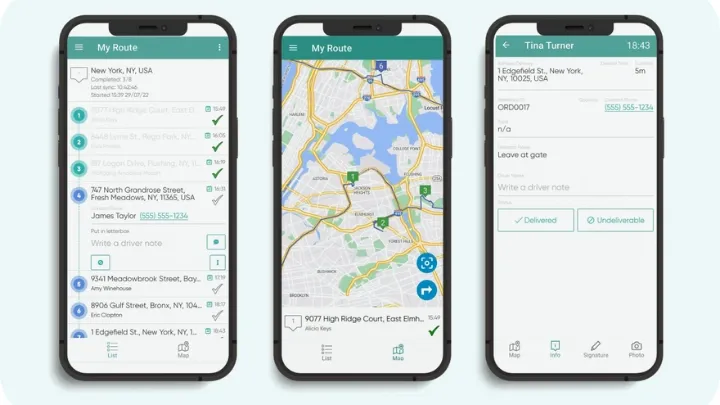 Proof of delivery
Capture proof of delivery by e-signature, photo or barcode scan for total security and compliance. Automate email confirmation to customers or to the relevant ERP system.
Delivery notifications
Stay in constant contact with your customers over the last-mile with delivery notifications and updates by text or email. Automate the customer support requirements and provide certainty to customers. Reduce delivery windows and increase delivery hit rates to decrease cost per delivery and reduce customer churn.
Territory management
Create zones of delivery and allow our AI to intelligently assign and manage work within this area. Route and territory optimization all in one.
Reporting capability
Become a data-driven delivery team with end-of-day reports on all aspects of your operation. Measure your success and improve your performance month on month.
Multi-depot management
Scale your organization and reflect the scope of your logistics team with SmartRoutes multi-depot management. Create a network of SmartRoutes accounts to manage large distributed organizations with Super Admin role permissions and regional depot managers depending on requirements.
Customer mapping software
A customer map that acts like a visual CRM SmartRoutes can get your maintenance, delivery or sales teams out in the field. See at a glance who needs a visit or what order needs to be fulfilled and meet that need for your customers.
Training support
Other delivery planning softwares can be difficult to use or they do not provide training support for you and your team. At SmartRoutes we have the most intuitive mobile and web interface. Our customer success team can provide free training packages that will ensure you are delivery management experts starting off.
5 best multi-stop route planners
1. SmartRoutes Delivery Route Planner
Price: Starting from $29 per vehicle per month (Free 7-day trial)
Available on: Mac, PC, iOS, Android
Most Useful for: Big and small fleets
SmartRoutes is the best route planner for home delivery and field sales teams. It is used by over 700 teams worldwide to power multi-stop routes and gives a great experience to drivers and customers.  It uses real-time travel data to find the fastest route to your customer addresses, giving drivers directions for multiple stops and dispatch notes to make their life super-easy. It integrates with many CRMs, ERPs and eCommerce platforms to remove unnecessary administrative work for dispatch and drivers.
Features
Route optimization: routes are automatically planned and optimized based on your criteria. The app also allows for real time modification
Fleet tracking: for total oversight on drivers
Order management: integrations with ecommerce platforms such as Shopify and WooCommerce allows for auto fulfillment on orders, streamlining your whole process
Customer notifications: keep customers in the loop with real time updates and customisable SMS notifications. (You can also add live tracking links to your notifications!)
Verdict
SmartRoutes is the best route planner for delivery teams building intelligence for the company through driver notes and real-time data on actual routes taken.  
SmartRoutes reduces miles driven allowing more work to be done by fewer staff and reducing costs for the business.
SmartRoutes starts at $29/month per vehicle and can scale up to Enterprise models with customized development work, dedicated support teams and custom integrations.
2. RouteSavvy
Price: $39 per month per vehicle
Available on: iOS, Android
Most useful for: Small to mid-sized fleets
RouteSavvy is a basic route planner for delivery teams and logistics or courier companies. They cater to a large cross section of business types but are relatively expensive for the feature set.
Features
RouteSavvy has route optimization and address import as standard.
They have a visualization of multiple route options that can be useful in deciding which route to take. This is similar to Google Maps.
On the mobile app you can choose to navigate turn by turn in the app itself.
Delivery driver tracking via mobile GPS location services is available.
Reporting can be exported to third-party systems like Microsoft Excel.
Verdict
RouteSavvy should provide a reduction in miles driven and a relatively smooth experience if you are based in the US. Its pricing is similar to other competitors but the user interface is not keeping pace with competitors and needs to be updated.
3. MapQuest
Price: Free
Available on: iOS, Android
Most useful for: Simple routing, business location
MapQuest has been around since 1996 and the interface feels like it hasn't changed much since then. You have access for free but the ad pop-ups on the mapping functionality itself are very off putting.
Features
Route planning can be done simply on the map
You can do voice navigation and it has real-time updates on traffic conditions
Verdict
MapQuest does the job, just about. If you are old-school in your tastes this could appeal and it does do the job of route optimization very well, plus it is free. If, on the other hand, you want a more modern interface and better functionality then your business might be better investing in something a bit better.
4. Speedy Route
Price: $39 per driver per month
Available on: Website
Most useful for: Delivery, delivery time windows
Speedy Route is a super simple routing platform that does the job of multi-stop routing in a clean interface. It has remarkably little beyond routing but sometimes it is good to focus on what you are good at. Pricing is similar to those platforms that offer more features but it is free for less than 10 stops.
Features
Battle-tested and clean UI to go along with solid route optimization.
Fully customizable routes with post-optimization re-ordering as necessary.
Time window allocation for improved delivery success rate.
Free for up to 10 stops (like Google Maps)
Verdict
This is a slightly outdated interface and the functionality is limited but it does the core job of multi-stop route planning very well and will not cost too much to do it.
5. OptimoRoute
Price: Starts at $39 per driver (Free 30 day trial)
Available on: iOS, Android
Most useful for: Logistics and courier industries or SMBs
OptimoRoute, based in Croatia, is a market leader in routing software and has a functionality suite that is very comprehensive.
Features
Delivery driver tracking and in-app communication between driver and end customer
Changeable route depending on last minute changes or adjustments
Multi-day as well as multi-stop planning
Driver skills and customer tagging to match the right driver to the right customers, eg drivers with installation credentials automatically being assigned orders requiring installation
Extensive reporting capabilities
Planned versus actual routes
Load balancing capability
Verdict
OptimoRoute is a market leader in improving route times and delivering efficiently. It has raised its prices very significantly recently taking it out of the budget provider bracket.
If you would like to talk to us at SmartRoutes about multi-stop route planning we would be happy to assess your operations and suggest improvements.
Looking for multi-stop route planning software?
If you would like to talk to us about implementing a multi stop route planner for your business, you can avail of a 7-day free trial with SmartRoutes or you can book a demo and a member of our team will be in touch.
Frequently asked questions
1. What is multi-stop route planning?
Multi-stop route planning involves efficiently organizing a series of destinations or stops in a way that minimizes travel time, fuel consumption, and overall effort. It's about creating an optimized sequence of stops to streamline a journey, often used by delivery services, sales professionals, travelers, and logistics companies to maximize efficiency.
2. How do I optimize a multi-stop route for time and efficiency?
To optimize a multi-stop route, consider using route planning software or apps that take into account factors like traffic patterns, distance between stops, real-time updates, and prioritization algorithms. Additionally, grouping nearby stops, considering traffic conditions at different times of the day, and utilizing tools that allow for easy adjustments can significantly improve route efficiency.
3. What are the best apps or platforms for planning multi-stop routes?
Several apps and platforms specialize in multi-stop route planning, offering various features catering to different needs. We have put together a list of the 9 Best Multi Stop Route Planners. These platforms provide functionalities such as multiple stop optimization, live traffic updates, customizations based on vehicle type, and integration with other tools.
4. Can multi-stop route planning help save on fuel costs or reduce environmental impact?
Yes, optimizing routes can help reduce fuel consumption and environmental impact. By minimizing unnecessary mileage and time spent on the road, multi-stop route planning decreases fuel usage and emissions. It also contributes to fewer vehicles on the road, reducing traffic congestion and overall environmental strain.
5. How accurate are the estimated arrival times when using multi-stop route planning tools?
The accuracy of estimated arrival times in multi-stop route planning tools depends on various factors. While they can provide reasonably accurate estimates, unexpected incidents like accidents or road closures might affect the accuracy of these predictions. Generally, the more dynamic the tool and the more real-time data it integrates, the more accurate the estimated arrival times tend to be.
If you enjoyed this blog, you might also be interested in: