Best route optimization software: A guide
Route optimization software typically consists of a planning dashboard and driver's mobile app that together coordinate vehicles on multi-stop routes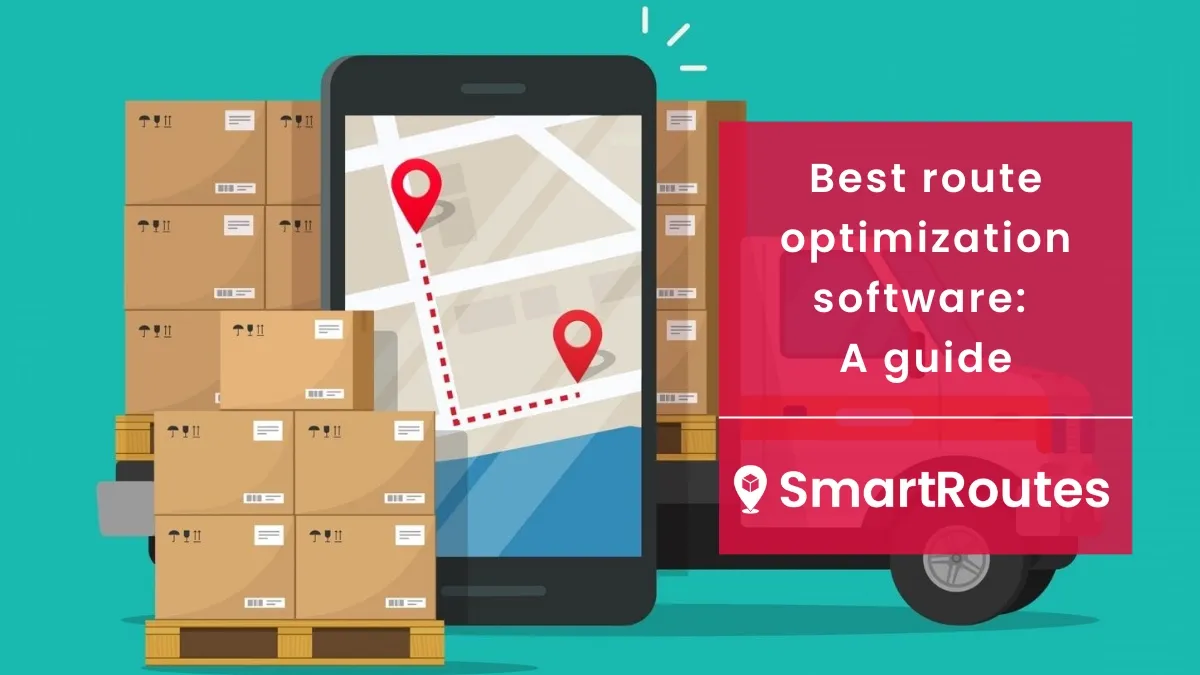 Route optimization software typically consists of a planning dashboard and driver's mobile app that together coordinate vehicles on multi-stop routes. The route optimization algorithm finds the fastest route to complete the stops and the overall software manages things like driver tracking, automatic customer notifications, proof of delivery and reporting.
Global efficiencies
Having worked with an international agri-logistics business, the team here at SmartRoutes were able to see first-hand the immediate cost savings from implementing route planning software. Our client experienced significant savings when they were able to reduce factory 'up-time' and vehicles on the road.
Immediately on implementing the software their miles driven on the road were reduced by 33%. With deliveries becoming more efficient, this led to a 72% reduction in customer queries allowing the team to spend their valuable time elsewhere.
SmartRoutes route planning tech might be seen as a nice-to-have add-on to your tech stack but in practice it transforms operations, and brings insights that drive greater efficiency.
Sustainability
Our international agri-logistics business also cut their tailpipe emissions by 20%, costs by 33%, saved 20% on fuel and were able to reduce plant 'up-time' by 10%. This resulted in a reduction in industrial emissions reduction that was not expected. This meant that they were able to meet their carbon reduction targets for the next 3 years from one software implementation! Sustainability programs tend to focus on moving to electric fleets but the more important initiative is to eliminate waste is fleet routing. It brings 20-30% immediate reduction.
*Stats based on conservative figures for route optimisation improvements versus manual planning with no route optimisation. Figures are based on one vehicle operating normal working days with an average daily distance of 50Km.
Last mile problem
Our logistics clients all tell the same tale, that customer expectations in terms of speed of delivery and quality of delivery management is sky-rocketing. To deliver in the last mile is becoming more expensive and harder to find staff to do it. Something has to change to solve the last mile problem.
53% of supply chain costs are in the last mile but consumers don't want to pay for delivery. Super-fast delivery services are not profitable. Our solution improves the delivery experience for your customers immediately and allows you to do more deliveries with less resources.
Delivery experience
We have a client whose online business nearly collapsed because they were using a third-party logistics (3PL) company for home delivery who were not delivering on time and were giving a very poor service to their customers. Our client couldn't see it initially but as customer complaints grew and repeat orders went down he started to take delivery experience seriously.
Reports how that 32% of customers will not buy from you again if the delivery experience is not good. One negative review (1 star) will need four positive reviews (5 stars) to average the 4 star rating that most customers aspire to. Therefor, you cannot afford to receive negative reviews.
You need to invest in a great delivery experience if you are to grow your online business. It can be done right and really bring your brand to the customers' doorstep.
Fleet orchestration
One of our customers tells how he used to have to wait in the office until all drivers had returned, often after 7pm in the evening. Now, after implementing SmartRoutes, every vehicle arrives back at the depot like clockwork within 10 minutes of each other because SmartRoutes adjusts and orchestrates easily during the day. Drivers are super happy with the certainty of getting home to family, as is the dispatch manager. Driver turnover rates are over 72% annually in US small trucks and driver wages in the last mile industry are increasing rapidly.
Fleet orchestration in deliveries and collections has a huge knock-on effect on other parts of your business like payroll, factory 'up-time' and HR. Better fleet management is a strong differentiating factor in operational excellence.
Customer point of view
Research is showing clearly customers want fast delivery and they want total visibility on their order at all times. These are the two big things and they are willing to pay for the fast delivery. To achieve the level of satisfaction customers expect, you need to provide visibility on the order and provide real-time updates. For an example of great visibility on a customer's order, see the delivery live tracker portal below.
56% of consumers expect full visibility on their orders. We believe that super fast delivery models are unprofitable and the better route to take is premium experience and total visibility.
Return on investment
SmartRoutes customers who were polled recently achieve on average 2 hours per day less administrative overhead for a circa 700% return on investment. This is based on savings in manually planning routes and customer service management.
The return on investment in terms on fuel, driver wages and vehicle wear-and-tear is typically 615% and becomes greater the more vehicles you have. The math is simple with ROI in excess of 1300% versus no system in place.
*Investment of €97 for savings of €694
Best route optimization softwares
If you're thinking about implementing Route Optimization Software go ahead and give us a quick call, message or contact us here and we'll get you up and running with a free trial right away. A kick-off call is always great to make sure you've got your account calibrated just right and it means we can help with any questions you might have over the course of the week too.
Frequently asked questions
1. What is route optimization software?
Route optimization software is a technology solution that employs advanced algorithms and data analytics to determine the most efficient routes for vehicles, delivery trucks, or field service agents. It takes into account various factors such as traffic conditions, vehicle capacity, and scheduling constraints to optimize routes and improve overall operational efficiency.
2. What industries can benefit from route optimization software?
Route optimization software is versatile and can benefit a wide range of industries. It is particularly useful for transportation and logistics companies, field service management, e-commerce businesses, food delivery services, and any industry where efficient routing and scheduling of resources are critical to operations.
3. What features does the best route optimization software have?
Real-time tracking and monitoring: Allows businesses to track the location and progress of their vehicles or service agents in real-time, enabling better visibility and control over operations.
Intelligent route planning and optimization algorithms: Utilizes advanced algorithms to analyze multiple factors, such as traffic conditions, delivery constraints, and vehicle capacity, to determine the most efficient routes.
Customizable routes based on business requirements: Enables businesses to tailor routes according to specific needs, considering factors like customer preferences, delivery windows, and priority stops.
Reporting and analytics tools for performance evaluation: Provides reporting features and analytics tools to assess the performance of routes, deliveries, and overall operations, facilitating data-driven decision-making and continuous improvement.
4. Can route optimization software integrate with other business systems?
Yes, route optimization software often offers integration capabilities with other business systems. This may include Customer Relationship Management (CRM) software, Enterprise Resource Planning (ERP) systems, and fleet management solutions. Integration enhances overall business processes by providing a seamless flow of information across different platforms.
5. How does route optimization software contribute to cost savings for businesses?
Reducing fuel costs by optimizing routes for the shortest distances and minimizing idle time.
Minimizing vehicle wear and tear through more efficient driving routes.
Improving resource utilization by optimizing schedules and routes, reducing the need for additional vehicles.
Enhancing overall operational efficiency, leading to increased productivity and reduced labor costs.
Providing data and analytics for informed decision-making, further optimizing costs and resources.
If you enjoyed this blog, you might also be interested in: