What are delivery notifications?
Delivery notifications are no longer a nice to have for people waiting delivery to be completed. They are a must-have along with live-package tracking. Get our complete guide here.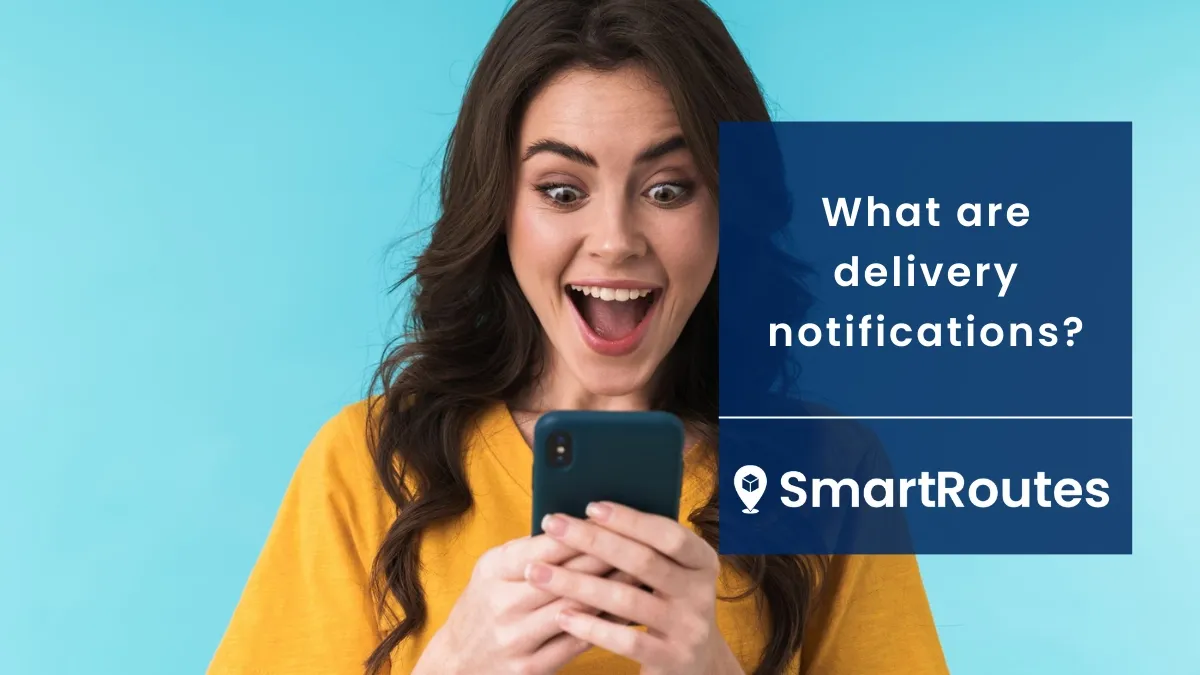 Delivery notifications [SMS or email] will help make your customers happy. "Oh great! My package is coming at 2pm today!" Customer retention is all about getting these details right.
With one of our customers NutriLean, who provide ready meal-kits directly to people's doors, they saw successful deliveries rise to 98% when they implemented notifications.
For a national grocery home delivery team, implementing a live map for customer of where exactly their groceries were on the road, not only improved successful deliveries but it also increased their Net Promoter Score (NPS) which measures how happy customers are with the service.
If you give your customers a bad delivery experience by not telling them when their package will arrive or in some other way mess up the delivery for them - they will abandon you and your brand at a staggering rate [36% will never buy from you again].
Here is the complete guide to help you make your customers smile. In this blog, we'll explain what a delivery notification is, what types of businesses use them, and delve into the real world applications and advantages of them. It might seem like delivery notifications are for logistics businesses, but many other businesses can use them to improve their delivery experience for their customers. You might also want to look into the more advanced version of delivery notifications, customer live package tracking to give customers a live map of exactly where their package is on the road.
What we will cover in this post:
Delivery is completed notifications
A delivery notification allows businesses to alert their customers to the time they can expect a delivery to arrive (sometimes abbreviated as ETA or ETD). Delivery notifications are used by both B2B and B2C businesses that deliver goods and services directly to customers.
They usually take the form of SMS or email and are somewhat personalized to the individual customer. Examples you might have received are from the likes of Amazon, Fedex or UPS about orders you placed online.
Delivery is completed means a delivery person has successfully delivered to the recipient. It typically entails the delivery person capturing proof of delivery and a notification email or SMS being sent to the recipient to close the delivery loop. Delivery is completed is an important element in the last mile delivery chain and needs to be recorded correctly for future reporting or queries.
SmartRoutes and automated delivery notifications
Keep your customers informed at every step with automated SMS and email notifications.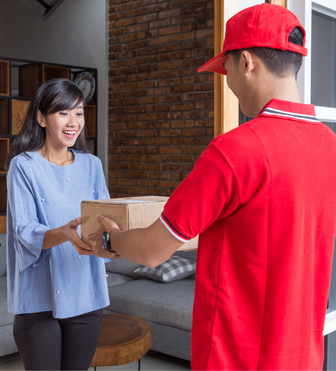 Why is a delivery notification important?
The name of the game for consumers throughout the world today is speed and convenience. As a result, the direct-to-consumer market relies on home delivery services to satisfy the needs of these consumers even as far as requiring contactless delivery during Covid times.  
In recent years, many of us have embraced online shopping in a big way. With the convenience of ordering something we want and having it delivered straight to our doors it is too much to ignore. What this convenience has also done however, is increase our expectations around the level of service attached to the delivery.
People lead busy lives, and waiting around for deliveries isn't exactly the kind of thing we want to spend our day doing. For this reason, delivery notifications can go a long way towards keeping customers happy. A simple text to notify customers before delivery with the time to expect the driver can allow them to go about their day, and then make themselves available to receive a parcel at the proposed time.
No waiting around and wasting the day at your expense.
3 great examples of delivery notifications
Let's take a look at their real-world applications.
1. Domino's Delivery Tracker helping hungry customers to track their order
Ever ordered a pizza and spent the next hour looking out the window with a rumbling tummy? Probably.
That's why Domino's Pizza tracker is a great example of how delivery notifications enable a better customer experience. Although the customer only ever sees a simple text on their phone with an ETA, there's actually quite a bit of thinking that goes into getting that time as accurate as possible. The following explanation of how it works is taken from a Domino's delivery driver on Quora who examined the system:
"You place your order online and that order arrives at the store - the labels print out and are put on boxes, and the order itself appears on a screen at the make-line. The person on the make-line assembles your food items and then indicates that the order has been made. Tracker updates and tells you that your order is now in the oven. After a set period of time (somewhere around 7 minutes, give or take) the order should be out of the oven and being boxed - there is no button for employees to push to say that an order has come out of the oven; this is an automatically timed event on the tracker. Once your items are out of the oven and boxed, your delivery driver then packs them in the hot-bag, gathers up any other items you may have ordered (sodas, sauces, chips, etc.) and then "punches out" the order to say that it is out for delivery. Once again, the tracker updates to say that your order is on its way [complete with an estimated time of arrival]."
The branded delivery update from Domino's shows customers that they are valued. It also allows them to watch their favorite TV show without waiting around for the delivery driver and becoming impatient.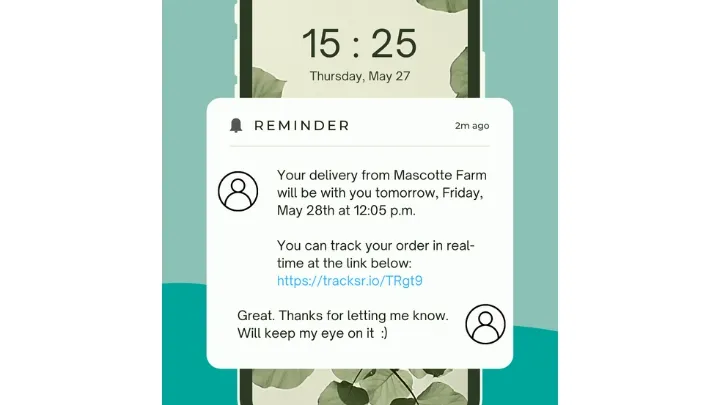 2. DPD Couriers using delivery text notifications
DPD is one of Europe's largest third-party logistics companies and delivers parcels directly to people's homes on behalf of independent retailers.
In the last mile logistics and courier app industry, failed delivery attempts can have a big impact on a business's bottom line. Each failed delivery needs to be re-routed on another delivery run. This can result in the doubling of costs to the carrier. Capturing proof of delivery helps to avoid this.
DPD understands the cost multiplication problem, and they send an automated delivery notification to every customer with an appropriate delivery time attached. What's also great is that they give the customer the option to call the driver directly in case they need to make alternative arrangements to have the delivery completed.
The benefit of shipping notifications is mutual between both customer and last mile carrier, so it makes perfect sense to implement it correctly.
3. Jack Fitzgerald Electrical using multi channel delivery notifications
Delivery notification texts and emails aren't just the preserve of large players in the delivery business. Small and medium businesses can get great benefit of providing customers with clarity around their delivery time too.
Jack Fitzgerald Electrical uses their own fleet of vans to deliver electrical appliances directly to their customers. By doing the deliveries themselves, they can ensure that the very highest levels of customer service are adhered to at every stop. It also allows them to build stronger relationships with their customers as their own employees meet customers on their doorstep and deliver with a smile every time.
Using SmartRoutes delivery management system, they send automated texts and emails to customers with the expected delivery time based on the routes planned by the system. In addition, the SmartRoutes delivery live tracking portal allows customers to see exactly where their delivery is in real-time. This branded portal shows customers that they are every bit as professional as big players, whilst still providing the personalization that comes with independent businesses.
By providing a multi channel notification solution, they ensure that customers are always happy to see their drivers and that the costs associated with failed deliveries are kept to a minimum for their business. In effect, informed delivery is all about making the experience better for everyone involved in the delivery process, and that includes drivers.
3 tips for small businesses sending delivery notifications
1. Automated notifications will save you countless hours
Letting your customer know what time to expect their delivery is great for everyone. But if you plan on sending the messages out manually, it might not be too great for the operational efficiency of your business. The first tip we have for anyone sending shipment notifications it to automate the task.  
Modern delivery management software like SmartRoutes can plan optimized routes for any number of vehicles and orders at the click of a button. When routes are optimized, each stop is given a pretty accurate estimated time of delivery.
The system can automatically send a delivery text or email directly to each customer with the ETD attached within. No extra human effort, but a big advantage to your business.
2. Branding your delivery notifications will make the experience memorable for customers and increase the chances of them becoming a regular customer
No matter what type of business you operate, if you offer delivery, getting it right can be key to longevity of your business.
When brick and mortar retail was the norm, you were able to speak to your customers and bring your brand face to face. As consumers have moved online, the opportunity to convey that same sense of brand is no longer as strong.
By sending your customers branded communications about their delivery, you not only show that you care about their time, but it also impacts on the brand awareness of your company and increases the chance that they'll remember you the next time they want to order a product in the same category online.
3. Give customers ALL of the information they need about their delivery
No two businesses are the same, and it's important that you tailor your pre-delivery notifications to your own needs.
If your driver is doing anywhere up to 20 drops per day, you may want to give your customers the ability to call them directly to make them aware of any issues.
It can also be helpful to let your customer know what ecstasy is being delivered. Although it might seem obvious, with customers purchasing more and more online, they can sometimes place an order and completely forget about it. For example, if they think the notification is about a pair of shoes, they might just expect them to be delivered on their doorstep. However, if you're actually delivering a birthday cake, it might not be the best idea to leave that on a doorstep! Giving the customer information about what it is you are delivering allows them to make the required preparations to receive the delivery.
Ready to start sending your customer delivery notifications?
SmartRoutes delivery management system allows you to send both email and text delivery notification directly from your account. Once you plan a route and attach either an email and/or a phone number for your customer, you simply need to put in your notification template and your work is done.
The system will send the ETA for each delivery to a customer complete with any other relevant order details you select.
To get started, we offer a 7-day free trial of our solution so you can see the benefit of it before you buy.
If you have any questions about how it works, or would like one of our dedicated team to help get you setup, just get in touch here.