Live Package Tracking
Live package tracking for your delivery operation is a key part of the customer experience and expected by your customers. Learn how to implement it here.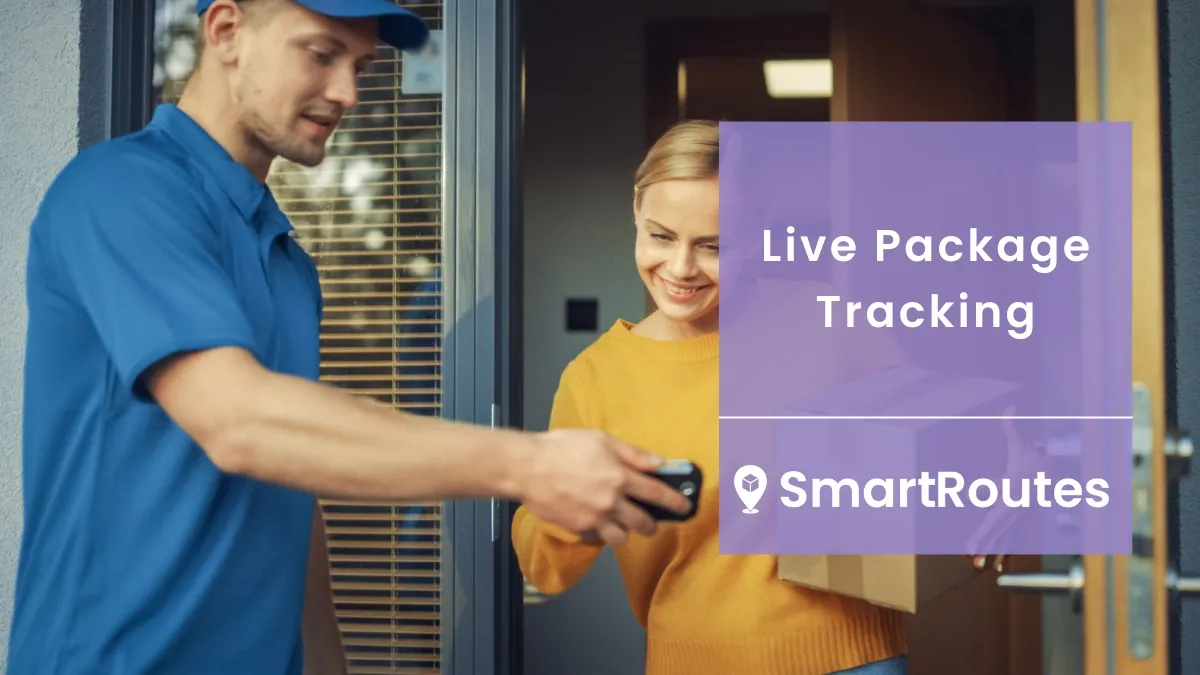 Changed expectations around live package tracking
We all know that feeling when you are sitting at home or at work waiting for a package and not sure when it is going to arrive. Where is it now and when is it going to get here? I need to go out now but I really don't want to miss that delivery. I go back to the tracking portal and it says, "Out for delivery", urrgh. I might have gotten a text message to say that it is due to arrive in the afternoon but the time window is just too large. The reality is that even though this delivery information is good it doesn't help me with really knowing the ETA of the package or how I can manage my day in the meantime. More importantly, how can delivery route planners help with making this work better.
There was a moment a number of years back when Uber released its vehicle tracking to customers on the app and it was a game changer in terms of how customers perceived the company. We are at the same moment in the delivery tracking industry right now. In fact, all service calls including repairs and installations are likely to come in under this umbrella also. It is now essential that anyone providing deliveries or service calls directly to customers' homes or offices needs to provide live tracking portals for customers. Why is this so essential now considering these industries have survived without this tech until now? Well, it comes down to customer expectations and an understanding that if one delivery operation is providing this then why can't everyone else?
What companies that are selling online need to understand is that it is their brand that is on the line in this new delivery battleground. If I order a pair of shoes online and the delivery experience is not good then I am going to attach that failure to the brand of shoes or the retailer rather than the delivery company. For brands and retailers, there is no excuse that their outsourced delivery service provider didn't provide a good service, it is the brand that will take the hit. And the hit can be severe with 36% of consumers saying they would not buy again from a retailer if they have a bad delivery experience.
Last mile is a huge challenge for companies and makes up 40% of the total supply chain cost despite being just a tiny fraction of the miles required to get a package into the consumer's hands. Implementing a tracking tool can play a huge part in improving the process for both the retailer and customer.

3 upsides of implementing live package tracking this month
Like it or not, live package tracking is close to being an essential requirement for your online customers and something they expect you to have. The good news is that there are a number of huge benefits for you of implementing this.
Cost savings
Customer complaints are a huge cost to your business. Negative customer reviews can be hugely damaging to new sales and repeat custom if they exceed the very rare comment. Customer complaints also cost in terms of manpower to manage the complaint and resolve it. And finally, complaints tend to require significant remediation such as another delivery or a refund which all adds up for your business bottom line.
If you go down the route of live package tracking, however, you will improve your customer service immensely. Live tracking software has communication features built in meaning you avoid having to update your customer along the way as they have already received the necessary tracking information. If they do have a query, they can call the driver directly to coordinate the final mile of the delivery or service call. The number of complaints falls instantly, as do manpower requirements, re-deliveries and negative customer feedback.
When you are making savings across all these factors you now have the opportunity to increase order volume or further improve the customer experience.
Exceeding customer expectations
For most retailers they now have to see their delivery route planning going head to head with giants like Amazon. This brings with it huge pressure but also can help them in exceeding customer expectations
Consumers are clearly used to high standards in parcel tracking and you need to step up to meet this challenge. 49% of retailers said customer expectations around delivery times is the most significant last mile challenge. -Retail Touchpoints
The battleground for brands and retailers is now post-sale. In other words delivery experience is taking the place of being in-store in terms of how they interact with the brand. 73.6% of consumers reported that delivery is most important to the shopping experience -Total Retail
The key elements that we have outlined in this article to implement live package tracking will allow you to compete with Amazon and will give a high level of customer satisfaction that will result in brand loyalty, word of mouth growth and more positive brand awareness.
Controlling your delivery management
For any logistics manager, dispatch supervisor or small business owner control of the delivery process is key. One of our clients tells the compelling story of how his delivery drivers strangely began to arrive back at the depot at the same time after he implemented SmartRoutes tracking and courier app. It surprised him initially because he was used to drivers arriving back at varying times towards the end of the day and this seemed almost coordinated the way the vans all appeared at once just at the time they were supposed to.
Control is intoxicating for delivery managers but is equally so for customers who don't have to second guess that trip to the store when they know that their package is still an hour away because they can see it on the tracking portal.
How to do live package tracking right
Understand that your brand will live or die by the delivery experience from now on. Online ordering now represents 20% of all retail globally and that is growing fast. That means that the delivery experience is a critical brand touch-point with consumers, often the only touch point with a human. Get it right or risk huge customer churn and erosion of your customer loyalty.
Implement customer notifications first and foremost. 97% of customers expect package updates and information about delivery status. SMS or email notifications can manage a lot of the communication with customers even after the delivery has taken place.
Implement a live tracking system for your delivery vehicle or service technicians. This allows you to see where everyone is in the field at any given time. It also allows you to implement a live package tracking portal for your customers so they can see their own package making its way to them.
Implement a direct link from customer to the driver in their SMS or email notification. This bypasses phone calls to the depot and coordinates the delivery overall by putting the correct people in direct contact. This link is simply 'Click to call your driver'.
Ensure that all customer touch points are good branded experiences. This includes the notifications they are getting using on-brand language, the live tracking portal having brand logos included, and the delivery person themselves handing over branded packages that reflect well on the company.
Finally, capture proof of delivery with e-signature or a photo proof of delivery and send that to the customer and the depot for total certainty and security in closing the delivery loop.
Do you have a robust delivery tracking system in place?
Questions you might want to ask yourself to stress test your operation and how it might impact on your customers:
Am I receiving calls or emails from customers directly querying about deliveries?
Do I have missed deliveries or costs associated with failed deliveries?
Do I think our delivery operation will be the same in the next 24 months or will I have to improve it to keep up with the competition?
Delivery tracking stats that might surprise you

Receiving an accurate ETA is important or very important to 83% of consumers -Localz
51% of shoppers want real-time visibility into the status of their order -Retail TouchPoints
73% of supply chain professionals can't currently provide real-time tracking to customers. - project44
94% would choose a different shop or brand based on the delivery or collection options available - Localz
84% of customers will not return to a retailer after one poor delivery experience. - Convey
62% US Shoppers defined delivery speed as the most important factor in defining a positive shopping experience (higher than friendly sales reps and easy return policies) - Avionos
Amazon is spending an extra $1.5 billion to transition to one-day shipping this year - CNN Business
57% of customers report that retailers are mediocre at best when it comes to the final mile - Retail TouchPoints
94% of customers blame the retailer after a delivery goes poorly - Supply Chain Dive
Last mile costs account for 53% of total transportation costs - Business Insider
⅓ of truck miles are driven empty - Supply Chain Dive

SmartRoutes Live Tracking Software
Live package tracking has become an essential tool for businesses and individuals alike. The ability to monitor the status and location of packages in real-time offers convenience, peace of mind, and increased efficiency. With the rise of e-commerce and the ever-growing demand for timely deliveries, it's crucial to have a reliable tracking solution in place.
At SmartRoutes, we understand the importance of efficient package tracking, which is why we offer a comprehensive solution that goes beyond traditional tracking methods. Our innovative platform leverages advanced technologies to provide live updates, precise location information, and insightful analytics.
Whether you're a small business looking to streamline your operations or have a fleet of vehicles that need a live tracking solution, our 7-day free trial allows you to experience the benefits of our live package tracking system firsthand. During this trial period, you'll have access to all the features and functionalities, enabling you to assess its value for your specific needs.
If you prefer a more personalized approach, we also offer the option to book a demo. Our team of experts will guide you through our platform, demonstrating how it can revolutionize your package tracking experience. They'll address any questions or concerns you may have, ensuring that you make an informed decision.
Frequently asked questions
1. What is live package tracking?
Live package tracking involves real-time monitoring and tracing of packages as they move through the shipping or delivery process. It enables users to track their parcels' exact location and status at any given moment during transit, often through GPS or barcode scanning technology.
2. What are the benefits of live tracking?
The benefits of live package tracking include:
Real-Time Updates: Immediate visibility into the current status and location of packages.
Enhanced Transparency: Customers can know precisely where their package is and when it's expected to arrive.
Improved Customer Experience: Provides a sense of control and reduces anxiety about delivery.
Efficiency: Enables proactive decision-making for businesses regarding logistics and customer service.
3. What are the expectations around live tracking and ETAs?
Live tracking sets the expectation of having accurate, up-to-date information about a package's whereabouts. ETAs (Estimated Time of Arrival) are based on various factors like current location, shipping method, and potential delays. While they aim to provide an estimated delivery window, unforeseen circumstances (like weather, traffic, or operational issues) can affect accuracy. Companies often strive to offer as precise ETAs as possible but advise customers to consider them as estimates subject to change due to external factors.
If you enjoyed this blog, you might also be interested in: