The best package delivery apps
Package delivery apps are essential for modern delivery teams and provide lots of functionality to save money and improve the delivery experience. Here is our guide to the best package delivery apps.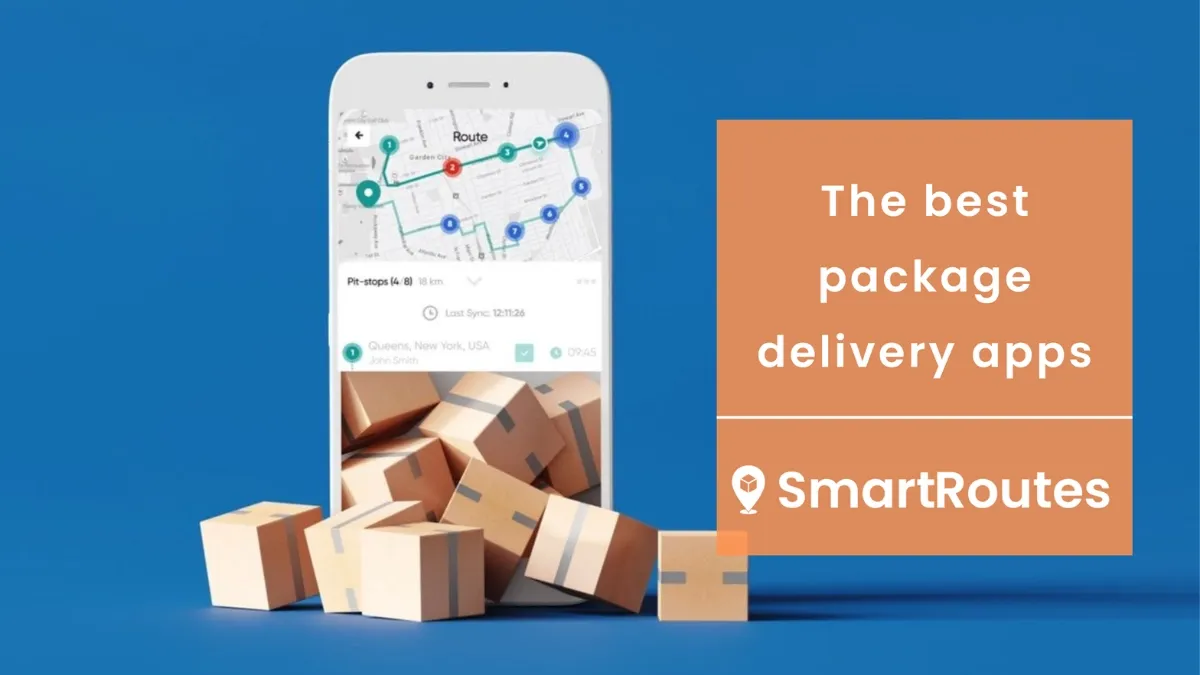 If we take a look back 10 years ago, delivery drivers were often given a small number of packages they could cruise around the city delivering to people who were amazed that home delivery was even a thing! Now, many customers demand same-day or next-day delivery and they want to know where their package is at all times on the journey. Delivery drivers can now start the day with over 100 packages in their vehicles!
At this time, drivers would have had a paper list of addresses and a map whereas now they have mobile apps that organizes their route and updates customers with a live estimated time of arrival (ETA) of their package. Intelligent package delivery apps take into account all sorts of variables such as, how big the vehicle is, what the limits of his delivery territory are, if the driver has certain skills that are appropriate for certain deliveries, and so on.
The delivery app organizes, navigates, and feeds information back and forth between the driver and the central dispatcher. Dispatch notes are attached to each stop to help increase delivery efficiency. Driver notes are taken at each stop to update the record and help with the next time a driver needs to deliver packages to that address.
Delivery drivers can also take a photo or get an e-signature of the recipient so there is proof that the package was delivered. This is then synced back to the office and sent to the customer so there can be no confusion later on.
Using package delivery apps has massively improved delivery success rates, lowered customer complaints and sped up routes to a point where the all-important next-day delivery can be achieved.
In this article, we look at how package delivery apps are essential for modern delivery operations and we take a look at a few of the best delivery apps in the last mile delivery space:
Essential attributes of a package delivery app
Package delivery apps sound like simple tools for getting drivers from A to Z as fast as possible but the reality of delivery operations is that they are complex. There are multiple factors that need to be taken into account to deliver correctly. Let's take a look below at the main features that every one of our clients demands from their package delivery app!
Route planning simplicity
The route planning functionality needs to be simple and automated. You cannot waste time in your day manually inputting addresses and thinking about the best way to break up a delivery list to various drivers and vehicles. It's just not feasible.
Route planning tools need to connect with your ordering system or allow you to import spreadsheets of addresses for automatic crunching and organizing by the software. You also need to be able to factor in things like driver skill sets, driver territories, vehicle restrictions, workload balancing and shift times effortlessly.
SmartRoutes solves last mile challenges for you
Save time and money in delivery management. Cut carbon emissions. Get oversight on your fleet.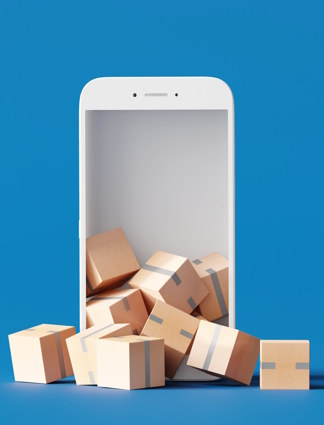 Route optimization that is multi-factorial
Route optimization in itself is simple enough. An algorithm gets you around certain stops as quickly as possible. The devil, of course, is in the detail. Do we want to prioritize left-hand turns, can we manually reorder certain stops, can we return to the depot during the route? There are multiple factors that can't be handled by the likes of Google Maps even if they did allow you to optimize more than 10 stops. For multi-factorial route optimization you need a tool that can handle these elements and create intelligent, fast routes in response.
Capable of adapting to real-world
Anyone who has worked in delivery operations knows that the best-laid plans can be destroyed by the real-world. Customers change their delivery location, traffic issues arise, new stops get added while you are out on the route. Your package delivery app needs to be able to adapt to these changing conditions. You need to be able to re-optimize the route at the click of a button and that changed route to be updated on the driver app. You need to be able to update dispatch notes telling a driver to leave the package with a neighbor instead, or the driver might need to capture e-signature proof of delivery instead of photo proof. SmartRoutes sends push notifications directly to the driver app with real-time route updates.
A clean mobile interface
Drivers need a super-simple app interface to do their job. The app needs to tell them what to do next and allow them to gather information quickly and simply when out on the delivery route. Big buttons, intuitive next steps and accurate data capture will be the difference between drivers using the app and drivers pushing back on it.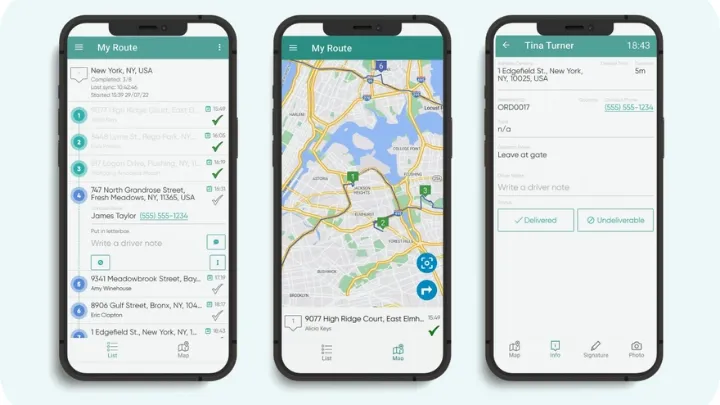 Customer communications built in
The mobile app is a tool for drivers but it is also a live beacon telling dispatch and customers exactly where the package is. These SMS notifications update customers with an up-to-date estimated time of delivery. Customers can be sent an automated SMS that is geo-fenced to when a driver is within 30 minutes of the delivery location.
The app also allows you to add drivers' phone numbers to the customer SMS giving customers the option to ring the driver directly if something is missing from their order. Equally, drivers can contact customers directly to ask for more information or update them on the delivery. This helps avoid the need for customers to call dispatch for updates.
Finally, the SMS also contains a live tracking link which customers can click on and then access a live map of the delivery vehicle so they can see where it is, where they are in a queue of deliveries and when exactly it will arrive.
Generates better processes and deliver more
For dispatch managers, the processes around delivery operations will be a reason to stay awake at night. Last mile delivery is one of the most expensive elements in modern business and costs can spiral very quickly if not controlled. Having full oversight of where drivers are and who is the most efficient can help to improve deliveries in the future. Reporting on delivery success, carbon emissions and proof of delivery is all managed through the hard-working app. For our clients, delivery management becomes akin to delivery orchestration because they have all of the information they need to make decisions and delivery management becomes akin to delivery orchestration because they have all of the information that they need to make decisions and they can see the effect of those decisions in real-time in the field.
How delivery teams use package delivery apps to improve deliveries
Maintain sequence of parcel deliveries
Some businesses need the route to be calculated in a certain sequence, for example, if you want to deliver in certain time windows that were booked by the client. In this instance, early deliveries can be just as bad as late therefore a sequence can be added.
Re-optimize for same-day delivery commitments
Re-optimize routes based on changed circumstances or slot in last-minute orders to fulfill a same-day delivery commitment. Re-optimization can be done by either the driver on the mobile app or by the dispatch team on the delivery management software dashboard.
Driver updates
Drivers can receive updates from dispatch with the dispatch notes feature. This will update in real-time and keep them up to date of the information they need to get the package delivered correctly. Drivers can update their driver notes on the app too in order to help with future deliveries, for example, notes on access codes for a property or where best to leave a package if the recipient isn't home and so on.
Improve Net Promoter Scores (NPS)
When we talk about delivery experience, we mean the whole delivery experience should be seamless for the recipient. The recipient should know when the package is due to arrive, receive it on time and the handover experience should be professional. This has improved Net Promoter Scores (NPS) for our clients in the past. NPS indicates if customers are likely to recommend the service to a friend. This is a strong indicator that customers will return to buy from you again.
Manage zones
Delivery teams can easily assign zones to drivers using a package delivery app. Zones assigned to a driver mean that any stops outside of this area cannot be assigned to the driver. This helps delivery teams divide up geographies, ensure a fair workload and ensure drivers or adjacent depots don't overlap in their deliveries. This can also allow delivery vehicles to be packed more efficiently from the depot. Items can be packed in the order they will be delivered saving time. By packing vehicles more efficiently, this means drivers can achieve more deliveries in the same amount of time as before.
Stagger pickup times
Using a package delivery app means you can stagger when drivers pick up their loads and avoid congestion at the depot and streamline things. Pickers get orders ready and have drivers ready to load in order. Staggered pickups and drop-offs avoid unnecessary delays.
Use What3Words
Not all delivery addresses are accurate in terms of where the delivery actually needs to take place. Sometimes deliveries must be left at a back door, service entrance, or loading bay. Using What3Words you can pinpoint the exact location better and ensure more efficient deliveries.
Coordinate complex orders
Order management including multiple packages per stop can be itemized and docketed using the package delivery system. Order slips can be printed and attached to each order so the driver knows exactly what to leave. Order management is essential for most businesses and will avoid missed items and the need to return to customers.
See Delivery on time stats
Delivery on-time reports highlight the overall efficiency of a delivery team or individual driver. They show the number of stops that were delivered within the time window set and are a key indicator of delivery performance that can be tracked.
Manage outsourced delivery companies
For delivery teams that are using outsourced courier services, it is important to get them to use the package delivery app. This ensures visibility on operations and all of the reporting and delivery experience functionality we have described. No longer do you need to be at the mercy of your outsourced providers' commitments on delivery quality. You will have control.
Slot new drivers into shifts
Finally, package delivery apps control the quality of delivery service ensuring route optimization, POD, customer notifications and all of the other parameters required. If your regular driver is out sick or unable to attend then the app can easily slot in a new driver or an inexperienced driver without them needing to know anything about the route. They simply follow the app instructions to complete the workload.
5 of the best delivery driver apps
SmartRoutes
Arguably the most complete package delivery app that is simple to use and has every route planning feature you will require. Starts at just $29 per month. Compare packages and features here.
Circuit app
One of the best-known route planners used by couriers. Their individual driver app is $20 per month with very basic functionality. Circuit for Teams starts at $100 per month with very limited package delivery capabilities and then moving to $200 to include features like POD, fleet tracking and so on.
Locus
Locus Dispatcher is an automated route planner that uses deep machine learning to simplify the distribution of goods for delivery agents, drivers, and dispatchers. It is a comprehensive solution in logistics that enhances fulfillment operations & increases consistency in transport planning, with nearly no human intervention. Pricing from $10,000 per annum!
OptimoRoute
They recently raised their prices to an entry point of $39 per month but this is a very complete solution and used worldwide by couriers and all manner of small businesses to power their home deliveries.
Zeo Route Planner
Zeo Route Planner is aimed at drivers, logistics managers, courier companies, and small businesses. Starts at €34.99 per month.
Improve your delivery management
Customer expectations have grown massively in the past 10 years and trailblazers like Amazon and DoorDash are driving expectations even further so smaller businesses have to follow suit.
Package delivery apps are essential in maintaining high standards, speeding up delivery times and giving customers a great delivery experience.
Looking for a package delivery app?
You can get in contact with the team at SmartRoutes today to get a demo of the solution and a custom calibration/setup to see how it can work best for you. You can also trial the platform for 7 days for free to see how the platform would work for you!
If you liked this blog you may also be interested in: