Contactless delivery and how to do it right
Contactless Delivery has become the preferred method of receiving goods for customers all over the world. Learn more about how it works and how to implement it successfully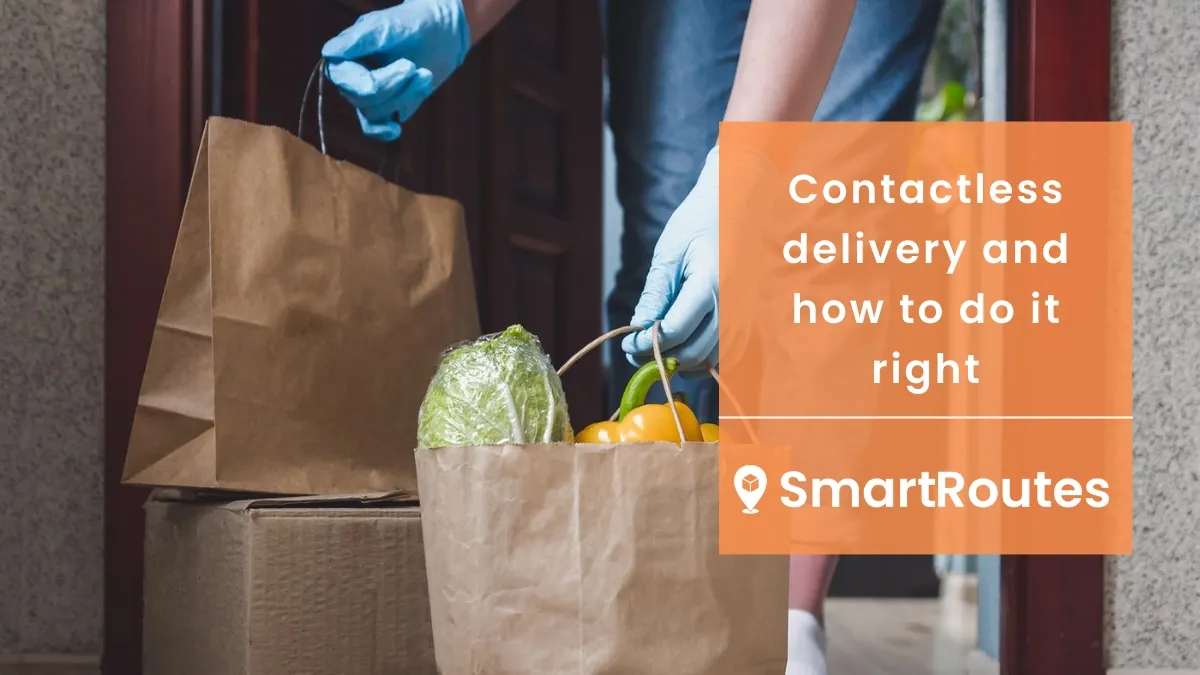 No contact delivery: an introduction
You don't need us to tell you what a crazy few years it has been for online shopping and the knock-on effect it has had on home delivery and the last mile deliveries. One of the big changes we have seen is the rise of no-contact or contactless delivery options. As if last mile problems were not challenging enough, delivery teams now need to deliver without meeting the recipient face to face.
With the unfortunate arrival of the Covid-19 pandemic, we were forced to rethink how we interacted with others and actively limit our contacts accordingly. As we move on from the whole ordeal, we can look forward to some of the more temporary measures like masks and social distancing. But some changes to how things are done are likely to endure, and one of those is contactless delivery.
So, if you're using a courier app or running a logistics business, or you're doing deliveries for your own business, we'll tell you everything you need to know. We'll define it, show a few examples of how it's used in business today, and provide some best practices for getting started and some tools that will assist you.
In this guide you will learn:
What is Contactless Delivery?
As the name suggests, contactless delivery is the process of delivering goods to a customer without any physical or human interaction. This usually involves leaving the goods on the doorstep, or in secure storage at the drop-off point as arranged with the customer beforehand.
Contactless delivery gained increased importance throughout the coronavirus pandemic as customers actively tried to reduce the number of people that they came in contact with.  Due to its success, we don't see it vanishing anytime soon!
SmartRoutes solves contactless delivery for you
Save time and money in delivery management. Cut carbon emissions. Get oversight on your fleet. Delight your customers with superb communication tools.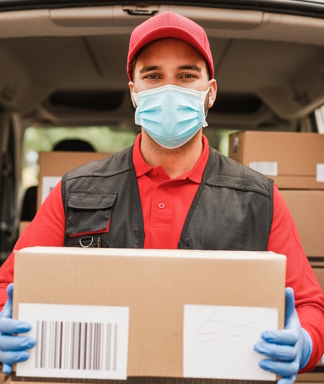 Why is no contact delivery important?
As we've already mentioned, contactless delivery gained increased importance throughout 2020 and 2021. Adhering to health advice was the big driver, but it's not the only reason that delivery companies and small businesses have turned to contactless. Some other reasons include:
Enhancing the delivery experience
As more consumers have begun to shop online, there is a greater volume of packages being delivered directly to their homes than ever before. Customer experience has always been a top priority for the strongest of brands and businesses, but ensuring the same levels can be difficult without an in-store interaction.
That's why 'the delivery experience' has become a new focus. The delivery experience is all about providing the customer with the best possible experience throughout the delivery process. With fewer touchpoints in the customer journey, ensuring that your customer has that 5-star experience is now critical to your reputation.
Contactless delivery is something consumers have now got used to, so they expect businesses to provide it. We'll talk a little more later in this blog about how you can ensure that level of service.
Improving first-time delivery rates
Missed deliveries are expensive. Re-routing orders and wasting drivers' time is a huge suck on your resources and can quickly impact your bottom line. In this regard, contactless delivery has a very direct benefit to delivery businesses as well as the customer.
By having the ability to make deliveries without interacting with the customer, your drivers can reduce the time spent at sops and avoid having to return to the location at another point in time. The result is that your drivers will serve more stops per vehicle, and will reduce fuel consumption. You'll also end up with happier drivers, and at a time when they are so scarce, this may be the difference between scaling your business or not.
These small gains can have a big impact on the profitability of your business, so getting your contactless delivery right can reap rewards.
Health and safety and no contact delivery
We won't go into this one too deep, as we've already discussed how 'social distancing' increased the importance of contactless delivery. But out of respect alone for drivers and customers, it's a pretty important reason to offer it.
How to implement the perfect contactless delivery service
Offering contactless delivery seems like it should be easy, right? Just drop off the goods, back to the vehicle, and on your merry way.
Wrong.
If you're going to offer it as a service, you need to ensure that it's enhancing your delivery service and business. It shouldn't just be about convenience at the expense of your reputation. To help you get it right, we've outlined the steps to implement the perfect service below:
Make customers aware of the no contact service
Your customers can't avail of the service if they don't know you offer it. It might sound silly, but it is important to communicate it to customers.
At SmartRoutes, our route optimization solution sends an automated SMS or email to your customer with the planned estimated time of delivery. This is the perfect opportunity to inform your customer that they aren't required to physically receive the goods. See our sample template below: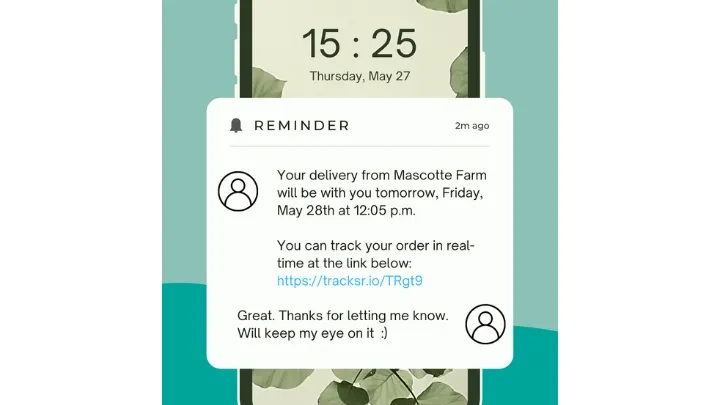 Give drivers training and support in how to do no contact delivery
Getting buy-in from your drivers is key to the success of contactless delivery. After all, they're the ones that will ultimately actually do the deliveries.
First off, drivers should be given instructions on how to make contactless deliveries. Similarly, they should know when not to leave a package unsecured.
If it's a low-value product, you may get away with leaving it on the doorstep. However, if it is a high-value product, you may want to ensure that it is delivered securely and that it is not at risk of damage or theft.
This follows on from the first step where you actively engage the customer about how they want the delivery to be completed.
At SmartRoutes, we have solved this problem with a dispatch note feature that allows you, or your customer to attach a note for the driver at the time of purchase or dispatch. This ensures that drivers don't waste time trying to contact the customer and that they do not have to re-route the delivery on a later run.
Contactless delivery doesn't end once the goods are dropped off
This is one of the most common mistakes we see with the implementation of contactless delivery.
Although it might seem like the job is done once the parcel is dropped off, that's not the truth. Unlike standard delivery, there is no interaction with the customer and the tacit receipt of the delivery is not as easy to prove.
That's why photo proof-of-delivery is so important in contactless delivery. Because customers can't sign for the delivery, capturing a photo of the delivery in situ at the drop-off can save you the headache of customers claiming they didn't receive it. It's hard to argue with a photo of the delivery on the customer's property!
The SmartRoutes delivery route planner includes a mobile app that allows drivers to snap a photo of each delivery, attaching it directly to the specific order on the app.
Even better, these photo POD's are instantly attached to the order on the Desktop Delivery Manager, so you and your team at the office or depot can instantly answer any queries that customers might have over the phone. Our research at SmartRoutes has shown that customer notification, coupled with instant access to POD's at the office can reduce the time spent serving customer queries by over 80%.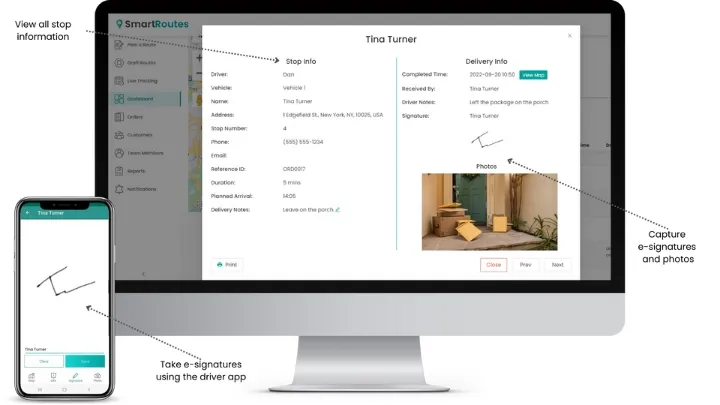 3 Real Examples of Contactless Delivery
1) No contact food delivery case studies
One of the biggest areas where contactless delivery has taken off is in the food delivery space. Big players like Dominos Pizza have begun offering the service and customers have been quick to adopt it.
On a smaller scale, we've helped businesses like Le Patissier to offer contactless delivery. They are a boutique pastry business that delivers their food directly to customers. By utilizing customer delivery notifications, they were able to ensure that their fresh produce was delivered securely, even in the absence of their customers.
You can learn more about how they implemented a great delivery service here.
2) Contactless newspaper delivery
In the internet age, our news sources have become up-to-minute reflections of what's happening at any given moment in the world.
However, many of us still enjoy having a physical newspaper to read. We've slowly come to understand the benefits of putting down the phone or tablet, and reading good old-fashioned newspapers again.
The challenge with newspaper delivery is that the news must therefore be on the customer's doorstep when they get up in the morning. These deliveries MUST be contactless.
At SmartRoutes, we've helped Ireland's leading newspapers, Irish Times, and Irish Independent to successfully roll out a home delivery service for their readers.
3) Agri-feed and fertilizer no contact delivery
Agriculture is often overlooked, but it is the industry that keeps all the other wheels of our economies moving.
No farmers, no food.
But farmers are also some of the most time-poor amongst us, and they are constantly on the move to keep their operations running smoothly.
That means that they can't always be present to take delivery of goods on their farm. With lots of storage spaces and feed silos, contactless delivery can be a challenge for truck drivers.
We've helped Grennan's to offer contactless delivery in some of the most challenging of circumstances.
No contact delivery: what to do now?
Contactless delivery is here to stay. Whether you are just starting your delivery journey, or want to offer it as part of an established delivery service, following the steps and learnings from the examples outlined above will give you a great start.
The results, when done well, can be amazing for your business, saving you time and money, whilst improving your service and reputation. Although it might seem like added work, it can make life easier for you and your drivers too.
If you'd like to know how we can support your business with getting contactless delivery off the ground, get in touch here to book a free consultation with one of our team.
Frequently asked questions
1. What is Contactless Delivery?
Contactless delivery refers to a method where goods or services are delivered to customers without direct physical contact between the delivery person and the recipient. It involves leaving packages at designated locations or following specific instructions to ensure minimal or no interaction during the delivery process.
2. How can my customers request contactless delivery?
Customers can request contactless delivery by specifying their preference during the ordering process. Most delivery services or platforms provide an option to select contactless delivery at checkout or allow customers to leave specific instructions for the delivery person to follow.
3. What if my customer is not available during the contactless delivery window?
If a customer is unavailable during the contactless delivery window, they can usually reschedule the delivery through the delivery service's platform or contact the service provider directly to arrange an alternative delivery time that suits them. If they have given directions to leave the delivery item(s) in a designated safe space, then the delivery can still be completed. Taking proof of delivery and sharing it with the customer can help them know the information they need to collect their order.
4. Are there any specific items that can't be delivered using contactless delivery?
While many items can be delivered through contactless methods, certain items like perishable goods requiring immediate refrigeration, high-value items requiring signatures, or items with specific handling requirements may not be suitable for contactless delivery.
5. What are the benefits of offering contactless delivery services?
Offering contactless delivery services provides several benefits, including increased safety for both customers and delivery personnel by minimizing physical interaction. It also enhances convenience, allowing customers to receive deliveries without needing to be present physically, and can boost customer satisfaction by offering a more flexible and secure delivery option.
If you enjoyed this blog, you might also be interested in: