Route Optimization: The complete guide
With route optimization the difference between success and failure in delivery operations we ask why people are still planning routes manually or with Google Maps?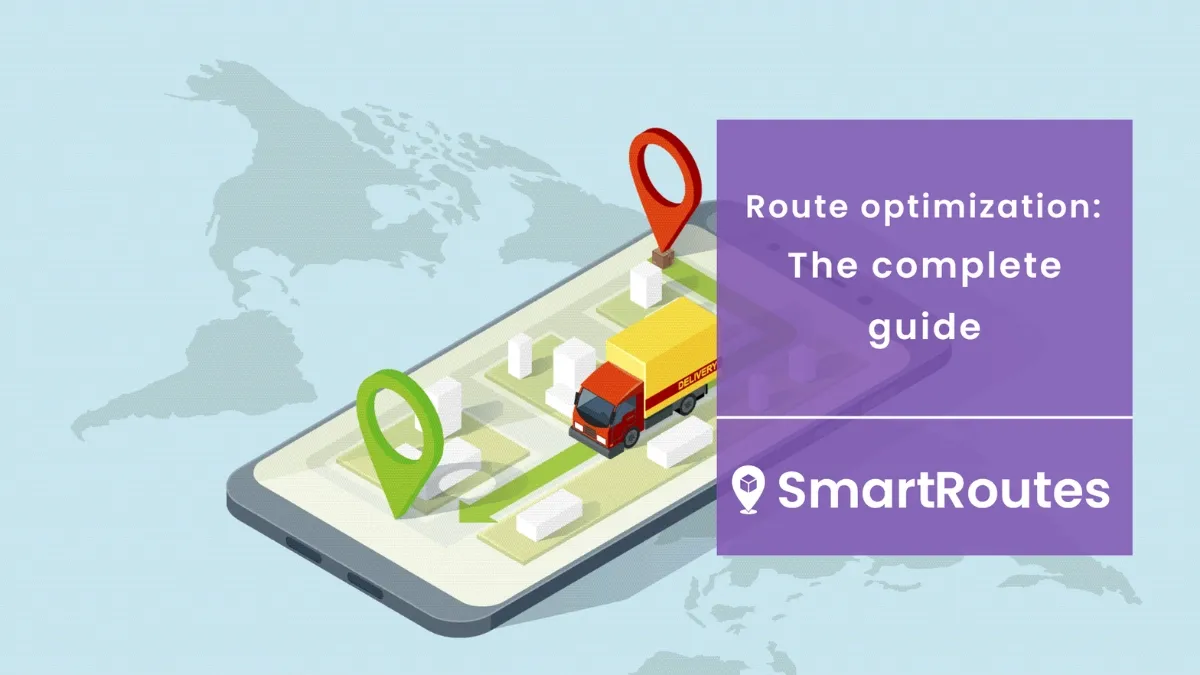 Route optimization is essential when your fleet has hundreds of clients to visit or delivery drops to make every week. Planning manually is incredibly time consuming and it simply cannot compete with routing software. When driver wages and fuel costs make up two-thirds of operational costs per mile then you have to see route optimization as the best way of managing that cost.
What we will cover in this guide:
What is Route Optimization?
Route optimization is designed to improve efficiency and reduce costs. It helps businesses to complete orders and manage all the variables of a delivery management operation. It is a critical piece of digital infrastructure for logistics teams, distribution systems and for small businesses that need to get deliveries out to their local customers.
Route optimization is often thought of as simply the fastest way to navigate multiple stops but actually software takes into account other variables like road dimensions and vehicle restrictions. You can even mix the AI power of routing software solutions with local driver knowledge to get the best of both worlds.
And if that isn't enough here are some other factors that routing algorithms needs to take into account:
How can we reduce the number of turns on the route?
Can we reduce left-hand turns [right-hand turns in left hand drive countries]?
Driver zones so drivers don't have to travel far from their own home
Traffic conditions typically at certain times of day/week
Optimal places to stop for drivers
So you can see that as factors and determinants mount, AI software becomes essential. In fact, with just one van and ten stops the number of possible routes is over 3 and a half million! Add in four more vans and it jumps to em...37 quadrillion.
Check out this visualization of the problem of route optimization [often referred to as the travelling salesman problem].
Why can't I continue planning my routes manually?
Of course you can continue planning your routes manually. For many reasons it might be your best option, if you're delivery operations are quite small it may be your only option. However, if you're reading this you might already be at the stage where manually planning routes is no longer sustainable. So what should you consider?
Efficiency
Business is about using resources efficiently and if a routing solution that costs a few hundred dollars can save you that much every week in fuel, drivers wages and wear-and-tear on vehicles [not to mention drivers] then that is a simple calculation for any owner or CEO.
Building your delivery system
Starting out you might be able to handle all the route planning and communicating that information to drivers. You might learn how to set delivery operations up effectively and you might know all your customers' names by heart. However, it quickly becomes an inefficient way of using people's time and this argument alone is enough to move to optimization.
Operational accuracy
AI will beat the best human knowledge every time as we have proven in extensive client tests. Accurate predictions of drivers return times helps everyone. Factoring in all the myriad conditions that make up the best route as suggested above.
Reactivity
Drivers get sick, traffic snarls up, customers change their order last minute. How do you re-optimize on the fly? How do you reroute a driver midway through their shift? Software does it all at the click of a button. This takes the stress out of an already stressful operation.
Ability to overcome change
As drivers leave and distribution managers move on, how does the organization replace that knowledge? Delivery management systems now become the one source of truth for an organization and allow the company to grow despite staff turnover. Of course, a courier app is then needed to maintain this also for new drivers.
Reporting
Oversight of delivery operations is possible with GPS driver trackers. You can see everything in real time and so can your customers. Reports and exports can be pulled down at the end of day or for internal reporting purposes and the information is accurate and up to date. You can even see which were no-contact deliveries and which were regular deliveries, very important with Covid still a big issue.
Route Optimization with SmartRoutes
Save time and money in delivery management. Optimize your routes. Cut carbon emissions. Get oversight on your fleet. Impress your customers with superb communication tools.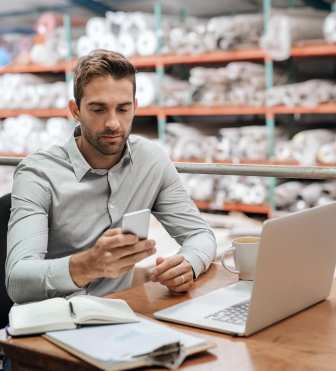 Benefits of Route Optimization
Route planning and optimization is tough work, no question.
Getting the maximum return from your drivers' work and fleet is hard
Scheduling routes is nearly impossible once you go over a certain threshold of stops and vehicles
The cost of deliveries in terms of fuel and wages can skyrocket and is not something customers feel obliged to pay for
Missed deliveries and the uncertainties of last mile can cost your business
If you use a delivery route software however you can counteract these challenges and reap the benefits:
Increased Efficiency with Route Optimization
Make your drivers more efficient thereby reducing cost per delivery by up to 33% and increasing the capacity of your team by 20%. For example, when The Irish Times rolled out route optimization for 150 vehicles they were able to grow their customer base for months without hiring any further drivers or vehicles and all the while they were saving 80% on route planning time and 33% on fuel costs.
"Delivering over 90,000 newspapers a week requires our entire operations and logistic divisions to be on the same page. SmartRoutes gave us full visibility of every touch point from print production right up to end customer queries. Without their combination of software and service, this simply wouldn't be possible."
- Fran Walsh, The Irish Times
Improved Route Planning
SmartRoutes reduces time in route planning by allowing companies to import their entire customer list or stops list directly into the AI route generator. Even better, you can also connect your existing ERP, CRM or database directly to SmartRoutes and automate the whole process. For eCommerce businesses that use Shopify or WooCommerce route planners this can save hundreds of hours and simplify what was once a huge headache. For NutriLean, a food delivery business, connecting to their Shopify account saved them over 600 hours of planning annually at a cost of $18,000 and increased their successful delivery rate to over 98%.
Better Communication with Customers
Route optimization means the delivery team and driver know more or less exactly when the delivery should be made. Accurate time windows are great for customers who can then plan around them to ensure they are available to receive the order. Secondly, route optimization means GPS driver tracking is likely to be installed meaning customers can track their package live on a portal, just like an Uber.
Reduces Miles Driven
It saves unnecessary miles driven, carbon emissions and driver's sanity. It is an all-round good idea and helps companies to achieve their carbon neutrality goals if they have them. In short, our kids will thank us for optimizing the delivery drops!
Better Load Balancing
Intelligent route optimizing tools allow dispatch managers to spread the workload more evenly, balancing schedules and order quantities at the click of a button. You can even set up geographical zones for your drivers so they don't have to drive unnecessarily to depots and then back home.
Who Benefits from Route Optimization?
Third-party logistics delivery teams
Managing large order volumes and numbers of different drivers requires a very efficient route optimizing model. Reporting back to clients on deliveries and establishing clear proof of delivery requires a total delivery management solution.
Food delivery teams
For customers the speed and transparency of delivery is often as important as the food that arrives. Real-time route optimization for food delivery is important here. Being able to live track the food is now essential for customers and order packaging slips as part of the delivery management solution is critical for ensuring customer satisfaction.
Healthcare deliveries
Whether it is medical equipment or medical services a doctor or nurse requires a clear picture of arrival times. Setting ETAs accurately and being clear who and what to expect can be managed through the customer live-tracking portal. In addition drivers and teams can do live updates via SMS to keep the patient informed at all times.
Retail and eCommerce delivery teams
Customer expectations around home delivery have grown massively on account of Amazon Prime and other same-day delivery services. Also, customers expect a high quality of delivery service with quality packaging and delivery people to embody the brand experience for them. Retail globally is moving to online and so the delivery experience is the only face to face interaction the customer has with the brand.
Pharmaceutical logistics teams
Covid has shown how critical and time-sensitive pharmaceutical deliveries are to the population as a whole. Delivering within cold-chain or just getting drugs to pharmacies and healthcare units in a timely manner is critical. These end-customers now expect a live-tracker of sensitive goods and want to be able to communicate orders being delivered to their own customers.
Construction and manufacturing teams
For plants and machinery to be wasteful in their routing plans has a huge implication on the bottom line for construction and manufacturing businesses. These large vehicles simply use too much fuel to be driving unnecessarily. Route optimization and driver tracking are key for transport managers in construction.
Field services
This is an industry that can be subject to a lot of last-minute changes and multiple stops under time pressure daily. For end customers it is always time-sensitive and they require the service teams to arrive fast. Route optimizing and reoptimizing can save money and deliver a better quality of service.
Field sales teams
Meeting with customers at their own place of business can be a wasteful practice for field sales teams. Getting held up in traffic can result in a bad experience for the customer so they should be given updates if the meeting time is going to change. Field sales people can reoptimize routes if they get held up and they can inform customers via template SMS messages while they are on the road. Tracking field sales teams is also helpful in finding new efficiencies.
Environmental services
Whether it is rubbish collection, pest control or repairs to water or waste customers will want an accurate arrival time and ideally a live tracker of the vehicle or service person. For domestic waste collection there are obvious gains to be made from finding faster ways to navigate the stops list.
How does Route Optimization Work?
SmartRoutes dynamic routing algorithm takes into account two distinct data sets and merges them to create the most efficient route for a driver. The first data set is a mix of multiple travel time data sets that are collected by GPS tracking organizations like Google Maps. These data sets learn from millions of vehicles that typically take routes to understand the fastest way to navigate between points on a map.
The second data set is the distinct parameters set by the person creating the route. Obviously, there are the stops on the route, but there are also items like time windows, vehicle sizes and restrictions, tolled roads versus untolled roads and so on.
Merging these elements and crunching the billions of possible variations in a matter of seconds is what produces the route for you. The fact that the route is sometimes unlike what a person might create manually is something that often comes up as a sticking point. "Our driver says your route doesn't make sense, he can do it quicker" is a typical response and one that we have tested against driver local knowledge many times. Unfortunately for human egos, route optimizing tech always wins over an extended test period.
Case Study: Route Optimization
HapiFoodCo is a Dublin based home meal delivery company. They freshly prepare healthy meals and snacks for delivery every second day to homes across the city. As people, particularly in larger cities, become time constrained as a result of longer commutes, meal preparation is one obvious way in which they can save time. HapiFood provides a huge variety of healthy cooked meals, breakfasts and snacks so time-poor people don't have to forego quality nutrition. Their food is simply cooked, chilled, and delivered all in the same day.
Route optimization challenge
When HapiFood came to SmartRoutes in 2018 they had figured out the logistics of meal prep and online ordering but were still struggling with route planning for such a complex delivery schedule as their growing customer list demanded. The work involved in delivery planning and execution was taking away from their passion for cooking great food and it was wasteful in terms of unnecessary miles being driven. Something had to change.
The Goals
HapiFood felt they had a much better offering than was available on food apps like Deliveroo or Just Eat but they needed to compete with them on speed of delivery and customer experience. They asked SmartRoutes to achieve these goals for them:
Automatically create and optimize routes based on the orders that came in on their website
Allow them to plan deliveries for the week at the weekend so they didn't have to think about it again after that
Communicate the optimized delivery routes directly to drivers without the need for printing out maps and manifests
To send delivery notifications to customers and give them a live-meal tracker so as to cut down on missed deliveries
The Solution
We immediately set about helping HapiFood to configure their SmartRoutes delivery management software to cut down on hours spent managing orders and creating routes. Some of the key features that we identified were:
Simplified route planning and optimization
Many businesses are now using cloud-based eCommerce solutions such as Shopify and WooCommerce for their online stores. HapiFood have developed their store on the WooCommerce platform and receive all their online orders through their own site.
Our first step was to create an automatic integration between their WooCommerce store and their SmartRoutes planner. This would ensure that as customers ordered online, they would be sent to the SmartRoutes delivery route planner, where the routes for a particular day would be created automatically based on the day's orders.
As part of this integration, all relevant details such as names, addresses, and specific delivery requests of customers would be attached to each delivery on the drivers' mobile app.
Order packing slips auto-generated
You've ordered your HapiFood meal plan but you think the order is wrong when it arrives. This was the nightmare scenario we tried to eradicate for the team. As orders were filtered from their WooCommerce store to their delivery route planner, a packing slip was attached with the complete list of goods ordered. These could then be printed at the click of a button and attached directly to customer orders.
This would ensure that drivers knew exactly what should be delivered, and would save dispatch staff time and stress of managing the orders from the kitchen. It also meant that there was a distinct paper trail from online order to delivered item.
Driver zones
As the business had grown, so too had the size of their delivery fleet and the number of drivers they employed.
Using SmartRoutes zones they were able to set up distinct areas for each driver to work in. This cut down on unnecessary driving and meant that drivers became familiar with repeat customer's addresses all of which improved delivery experience.
As orders arrived through their website, they would be sent to the delivery route planner, and routes would then be created within these zones. As order volumes fluctuated within these zones, they could simply alter the borders of each, to meet capacity for each vehicle and driver in the most efficient way.
As orders came in they were automatically assigned to specific drivers based on the zone they were in. If volumes went up for a specific driver the team could balance out the workload by simply adjusting the zone.
Customer communications
Working with the team at HapiFood, we knew that they could stand over the quality of their food and the way in which it was delivered. For that reason, we knew that these features would be key to helping them provide a seamless 'delivery experience'.
When it comes to food delivery, ensuring that customers know when their delivery is arriving is critical. Fresh food will only remain fresh as long as the customer can receive it and then put it in a refrigerator.
HapiFood were able to do three key things to improve the communications with end customers:
They used our SMS and email notifications to automatically inform customers in advance of delivery times. These notifications could be amended and added to by the delivery driver if necessary depending on conditions during the delivery route.
Customers were given a link in their SMS or email to a live-meal tracker portal. Essentially they were able to track their meal as it was being delivered to them on a map. Customers loved this feature.
Finally, the drivers were able to take a photo of the delivery or get an e-signature from the recipient to close the delivery loop and improve reporting and security for all.
Looking for Route Optimization?
If you would like to talk to us about implementing route optimization for your business, you can avail of a 7-day free trial with SmartRoutes or book a zero commitment demo today and let our team show how Route Optimization can improve your delivery processes.