How to Streamline your Last Mile Delivery Operations in 2023
In this guide we show you how to streamline your delivery operations in 2023.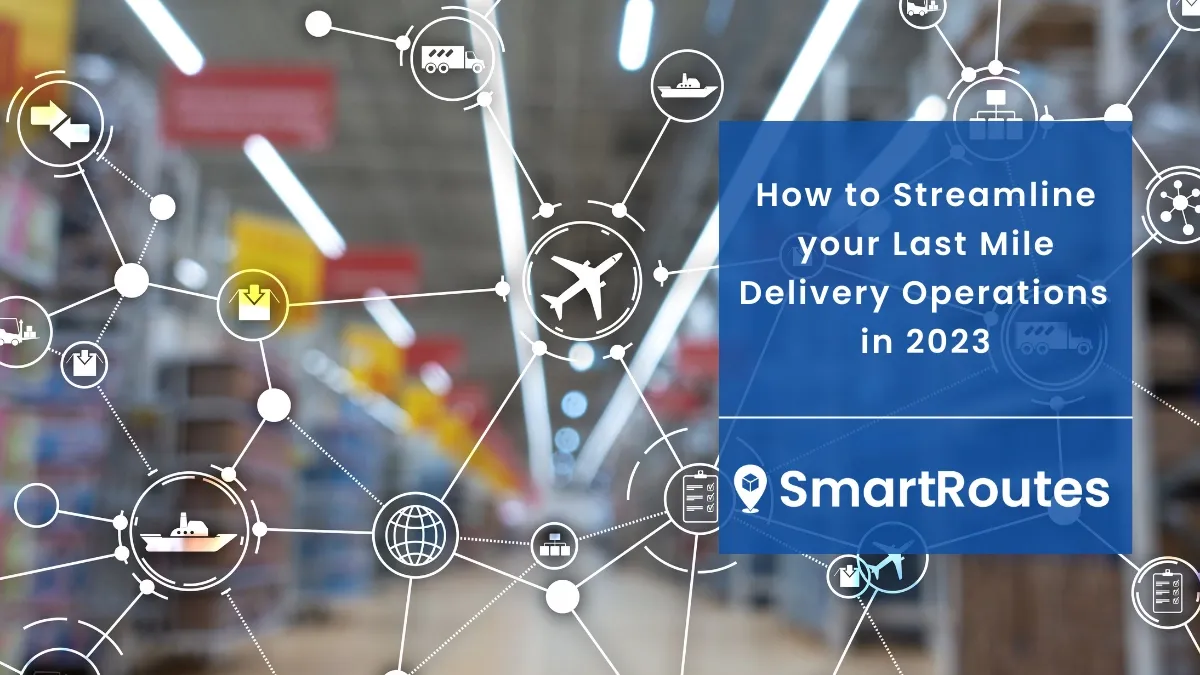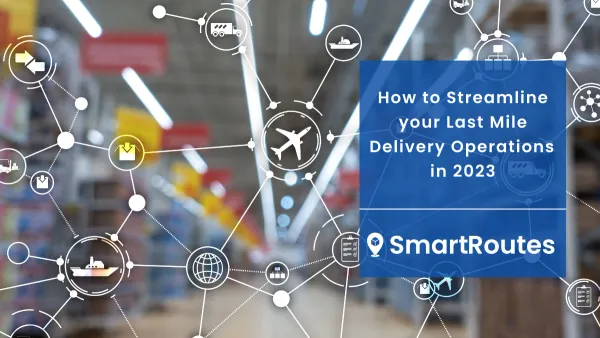 Delivery operations involve all of the activities required in delivering orders to a customer. From inventory and warehousing to packing and finally delivering the order to the end customer. Consumers' expectations are growing when it comes to deliveries making it imperative to get delivery operations running smoothly. In this blog, we will take a look at what exactly last mile delivery operations entail and how to improve on what you're doing by leveraging software to make your delivery operations much more efficient.

We will be taking an in-depth look into the following:
What Are Last Mile Delivery Operations?
The Benefits of Successful Delivery Operations

What Are Last Mile Delivery Operations?
Last mile delivery operations manage the final leg of the journey of goods to the end customer. It is the most costly and time-absorbing part of the logistics and supply chain process. Many businesses rely on pen and paper when it comes to their delivery operations however when this becomes too much, they often look to delivery management software to optimize their delivery operations. Technology can help with order management, warehouse planning, route optimization, customer communications and more (we will take a more in-depth look at below).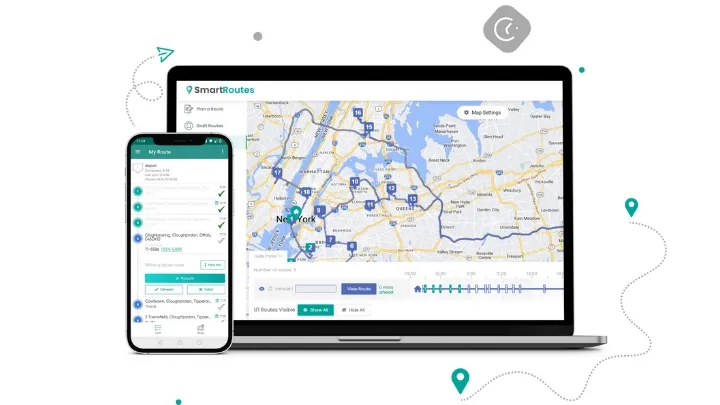 By automating various elements of delivery operation; costs can be reduced, more customers can be facilitated using the same or even sometimes fewer resources and the process as a whole can be more optimal from when the customers make their order to when it arrives on their doorstep.
Last mile delivery operations include:
Inventory and Warehousing
The first element of delivery operations from when the customer orders are inventory and warehousing. This is where goods are stored before they are delivered to the customer. So inventory management helps you to maintain optimal stock levels at all times and allows you to meet consumer demand without running out of products.
Packing Orders
Once orders are placed they can be packed and organized in the warehouse. This is an important step to get right, any inaccuracies can prevent orders from getting to the right destination. By implementing order management software, you can automate the process from order to doorstep. Thus leaving less room for errors. If the delivery schedule is known ahead of time the warehouse can be organized by grouping packages together that will be packed into the same delivery vehicle. Orders can also be packed into the vehicle in the order in which they will be delivered to achieve optimal efficiency.
Dispatching
Once orders are packed and organized in the warehouse, they are ready for dispatch. The delivery or logistics manager then maps out the routes for the delivery drivers, they assign these routes to the drivers and delivery vehicles are packed accordingly. Route planning is determined by factors such as the distance between stops, vehicle capacity, driver skill, load balancing and so on. This process can also be automated using a route planner which helps save the delivery or logistics manager time, reduces error and can increase driver capacity by ensuring vehicles leave the depot fully loaded. Dispatchers often solve delays that come up at the last minute while drivers are already out, this can also be accounted for by using route planners that enable push notifications to go to drivers with updated routes.
Steamline your delivery operations with SmartRoutes
Save time and money in delivery management. Cut carbon emissions. Get oversight on your fleet. Impress your customers with superb communication tools.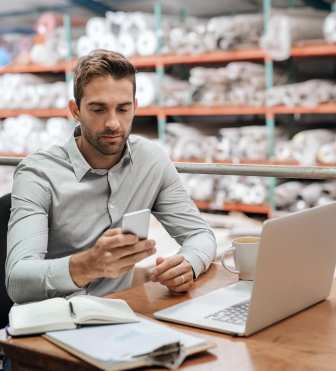 Transportation
Once the delivery vehicle has been sent out, they can go about the last mile delivery. Customers will receive their orders and if done so efficiently, will be given a good delivery experience. Once delivered, drivers can capture proof of delivery, either using hand-written signatures or if they use delivery management software, they can capture electronic PODs using e-signatures and/or photos. Customers can also be sent automated notifications giving them updates on the whereabouts of their order. This notification can also hold a tracking link that gives customers a live map of where their driver is in relation to them.
Analytics and Reporting
If you decide to automate your delivery operations with delivery management software, then it's important to choose one that provides you with the necessary analytics and reporting capabilities required to achieve an efficient last mile delivery operation. By using analytics, you can improve your delivery performance by spotting inefficiencies quickly and giving you the opportunity to make data driven decisions.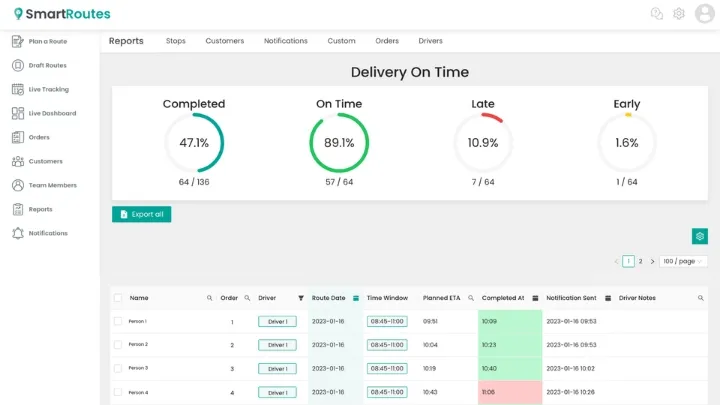 The Benefits of Successful Delivery Operations
By implementing automation into your delivery process, you can achieve the following:
1) Complete more deliveries
One of the most important benefits of improving your delivery operations is the ability to increase your capacity for deliveries. This can be achieved by implementing a route planner that optimizes delivery routes. In doing so, the routing algorithm plans the most optimal routes between stops rather than just the fastest distance. It accounts for zones, load balancing, driver skills, vehicle capacity and more. Optimizing routes ensures that vehicles can be loaded to capacity. This allows your business to get out more orders per delivery route, eventually allowing you to scale and complete more orders with the same resources. Data analytics and reporting can also allow you to identify bottlenecks in your delivery operations which you can then improve and further increase capacity for deliveries.
2) Save on time
Another benefit of automating your delivery operations is the amount of money and time saved. For example, by implementing a route planner, routes no longer need to be manually planned, updated and sent to drivers. Route planners take care of the heavy lifting by optimizing routes which are automatically sent to the drivers' phone via the drivers' mobile app. Another added benefit is you have the ability to send automated notifications to your customers with live updates on their orders as it makes their way to them. The notifications can also include a link with live tracking information for the customer to use and look for real-time information as their order makes its way to them. This cuts out the need to contact customers individually regarding their order particularly if they need to 'be in' to receive it. This reduces the time spent answering customer queries as customers can see their delivery on their way to them so they have less of a need to contact the offie looking for updates.
3) Reduce Costs
By using a route planner this also means that your drivers will need to spend much less time on the road per delivery. This reduces the fuel used and therefore costs required per delivery. This efficiency in driving more optimal routes then reduces your fuel cost and associated carbon emissions. Also being able to get more deliveries out per day with the same amount of resources (as mentioned above) means that costs are also reduced as drivers' salaries won't change and fuel costs will stay the same but deliveries made will increase. Again, reducing the cost per delivery. In order however to keep this level of efficiency and reduce cost, technology needs to be embraced to ensure the overall delivery service doesn't disimprove.
4) Improve delivery accuracy
Using automation in your delivery operations will lead to a much more efficient delivery process and as a result, less human errors. By knowing routes in advance, the warehouse can be better organized leading to less orders missed before being loaded onto the delivery vehicle. Route optimization software can also account for more accurate ETAs meaning if customers need to be there for the handover, this gives the best chance that they will be there. If anything on the route needs to be changed the office staff can update this in real-time and the driver will receive a push notification through the open app on their phone making it very unlikely that they would miss the update.
Start Streamlining your Delivery Operations, Today!
If you're looking for a delivery operations management platform for your business, you can try a 7-day free trial of SmartRoutes or book a demo to discuss your needs. We can get you up and running in minutes and help you to make the most of it from the outset.

If you liked this blog you may also be interested in: