Route management: [the complete guide]
Route management is now a fundamental for most businesses as the demand for direct-to-consumer delivery grows exponentially [[Ultimate guide]]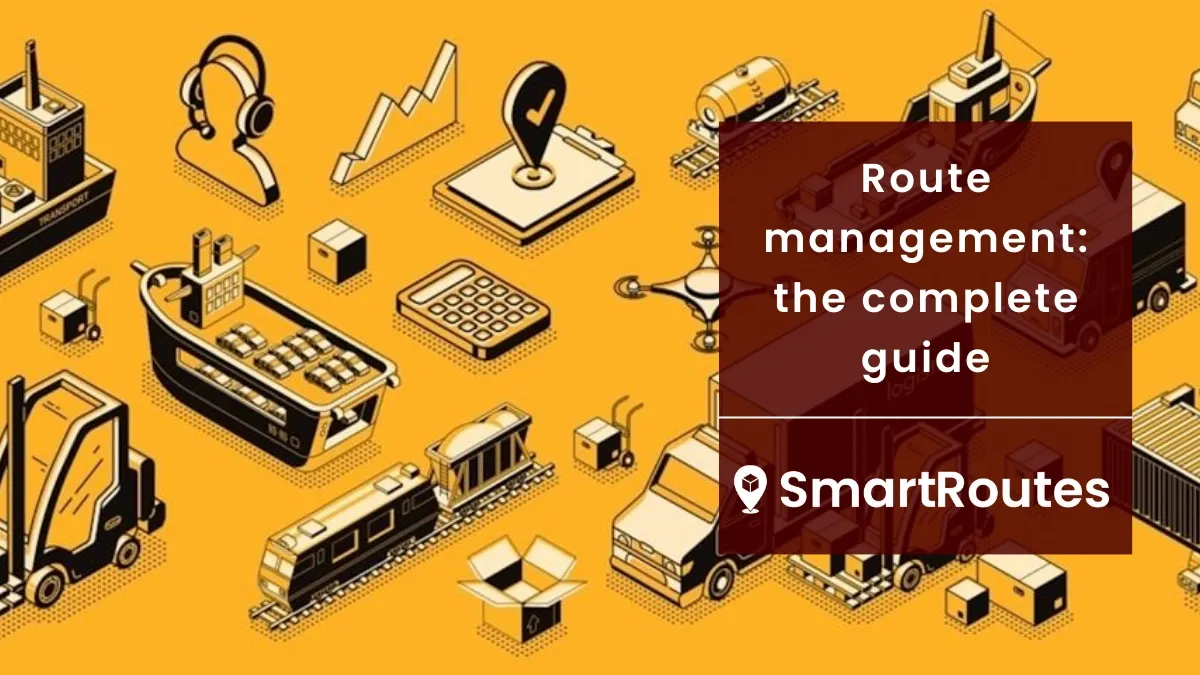 As supply chains across the world continue to grow and develop, the last mile has taken the brunt of the increased volume in consumer goods produced. In recent years, we have also seen the phenomenon of online shopping and home delivery become widely adopted by the general population. In large part due to the development and ease-of use of eComm solutions the demands of customers have sky-rocketed. Amazon are making same-day delivery normal. Uber are increasing expectations around live-package tracking. And that is before we even look at super-fast delivery turnaround disruptors like DoorDash and Instacart. For businesses selling online delivery expectations are becoming a big issue.
But being the one who has to manage the fleets of vehicles that deliver these goods to consumers has become even harder. The simple equation of "more goods + more residential drops + more vehicles and drivers = more difficult than ever to plan and manage these routes".
In this blog, we're going to look at how route management has become the hot topic that it is today, and look at how you and your business can make it work. We'll take a look at what exactly route management is, who takes charge of it, and how it can best be applied in the business context. So sit back and get ready to learn how to master your routes
We will take a look at the following in this article:
Why is route management important?
Is there a difference between route planning and route management?
The benefits of route management
3 real examples of route management
What is route management software?
How do you get started with route management?
What is route management?
Route management is the planning of routes for delivery of goods and services aiming to make them as efficient as possible. Route management covers route planning, route optimization, driver & vehicle tracking, and end-of-day reporting.
Typically, route management is undertaken by any business that has a fleet of vehicles and drivers such as couriers, trucking companies and retail businesses. Route Management can be done manually using tools like spreadsheets, or using route management software like SmartRoutes. Such tools have a host of features that can make routing easier, quicker and more effective.
Why is route management important?
Route management is important because it has the ability to make the planning and management of transportation routes more efficient. It greatly helps in terms of time taken to plan routes, reducing distances traveled, and driving hours per route. As a result, route management leads to happier drivers and customers as well as financial savings for the business.
In an age where direct-to-consumer deliveries are increasing fast and 27% of American consumers plan to buy online because of greater convenience, getting a strategy in place to meet these demands should be top of the priority list.
In times past, when the majority of deliveries were completed to wholesalers, the role of route management may not have had the same importance. But with more consumer deliveries, the volume of goods being delivered to each address has gotten smaller, but the number of stops on any one route has become larger than ever. For example, a multi-drop driver doing wholesale deliveries may make between 5-15 stops, whereas a D2C multi drop driver may make upwards of 100 stops in any one day. Each of these stops adds a further layer of complexity to each route that needs to be planned for accordingly. Now consider that any business that has embraced a home delivery service is likely to have increased the size of their fleet and added countless more drivers to their roster too. A well-developed route management system can be the answer to this challenge. It can make your business infinitely more professional and maximize deliveries per route.
What does a route manager do?
A route manager is responsible for planning, scheduling, and managing routes and drivers to complete deliveries in the most efficient way possible. The route manager takes into account the volume of deliveries to be completed, what special requirements there are for each delivery, and then devises the best way to serve all of those customers with the resources (drivers and vehicles) at his disposal.
However, a route manager's job does not end with the creation and dispatch of routes to drivers, but also entails managing vehicles from an office or depot whilst they are on the road. It also includes ongoing optimization of routes based on data collected by drivers and route tracking software in the field.
Managing routes is usually undertaken by a dedicated route manager in organizations with big fleets like couriers and eCommerce retail chains, but that isn't always the case. Route management can sometimes be undertaken by the owners of smaller transport companies, or by admin or logistics staff within medium-sized enterprises.
Is there a difference between route planning and route management?
In a word, yes. Although the terms are often used interchangeably, route planning and route optimization are not the same thing. Route planning is concentrated on the creation of delivery routes accounting for efficiency, and to a lesser extent the special requirements of individual deliveries, driver and vehicles (such as load-balancing and capacity planning). Route management, however, accounts for the management of routes from point-of-creation, to on-the-road logistics management, right up to analysis of routes and ongoing implementation of strategies that improve all operational efficiencies of a delivery service.

Whilst route planning is a big piece of the route management puzzle, it is still only one of the moving cogs that a route manager needs to keep moving as part of their role.
---
The benefits of route management
The benefits of route management all centre around the optimization of your delivery service for the benefit of the company's brand and bottom-line. Having an impressive delivery service is important for employees, drivers and of course customers experience with your business. Some of the key benefits are as follows:
Optimized routes in seconds
It is clear everyone now wants a green last mile delivery solution. Route optimization is central to the efficient planning and management of routes for any business. By optimizing routes for drivers, businesses can reduce the distances travelled by their fleet by up to 33%. This increase, spread across a whole fleet of vehicles, can result in huge savings for fleets of even 1-5 vehicles. For bigger fleets, this can result in a cost saving in the hundreds of thousands of dollars every year.
Route optimization works by using route planning software that calculates the most efficient routes for your fleet to travel, and ensures that drivers deliver as many parcels as possible in the least amount of time and distance possible. Route management can play a key role in reducing the shipping costs of products for both businesses and their customers.
Route optimization has several other benefits too. You can learn more about it by clicking on this link
Increased driver and customer satisfaction
When we think about route management, we often only think of two stakeholders: the route manager and the organization. But the benefits of route management extend right into every other area of the business too, and have knock-on effects for everyone involved in the delivery journey.

Effective route management has the ability to provide drivers with more insight into the routes they are assigned and gives them more clarity about how they can expect their day to pan out. By using a routing system like SmartRoutes, you can send a route to drivers mobile driver app the evening before a shift, and they can simply arrive at the depot and begin their route the next day.

On the road, they can follow their route, and see all the details of a customer/drop attached to the stop on their app. This includes contact details, order items, and any specific delivery requests for information about the drop location from the customer. All in all, this effective aspect of route management results in an easier life for drivers and is proven to improve the overall satisfaction of drivers.

Customers too are big winners when it comes to route management.  With the mass adoption of direct-to-consumer shopping, the expectations of customers are at all time highs when it comes to the service they expect. The delivery experience is now of huge importance for any business that puts products directly on peoples doorsteps or in their hands.

Modern fleet routing software includes a host of customer experience tools such as customer SMS notifications with branding and estimated time of delivery, live package tracking that allows them to see where their order is in real time, and proof-of-delivery follow-ups indisputably confirming delivery.

You can learn more about the host of benefits that route management solutions can offer end-customers, complete with a breakdown of customer experience tools by clicking on this link.
3 real examples of route management
Custom route management for B. Grennan Agri Transport

Keeping a fleet of trucks operating at maximum efficiency is a challenge in itself. But add in that there is a mix of rigid trucks and arctic trucks, and any number of trailer types from curtain-sder to tipper, and creating and managing those routes becomes a big headache.

That was the challenge facing B, Grennan Transport when they had to plan routes for an agri retail business. After managing routes manually using a mix of spreadsheets and good old fashioned pen and paper, they know that they could optimize the fleet of vehicles at their disposal, saving thousands in the process.

With a tailored route management plan, they have now made the haulage side of their business at 70% more efficient than before.
Route management for Christmas deliveries

Brady family ham are one of the biggest distributors of cooked meats in Ireland. Each Christmas, they deliver turkeys and hams to home all over Ireland in preparation for the biggest family meal of the year. But because this is a seasonal task, devising the best routes for a fleet of trucks is something of a challenge. Like we mentioned earlier, businesses like Brady don't always have a dedicated route manager in-house, and the role is usually filled by another employee.
For Brady, this is a project manager within their ranks that adopts the role of Route Manager for the two months prior to Christmas each year. He simply collects orders through their online store, and then has SmartRoutes delivery management system create optimized routes for his fleet and drivers to deliver all the orders. The visibility that the system provides both the project manager and drivers is central to the successful completion of the project within narrow delivery time windows.
Route management for couriers
If there's one subset of the road-faring maring market out there that benefit more than any other from route management, it's couriers.
Couriers can deliver upwards of 100 parcels and packages directly to customer homes every day. Of course when routes play such an important role in the success of a business, it's imperative that they are managed correctly.
A study of the implementation of a toute management system at Deliver-It has shown that it saved the business over 2,000 hours of driving time and admin time every day once proper routing procedures were implemented and adhered to. The impressive thing about this, is that it was with a fleet of only four vehicles.
What is route management software?
Route Management Software is a technology that automates and optimizers many of the many manual processes involved in route management. The software plans and optimizes routes for fleets of vehicles using routing algorithms, and allows for quicker and easier management of things like driver hours, customer communications, fleet tracking and parcel tracking for the end-customer.
The purpose of route management software is to make a route manager's job easier, as well as more efficient and effective. If you are planning and managing routes for a business of any more than 2 vehicles, you will see a positive return on investment with route management software. Modern route management softwares are typically cloud-hosted, which means they can be set up remotely and configured to your specific needs within a matter of minutes.
Route management software should contain most of the following features and you can use this as a checklist when looking at route management softwares:
Send email or sms notifications to customers to keep them up-to-date on deliveries
Create templates for emails or SMS notifications
Update customers as to ETA of their delivery
Manage SMS replies from customers for better delivery experience
Customer portal to track delivery status
Customer portal to view their package location in real-time
Keep in constant contact with customers before, during and after delivery by email or SMS
Live map of routes and drivers in progress
White label customer portals and proof of delivery documentation with own brand and logo
Create multiple delivery centres with siloed dashboards for local managers and one super-admin dashboard
Create dispatch notes for each stop for your drivers if necessary
Manage your orders more effectively
Staff can scan warehouse stock barcode to ensure delivery can be completed fully
Track your orders
See statistics on delivery operations and report internally or to clients
Geocode stops for map view of your delivery operations
Allow drivers to mark stops as undeliverable
Allow drivers to take delivery notes and download driver reports
Create custom fields to configure your operations
Print out manifests direct from system
Print labels for packages
Search delivery dashboard by routes, driver, stops or any other data point
View your map of customers to facilitate regular visits and deliveries
Contactless delivery options
Link SmartRoutes to your existing digital infrastructure, website, CRM or ERP system through our custom API
Permission settings for all of your team from drivers to depot managers to super-admins
Manage driver breaks during their work day
View all your vehicles/drivers on a live map
View route progress by vehicle/driver
View driver performance reports
Customized reports on drivers, customers or routes
Get Delivery on Time reports
Manage performance of your team
See actual time each stop will take place
Automatically track drivers via GPS on app
Send customers proof of delivery post-delivery
Drivers can capture recipient e-signature as proof of delivery
Drivers can take a photo of delivered packages as proof of delivery
Automatically schedule emails to recipients on completion of delivery
Sync proof of delivery information back to ERP system
Create routes automatically from API information pull-through
Set vehicle capacities per route
Optimize routes based on vehicle characteristics like height and weight
Nominate time windows per stop
Automatically split routes between drivers based on load size
Automatically split routes evenly between multiple drivers
Create zones within a zonal group for better territory management
Autodirect drivers to sat nav to get from one stop to the next
Change routes that are in progress and update driver's app automatically
Optimize your deliveries with the SmartRoutes algorithm testing thousands of route variations to find the most efficient route for you
Import your database
Input individual stops, orders or customers as needed
Integrate with your database to pull in deliveries automatically
Upload a customer list for regular delivery schedules
Upload product line information per stop
Automatically schedule routes and work to drivers
Plan your routes in advance
Save route drafts for future release or edits
Get Estimated Delivery Times for your customers and drivers
Change your routes manually on our map interface
Set the start point and end point of each route for each driver based on their situation
View all data related to routes such as distance, duration, etc
Adjust stop duration for individual stops or routes
---
How do you get started with route management?
At Smartroutes, we have a team of dedicated route management experts waiting to help you determine what the needs of your business are in terms of route management. They will sit with you over a free online consultation to examine how your business operates, and identify where route management software can help to improve your processes and save you money.

If you're interested in speaking with one of the team, you can book a quick call at a time and date of your choosing. Alternatively, you can take a 7-day free trial of our software and get up and running in a matter of minutes by signing up here today.