The 10 Best Last Mile Delivery Apps
Last mile solutions help to reduce the stress and cost from the final stage in the delivery process. We take a look at 10 of the best apps available.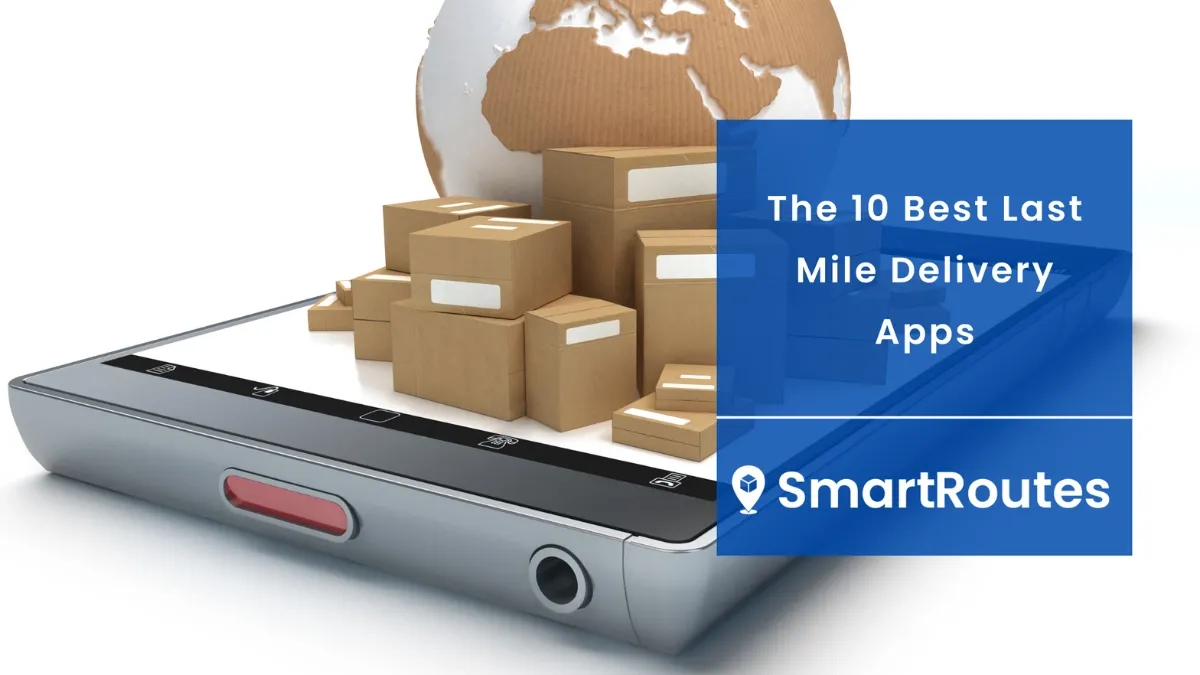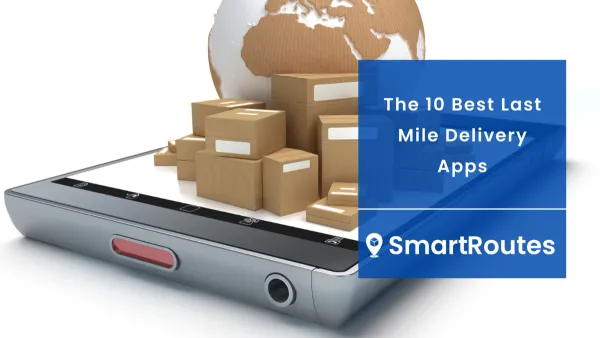 The last mile of the delivery process has long been one of the biggest challenges for the supply chain industry. However, its importance has been multiplied in recent years by a boom in eCommerce. With this trend, consumers have been ordering individual products from various online retailers and having these items delivered directly to their doorstep.
Estimates apportion 53% of the entire cost of the supply chain of a product to the last mile. Unlike early in the delivery lifecycle, it is being delivered as an individual item, to an individual drop-off point that could, in reality, be anywhere.
As a result of this challenge, many software solutions have emerged in recent years that solve a variety of the issues faced by last mile logistics operations.
In this review, we'll take a look at some of the very best last mile delivery apps on offer:
Why is the last mile important in delivery?
What are last mile delivery apps?
10 of the best last mile delivery apps
SmartRoutes solves last mile challenges for you
Save time and money in delivery management. Cut carbon emissions. Get oversight on your fleet. Impress your customers with superb communication tools.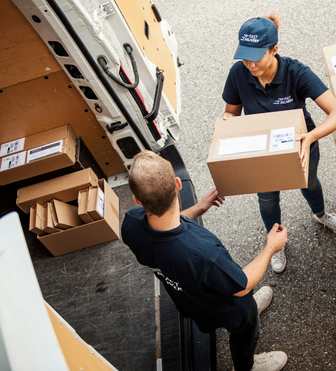 Why is the last mile important in delivery?
As we mentioned in the opening, the last mile provides the bulk of the cost involved in the supply chain process from leaving a factory to the customer receiving it in their hands.
But the cost isn't the only issue.
We've written extensively on the last mile problem in earlier blogs, but there are some main ones affecting couriers and delivery companies across the board. They include:
Planning optimized routes for a certain number of vehicles/drivers and a given number of deliveries
Lack of oversight of deliveries for business owners
Lack of oversight of delivery times for customers
Dealing with failed delivery attempts
Ensuring delivery addresses are correct and that drivers can find them
Dealing with demands from clients and customers
Unpredictability of traffic  
Unlike sticking products in a container early in the supply chain and having them sail for a port, the final mile is ripe for mishaps to occur. And as any business owner knows, anything that can do, will go wrong!
Overcoming the challenges above are critical to a successful operation.
What are last mile delivery apps?
Last mile delivery apps are software solutions designed to help with the most common challenges in the final stages of delivery like route planning and optimization, route navigation, address validation, live vehicle tracking, and customer parcel tracking.
The apps can take multiple forms and solve specifically for one of the challenges outlined above, or they can solve for all of them as part of a full-suite solution. These delivery apps can also be desktop or mobile-based, but often they will combine both platforms to unify the process and experience for logistics staff, delivery drivers, customer support, and the end customer.
Below, we take a look at some of the very best last mile delivery software.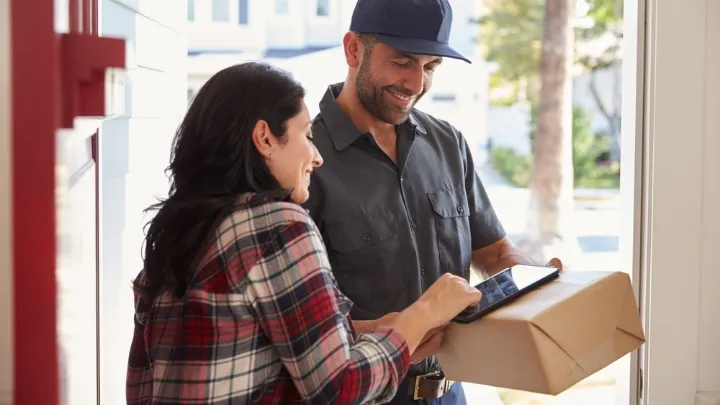 10 of the best last mile delivery apps
1) SmartRoutes - Best full-suite solution
USP: Best all-rounder
SmartRoutes is a full suite last mile delivery management software that takes care of everything from the moment an order is received, right up to the delivery experience on the customers' doorstep.
It works by automating everything from route planning and optimization when the orders are received, to the dispatch of a live tracking link to the customer once their parcel has left the warehouse on the way to the drop-off.
The solution is used by both logistics and CEP businesses, and by businesses delivering goods using their own fleet.
The solution itself combines both a desktop management system for logistics, warehouse and customer support staff and an easy-to-use mobile app for drivers while on the road. Some of the key features of the software include:
Automated Route Planning & Optimization
The delivery system takes all of the time and trouble out of planning delivery routes by automatically pulling them from your current order management system or eCommerce site and creating optimized routes for your set number of available vehicles and drivers. It can also account for factors like driver hours, break times, and road categories. This can save a transport planner or business owner hours over the course of a working week.
Customer SMS & Email Notifications
Given that failed deliveries make up a large proportion of the costs associated with the last mile, ensuring better success rates can have a huge impact on your bottom line. With SmartRoutes, once a route has been dispatched to a driver's mobile app, the customer will also receive a personalized message with an approximate ETD. This ensures that they can make arrangements to receive their delivery or notify you of any issues. Not only does this improve first-time delivery rates, but it also has a lasting impact on customer relations.
Fleet & Delivery Tracking
A lack of transparency is one of the biggest issues in the last mile. With SmartRoutes, each driver's mobile app is GPS enabled and allows managers to see exactly where each vehicle is at any given moment and how much progress they have made with their route. Similarly, customers are provided with a custom last mile tracking link that allows them to view an up-to-the-minute real-time ETA.
Electronic Proof-of-Delivery
Dealing with post-delivery queries and complaints from customers can be one of the most time-consuming and frustrating tasks for any last mile delivery operation. Electronic Proof of Delivery allows drivers to capture both signature and photo POD's directly within their driver app and this is live transferred to the desktop management system at the store or warehouse. This allows staff to easily, quickly, and honestly deal with any queries from customers regarding their deliveries. Alternatively, if a driver cannot fulfill a delivery for any reason, they can also have it noted on the system within a matter of seconds.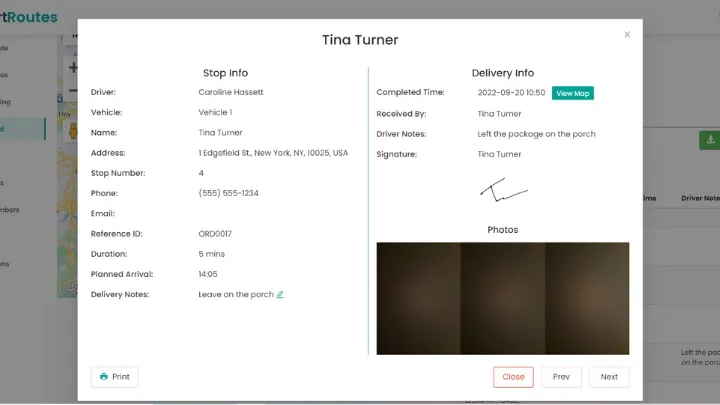 2) Google Last Mile Fleet Solution

USP: Easy to Use
In early 2022, Google entered into the last mile delivery industry with their simply named, Last Mile Fleet Solution.
Developed alongside Paack, the solution is pretty basic but does have the benefit of the simple interface that has made their Google Maps offering so popular with people all over the world. Combining a desktop and mobile solution, they offer route planning and optimization, traffic data, and improved in-app navigation.
On the downside, it is a new offering and is likely to have some teething issues in its early days. It's also worth noting that the pricing model is based on a credits system, where each stop/delivery is priced individually. If you're only doing a handful of drops every month, this might work for you. However, if you are running a multi-stop delivery business daily, this could end up making it very expensive. With a $200 monthly credit, it might be worth seeing how it goes over a trial period nonetheless.
3) LogiNext

USP: Best Data-led App

The 21st century has seen technology develop at a pretty striking pace. Much of this development has been facilitated by better capture and utilization of data. Put simply, every business, no matter how big or small, can be improved substantially by collecting and using data effectively.
LogiNext takes this approach to the last mile and ensures that its delivery apps are constantly capturing data from routes, drivers, and customers. Features of the system include Capacity Planning, Resource Management, Real-Time Analytics, and Real-Time Visibility.  
The technology is impressive, and it is recognized as being exceptional by big names like Microsoft, IBM, and Samsung.
If you're a large enterprise already on-top of your last mile operations in terms of route planning and optimization, this could bring you to the next level of efficiency again.
4) eLogii

USP: Best for flexibility and scalability

If you've got a fast-growing business, it can be hard to predict what needs and challenges might arise as time goes by. When that's the case, you can quickly find your business outgrowing a piece of technology that served its purpose at one moment in time.
eLogii understands this and they have developed a solution that can scale and adapt to suit your needs. That means that you pay for the features you need now, and then add more as your business needs progress.
The modular nature of the offering means that standard features include route planning, fleet management, and customer experience, and features like white-labeling, customer-specific driver skills, and CSV import mapping can be added later at additional cost.
This kind of flexibility is always a bonus for businesses that might be seasonal in nature or are on a fast upward trajectory.
5) Bringg

USP: Best Delivery Fulfillment for Large Enterprise

Bringg offers something different to the last mile experience for larger companies and their customers. Beyond the routing and order management, their system also syncs up with inventory and retail management systems to determine pickup availability, and offer various pickup options at the checkout.
They also have a solution for third-party delivery, meaning that you can buy shoes from a wide variety of couriers or 3PL providers. This makes life much easier if you regularly use specialist last mile delivery like bulky, white glove, and green fleets delivery.
This is a solution for large enterprises, and you won't be disappointed by the results it provides.
6) Shipsy

USP: Best customer communication in the last mile

Shipsy is another logistics management platform with a focus on the last mile. This app also relies on the power of AI to optimize, automate and simplify the end-to-end supply chain.
They also place a specific focus on unified customer communications and give consignees the ability to add alternate contacts, pin location, and reschedule deliveries themselves. With white-labeling an option with the solution as well, it gives the customer experience a very professional feel.
7) Scurri

USP: Best for those without their own fleet
When it comes to last mile delivery, you generally have 2 options;
You purchase your own fleet and keep delivery operations in-house
You outsource delivery to a third-party specialist delivery company
For many businesses, the financial outlay, as well as the added headache of managing a delivery operation is enough to make them choose option two.
Scurri is a great solution for businesses like this as they specialize in aggregating the available delivery companies and allowing you to choose the best one for a specific delivery based on multiple parameters along with a tracking module to reduce returns and enhance customer experience. The parameters include price, trustworthiness, proximity, and delivery times.
For those without a fleet, but still wanting to compete on delivery experience, Scurri is a fantastic solution.
8) Phlatbed

USP: Best for delivering large items

While final mile delivery is characterized by large quantities of small items being dispatched within relatively small geographic territories, it isn't always the case.
Phlatbed is a last mile solution for larger items that are in the final step of the supply chain journey. Businesses that sell larger items such as kitchen appliances or furniture often run into the problem of not having a logistics company that can fit their goods in their vehicles. On the other hand, getting couriers with larger vehicles to quote for larger items can also be a struggle as they prefer to operate on a quantity basis.
Phlatbed relies on a network of 30,000 drivers to guarantee same-day delivery for larger items within agreed SLA requirements.
For warehouse operators that often find themselves calling multiple operators without success, this is a real winner.
9) Dispatch Science
USP: Best use of analytics

Here's the thing about data;
It's useless if you can analyze it quickly AND effectively.
While some technology solutions provide reams of useful data, it can take hours to trawl through it and you might still be left no better off business-wise than before you started. On the other hand, some solutions just don't capture the valuable data that they say they have.
Dispatch Science generates real-time comprehensive dashboards and analytics that are easy to read and make informed decisions from. If you're a data geek and like to find every possible efficiency in your courier operation, this is a tool you're going to love. A simple user interface means that you're not trying to export data and hack around with a spreadsheet to get actionable insights.
One look at the dashboard on Dispatch Science is going to be all you need.
10) Last Mile Food Rescue

USP: Best social enterprise making a difference

While the delivery industry is largely focused on KPIs and bottom lines, money isn't everything.
We think that Last Mile Food Rescue deserves its place on this list of last mile solutions for creating an innovative mobile app that helps to save perfectly good food from ending up in a landfill.
Available on iOS and Android, their app allows volunteers to sign up and commit to collecting (or "rescuing") food once a week. The app effectively allows ordinary people to become last mile collection and delivery volunteers and the food is then used to help those who need it.
The company tackles the notion that the last mile is always the one leading to the customer's doorstep.
They're adding an extra mile and we support it!
To Sum Up
As we've seen above, there are a plethora of last mile apps on the market that can help all types of businesses to bring increased efficiency, visibility, and customer experience. While many share similarities, some will have features that cater more to specific business tasks than others. Our advice is that you make a shortlist of three that look like they're a fit for your needs, and either sign up for a free trial or get in touch with the team at the software companies to get a better feel for the applications.
Getting both yourself, your logistics staff, and your drivers to trial the solutions is also advised as every user needs to be on the same page when it comes to the utility of the apps. Oftentimes, it is only with real, on-the-job testing that the suitability of apps is proven.
At SmartRoutes, we're confident that our delivery route planner is the best solution on the market for last-mile operators. We have spent years honing our offering based upon in-field user experience across a host of delivery organizations.
Don't just take our word for it though. Feel free to sign up for a 7-day free trial to get a feel for it and test it out over a working week. If you'd like to get your configuration just right, or if you've got any questions regarding features, you can book a demo with a member of our team here.
Frequently asked questions
1. What is Last Mile Delivery?
Last mile delivery refers to the final and often the most critical step in the supply chain process, where goods are transported from a distribution center or hub to their ultimate destination, which is typically a customer's doorstep. It is called the "last mile" because it represents the final leg of a product's journey before it reaches the end consumer.
2. What is the Difference Between Last Mile Logistics and Last Mile Delivery?
Last mile logistics is a broader concept that encompasses the entire process of planning, managing, and executing the delivery of goods from a distribution center to the end customer. It includes various elements such as route optimization, inventory management, and carrier selection. Last mile delivery, on the other hand, specifically refers to the physical transportation of goods from the last distribution point to the customer's location. In essence, last mile logistics is the overarching strategy, while last mile delivery is the actual execution of that strategy.
3. What is a Last Mile Delivery App?
A Last Mile Delivery App is a software application designed to streamline and optimize the last mile delivery process. These apps are typically used by businesses, delivery drivers, and logistics companies to plan routes, track deliveries in real-time, and enhance overall delivery efficiency.
4. What Features Should I Look for in a Last Mile Delivery App?
GPS Tracking: Real-time tracking of delivery vehicles to monitor their location and progress.
Route Optimization: Algorithms that find the most efficient delivery routes to save time and reduce fuel costs.
Electronic Proof of Delivery (EPOD): Enables digital confirmation of delivery with timestamps, signatures, and photos.
Communication Tools: Allows for two-way communication between drivers and customers, offering updates and notifications.
Analytics and Reporting: Provides data and insights to improve delivery operations.
Integration Options: Compatibility with other software systems such as order management and EPOS systems for a seamless process.
If you enjoyed this blog, you may also be interested in: