Order management in last-mile delivery
The minute a customer completes their purchase an order is born. Now, how do you manage that order to completion on their doorstep?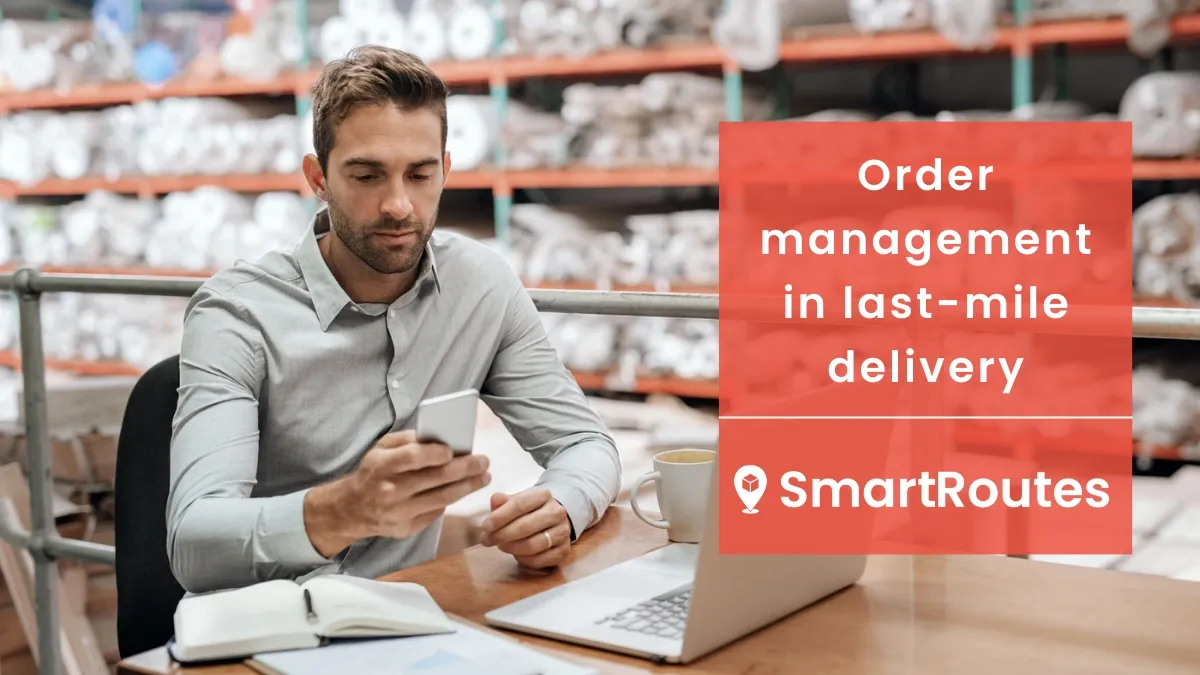 What is order management?
The minute a customer completes their purchase with you an order is created. Now it is up to your order management system to find, pack and deliver that order in a timely manner. This is simple in theory but as your ecommerce shipping operation grows it can become quite complex.
As more orders come in you will need to keep track of customers with multiple items that might be coming from different warehouses. You will need to have systems to manage large order volumes, label printing and automated delivery allocation to drivers.
Order management involves:
Receiving orders into a centralised order management system
Automatic label printing of orders for drivers and customers
A connected delivery management software system that passes orders automatically to delivery routes
A platform for seeing the progress of order deliveries in real-time

What we will cover in this guide:
Stages in the order management process
Order management with SmartRoutes
Last-mile order management softwares
Stages in the order management process
Here's a quick look at each stage of the order management cycle.
1. Purchase/order creation
The solution to order creation is to ensure wherever the order is placed [online, in store, over the phone] that the order is logged in one central system. That solution system might be the ecommerce platform like Shopify or WooCommerce or it might be an Enterprise Resource Planner (ERP) or Warehouse Management System (WMS) or a Customer Relationship Management System (CRM). Once it is in a system it can then be automatically sent to the pickers and delivery people.
2. Order assembly for delivery
The solution to order assembly is automating the rules whereby orders get grouped together for picking. So, in your warehouse management system or delivery management system set up rules. For example, you might say that all orders in a certain zip code get assembled on Tuesdays ready for a Wednesday pick up by the delivery driver who does that zip code every Wednesday. Simple rules mean easy assembly for the pickers and the driver knows exactly what he will be doing on Wednesday. Even better, he gets his route sent to him on Tuesday night so he even knows what time exactly his shift will end on Wednesday.
Order packaging should be minimized to avoid excessive weight or size but should offer the right protection and look good from a brand delivery experience viewpoint.
Order management in last-mile delivery
Save time and money in delivery management. Cut carbon emissions. Get oversight on your fleet. Delight your customers with superb communication tools.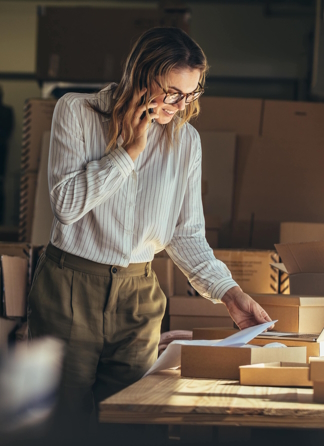 3. Order out for delivery
The first step of the out for delivery stage is transferring the orders to the delivery driver/vehicle. The route and orders attached to that route should be sent to the driver on his delivery driver app that contains route, stops, orders and navigation.
Tracking code: Each order should have a tracking number which can be shared with the customer via email. They can then track the delivery status in the tracking portal.
Order labels: Order labels, printed in advance, are attached to every delivery box or tote so there is no confusion on the delivery vehicle.
Barcode scanning of labels: Label scanning can be used to check orders at the depot packing area, on the vehicle, and at the delivery location. This is done simply through the driver's mobile app and provides security that the order completion chain is correct at every stage.
Live tracker map of the order for customers: Customers should also be sent a live tracker so they can see their delivery vehicle on a map on the day it is being delivered. This helps to ensure successful delivery and gives a great experience for the customer.
Order tracking in real-time: Real-time updates should be available on orders for the dispatch team. Logging into their delivery management system they should be able to see how many of the orders have been completed and how many are left to be completed.
Proof of order delivery: Proof of delivery should be captured by delivery drivers by e-signature, photo or barcode scan. On completion of an order delivery, customers can be automatically emailed with proof of delivery record and to ask if they are happy or if they need to return the item.
4. Order returns
Managing order returns means giving options to customers. Order return options include:
Drop-off locations like lockers or convenience stores where returns can be collected from
Post back through the mail system
Collection from house by the delivery team on a future date
Return item to physical store for refund or exchange (offer incentives to promote exchange rather than refund)
Return labels or packaging should be included with all delivery packaging with clear instructions.
Once a return is received, checked and approved for refund the credit card or payment should be refunded as soon as possible to avoid a bad brand experience. A good returns experience can be ruined by delays in getting the refund processed.
Order management with SmartRoutes
SmartRoutes is the perfect solution for improving how you handle the fulfillment stage of order management.
Connect orders to SmartRoutes
Connect SmartRoutes to your order creation system. This might be an ecommerce platform or it might be your ERP, CRM or billing system. Whatever it is it can connect to SmartRoutes to create orders automatically for the picker teams. At the very least you can import your orders via spreadsheet.
Create intelligent settings
Now you can work on your orders list creating intelligent solutions to best serve your customers. For example, you might want to create a geographic territory that automatically places orders with a specific driver.

You might want to look at orders based on when they were placed and have a color attached to the order when it is over, say, 3 days since the order was placed.
Orders can be assigned to certain vehicles based on vehicle capacities, for example, bigger vehicles with tail-lifts for heavier items.
You might want to create labels for each of the orders that drivers can attach to the box or tote. This keeps orders separate in the delivery vehicle and avoids mistakes.
Specify that label scanning needs to take place at each stage in the order cycle
You might want an order report that tells you how many of the days orders are still out-for-delivery and how many are complete.
You might want to view live orders cross-referenced with your customer database. For example, you might want to only see orders for customers who have indicated contactless delivery as a preference.
Once your orders are in the SmartRoutes system there is no end to ways you can divide them up.
Reporting on orders
Orders can be tracked in real-time on the order management page. You can filter orders and get information on specific order deliveries through the driver notes section or proof of delivery that was captured at the delivery location.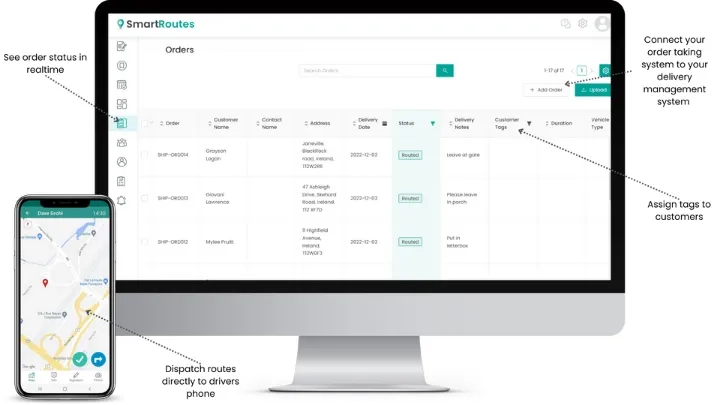 Last mile order management softwares

Frequently asked questions
1. What is order management?
Order management involves the systematic process of receiving, processing, tracking, and fulfilling customer orders. It encompasses everything from order placement to delivery and often involves the use of software systems to streamline and optimize these processes.
2. How can I optimize order management for last-mile delivery?
To optimize order management for last-mile delivery, businesses can leverage advanced routing algorithms, real-time tracking, and communication systems. Automation, data analytics, and integration with other logistical functions contribute to efficient scheduling and delivery, ultimately improving customer satisfaction.
3. What are common integration options for order management in last-mile delivery systems?
Common integration options for last-mile delivery order management systems include seamless connections with e-commerce platforms, warehouse management systems (WMS), transportation management systems (TMS), and other relevant software. APIs (Application Programming Interfaces) play a key role in facilitating these integrations.
4. What advantages come with efficient order management in the last-mile delivery process?
Efficient order management in last-mile delivery yields several advantages, including reduced operational costs, improved delivery accuracy, enhanced customer satisfaction, faster order fulfillment, and the ability to adapt swiftly to changes or unexpected challenges in the delivery process.
5. How do businesses handle unexpected challenges in last-mile delivery order fulfillment?
Businesses address unexpected challenges in last-mile delivery order fulfillment by implementing contingency plans, utilizing real-time tracking and communication systems, optimizing route planning to accommodate changes, and maintaining open lines of communication with customers. Flexibility and adaptability are key components of successfully navigating unforeseen challenges in the last-mile delivery process.
If you liked this blog, you might also enjoy: