How to run your ecommerce shipping strategy
Ecommerce shipping can be complex to get right but when you do, it is a crucial differentiating factor and improves your brand.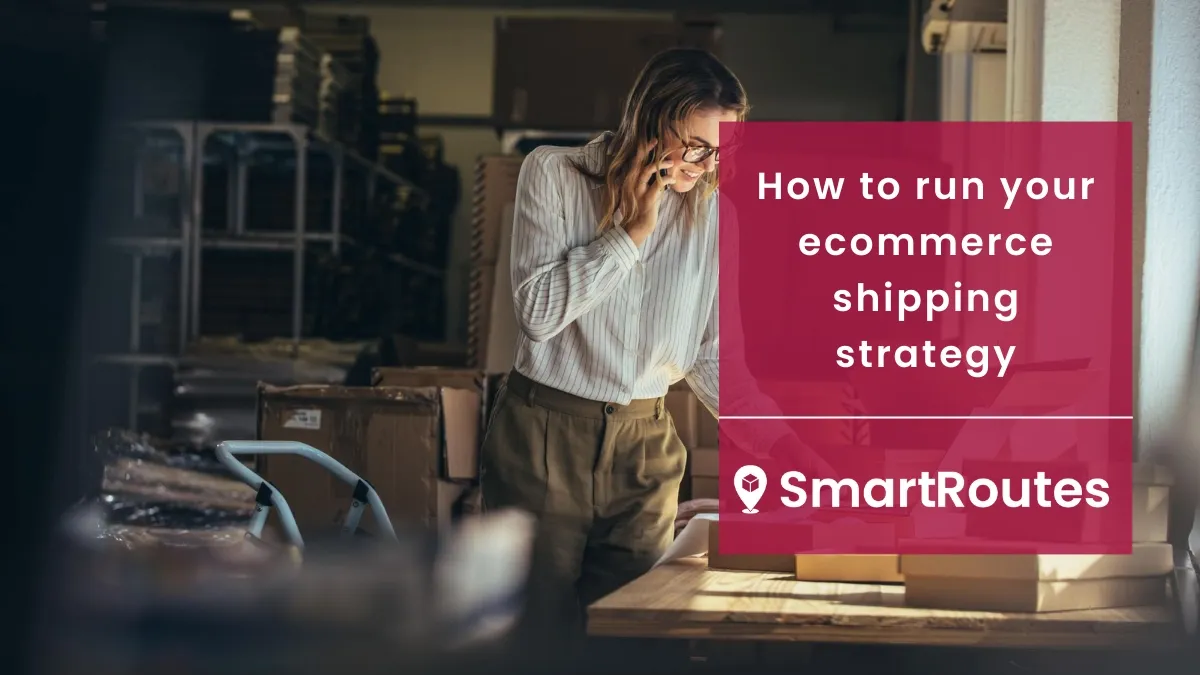 Nothing stirs the imagination quite like ecommerce shipping….erm, well maybe not. However, if you are running an ecommerce business shipping has become the key differentiator for your business.
The reality is that the battleground to delight your customers is now in the delivery experience. It is now fundamental to things like repeat ordering and brand experience. Getting a solid strategy in place is now more important than ever.
For customers, if their order arrives late, or is incorrect, or broken then you have a big problem. Even if it is all correct but it is slow, or the delivery driver is rude, you also have a big problem.
You wouldn't outsource the running of your flagship store to someone so why would you stop taking responsibility for your brand experience once the package has left your warehouse?
So, what to do? There are so many things to consider in this brave new world and where do you start? Don't worry, our complete guide has you covered and even reviews the best solutions for managing ecommerce shipping and delivery this year.
What is ecommerce shipping?
Ecommerce shipping and delivery includes all services that are needed to get your products that are bought online to the customer. This can include the online ordering system connected to a delivery management software. It includes the people and machinery required to transport the goods from warehouse over land and to the customer's preferred point of delivery.
Want to know the secret to creating a great ecommerce shipping experience?
What is the key to a great ecommerce shipping experience, though? Speed, reliability and great communication.
38% of consumers will abandon a brand if the delivery experience is bad
45% of people will stop an online purchase that has poor shipping options
41% of people will pay more for same-day or fast delivery
As an ecommerce provider you might feel like you don't have full control over the shipping process but actually that is less and less of a problem with things like delivery route planners available to you. Let's take a look.
In this article, learn why delivery management is important for business growth, and how you can improve your delivery strategy to meet customer expectations.
What you will learn in this guide:
Ecommerce shipping strategy basics
If you are new to ecommerce shipping there are some basics you will need to know about.
What are your shipping rates going to be? You can calculate how much your shipping costs can be using Package size |Package weight | Origin address | Destination address
What are your shipping methods going to be? You can outsource to a third party including the postal service, national carriers and local couriers depending on the geographic spread of your customers. You can also take on delivery in-house, typically if the shipping is being done locally.
What packaging are you going to use? Eco-friendly packaging is preferred by customers and you will want your packaging to be both economical while also representing your brand well.
How are you going to communicate with recipients during the delivery process? Customers, more than anything, want to know where their package is, so what communication system will you use if any?
Shipping rates and types
Before getting started you need to figure out your pricing strategy for shipping and how much to charge. Here are a few strategies to choose from.
Free shipping
Of course, nothing in this life is free so you will probably be absorbing that cost as a business expense or quietly factoring the cost into the price of the item in question. Or you can push free shipping on local orders or bulk orders to help with the costs.
Real-time carrier rates
Ecommerce providers like Shopify can provide you with live pricing from shipping partners like USPS or Royal Mail. This will allow you to effectively get a price on the order in real-time and pass that information to the buyer.
Flat rate shipping fees
A simple option that gives clarity to the process for the buyer and the seller. It should be benchmarked against what competitors are charging so you don't lose customers but should also make shipping affordable for you. It is best used when the products on sale are not drastically different in terms of size or distance being shipped.

Calculating ecommerce shipping rates
All shipping couriers base shipping rates on a variety of factors including:
Package size
Package weight
Origin address
Destination address
Additional options like tracking and insurance

Here are some common shipping calculators
Packaging and branding
With ecommerce developing quickly customer expectations are developing too. In the past, packaging was designed to simply get the product to the customer without it getting wet or damaged. Now it is an Instagramable experience, the embodiment of your brand and the one real touchpoint your customers have with you.

This means, brands are now competing with each other for the best packaging and branding experiences. The things to think about are:
Keep the packaging light and small to avoid incurring shipping costs.
Keep the packaging on-brand and focus on how it will be as an experience.
Keep the packaging eco-friendly and make the customer aware of this, this is a key differentiating factor nowadays.


Tracking shipments and returns
From the customer's perspective being able to track shipments is so important. Give your customers tracking information including a live package tracking map so they can see exactly where their product is. Remember they see it as their product seeing as they have already paid for it, so why not treat it as such. At the very least keep customers informed of their delivery time with automated notifications by SMS or email.

They say the time directly after a delivery has been made is the time when you really need to focus on customer service. You have to continue to be available to your customers particularly if they are not happy with the order in some way. You can grow your reputation massively by having a superb ecommerce returns experience. Let's take a look.

Order management systems
Order management systems maintain accurate records of orders and where they are in their processing journey. If you have the right software in place you will be able to automatically route your order deliveries, keep your customers informed and you can avoid stock shortfalls and unhappy customers.
The order management software should connect in with your shipping software via direct integration.

Tracking ecommerce shipping
After an order has been processed and shipped you should generate a tracking number that you can pass to your customer automatically. This allows them to see where their order is geographically and within the order processing system. For example, "order is in Hamburg, Germany at a sorting warehouse ready for shipment".

Once you get to the last-mile leg it is best to tell customers what their delivery window is in terms of expected ETA and give them a live delivery tracking map to see the delivery vehicle on the road.

Dealing with ecommerce returns
If you can get your returns process right 19 out of 20 customers will shop with you again. If possible, put a paid returns envelope or container in with the order so it is simple for the customer to drop the package to their local post office or drop-off point. Alternatively, you might be able to collect return items directly from the customer? Whatever system you decide to use, remember it must be simple for the customer otherwise they won't use it. Work with a third party courier or logistics company to leverage their experience in this regard.

Ecommerce shipping integrations & APIs
Your ecommerce platform and your shipping platform are likely to be two separate softwares. In fact, it could be five or six softwares all handling different aspects of the process. Regardless, they all need to be seamless and manage the order from website to checkout to warehouse to doorstep. Let's take a look at two ecommerce platforms that integrate with SmartRoutes to handle the delivery management side of things.

Shopify delivery management
SmartRoutes and Shopify integrate to provide a powerful Shopify shipping solution. Orders are taken on the Shopify platform and automatically create a delivery schedule based on the criteria in your SmartRoutes settings. You can, for example, only pass orders in a particular territory to Driver A. You can balance the workload automatically between different drivers. You can capture proof of delivery and see drivers out in the field on a real-time map. You can notify customers of their order ETA and you can print labels for each order to ensure the driver has everything organized correctly in his vehicle.


WooCommerce shipping app
Orders taken on the WooCommerce platform also automatically create a delivery schedule. Again this is based on the criteria in your SmartRoutes settings. Our WooCommerce delivery app allows you to:
You can, for example, only pass orders in a particular territory to Driver A.
You can balance the workload automatically between different drivers.
You can capture proof of delivery and see drivers out in the field on a real-time map.
You can notify customers of their order ETA and you can print labels for each order to ensure the driver has everything organized correctly in his vehicle.
Order fulfillment then syncs back to the WooCommerce platform creating a completed order field and allowing you to draw down reports on deliveries done.
SmartRoutes solves last mile challenges for you
Integrate with your ecommerce system. Compatible with Woocommerce and Shopify.