Final Mile Delivery: The last step in the supply chain
Final Mile Delivery refers to the last step in the supply chain where goods are delivered to their final destination. We delve deep into what it entails.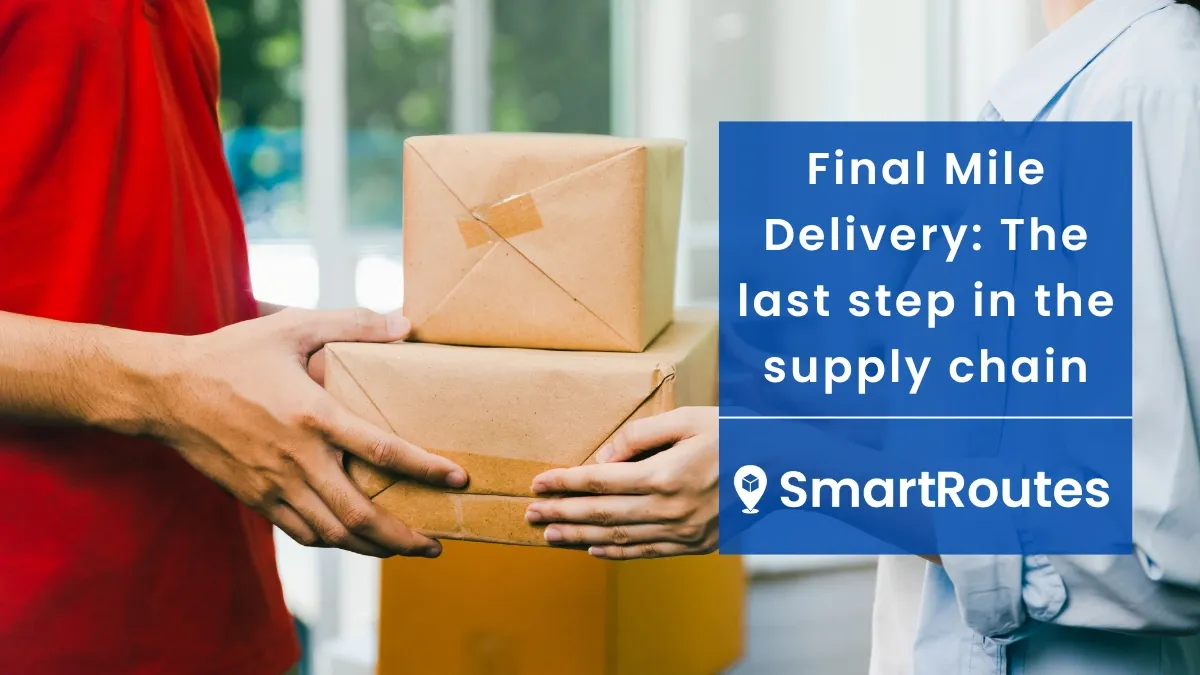 Final mile delivery is perhaps the most important step in the entire supply chain. Also referred to as last mile delivery, it is the final transportation of products to the customer. (These products have been on a much longer journey than the ordinary consumer might be aware of!). For the most part, products will have been shipped through the first mile on a truck from a factory, shipped on a container ship to their destination country, transferred again on a truck to a retailer, and finally, dispatched by a B2C retailer on their final mile to the consumer.
Truth is, increased globalization has resulted in much longer supply chains for everyday products, all in the name of cost-effectiveness.
It's for this very reason that ensuring goods make their final destination in perfect condition is so important. After all, if a product has travelled around the world, it would be a shame if it were to be spoiled on the final leg of its journey!
So, with that, we will take a look at final mile delivery in this blog and try to get a better understanding of how it works and how it can be nailed by retailers and couriers alike. We'll start by defining the last mile, and then take a look at how technology, automation and sustainability are all helping to transform it from the most inefficient step in the supply chain to the most efficient one.
How technology is transforming final mile services
Optimizing the final step in the supply chain
Transvalair transform its final mile service with SmartRoutes
SmartRoutes can help improve your final mile deliveries
What is final mile delivery?
Final mile delivery refers to the last step or journey in the supply chain, where goods are delivered to the end customer or consignee. The term final mile denotes that this is the last time a product or parcel will be transported and that it is at the point of consumption in the product's lifecycle.
If we take one of the most common products we use as consumers every day, the last mile of your smartphone journey was when it was either delivered to the brick-and-mortar store that you purchased it from, or the journey it made to your home from a warehouse or retailer when you ordered it online (although, if you ordered it from abroad, it may have been sent to, and processed at a sorting centre in your country before making its final journey).
SmartRoutes Final Mile Delivery Software
Streamline your entire delivery process, all from one platform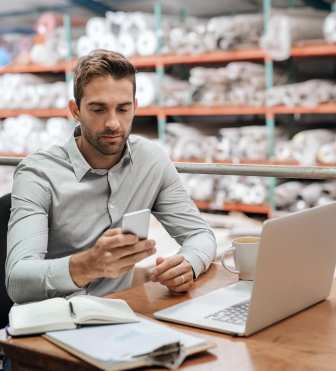 While all steps in the supply chain should be optimized for efficiency, there is a valid argument for the optimization of the final mile being the most important. As we mentioned in the introduction, it is more costly if a product makes its way through the whole supply chain, incurring costs at every step, only to be lost or damaged in the last mile. In fact, according to a study by netlogistik.com, the last mile in the supply chain accounts for 53% of the total cost of shipments. It is also likely to have a greater environmental impact, as the goods may have to be shipped back to the source for repair or replacement.
The final mile problem(s) (which really should be plural!)
Well, first of all, there is not just one individual 'last mile problem'.
Rather, it is several smaller problems that are collectively known as such.
We've already highlighted that it is the most costly part of the supply chain. These costs occur as a result of inefficiencies in the process, coupled with the fact that delivering small, individual parcels in high volumes will increase the chances of missed or failed deliveries.
Think about it logically:
It's much less likely that nobody is going to be waiting at a warehouse for a truckload of smartphones, than an individual customer at a residential property not being at home to sign for delivery of an individual smartphone.
Now consider that a last mile delivery driver might be making upwards of 100 deliveries on a single route, you can then see how missed deliveries can start to add up, and the knock-on effect of re-routing those same items again.
Amongst the list of problems are:
Missed deliveries
Late deliveries
Inefficient and poorly optimized routes
Employee/driver turnover at parcel delivery businesses
Locating individual residences and gaining access to complete drop-off
Fluctuating fuel costs
Chaotic dispatch warehouses leading to misallocated parcels/routes
As you can see, the list is comprehensive, and we're probably missing a whole host of other problems.
If you're interested in learning more about how the final mile can be managed more effectively, and how the problems above can be solved, you can check out our guide to streamlining your last mile delivery operations.
How technology is transforming final mile services
With the surge in online shopping and eCommerce over the past decade, the demands of customers for services like next-day and same-day delivery have surged too. You'll most likely have heard a lot of talk about how social media has made us more expectant of the business and less patient, and that seems to have spilled over into the online shopping sphere too.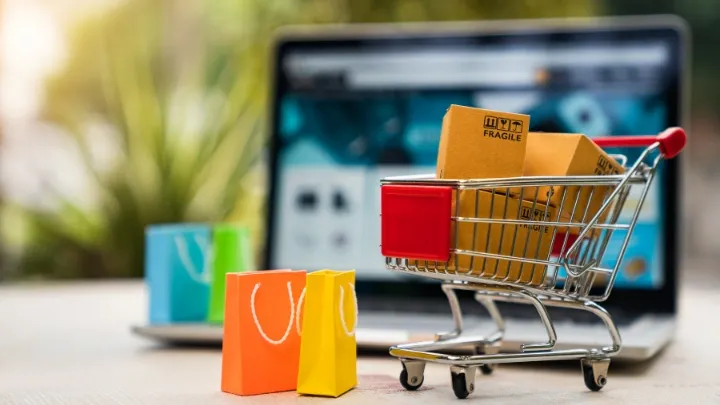 Add to that, last mile delivery companies like Amazon, UPS, and FedEx offering increasingly fast delivery, and even small retailers have been forced to meet the rising demands of consumers to stay in the game.
One of the biggest misconceptions of final mile is that the story ends when a product is received by the consignee. Instead, customer support around missed deliveries, returns and even complaints are all now part of the story too.
The saving grace for many independent retailers has been the improvements offered by final mile technology in recent years. With advances in cloud storage, it is possible to roll out fully integrated delivery management solutions that help businesses of all sizes to handle home delivery.
While some solutions will differ in various ways, the core features usually include:
Communication between dispatch, driver, and customer support
What makes the home delivery industry so chaotic and expensive, is largely down to poor communication.
In some cases, it's down to a complete lack of communication too!
Customers input incorrect addresses at the point of sale on a website, drivers misread a postcode, a customer not receiving a text message with an estimated time of delivery or tracking link…. we could go on and on!
The truth is, all of these issues are down to a simple lack of communication that adds countless hours of labour in rectifying the issue.
The positive of all this is that there are actually very simple delivery solutions that automate most of these communications. For example, SmartRoutes eliminates these by using the following steps;
1. Driver's routes are automatically created based on the address the customer provides. Our automated address validation system will help to ensure the address exists before the driver leaves the depot to avoid wasted time
2. Once a route is sent to the driver's mobile app, the customer is sent a message with the ETD based on the predicted route and start time. They also get a custom tracking link that will allow them to see where their parcel is in real time.
3. If a customer isn't home when a driver arrives, they can do any number of the following:
Capture proof of delivery, which will be attached to the order back at the depot immediately.
If the delivery requires a signature, they can instantly access the customer contact detail on the stop in their driver app. One quick call and the customer who was working out the back and lost track of time, is now taking receipt of their delivery!
4. If customers have queries about their delivery, customer support staff can instantly access photo proof on delivery and any notes a driver has left on a drop. The parcel that was left securely in the shed by a driver? No longer an irritated customer, but one who was left impressed at the level of customer service!
Believe it or not, these automated last mile communications come at no extra cost to a business, and can save thousands in terms of hours spent rectifying the issues where communications weren't possible.
Route Planning and Optimization
There was a time when a logistics manager's main job was to manually plan routes for drivers and hope that their geographical knowledge would ensure that it was the most efficient way to complete them.
With the advances in technology in the past decade, however, there are now dedicated route optimization solutions that can plan the most efficient routes without a human having to do anything other than tell the system how many drivers and vehicles are available on a given day.
Route optimization software can seem overly complicated, but in reality, it does all of the thinking for last mile companies and saves hours of painstaking labour every week.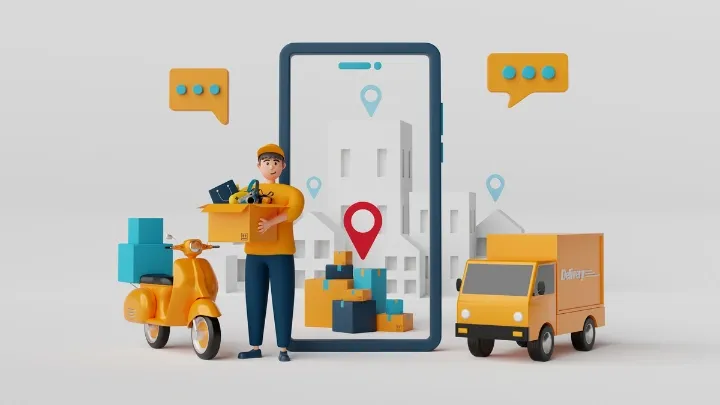 Proof of Delivery
As mentioned above, disputes about missing deliveries cost businesses thousands every year. In many cases, the disputes can cost more in the long run as resources are allocated to deal with the complaints from customers.
Proof of delivery technology relies on the camera on the smartphone to capture indisputable evidence that a delivery has been completed by the last mile carrier. With research by parcelLab showing that 68% of online customers now expect post-purchase communication, such as for delivery delays or return confirmations, having delivery details to hand at the click of a button is a must!
Data and Analytics
If you've been paying attention to the news in recent years, you'll have noticed a lot of talk about data. The world's most successful companies like Facebook and Amazon have built their empires on recording as much as they can about us as customers as they possibly can.
For couriers and businesses doing deliveries, it might seem like the stuff of big corporations, but the reality is that you are constantly learning more about your customers and your business than you even know.
The problem is that this learning isn't being documented and can't be used to improve or scale your business.
Delivery management systems automatically record data such as the number of deliveries completed, missed deliveries, number of complaints, and planned vs actual routes taken by drivers (finally, the answer to the question of who knows the fastest route; man or machine!)
Having that data available on an easy-to-view dashboard can help you improve certain areas where your business is struggling, and even allow you to scale your final mile operations with more confidence that you're maximizing your resources!
Whether it's deciding on your final mile delivery rates, or working out how long it takes on average for each drop-off, the data you have at your fingertips will help you make informed decisions and get the right results.
Optimizing the final step in the supply chain
While there are any number of final mile delivery apps available, having one that meets the needs of your business is going to make life much easier for everyone involved in the process.
Whether you're a B2C business with your own fleet, or you are a third party logistics business with a number of contracted clients, there is guaranteed to be a solution that's right for your needs.
We won't get into the nuts and bolts of them here, but if you're considering your options, you might want to check out our guide to final mile delivery apps.
Transvalair transform its final mile service with SmartRoutes
Transvalair is one of the world's largest Logistics and Supply Chain Solutions providers in the world. At the heart of what they do is innovation and providing bespoke services at the demand of customers.
One such service that they provide is 2-man delivery, through their Duo Delivers service. As is the nature of 2-man delivery, much of the goods they deliver are of high value such as furniture and appliances. Of course, this means that they have an even greater duty of care to their clients that their goods are delivered in a professional manner and in perfect condition.
As a final mile carrier with increased customer expectations, they needed to go the extra mile in terms of service.
And that's where SmartRoutes helped.
Solutions such as a real-time delivery tracking, customer portal, and full oversight of their delivery fleet from the dispatch depot all helped to create a professional service that made life easier for staff, and the delivery experience a great one for customers.
You can check out more about how SmartRoutes helped Transvalair to ace tier 2 man delivery service in our case study.
SmartRoutes can help improve your final mile deliveries
At SmartRoutes, we like to think of the final mile as its own individual supply chain with its own unique touchpoints in the journey. Dispatch depots taking receipt of truckloads of goods in one, dispatching them to customers is another touchpoint, and putting them on the delivery drivers van for transport to the customer is another to name a few.
While each of these touchpoints might seem insignificant, by analyzing them individually, we can identify lots of marginal improvements that add up to significant time and money savings. At the same time, they make the delivery experience a better one for everyone involved.
If you're considering improvements to your final mile logistics process, the first thing to do is to analyze your current process with a fine-tooth comb for friction in the process.
Once you've done that, you can make small changes, and identify technology solutions that will help you to eradicate inefficiencies.
If you enjoyed this blog and would like to learn more about the final mile logistics, you can check out other blogs about the topic here.
If you're currently looking to make improvements to your last mile process, get in touch with us today for a free consultation.
If you enjoyed this blog, you may also be interested in: