Logistics Route Planning: Case Study
In this case study we look at how we worked with our client Transvalair on gaining total oversight of their delivery operations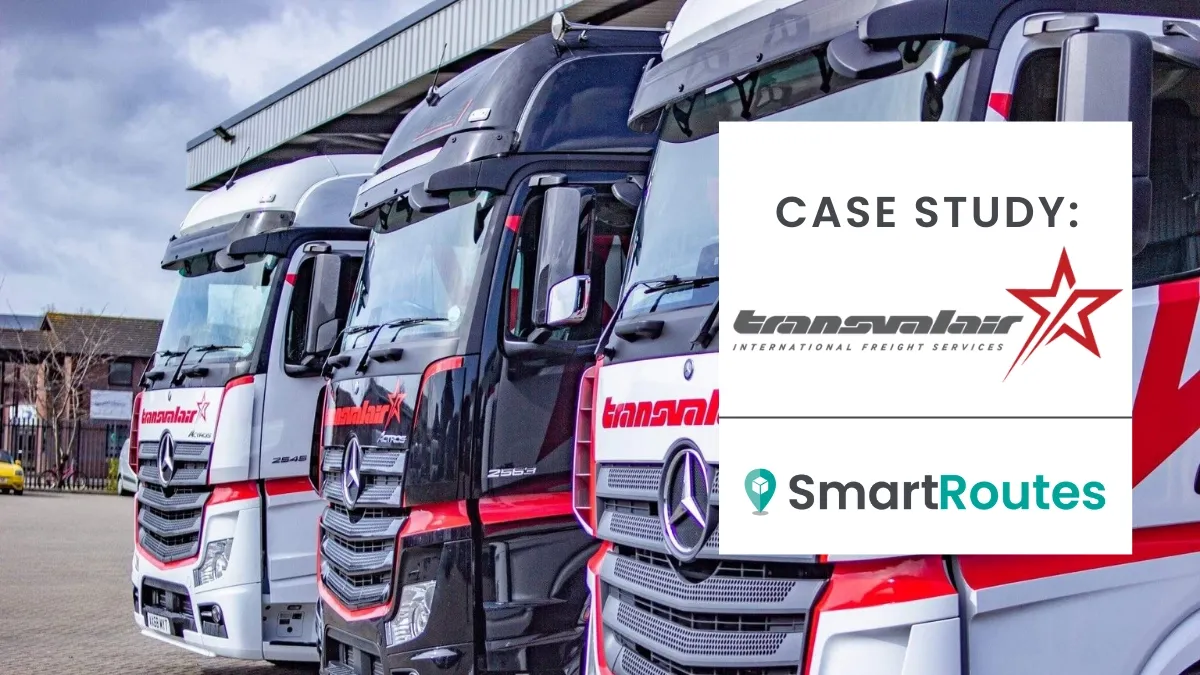 Transvalair
Transvalair is a Worldwide Logistics and Supply Chain Solutions provider. They go the extra mile to deliver cargo safely and on time to almost anywhere in the world. Their services include everything from packing, documentation, import handling and warehousing. Their 2-man home delivery service, Duo Delivers, is a firm that is dedicated to providing their customers with the very best experience. Their service is specifically aimed towards Commercial Retailers, Manufacturers & E-Commerce. Their extensive modern warehouse and logistics solutions enable them to work in full conjunction with their customers' business needs. Duo Delivers differs from other 2 Man carriers in how they look after their clients.

SmartRoutes worked closely with the team at Transvalair offering consultative services in the early stages of implementation to ensure they got the most out of the product for their home delivery service.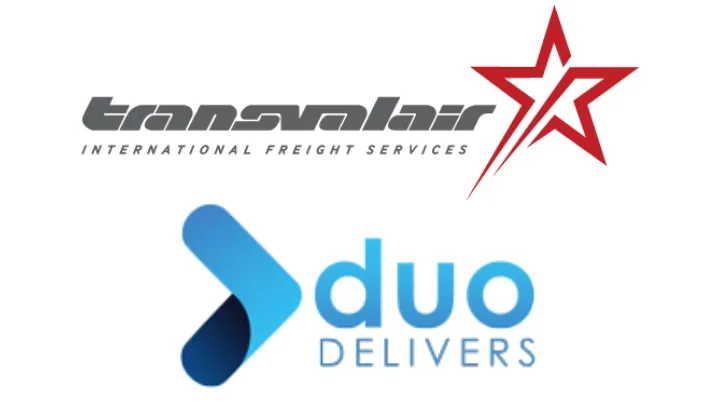 What we will take at look at in this case study:
Challenges faced by Transvalair
Before SmartRoutes, the team at Transvalair were using another 3rd party software to assist them with deliveries. At the time they believed the software could do with being upgraded and they sought after a more updated version of technology.
The support team for their previous software were very difficult to reach. If they had an issue it could be hours before receiving a response or even solution. Transvalair needed an accessible technology partner that was willing to develop with them as their needs grew.
Transvalair's goals
To gain total oversight of their delivery operations
To have delivery routes automatically planned
To allow their customers to confirm/update booking slots via their SMS notifications
To have a label system whereby they can keep their warehouses better organized
To give their customers access to the tracking portal to keep themselves updated on order status
To have an easily accessible support team

The Solution
Delivery Management
SmartRoutes total delivery management solution has helped the team control their delivery costs and improve operations. By giving them visibility and control over the entire delivery operation, they have been able to make data driven decisions.

Delivery management has helped improve the level of organization in the warehouses by having orders planned in advance. In doing so, the warehouse workers can now separate orders based on location and returns. They can also ensure that their delivery vehicles are at capacity before leaving the warehouse and packed in the order they will be delivered. The team has found it helpful that they can plan all delivery operations from one platform. Everyone on the team from drivers to office staff have found the platform simple to use.
Route planning & Optimization
SmartRoutes Route Planning & Route Optimization Software has helped the team at Transvalair to save much time by automating their route planning.  In order to plan a route with SmartRoutes, the team can simply upload addresses directly into the SmartRoutes app or upload bulk addresses using excel or Google Sheets. Then, at the click of a button, their routes are planned and optimized while taking into account given parameters for vehicles such as time windows and vehicle constraints.
The warehouse team can print run sheets and labels directly from the platform. This allows the team to pack the delivery vans more accurately. They use the map feature to help determine groups of orders and then also group them based on postcodes. [The team intends to start using SmartRoutes' Zone Management feature shortly which will further automate their processes].
By ensuring that the delivery vehicles are leaving the depots fully loaded, this reduces the time drivers spend on the road per delivery, leading to lower fuel usages and reduced fuel costs - all while maximizing the amount of deliveries drivers can make per day! Well organized routes also help to avoid missed deliveries and deadlines, improving the relationship with the customer and increasing the chance for repeat business.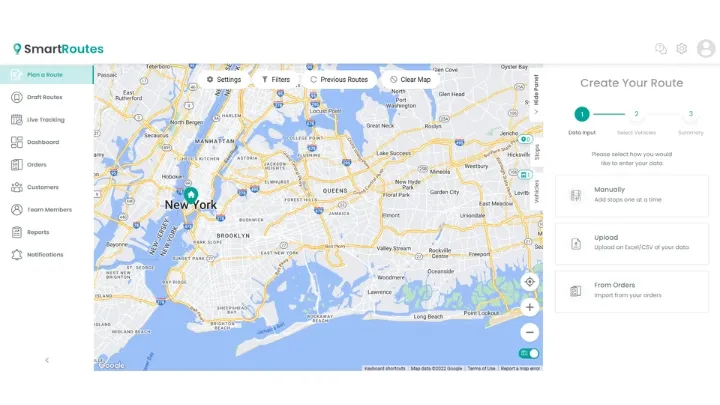 Fleet Tracking
SmartRoutes Fleet Tracking Software has allowed them to visualize their delivery fleet with a live map and manage & adjust routes in real time. They have given their own customers logins so that they can track the progress of deliveries made and pull their own reports from the system. This has made the team much more efficient in their delivery operations by implementing a data-driven model of fleet management. It has resulted in the fleet becoming more productive and it has maximized the fleet's time while out making deliveries. It has given them complete oversight of their delivery operations.
Proof of Delivery
SmartRoutes proof of delivery system has been incredibly successful for the team. They use both electronic signatures and photos depending on the requirements set out by their own clients. They have given their customers access to this part of the platform allowing them to pull PODs as some customers will only accept invoices if the POD is available. Making it a really important feature for the team, needing to be both accurate and easily accessible.
Delivery Driver app
The Delivery Driver App gave their drivers the information they needed to complete their deliveries. With routes automatically planned and sent directly to their phone, their drivers could click 'start route' and just get on with their day! The team has found it incredibly easy to use at all user levels and find it needs minimal training both internally and when setting up their own customers on the platform.
The team can capture PODs directly through the app whereby customers can electronically sign using the app and the drivers can also snap a quick photo of the order in situ. The GPS functionality means that drivers can be tracked in the field. This gives them oversight on what delivery drivers are doing while on route but also it gives them the option to study for delays and make improvements based on such. They can also efficiently and effectively communicate directly with the customer. The admin team has the option to send out notifications and the driver can also contact the customers if and when necessary. They can also take driver notes as required when more information is needed for example as to why a delivery couldn't be delivered.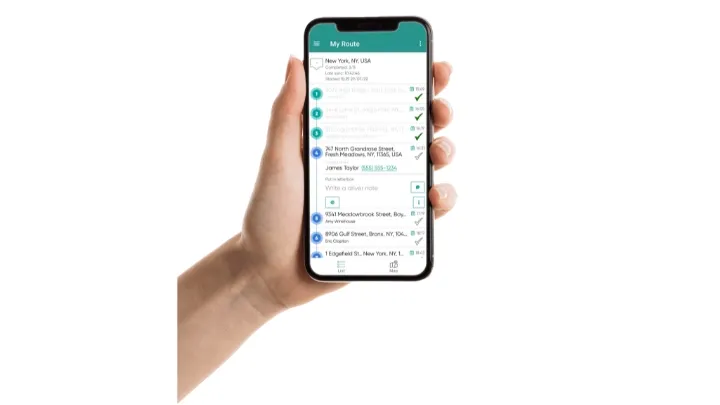 Customer Portal
The customer portal has been a huge game changer for the team at Transvalair. It has saved so much time in manual labor. Before SmartRoutes they were manually sending out notifications to manually created lists - this left much room for human error and inevitably some customers were missing their notifications. Now, they can easily select a list of customers whom they want to notify and confirm their delivery. The customers receive an SMS notification and are brought to the customer portal where they can either confirm the given delivery date and time or choose another. As a result, customers receive packages on time with few missed deliveries. By having customers receive accurate ETAs, this has improved the overall delivery experience for their customers making it more likely to bring them on as repeat customers. Using SMS notifications has also increased their response rate as the process is so much easier for both parties.

"We needed a modern solution, one making use of new technology available on market. Our system users vary from Drivers, Warehouse, Planning, Finance and Customer Service team, it was essential for us to have a user interface that was easy to use and intuitive with minimum training requirements from IT. SmartRoutes provided just that and is continuously getting better. Our teams favourite feature at present is the Online Customer Delivery Booking Portal. We send our customers a proposed delivery date by SMS/E-Mail with a link to confirm or select a delivery date of their choice. The system then gets updated immediately with the customers choice and our team has instant visibility of this change. This feature has saved our team hours of manual work on mail merge and keeping track of customers' responses. Our clients are very happy that they have full visibility of their orders and can pull their own reports from the system. The support team are always quick to respond to our queries and the software takes little to no training for new members of staff."

- Roberto Bejar, Transvalair


The Outcome
SmartRoutes has helped the team at Transvalair improve their overall delivery operations. Their customers have found it easy to use with all information easily accessible. SmartRoutes has made it easier for them to measure success and improve performance. The warehouse team can pull the order status report allowing them to plan future operations. They can even filter for orders that have been undelivered making it much easier to plan redelivery. The warehouse team can also pull the run of the orders from the system. This has allowed the team to organize the order in the warehouse before the van has even arrived, allowing them to pack the delivery vehicle in the order that it will be emptied. An important function of the platform has been the ability to print new labels for returned items. This has helped the warehouse team better organize what orders are yet to be delivered and which are being returned to their customers. Time and money is saved at every step of the process and there is greater oversight of delivery operations.
The Results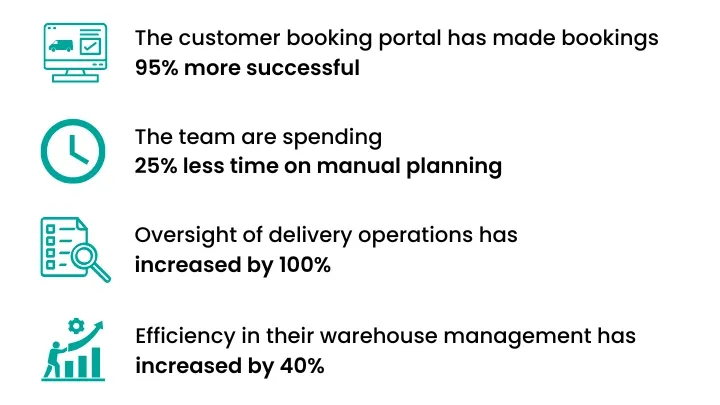 To read more case studies you can check them out on our Customer Stories page. If you would like to know more about our services then you can contact us here and a member of our team will be in touch!