Proof of delivery
You, your drivers, and your customers rely on Proof-of-Delivery as a means of ensuring that goods are delivered as agreed. In this blog, we'll discuss everything you need to know about POD's this year.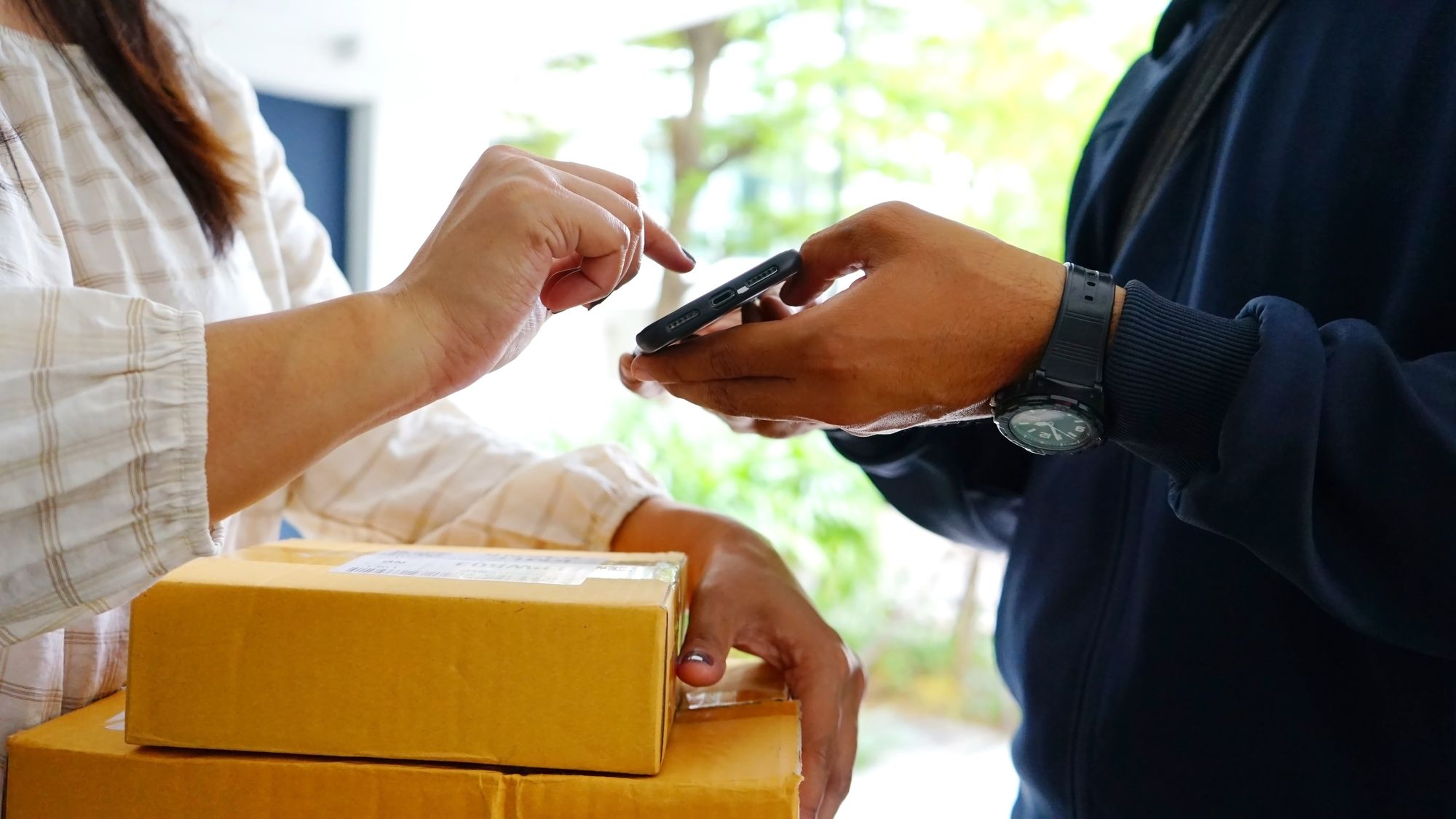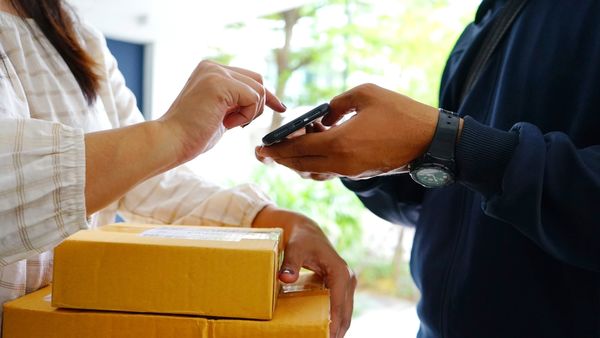 Electronic proof of delivery: A guide
Getting proof of delivery (POD) through a delivery driver app helps your drivers to avoid the problems of packages being left in the wrong address or claims after-the-fact that the package was not delivered. It is also just good practice for delivery teams to have a proof of delivery tracking system. In the past this was usually done by physically signing a piece of paper but that is now being replaced by e-signature or photo proof captured on the delivery drivers' mobile phone. This is called electronic proof of delivery or ePOD for short.
SmartRoutes solves proof of delivery for you
Save time and money in delivery management. Cut carbon emissions. Get oversight on your fleet. Delight your customers with superb communication tools.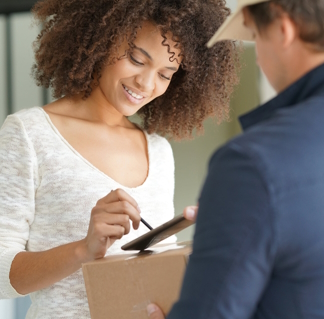 In this guide we will see why electronic proof of delivery through a mobile driver app makes more sense now. Adding this functionality to your existing systems is actually very simple and can avoid confusion later on or porch pirates stealing the package.
We can guide you through which type of ePOD solution might be best for your team and show you how SmartRoutes delivery route planner can help you to capture POD with photo proof of delivery, an e-signature from the customer, or a barcode scan of the item.
PODs are common in the courier, logistics, haulage and shipping industries and can be central to the success and reputation of a delivery business. In this blog, we'll look at the different types of POD, including ePODs and traditional paper PODs and look at the various benefits and drawbacks of each. We'll also examine the purpose the PODs serve for various stakeholders in the delivery process.
Article sections
What is proof of delivery and why does it matter?
As the name suggests, proof-of-delivery is the record of goods being delivered to their pre-specified location, complete with all the details about it. A POD (also sometimes referred to as a Delivery Note) acts as an acknowledgment between the person delivering the goods and the person receiving that the goods are delivered.
With the increase in eCommerce in recent years, there has been a significant increase in the volume of goods being delivered direct-to-consumer. In fact, online shopping is growing so fast that by 2023, ecommerce shipping from online purchasing is expected to rise from 14.1% to 22% globally.
In the traditional brick-and-mortar setting, the purchase of goods was a more simple transaction. You picked up the item you wanted in the store, brought it to a cashier, and exchanged it for your hard-earned cash. In exchange, they gave you a receipt for your goods and you took it home with your new purchase.
In effect, this receipt acted as your Proof-of-Purchase AND Proof-of-Delivery. It was evidence of the exchange between you and the cashier.
Of course, the convenience of online shopping means that customers no longer need to visit a store. They simply go online, find the product that best suits their needs, put in their payment details, and have it delivered to their home in less than a few days with an ETA sent to them in advance of when the delivery is coming.
This has meant that the customer no longer needs to be present and that the goods can be delivered at their home in their absence. This does raise the danger of theft of packages which is all the more reason to invest in proof of delivery tech.
Who in the supply chain requires POD?
The end-customer, or consignee to whom the goods are delivered. In the event of the customer not finding their parcel or even a family member or neighbour picking it up, they know where it is
The driver by whom the goods are delivered. This serves as proof that they completed their job if the customer raises a query or dispute
The depot and customer support staff who may have to deal with queries about a delivery from a customer while the driver is on the road
The accounts and billing staff that invoice the customer for deliveries in some cases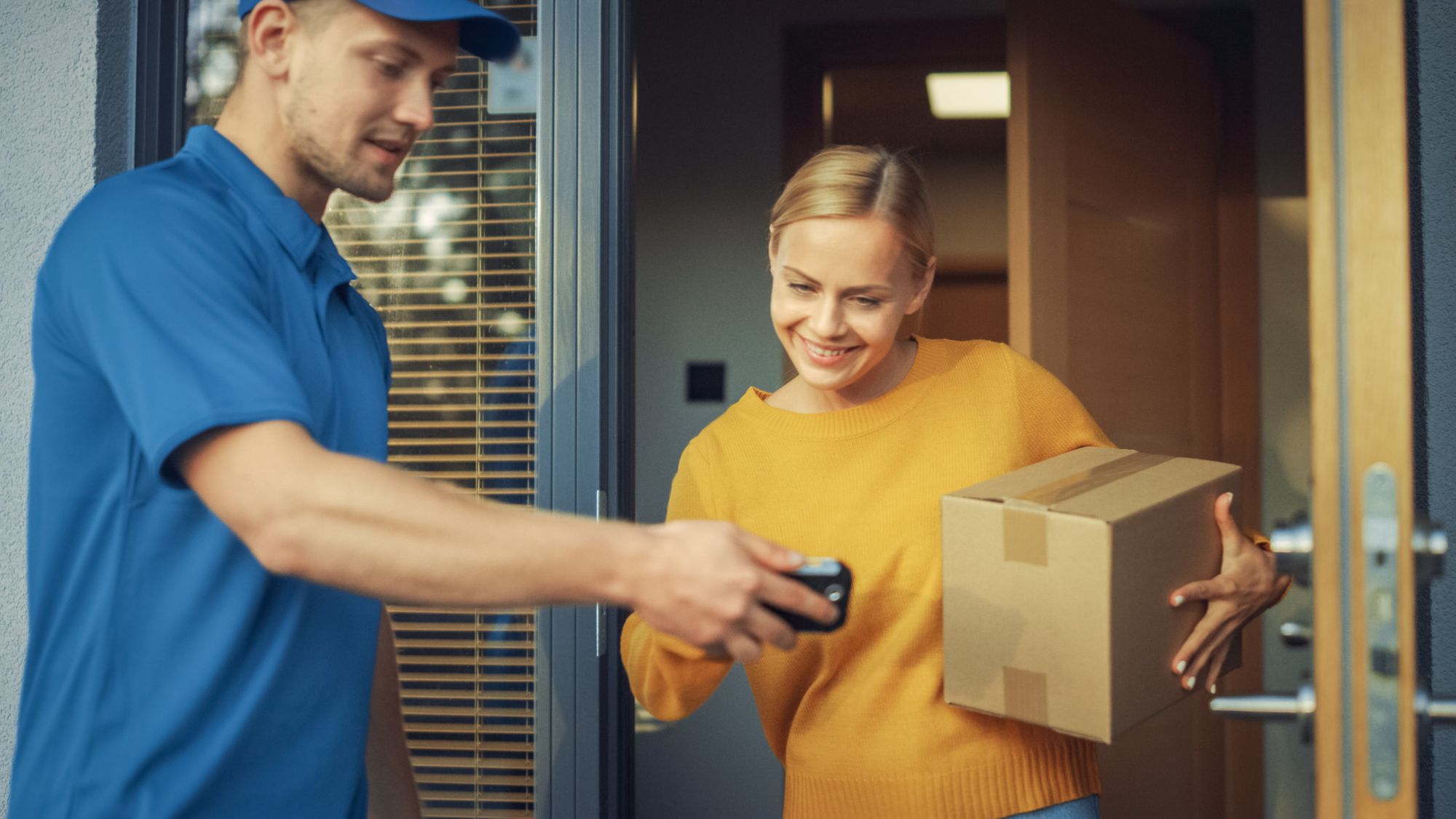 Industries that benefit from proof of delivery
As we already noted, PODs have long been used in the courier and logistics industry. But with more and more individual businesses offering eCommerce & home-delivery services, they now also require PODs.
If you're delivering anything from food to fuel, you will most likely want to provide your customers with the best possible service and that can include proof of delivery to seal the deal so to speak.
Industries that we have implemented proof of delivery for include:
3PL
Managing multi stop delivery routes means having an assurance that deliveries have taken place. In 3PL reporting back to clients on deliveries and establishing clear proof of delivery requires a total delivery management solution.
Food deliveries
For customers the speed of delivery and contactless delivery are often as important as the food that arrives. Being able to live track the food is now essential for customers and barcode or e-sig proof of delivery is critical for ensuring that subsequent queries on the food order are not a drain on resources.
Healthcare teams
With something as important and sensitive as medical equipment or services proof of completion of the service or delivery is key. Once the delivery has been completed to the patient's satisfaction it should be captured on your mobile app through e-signature or photo evidence. This can be an important digital trail for subsequent audits or reporting.
Retail and eCommerce delivery teams
Customer expectations around home delivery have grown massively on account of Amazon Prime and other same-day delivery services. The downside of online sales can be high rates of missed delivery or complaints that delivery was not received or as expected. Photo proof of delivery ensures this problem is cut out for you.
Pharma logistics teams
Covid has shown how critical and time-sensitive pharmaceutical deliveries are to the population as a whole. Delivering within cold-chain or just getting drugs to pharmacies and healthcare units in a timely manner is critical. These end-customers now expect a live-tracker of sensitive goods and a way to accept the goods that is credible and tracked.
Field services
Field services can be marred by complaints that the service was not completed correctly. Usually these complaints arise after the fact. Capturing e-signature proof of completion and photo evidence of the work done can avoid these issues.
It's not always that easy to get delivery right, even when you have proof of delivery, just take a look at 'proof-of-delivery' on Twitter if you don't believe us:
As you can see, PODs play a big part in the delivery experience and can make or break your business's reputation.
If you're operating your own business, you want to record your PODs as efficiently and effectively as possible and still give your customers a great experience.
So, let's take a look at the different types of POD available to your business.

Different types of proof of delivery
Paper proof of delivery
Traditionally, PODs and Delivery Notes were simple paper documents that recorded the information. This would usually be filled manually by a driver and the end-customer would sign the delivery note to acknowledge receipt of the goods.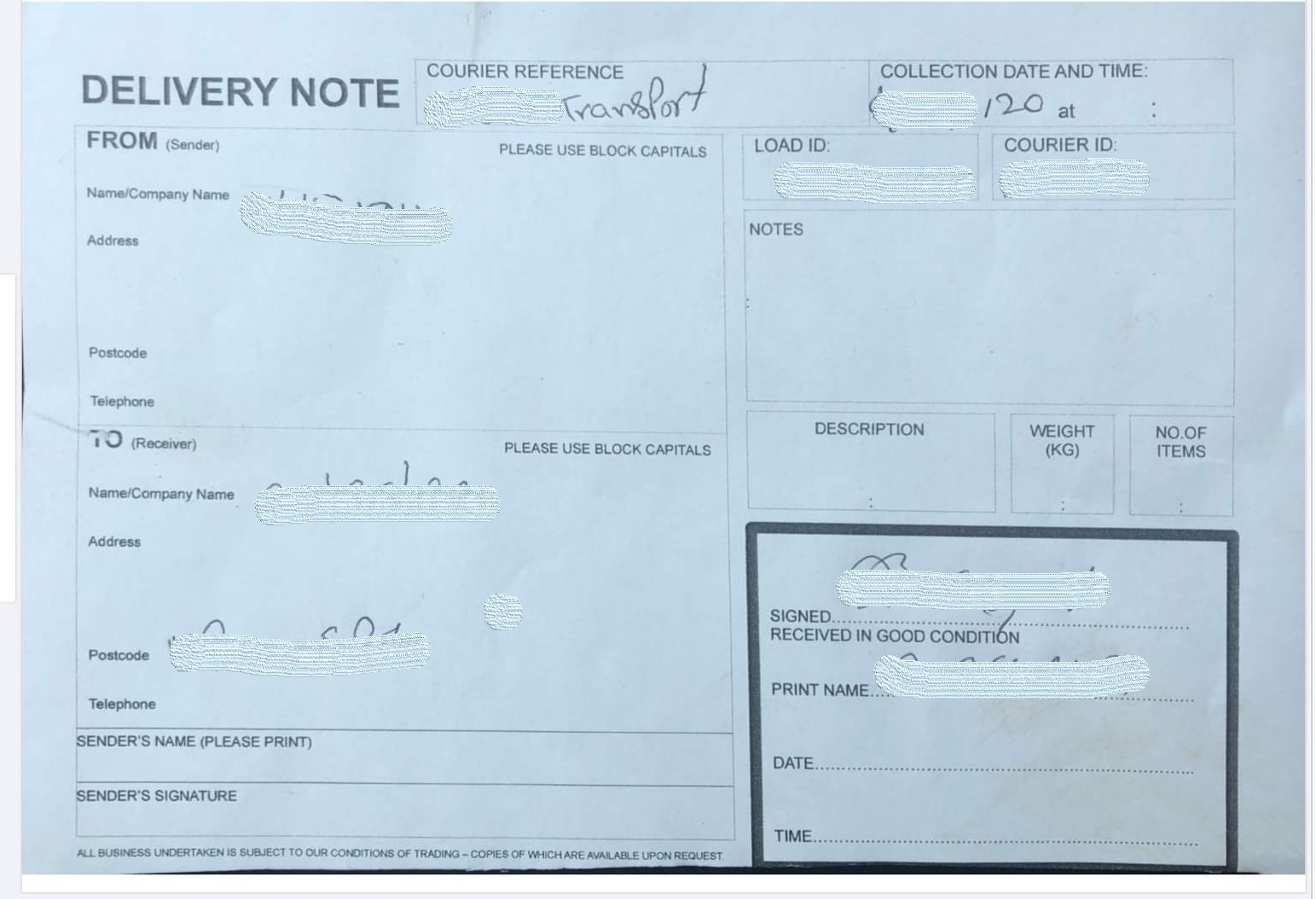 In order for the end-customer and the driver to retain the POD, they would use what is called a triplicate book. The benefit of a triplicate book is that each page that is completed is duplicated on 2 pages on the reverse side. This meant a time saving for the driver, and no ambiguity about differences in PODs
Barcode scanner proof of delivery
As technology has advanced, so too have the processes around deliveries. Moving on from paper-based PODs, digital scanners that recorded the delivery by scanning a barcode replaced triplicate books.
These devices are dedicated to one specific job and also make use of sign-on glass technology. Once the parcel is scanned at the delivery location, the customer then signs for the goods directly on the digital scanner's glass face.
As mentioned at the outset of this blog, address validation for deliveries must be robust. It's why we have focused attention on getting it right. If you or your drivers have been having problems with incomplete or incorrect delivery addresses, get in touch below to see how we can help.

Electronic proof of delivery [ePOD]
This has been a game-changer for proof of delivery. The past decade has seen a rapid advance in the power of mobile technology and its application across a range of industries.
And no more so than in the last-mile and home delivery industry.
ePODs and digital delivery notes are recorded directly on a driver's smartphone or tablet and record all the delivery data. As other functions such as route navigation, dispatch notes, and order details have been consolidated into Mobile Driver Apps, it makes sense that drivers would be able to record the ePODs directly within the same place. Similar to dedicated scanners, these apps can capture eSignatures from customers.
By integrating ePODs within mobile apps, delivery businesses also added photo proof-of-delivery. In the absence of a customer, this can be an indisputable way of proving when and where delivery was completed.
By integrating ePODs within mobile apps, delivery businesses also added photo proof-of-delivery. In the absence of a customer, this can be an indisputable way of proving when and where delivery was completed.
Comparison of ePODs vs Paper PODs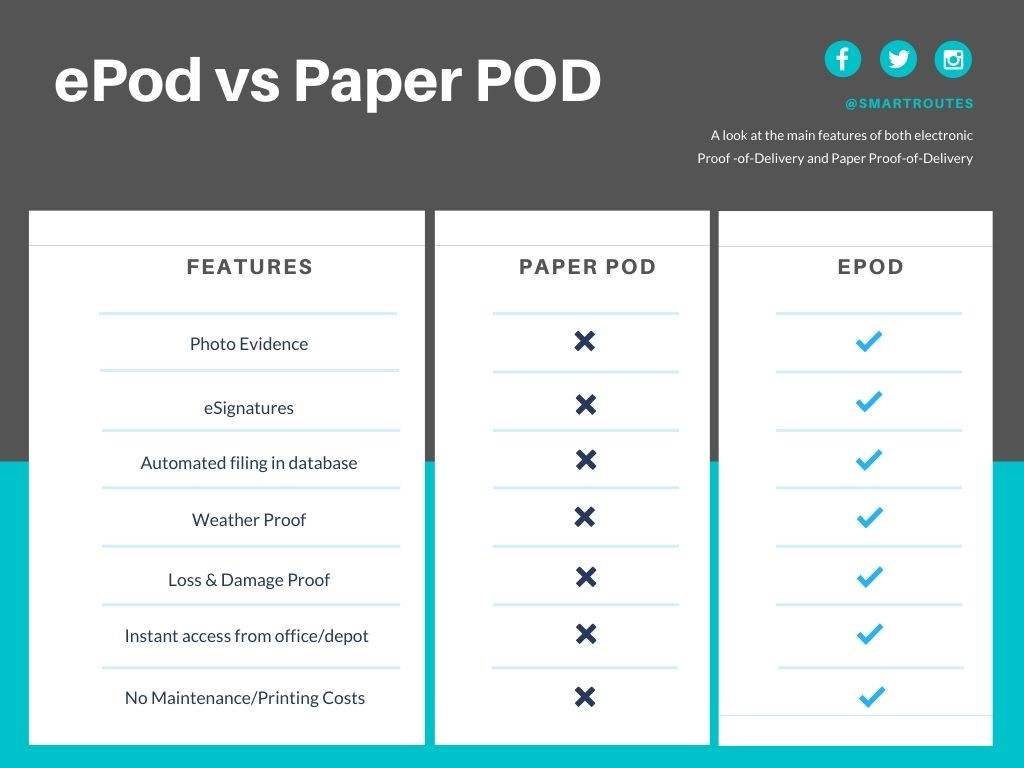 How electronic proof of delivery works
Delivery driver app
At SmartRoutes, we've worked to create the most efficient ePOD solution on the market.
Our Driver Mobile app allows the driver to quickly snap the delivery. In addition, the app utilises sign-in glass technology to capture the signature of the person accepting the delivery.
Much of what is ordinarily filled manually on the paper POD is automatically filled for the driver including, customer name, address, and delivery time.
Additional fields can also be added at the point of dispatch to the Driver App.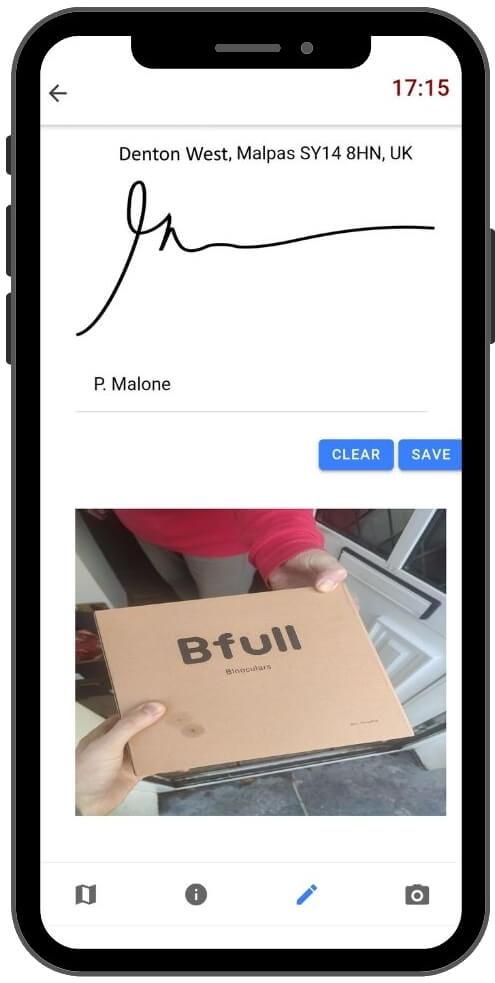 SmartRoutes delivery route planner
The desktop planner allows you to create routes and attach all the relevant details to each order and stop for the driver. These are all available to the driver and pre-populate on the ePOD.
Once drivers capture notes, eSignatures, and photos of deliveries, these ePODs are instantly attached to the stop on the Live Routes Dashboard back at the office or depot.
This simple, yet effective process can save your drivers up to a minute on each stop by eliminating the need to fill delivery notes manually. If your driver completes 70 stops, that's over an hour a day. It can also save your support staff up to 75% of time spent serving customer queries about deliveries.
As anyone who has operated a delivery service knows, this has the potential to radically optimise the way your employees work and enables you to serve more stops with fewer vehicles on a daily basis.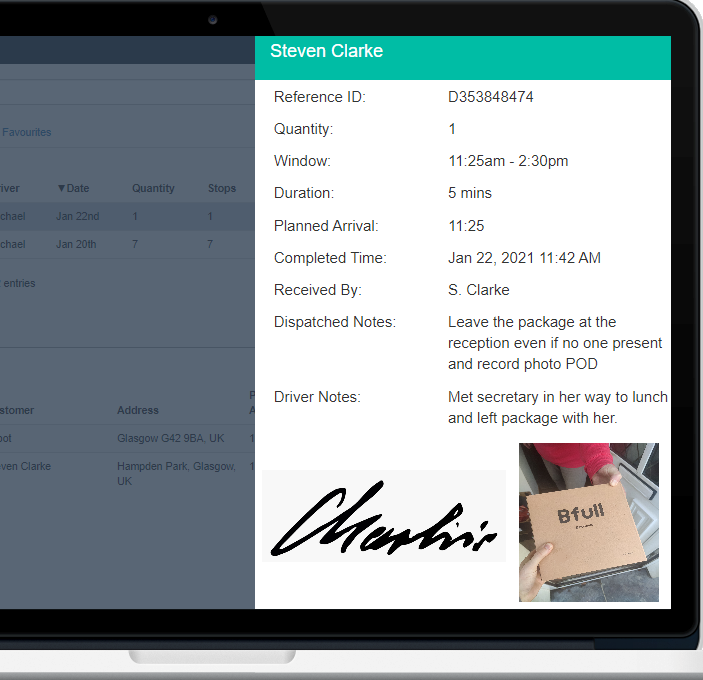 4 tips for recording proof of delivery
Whether you opt for ePODs or paper PODs, there are a few steps that can ensure they contribute to the success of your business from the outset. We suggest the following:

1. Make sure you include all the relevant fields and details for your specific business
A good start is half the battle!
Before you head to the printers or send the first route to your driver's smartphone, make sure that they can capture all of the relevant details on the POD.
For example, if you're a courier or 3PL company, you might want to include the internal reference number for each delivery, on each POD. This may help your staff to quickly identify which delivery a phone call from a customer is about. By enabling them to serve these queries quicker, you'll get happier customers and staff (the key to the success of any service!)
On the other hand, you might have a food delivery service that delivers to restaurants outside of opening hours. In this case, you might need to include a field in the POD that specifies the quantity of each product delivered. This ensures that there can be no dispute between a driver and a customer about what was included if stock is not accounted for in the kitchen.

2. Educate drivers on the importance of PODs
Drivers' jobs are tough and we owe them a great deal of gratitude.
For some, securing PODs might be seen as an additional task that adds to the time spent serving a stop.
It's important to let them know how important the task is to the running of the business. It's also wise to highlight that it is in their own best interest to prove that each delivery has been successfully completed and that they receive their due credit.
ePODs have the advantage of being a quick photo and/or signature for drivers that most likely have their smartphone to hand anyway and saves them the trouble of manually filling in a piece of paper.
Drivers frequently report to us that ePODs and Digital Delivery Notes make their lives easier.

3. Securely file all POD
Ensuring that your PODs are stored securely and easily accessed is critical.
They can often include sensitive customer data and should be treated with respect. It also means that you can instantly access the event that a customer queries a delivery at any stage in the future.
If you opt for paper PODs, this might require you to make some extra space in your office filing cabinet.
If you opt for ePODs, you may store them in a secure folder on your computer or cloud.
A solution like SmartRoutes is cloud-hosted, so will automatically store them in your customer database. This is the most secure and effective way as any historical POD can be searched for, accessed, and printed by any staff member with these permissions in a matter of seconds.

4. Automate electronic proof of delivery
Let's face it.
No one likes extra work. Especially your business's bottom-line!
The benefit of ePODs is that much of the manual work involved in recording PODs is eliminated.
With SmartRoutes solutions, you can automate much of what's included in the POD for the driver.
Similarly, the driver doesn't have to send that ePOD back to the office or bring a paper POD that evening or the next morning. It's all done automatically. We also help customers to automate the sending of ePODs to their end-customers and avoid the timely and costly back-and-forth between both businesses.
Resources for Proof of Delivery
If you've read this far, we hope that we've provided you with proof of just how important Proof-of-Delivery is.
And as a reward for reading this far, we've also provided some downloadable resources.

1. Paper Proof-of-Delivery Template
While we recommend ePODs and Digital Delivery Notes for the reasons outlined above, we know that paper can still have its place. It might even be useful if you want to complete a comparative exercise between paper PODs and ePODs for your business. It can be a good idea to have a paper signature docket available in all vehicles in case there is a problem with ePOD. The signature can always be photographed later to get a digital record.

2. Free Trial of SmartRoutes Delivery Route Planner
Our delivery route planner includes ePOD and sign-on glass technology to completely integrate and automate your processes from dispatch to reporting. You can sign-up for a 7-day free trial below to try it for yourself. We advise you to make the most of the Desktop Route Planner and the Driver Mobile Apps over the course of the 7-day trial by accessing the Help Video section in your free account:
SmartRoutes is a multi-stop route planner that combines a Desktop Route Planner and Driver Mobile Apps. Whether you have 1 vehicle or 100, it can save you time and money and transform the logistics of your delivery service and business as a whole.
Curious to see how our electronic Proof-of-Delivery could work for you?
Feel free to check out the rest of our blog and website and sign-up for a 7-day free trial and test it out, boost productivity and save time and money.
If you enjoyed this article and would like to learn more about delivery management software, you can check out our blog here.
Proof of delivery template
Every proof of delivery capture, regardless of whether they are electronic or paper-based, should include certain items:
Time stamp - when did the delivery take place, date and time
Print name of receiver
Signature of receiver - if possible
Name of delivery agent
Items delivered - from manifest or order list
Photo evidence of goods at delivery location - if possible
Barcode scan of order docket at delivery location - if possible
Next steps
If you're thinking about implementing an ePOD system, go ahead and give us a quick call, or message or contact us here and we'll get you up and running with a free trial right away. A kick-off call is always great to make sure you've got your account calibrated just right and it means we can help with any questions you might have over the course of the week too.