Delivery Management: The Complete Guide
There are many Delivery Management Software options, each with their pros and cons. But, which solution is best for your business? Here is the complete guide.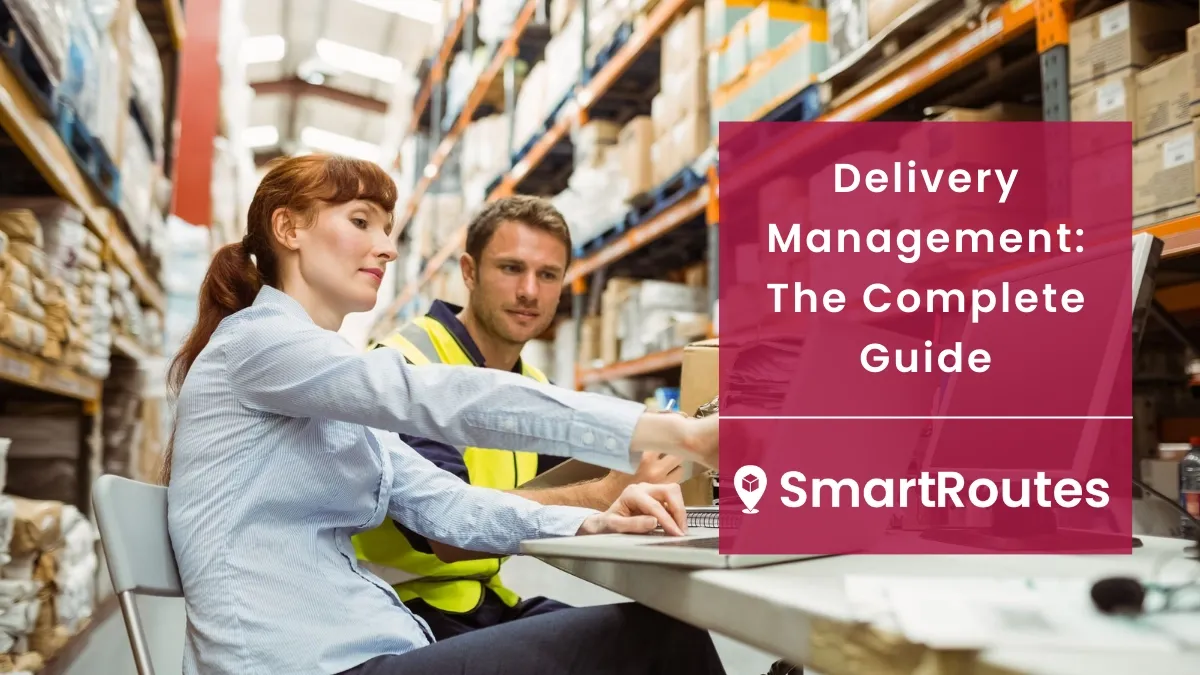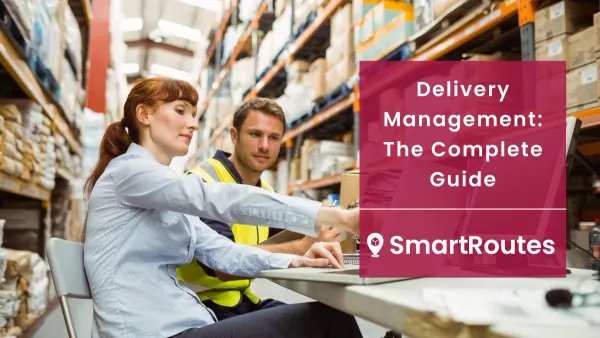 Ecommerce and home delivery is booming and businesses are struggling to meet the demands of consumers.
With eCommerce sales expected to surpass $740 billion in the US alone by 2023, ensuring that you can deliver these goods should now be a priority for your business. Getting a delivery management process in place is not a complicated task, but getting all the moving parts together in a way that brings organization and efficiency to it can be a challenge.
That's why we've decided to put this guide together to ensure that you make your delivery service a success from the outset.
What is delivery management?
Delivery Management refers to the full process of managing last-mile deliveries. This entails transferring goods from warehouse or store to their end location as efficiently and practically as possible. It is often referred to by various other names such as dispatch management, delivery routing and/or warehouse distribution management.
Note: Delivery Management also refers to the exercise of managing projects in a broader business sense. This is more of a project management-type role and is a completely separate role to that of delivery management in logistics and ecommerce fulfillment.
Why is delivery management important?
Supply chains are, quite literally, what keep the wheels of the global economy moving. When we talk about delivery management, it is important to first examine where it fits in the overall logistical supply chain to really understand its importance.
The entire supply chain can be divided into 5 distinct areas; supply planning, production planning, inventory planning, capacity planning and distribution planning.
Delivery Management sits in the final area of distribution planning and concerns the final step in a product's delivery lifecycle (although more recently, some have argued that there are six, and that 'returns' are now a real and separate area).
SmartRoutes Route Planning Software
Streamline your entire delivery process, all from one platform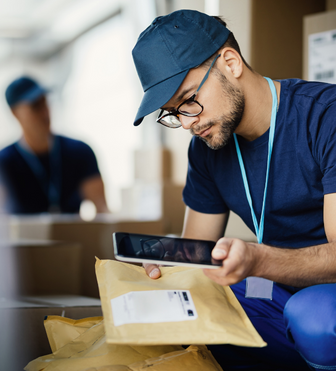 How does delivery management software increase profits?
The last mile is the most expensive in the supply chain. In fact, it is estimated that of the total cost of shipping a product, the last mile comprises a whopping 53% of the total. That alone makes delivery management a critical component of a retail or dedicated delivery service. With such costs involved, it is critical to the survival of a business that delivery is as efficient and effective as possible. Ensuring that goods are delivered without any hiccups and with the least cost, whilst maintaining high standards of customer satisfaction is no easy task.
That is why delivery management is so important. Last mile carrier tracking is a great way to improve the overall delivery experience.
Who is responsible for delivery management software?
The individual responsible for delivery management varies from organization to organization.
They usually have a title such as dispatch, delivery or distribution manager, coordinator, leader etc. Because last mile is a rapidly evolving space, the job titles are not as cast-iron as those in other industries.
This size and type of organization can also bear an influence on the job title of the person in charge. For example, in a retail distributor organization, they may be a dispatch coordinator, whereas in a mid-market logistics company, the warehouse manager may assume the responsibility as part of their wider role.
Delivery managers rely upon a mix of software solutions and strategies for keeping their business operating smoothly, with the ability to scale up based on how busy they are.
Top 5 delivery management software
As the name suggests, delivery management software is a technical solution that automates, manages and solves many of the challenges associated with last mile delivery.
In effect, it looks at the entire process of delivery management, and uses technology to best solve each individual task, saving the user and the business time and money in the process. Delivery management software aims to reduce delivery costs (time, fuel missed deliveries etc.), manage stock, coordinate drivers effectively, and deliver a better experience for end-customers.
Whilst some solutions can be standalone, the best delivery management software includes routing optimization software, hand-held barcode scanners, GPS systems for drivers, and proof of delivery all in one.
1. SmartRoutes
SmartRoutes is one of the most complete delivery management solutions for businesses that are serious about getting packages to doorsteps.
SmartRoutes bills itself as a delivery route planner and allows users to create routes with unlimited stops. This user-friendly solution allows you to plan routes in a matter of minutes.
SmartRoutes has outgrown the simple 'delivery route planner' title and has become a full-service delivery management software. The additional functionality released in recent years makes it hard to beat when compared to other more expensive solutions. The user interface and mobile apps have also been overhauled to make it a much simpler and easy-to-use tool than most on the market.
SmartRoutes solves the two main issues with delivery route planners; it optimizes routes for maximum efficiency and it automates much of the dispatch management and customer communication requirements. Navigation is done through Google Maps within the app, so you'll still have the benefit of a familiar interface while out on delivery rounds.
There are some nice delivery-specific features available on the app too. Dispatch notes can be added to stops and proof of delivery and driver notes can be captured at the drop-off point and accessed in your route history at a later date.
If you're using a route planner on a daily basis, it will provide great value for money at $29 per month. There's also a 7-day free trial to get to grips with it before you decide if it's for you or not.
Usability: 5 stars
Reliability: 5 stars
Value for money: 5 stars
Support: 5 stars
2. Onfleet
Onfleet has been around for many years, and has grown to become one of the leaders in the delivery management market. It has done so on the back of a clean product and good customer support.
Onfleet makes it easy for businesses to manage and analyze their local delivery operations. Their product includes intuitive smartphone apps for drivers, a powerful modern web dashboard for dispatchers, and automatic notifications and real-time tracking for recipients.
Onfleet powers millions of deliveries every week for thousands of businesses ranging from grocery, restaurant, and flower delivery to pharmacy and e-commerce companies. Onfleet is based in San Francisco, California.
Their support team also seem pretty responsive so you won't be left hanging if you have issues.
Usability: 5 stars
Reliability: 4 stars
Value for money: 3 stars
Support: 5 stars
3. Route4Me
Route4Me aims to solve chaos in delivery management. Extremely easy-to-use, Route4Me automatically plans routes for your business and dispatches them to a mobile app with built-in navigation. Perfect for field service, field sales, field marketing, field merchandising, territory management, and every business requiring last-mile optimization. Route4Me provides the world's most used route sequencing and optimization software for small businesses and enterprises to over 34,000 customers.
Usability: 4 stars
Reliability: 4 stars
Value for money: 4 stars
Support: 4 stars
4. Bringg
Bringg is the leading customer centric logistics solution for enterprises, with customers in more than 50 countries including some of the world's best-known brands. Their powerful technology platform enables companies to match Amazon's logistical excellence by streamlining the way they deliver goods and services, and creating the perfect delivery experience for their entire ecosystem - from the headquarters to the field and all the way to their customers.
Usability: 5 stars
Reliability: 4 stars
Value for money: 4 stars
Support: 4 stars
5. Paragon Routing
Paragon's Route Planning Software maximizes use of drivers and vehicles, reduces costs and improves customer service. In use in more than 60 countries, their software is available for operations with single depot, multi depot and integrated fleets. Typically customers see operational benefits and ROI within months of going live. Paragon's route planning software is also used strategically to model what-if scenarios, identifying the impact of business changes without spending a cent.
Usability: 3 stars
Reliability: 4 stars
Value for money: 2 stars
Support: 3 stars
Delivery management systems: Core features
Let's take a look at some of the core functions of delivery management software below:
Route Planning & Optimization
The basic principle of delivery management is that you get goods off the warehouse floor and delivered to the end-customer as quickly and efficiently as possible. At the core of this is route planning and route optimization.
Route planning refers to creating routes based upon orders received and the goods to be delivered. Although it might seem like a simple task, there are so many variables involved in the planning of routes for multiple vehicles and drivers that it becomes almost impossible to do without technology. Increasingly operators are being forced to offer priority shipping, delivery windows and two-person delivery teams, further complicating the planning process for delivery routes. A good delivery management system accounts for all of these factors.
Route optimization on the other hand, refers to the task of finding the most efficient way to serve every delivery with the resources available. This solves the classic 'travelling salesman problem', whereby a set of stops can be reached in any number of ways. Route Optimization software uses algorithmic computing technology to work out the best way to serve these stops by calculating the thousands of possible stop sequences, and then returning the quickest based on distance to be travelled and/or the time it takes to travel between each stop.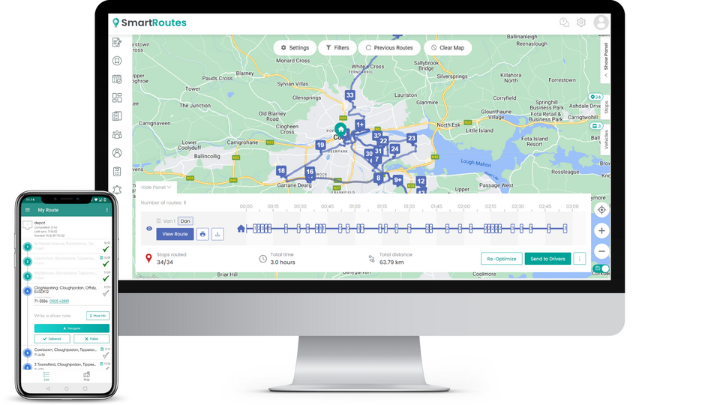 It is estimated that route optimization can reduce distances travelled by delivery vehicles by an average of 33%. That's a pretty significant cost saving for any business.
Additional features such as load capacity planning and load balancing can help to make the most of every vehicle at a delivery business's disposal during the route planning and optimization stage. Both these features ensure that vehicles are assigned full loads every mile that they travel is profitable.
Delivery Management Integrations
Although delivery management software can host a ton of features, it is still only one moving wheel in the supply chain management system of a business.
Integrating with warehouse management systems, online ordering systems and CRMs can help to automate possesses such as order to dispatch, proof-of-delivery sent to customers, as well as inward data feeds such as driver behavior from monitoring devices. Removing the need for a human to do monotonous tasks manually can save organizations a lot of time and money.
For example, here at SmartRoutes, one of the most common integrations for our delivery management software is with online stores built in the popular Shopify and WooCommerce platforms.
As an example, WooCommerce order delivery time management can be done entirely through delivery management software through API integration, meaning that orders go straight from your store, into the delivery route planner, ready to be optimized, complete with order details for each stop.
Our simple integration can pull orders from a business's online store at a predefined time, complete with order details such as quantity and customer details. This is then automatically input into the route planner, and optimized routes are created based on the customers orders. Each stop then has an individual packaging slip ready for printing in the order the route is to be completed in.
This simple integration can remove the need for a full-time employee in even a small business and can save hours of labor and wages in the process.
A real-life example of this route planning integration working in a small business can be found in this case study involving eCommerce delivery for Ridgeway Farm.
Route & Driver Management
Though it might seem like the management of deliveries is mainly carried out before goods leave the warehouse, much of the management and expense involved in last mile delivery begins once vehicles and drivers actually hit the road.
That's why software plays an important part in the management of drivers and routes as part of an effective delivery business.
For example, fleet tracking plays a key part in giving dispatch coordinators a birds-eye overview of deliveries from one centralized screen. By seeing where deliveries are in real-time, complete with accurate, live ETA's, they can plan for unexpected delays and give customers a better experience.
Similarly, it allows them to manage driver overtime and ensure that workloads are more evenly distributed throughout the working week.
At SmartRoutes, we have some unique features such as geographical territory zoning that can also help to manage the areas that drivers serve, and quickly increase or decrease them as orders fluctuate across them.
Driver Experience & Efficiency
Whilst the focus is largely on cost savings and efficiencies, the reality is that happy drivers are the foundation of any successful delivery business.
And that's why delivery software should have them front and center when it comes to creating a solution.
As part of a delivery management system, mobile apps for drivers play a key role. An easy-to-use app to manage deliveries and pickups is central to drivers making deliveries on time, with minimal stress and with a great experience for the end customer. Contactless delivery options also need to be considered to safeguard public health.
As part of delivery management systems of today, the associated apps consist of some great features like route navigation, digital driver manifests, barcode scanners and photo proof-of-delivery. Having all of these features centralized in one app eliminates much of the non-driving admin work that drivers previously had to complete as part of their role.
By eliminating the time wasted looking for addresses, looking at unsuitable routing apps roadside, and waiting for consignees to sign for delivery, a great delivery management system reaps its rewards for any logistics and delivery operations.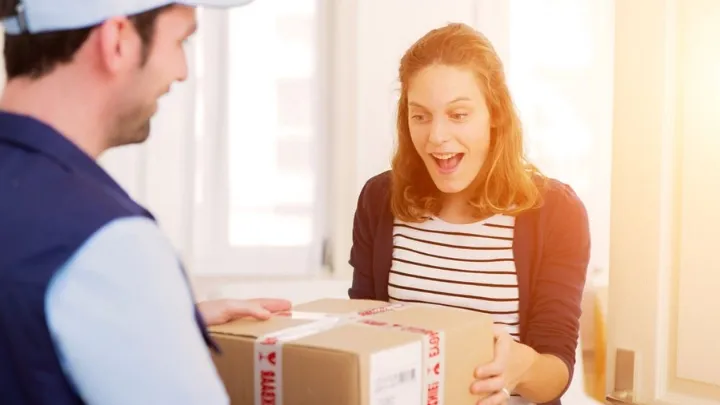 Delivery Experience
As consumers have adopted online shopping in ever greater numbers over the past years, their expectations of what levels of service they get during the 'delivery experience' are constantly increasing.
Not alone should delivery management software solve the problems of dispatchers and drivers, but it should proactively improve the experience of end-customers too and thus improve customer retention.
At SmartRoutes, our solution does this through a number of features such as package tracking where they can see where their order is in real-time through a single click, SMS and email notifications with an estimated time of delivery, and options for leaving specific instructions for drivers about where goods should be dropped.
As many now begin to return to office-based settings, they will still expect to be able to order goods online like they used to and have them delivered in their absence. Contactless Delivery will become one of the most important offerings a delivery business can make and a management system that caters for it may well be the difference between success and failure of a service.
At SmartRoutes, we have always held the belief that happy customers are the rock-bed of a successful delivery business, and we have always developed our software with their desires and needs in mind.
Delivery management software integrations
One of the key requirements of any delivery management team is the need to integrate with existing ERP, CRM or data management software that they already have in place. With this in mind, it is important to quiz any prospective delivery management software vendor as to whether they have open API documentation that can facilitate this. Integrated solutions will allow:
Automated dispatch management with orders on your existing systems automatically creating routes for deliveries and being sent to drivers.
Information on deliveries completed including proof of delivery to be automatically synced back to the ERP/CRM system.
Facilitation of reporting being done within either the delivery management software or the existing ERP/CRM.
Reliable & Efficient Support
If you're new to the home delivery industry, you'd be forgiven for thinking that the most labor-intensive part of the business would be pre-dispatch. But what happens after dispatch can be the real pain point in the delivery cycle for many logistics businesses.
Dealing with customer queries in a fast and effective manner helps to massively reduce the amount of wasted time and human resources. Based on our own research at SmartRoutes, having a delivery management system can help your customer support staff reduce the time spent handling queries by up to 80%.
Allowing your warehouse and depot staff to see where deliveries are in real-time, it allows them to quickly answer questions and accurately predict the delivery time.
No calls to drivers, no guessing. Just quick and effective answers.
Once delivery is completed, you can automate the sending of proof-of-delivery to your clients too. Again, this will reduce calls about deliveries and save your logistics team or admin team having to send it manually.
All of this is critical to establishing a reputation for reliability for your delivery business. In fact, the post-delivery capabilities of a delivery management software will result in significant savings for your business. The goal of any business is to keep costs to a minimum and maximize the profits.
Keeping the cost of delivery down is one of the main functions of a delivery management solution. We've already looks at some of the key savings it can produce, but it's easier to look at some of the key figures from our own research at SmartRoutes:
Route Optimization can reduce distances travelled by up to 33%.
Fuel consumption can be reduced by up to 40%.
First-time delivery rates can be increased to over 90%.
Customer queries are reduced by over 70%.
Delivery Capacity can be increased by 30% per route.
Time spent route planning can be reduced by upwards of 80% (compared to manually doing it).
CO2 emissions can be reduced by between 5-20%.
As a delivery business owner, each of these individual savings should have you considering the tangible effect it will have on your bottom line.
At present, the last mile industry is a cut-throat space where delivery companies are trying to undercut competitors by the most marginal amounts. While there is nothing wrong with competition, it is not conducive to the longevity of a business to be operating on the basis of tight margins, whilst trying to make up the difference by scaling at an unrealistic pace.
Getting a delivery management process that serves to make the business as efficient as possible, whilst maintaining the highest levels of service for your customers, drivers and warehouse staff is the way to future-proof your business and enable you to scale with confidence as your client base grows.
How do Amazon manage deliveries (and how do I replicate it)?
When it comes to optimizing your delivery business, there isn't a need to reinvent the wheel. In fact, we can learn a thing or two from the very best in the business and apply it to our own.
In recent years, Amazon has become the king of same-day delivery at an extraordinary scale. What makes this particularly impressive, is that most Amazon delivery drivers don't even work for Amazon. They are hired through delivery businesses that have contracts with Amazon.
Amazon has used route optimization as a tool to make their delivery service fast, reliable and easy. Through an app called Amazon Flex, drivers receive their driver manifest which contains all the deliveries they need to make throughout the day, in the quickest order to do them. This benefits both the driver and the customer.
When we speak about Amazon, it's important to remember that founder Jeff Bezos has always always had a focus on the customer as the number one consideration. The following quote highlights this:
"We're not competitor obsessed, we're customer obsessed. We start with what the customer needs and we work backwards" - Jeff Bezos
At SmartRoutes, we believe that this should also be the top priority when it comes to your delivery management strategy. With tight profit margins on package delivery, and a race to scale to account for it, the service level for end-customers and drivers have suffered.
Our delivery management system has been designed with four stakeholders in mind at all times:
Customers
Drivers
Delivery Leaders
Business Owners
By focusing on how we can provide a great experience for each of these, the cost savings have come naturally through smooth and efficient processes within our software. Much of what has been implemented by Amazon is mirrored in our solution, but the unique challenges of smaller delivery operations are also accounted for in our solutions development.
Conclusion
Getting a solid delivery management system in place isn't as complicated as it might seem, and the availability of tools that can be implemented quickly and easily means there is really no reason to not have a solution in place for your own delivery business.
Coordinating deliveries no longer needs to be a painstaking process of taking orders by email or over the phone or email, planning routes manually using spreadsheets and Google Maps and sending proof of delivery through the postal service.
The benefits of delivery management extend to business owners, warehouse and delivery management staff, drivers, and the end-customer.
As you look to grow a delivery business, a delivery management software allows you to confidently add vehicles and drivers to your and scale with minimal fuss.
Of course this also allows you to grow your revenue and helps to forecast the future profitability of the business. The bottom line is, it helps you to plan and helps create a vision for both you and your team.
The cost savings associated with delivery management systems is usually the big driver of interest.
And with good reason.
Making your operations as efficient as possible is the key to future-proofing your company. Delivery Management Systems are designed to save money by identifying all the areas of a delivery process that can be optimized and implementing solutions that do the work that is otherwise impossible whether because of limited resources or lack of technical skills in a company.
For all the hype around how technology helps us, it isn't always true. That's not the case when it comes to delivery management. If you're interested in learning more about how it can help your delivery operations, you can get in touch with SmartRoutes and one of our team will help to identify how it can work for you.
We have experience with helping delivery and retail businesses to transform the way in which they deliver at scale. No matter the size of your operation, we have a solution that can help you achieve better financial returns and improve the experience for you, your staff, and your customers.
If you're ready to begin planning and optimizing routes for your business, you can avail of a 7-day free trial with SmartRoutes or get in touch today and a member of our team will be in touch.
Frequently asked questions
1. What is Delivery Management?
Delivery management involves the strategic planning, execution, and optimization of the entire delivery process. It encompasses various tasks, including route planning, vehicle tracking, and coordination, with the aim of ensuring efficient and timely delivery of goods or services to customers.
2. How can delivery management software optimize route planning for businesses?
Delivery management software utilizes advanced algorithms and real-time data to optimize route planning for businesses. By considering factors such as traffic conditions, delivery windows, and vehicle capacity, the software generates the most efficient routes. This optimization minimizes fuel costs, reduces delivery times, and enhances overall operational efficiency.
3. What are the key benefits of implementing a delivery management system for small businesses?
Implementing a delivery management system for small businesses can offer several key benefits. It helps streamline operations, reduce delivery costs, improve customer satisfaction through timely deliveries, enhance route efficiency, and provide real-time visibility into the entire delivery process. Additionally, it enables small businesses to compete more effectively in the market by offering reliable and efficient delivery services.
4. How does real-time tracking contribute to better delivery management?
Real-time tracking is integral to better delivery management as it provides instant visibility into the location and status of delivery vehicles. This information allows businesses to monitor routes, anticipate and address potential delays, and provide accurate delivery time estimates to customers. Real-time tracking enhances overall transparency, customer communication, and the ability to proactively manage any unexpected issues during the delivery process.
5. Can delivery management software integrate with existing e-commerce platforms?
Yes, many delivery management software solutions are designed to seamlessly integrate with existing e-commerce platforms. Through APIs and other integration methods (e.g., Zapier or out-of-the-box), businesses can connect their delivery management system with their e-commerce platform. This integration facilitates the automatic exchange of order information, enhances order fulfillment processes, and ensures a cohesive and streamlined experience for both businesses and their customers.
If you enjoyed this blog, you might also be interested in: