What is a fleet manager?
Fleet Managers play a key role in the smooth operation of business vehicle fleets. Learn what they do, how to hire and how you can help make the role a success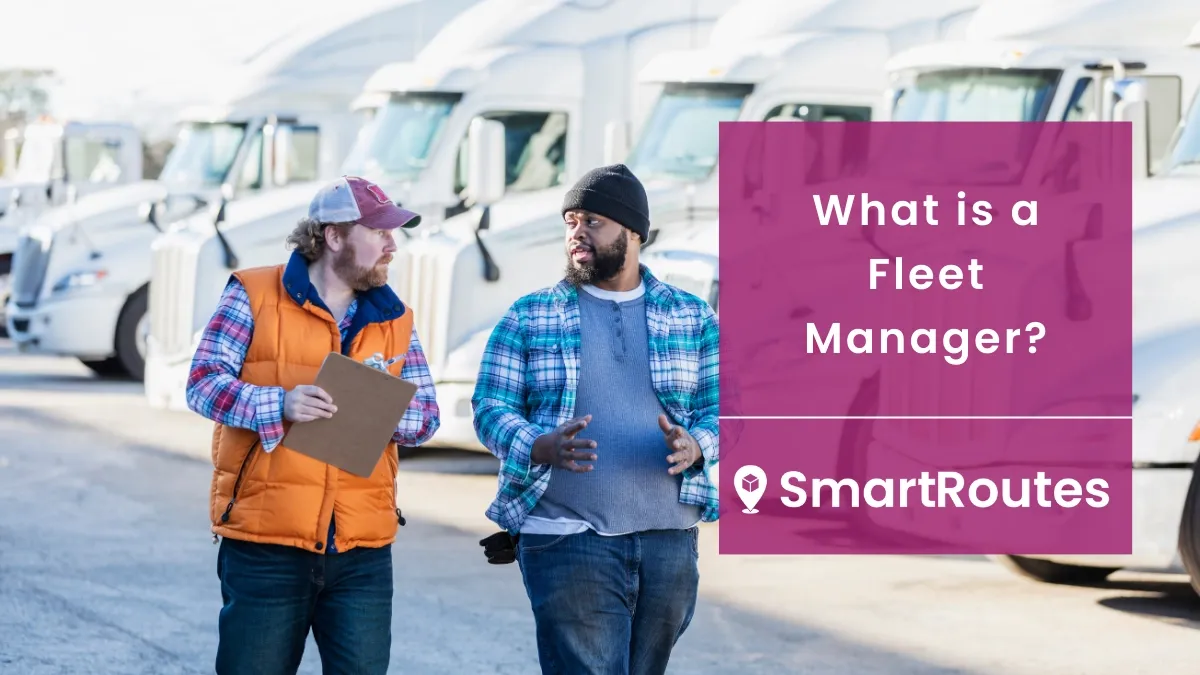 Fleet managers are a critical cog in the machine of any business with vehicles on the road. At SmartRoutes we deal with fleet managers who orchestrate vehicle routes, vehicle maintenance and manage the driver workforce. It is a challenging role and requires the support of the best software to ensure efficiency and oversight on operations.
In this blog, we'll take you through everything you need to know about the role of a fleet manager. Everything from what a fleet manager does, what skills they need, what qualifications they have, what challenges they face and how to ensure that they can do the job to the very best of their ability. We'll also outline a number of tips to help you make a success of the fleet manager role.
What is a fleet manager?
A fleet manager is the one with ultimate responsibility for the upkeep and management of a fleet of business vehicles and their drivers. The specific tasks of the role can vary from company to company, but duties usually include vehicle maintenance and oversight, driver hire and management, scheduling, route planning, route optimization, and driver welfare and safety.
In modern transport businesses, they will also be responsible for the use of tools like fleetmatics solutions and route planning, scheduling and route optimization softwares. These can often be the most intimidating part of the job for fleet managers that might have become accustomed to manually planning routes or relying on a cocktail of Microsoft programmes for keeping track of vehicle maintenance, test schedule and driver rosters etc.
SmartRoutes solves last mile challenges for you
Save time and money in delivery management. Cut carbon emissions. Get oversight on your fleet. Delight your customers with superb communication tools.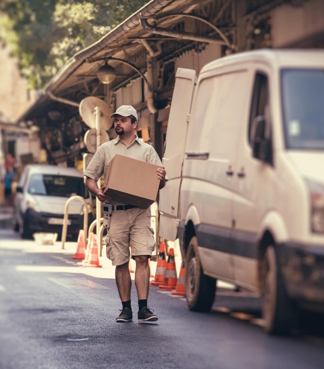 What does a fleet manager do?
As we've already noted, the day-to-day duties of a fleet manager can vary wildly from company to company. For example, a fleet manager at a bus company will look very different to that of one at a multi-stop delivery company. It's two different ball games, and as such, the duties they perform will be determined by the needs of the business involved.
For the purpose of this blog however, we have compiled 4 of the most universal duties a fleet manager performs:
1. Fleet safety and maintenance
We start off with the maintenance of the fleet- and there's good reason for doing so. It's priority number 1 for EVERY fleet manager.
Make no mistake, it's a job that comes with a lot of responsibility in terms of the road-worthiness of a company's vehicles. If you're the owner of a fleet you won't need reminding, but making sure your vehicles pose no risk to either your drivers or other road users is critical. In almost all haulage and transport businesses, that lies with the fleet manager to get right.
As part of his/her duties, they will be responsible for doing daily walk-around checks on vehicles, scheduling and ensuring that regular preventative maintenance is completed and that the schedule of such work is  carried out as required.
One time, much of the fleet maintenance would be recorded on a calendar and with pen and paper, but it's the requirement of today's fleet manager that they can use digital fleet management solutions.
2. Driver hire, welfare and retention
There is an argument for the fleet being the main responsibility of a fleet manager, but at the end of the day, if you don't have happy and healthy drivers to get behind the collective wheel of the fleet, the business doesn't operate.
With the well documented shortage of drivers in the transport industry, hiring drivers and retaining them has never been so important. Ensuring drivers have proper notice of the schedule and that paid vacation is not seen as a nuisance is the bare minimum a driver can expect from their fleet manager. It's in the fleet managers best interests too that their drivers aren't overworked. In fact, this is illegal in many parts of the world. They also have to ensure the driver has the right uniform and tools to operate their vehicle safely and that they are happy with the conditions of their employment.
A competent fleet manager also fully recognises the correlation between a clean and safe fleet with happy, long-term drivers. Every driver wants to have the comfort of a modern, clean vehicle and will have no reservations about jumping ship if this most basic need isn't met.
And it isn't a lot to ask. A driver's vehicle is effectively their home for much of their time and ensuring that it meets standards is fleet management 101.
3. Fleet tracking
Believe it or not, there was a time before cell phones when a fleet manager watched his fleet leave a depot or yard in the morning and prayed that they all came home safe and sound in the evening. One the were on the road, that was it with regards contact with driver and vehicle for the day.
The rapid advance of technology has brought with it a new responsibility for fleet managers and they can now see where their vehicles are in real-time and at a moments notice. Fleet trackers have become a standard feature in all fleet vehicles over recent years and they ensure that the manager has full oversight of their drivers and vehicles. Fleet Trackers have had a hugely positive impact for businesses as it allows them to see any issues with vehicles, undertake repairs in an efficient manner, and even weed out unnecessary mileage.
Fleet Trackers come in both standalone plug-in OBD units, but modern mobile technology means that smartphone enabled fleet trackers can be more versatile and cost-effective for large fleets.
4. Resource management
If it seems like a fleet manager's job is never done, it's because it isn't. They are often responsible for the management of the resources required for running a fleet of vehicles. Ordering fuel, organizing cards for drivers, keeping parts and lubricants and cleaning in-house are a bare minimum.
It all takes a lot of detailed management to keep a fleet of vehicles in tip-top order. In a lot of cases, they will delegate the ordering of such products to a member of the admin staff, but the real responsibility is in keeping on top of stock.
Why are fleet managers important?
Ultimately, fleet managers are the glue that hold transport and haulage businesses together. Keeping the wheels moving (pardon the pun!) requires a real professional who cares for their drivers, their fleet and their own sense of pride in their work.
They have an influence on every aspect of the business and are arguably the second most influential actor within the business. Every decision they make, whether it be choosing new vehicles, hiring new drivers or even buying consumable parts will have a massive impact on both the perception the public has of the company and the ultimate success of operation.
The influence they have on the efficiency and functionality of the fleet is one of the biggest factors in determining the success or otherwise of a transport business. When you consider that there is over 90% annualized driver turnover in long-haul trucking in the US, that fuel has risen by 100% and continues to grow, and that goods are also becoming a victim of inflation, your fleet manager is the one that will be the effective purse-holder for your business.
How much does a fleet manager get paid?
According to payscale.com, the average salary for a fleet manager in the US is $63,963.
Their counterpart in the UK can expect a salary of £40,016 according to the same source.
The range can vary pretty significantly however depending on a number of factors including:
Fleet size
Number of drivers
Nature of the business
Range of duties performed
Operating hours
For example, a fleet manager responsible for a fleet of 1,000 hazardous waste vehicles will have significantly higher earnings potential than someone responsible for a fleet of 50 parcel delivery vehicles.
What challenges do fleet managers face?
Managing both vehicles and drivers comes with all the problems that both a mechanic and a HR manager might encounter.
Dealing with driver absenteeism, turnover and satisfaction requires a lot of empathy and emotional intelligence. There's no doubt that a fleet manager needs to be a 'people person'.
On the logistics front, they may have to deal with late and missed deliveries, and are ultimately held responsible for the delivery experience.
Finally, dealing with mechanical issues and breakdowns can be incredibly stressful for fleet managers and can often upend their own work schedules. No day passes in the transport game without incident, and knowing how to prioritize tasks can be a steep learning curve for even the most hardened of fleet management professionals.
The rapid advancement of technology has no doubt made the lives of fleet operators more efficient, but it has also brought its own challenges too. For every new piece of technology that promises savings and ROI, there is a certain amount of learning and training that comes with it. It's a career that requires constant learning and the initiative to keep up-to-date with the latest digital trends in the industry.
Finally, with the continued rising costs of operating a transport business, there is more pressure than ever to reduce costs associated with the fleet while maintaining the safety and the level of service.
This isn't a run-of-the-mill office job and anyone expecting it to be should probably reconsider now.
When should you hire a fleet manager?
There's no hard and fast rule, but if you are starting to see the pains of a growing fleet and have the financial resources, it's best to hire a fleet manager ASAP.
As the fleet grows, the duties of the fleet manager may become more refined and additional hires are hired to take on some of the more rudimentary tasks (vehicle cleaning, rostering, warehouse management etc.). We may be a little biased at SmartRoutes, but if transport is at the heart of your business, we think it should be at the very top of your list of hires.
In addition to the duties outlined above, a fleet manager should have a host of soft skills such as problem solving, professional attitude, teamwork and emotional intelligence. It's a complex role that demands a lot of a person and this shouldn't be overlooked in the hiring process.
How does SmartRoutes make a fleet manager's life easier?
At SmartRoutes, we have developed one of the industries leading delivery management solutions. Our software helps fleet managers with some of the most time-consuming and challenging aspects of the job. It serves as a one-stop shop for route planning and optimization, driver management, route navigation, proof-of-delivery and a whole lot more.
By integrating all of these tasks on one easy-to-use platform, it can save fleet managers hours in the day and make their lives a lot easier.
According to G2: "45% of 1,200 U.S. fleet managers, executives, and other mobile-business professionals achieved positive ROI in 11 months or less with fleet management solutions, increasing 18.4% from last year."
Whether SmartRoutes is your choice or not, you should be analyzing the various components of your transport operations and identifying exactly how a solution like ours can positively impact on your bottom line.
At SmartRoutes our team is always on-hand to help you understand how a solution like SmartRoutes can help a transport business to digitally transform in a way that makes business sense and causes minimal disruption to your operation.
SmartRoutes can be rolled out in less than 24 hours across your business with fully remote onboarding and implementation.
Get in touch today
If you're a fleet manager looking to implement a delivery management software, or if you're looking to make your hire of a fleet manager a success, feel free to get in touch with us for a free consultation.
Frequently asked questions
1. What is a fleet manager?
A fleet manager is a professional responsible for overseeing and coordinating the activities of a company's vehicle fleet. Their role involves optimizing fleet operations, ensuring compliance with regulations, and enhancing overall efficiency.
2. What are the key responsibilities of a fleet manager?
Key responsibilities of a fleet manager include overseeing vehicle maintenance planning, route optimization, fuel management, driver safety, regulatory compliance, and the overall coordination of fleet-related activities to maximize operational effectiveness.
3. What qualifications and skills are essential for a fleet manager?
Essential qualifications for a fleet manager typically include a degree in logistics, transportation, or a related field, coupled with relevant work experience. Critical skills include organizational abilities, knowledge of regulatory requirements, and proficiency in fleet management software.
4. How does technology impact fleet management?
Technology has a significant impact on fleet management by providing tools like GPS tracking, telematics, and fleet management software. These technologies help monitor vehicle performance, optimize routes, enhance fuel efficiency, and improve overall fleet operational visibility.
5. What is fleet management software?
Fleet management software is a technology solution designed to assist fleet managers in organizing, tracking, and managing various aspects of a company's vehicle fleet. It typically includes features for vehicle tracking, maintenance scheduling, fuel management, and reporting to streamline operations and improve efficiency.
If you enjoyed this blog, you might also like: