What does out for delivery mean? A closer look at the last mile
We take a look at what Out for Delivery really means, and how businesses can make it a successful part of their delivery service.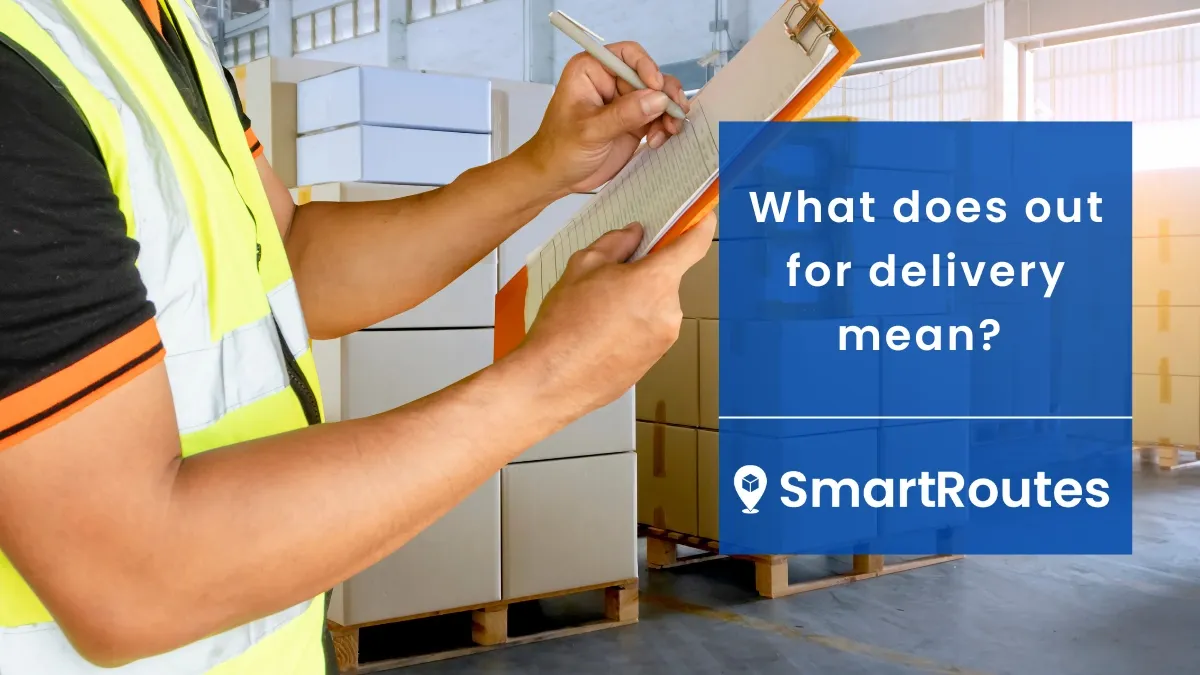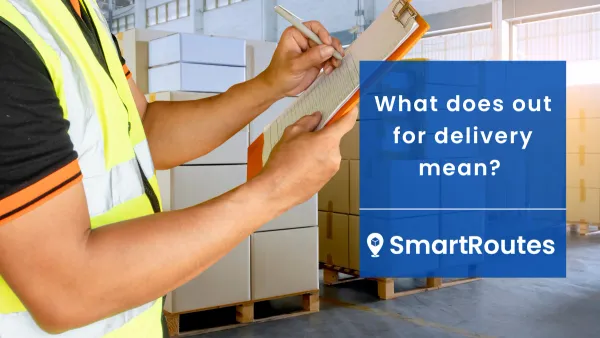 If there's one unrecognized part of shopping online that gets overlooked in its importance, it is the anticipation that we feel as we wait for that big purchase to arrive on our doorstep. Unlike walking into a brick-and-mortar retailer and buying what we want, there is a waiting period between our purchase and when we actually receive the item we paid for. While it might seem like a downside to eCommerce, for retailers and brands it represents an opportunity to reemphasize their commitment to great service and set themselves apart from competition where it matters in customer service.
Our excitement and anticipation in the online shopping journey is when our purchase is marked out for delivery and we receive an email or text message to let us know it's on its way to us!
When it comes to the last mile, this 'out for delivery' stage in the delivery process is one of the most influential in determining the success of the entire delivery experience.
In this guide, we'll take a look at what exactly 'out for delivery' means, how couriers and businesses determine an item has reached the stage, and a few useful tips for getting this stage in the last mile delivery process right (including some examples from the best in the business!).
What does out for delivery mean?
As the name suggests, "Out for Delivery" means a parcel has been sorted at a local transit point, scanned by a driver, or a warehouse operative, and loaded onto a delivery vehicle to make the final step in its journey to the end customer. Customers usually receive a notification from the last mile carrier at this stage to make them aware, and ensure that they make arrangements to take receipt of the delivery later that day.
Getting this part of the last mile delivery process right can have an impact on the efficiency and sustainability of the wider supply chain process. By ensuring a package is successfully delivered in the last mile, it avoids unnecessary complications like:
Drivers having to reroute to make the parcel drop later in the day
Warehouse staff having to re-allocate the parcel to another route on an other day
Customers becoming annoyed and customer service staff having to resolve the problem
Added costs associated with poor on time time delivery statistics
And while avoiding performance issues such as these is important, it's really only part of the puzzle.
SmartRoutes' Out For Delivery Notifications
Keep you customers in the look and impress them with superb communication tools.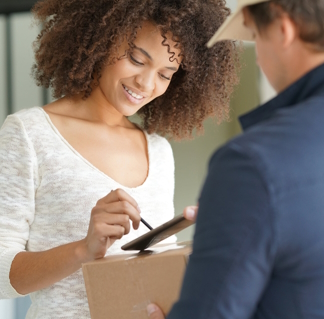 By taking a proactive approach to the last mile, letting your customer know that their order is on the way can put their mind at ease, allow them to make arrangements to sign for the delivery, and helps to build excitement and anticipation for the moment their delivery arrives.
If you're a brand that aims to differentiate yourself from customers through a greater level of customer service, the 'surprise and delight' tactic can play a central part in the motivation for ensuring your 'out for delivery process' works correctly.
What is the difference between 'out for delivery' and 'in-transit'?
If you've ever been keeping a close eye on an order that you need for a certain date, you'll likely have seen something tracking details like the ones below;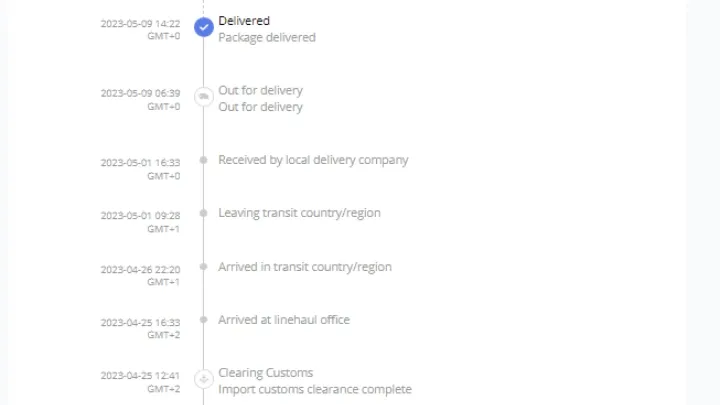 This highlights just how many steps there are in the wider supply chain for a finished product that many of us never see.
What can sometimes be confusing for consumersis that a delivery may be marked as 'in transit' at one point during the delivery process, and then be switched to 'out for delivery.
While both terms sound similar, there is a key difference.
"In transit" means that a product has been shipped by the first point of contact that received the order. This can sometimes mean that it has been shipped from a larger warehouse to a smaller, more local distribution center to be allocated to a vehicle that brings it to your doorstep.
"Out for delivery" is usually the status ascribed to the parcel once it has been scanned onto the delivery vehicle that is bringing it to your doorstep.
This difference is well understood by professionals in the last mile and supply chain industry, but for the average consumer, it can be a bit confusing and even lead to disappointment when an 'in transit' order doesn't arrive as expected. For order communications, we always advise customers to make sure that the messaging is clear and includes an accurate ETA/ETD.
How does tracking a parcel once it is out for delivery work?
One of the key reasons businesses let their customers know about the status of their delivery is so that they can track its progress to their door.
With more people now working from home, it allows people to plan their days around the delivery so that they can continue to work without having to keep an eye out for the delivery man throughout the day.
Last mile carrier tracking has become the norm for businesses that deliver packages direct-to-consumer in recent years. With advances in mobile device technology over the past decade, even the most basic of smartphones now have the necessary features to enable drivers to scan a parcel onto their van or truck in the morning. Delivery driver apps use the QR scanning feature in a mobile phone's camera, and once the package is on the way, the GPS on the drivers' phone allows the customer to see where it is at any given time (using the same GPS feature that Google Maps relies on!).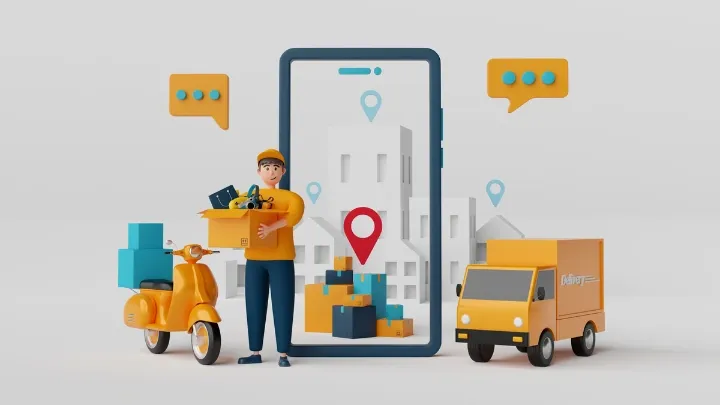 White it might seem like the kind of thing that big carriers like UPS and FedEx do, it's actually really simple and cost-effective for small businesses once a driver has a smartphone (and let's face it, most do in 2023!).
Custom tracking links can be automatically sent to customers once their parcel has been scanned by the driver using a solution like SmartRoutes for as little as $54 per month.
How Musgrave improved their 'out for delivery' customer communications
Modern lives have become much more hectic and that time is now one of the most valuable commodities any individual person or family has at their disposal.
It's no surprise that consumers have increasingly been turning to online grocery services that deliver their weekly grocery shop directly to their doorstep. What could once be a task that would take at least an hour, is now one that can be done online in a matter of seconds (or even automated if you're a creature of habit and order the same food every week!)
Musgrave is Ireland's leading food and retail provider, and they were one of the first to spot this trend in the market and began offering a delivery service.
While the service proved popular with customers, it was creating more work than anticipated in communicating with customers about their deliveries.
After implementing SmartRoutes delivery management solution, they were able to alert customers with a custom tracking link once their order had been loaded at dispatch, allowing customers to track their delivery to their doorstep.
Unlike non-perishable goods, first-time delivery in food retail businesses like Musgraves, are working with short shelf life periods like bread and dairy.
For this reason, they took their delivery notification process one step further with SmartRoutes, and reminded customers with another delivery notification 30 minutes before it arrived.
The results were that calls to their customer support team were almost eliminated, and that customers felt more informed and considered by the company.

Making sure "out for delivery" becomes "delivered"
Out for delivery doesn't always necessarily translate to a successful delivery, but ensuring that the right tools like delivery notifications, tracking links, and suitable package delivery apps are in place to assist the process are key in getting it right.
While the last mile of the delivery process is fraught with potential problems like loading errors, vehicle breakdowns, and even simple human-error like delivering the wrong package, these delivery apps limit the risks. A combination of a tried-and-tested process that is religiously adhered to by drivers coupled with a suitable technology solution that controls every touchpoint in the last mile for drivers and customers are the secrets to success.
Visibility and transparency are two of the most important factors in the last mile, and that goes for every stakeholder involved, be it your customer, drivers, dispatchers, or supporting staff.
Start sending out for delivery notifications today with SmartRoutes
If you have any questions about how you can improve your own delivery or courier service, we have a team of experts on-hand that help all types of businesses to improve your last mile delivery service. Whether it's greater visibility, more transparency for customers, or just more structure you need, we have a solution and a team to help implement it.
If you enjoyed this blog, you might also be interested in: