4 of the Best Phones for Delivery Drivers & How to Choose One
We give a complete breakdown of our top picks plus we look at why it is important to choose the right phone for a delivery driver and the top 6 features (in our opinion) you should be looking out for!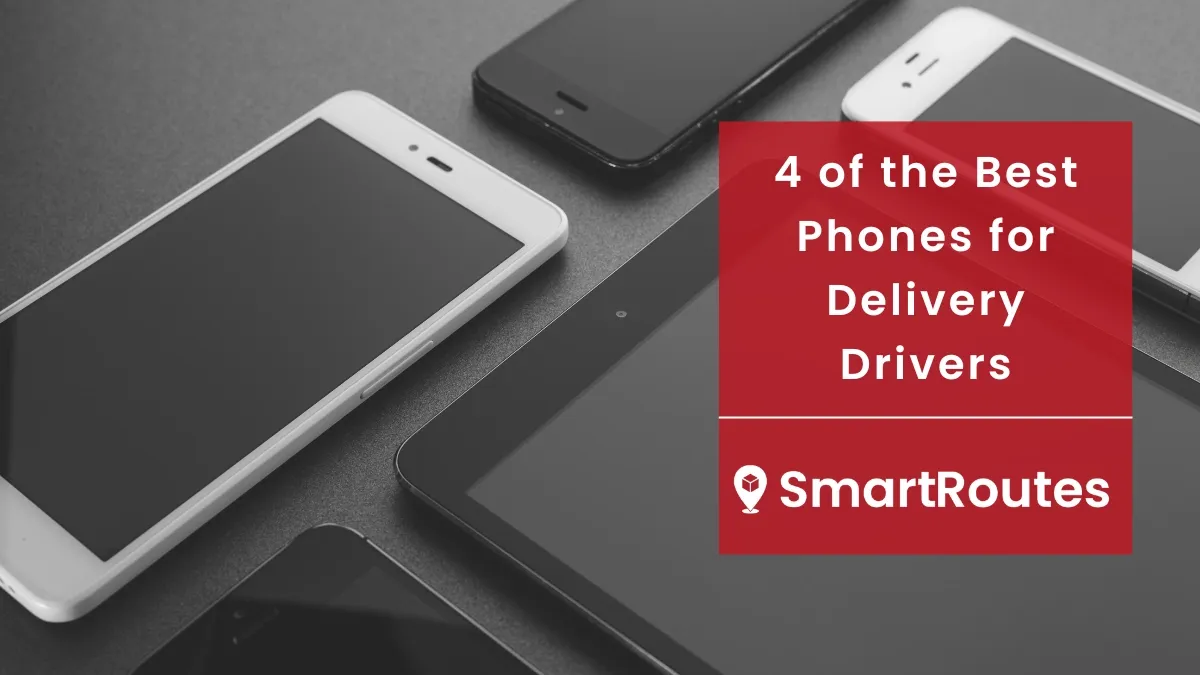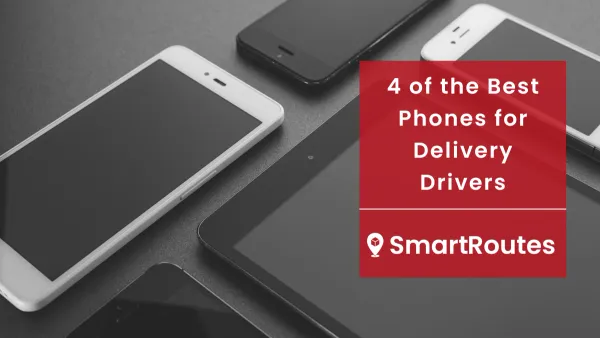 It used to be that the most important tool a delivery driver had at their disposal was the van or truck. While it might still be the case that the delivery vehicle is the beating heart of a courier or delivery business, the smartphone is now an equally important tool for both delivery businesses and their drivers.
If we look back even just a few years, the first smartphones began the digital transformation of the industry. For the first time, a driver could use Google Maps to check where an address was, and Google Search engine for a contact number when they couldn't access a drop-off location.
Even small features like built-in torches could get you out of a pickle for checking an address label on a late winter's evening.
In the space of a few short years, however, the role of the smartphone has completely transformed the way in which delivery drivers do their job. With the arrival of mobile apps in recent years, delivery companies have been quick to develop solutions that manage every aspect of the delivery process from parcel scanning to route planning.
While the benefits of such apps have been contested by drivers, the reality is that they are here to stay. But as smartphone technology has advanced at a rapid pace, the delivery apps are now only as good as the phone a driver uses.  
Whether you're a courier or delivery business researching what phones to buy for your drivers, or you're a DPD, Amazon Flex or DoorDash driver that requires a smartphone as part of a 'bring-your-own-device' policy, this guide will walk you through what you should be looking for in terms of specifications.'
We'll also take a look at some of the options available to you and give our recommendation for the best Apple and Android phone for delivery drivers at the best price point.
SmartRoutes Driver App
Capture proof of delivery, send customer notifications and record information about delivery locations for future reference, all in one app!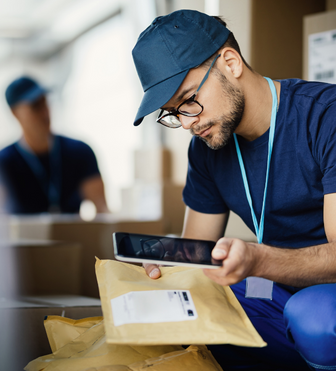 Why is it important to choose the right phone for a delivery driver?
For better or worse, we are now entirely dependent on smartphones for the smooth running of business and that is even more apparent when it comes to delivery drivers.
For multi-drop drivers, delivering up to 200 parcels a day means they rely on their smartphones to navigate their routes, scan parcels onto the van in the morning, check customers and drop location details on the go and even capture proof-of-delivery at the doorstep.
With smartphones playing a central part in a driver's work, it is important that it is up to the task and makes the driver's life as easy as possible.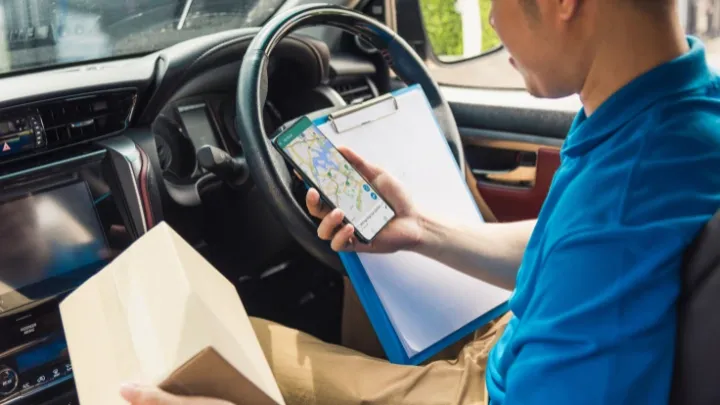 When it comes to choosing the best phone for delivery drivers, the temptation is to go with the cheapest option available and hope to keep your business costs low. After all, you are likely either forking out your own hard-earned cash as a driver on a 'bring-your-own-device' basis, or you're a courier business owner buying multiple phones for your drivers, in which case the cost difference between phones is going to be multiplied.
If you're not a tech guru, the decision making process can end up being a headache that consumes hours of your day before you make a decision.
Luckily, we can break it down into 6 key features that you need to be mindful of when choosing a phone:
6 key features of a delivery drivers smartphone
1. Compatibility
First and foremost, make sure to check that the phone you're about to buy will be compatible with the courier app you intend to use it with. For example, the Amazon Flex Android app will require your phone to have:
Version Android 7.0 or newer
At least 2GB of RAM memory (more on this later)
A camera with flash
GPS Location Services
While most modern smartphones will be absolutely fine with these specs, it should be noted that some older phones will not be able to update to the new version of Android, or iOS on Apple iPhones.
Our advice: If you're planning on buying an older model (or refurbished models, to save on costs), make sure it is capable of running the delivery app that you or your company uses.
2. Battery Life
Delivery apps can be heavy on battery usage, and in most cases, they will be the most intensive apps on your phone.
Why?
Well, it's a result of 2 factors; the features of the phone that they draw upon, and the sheer amount of time they will be in use over the course of a working day.
On the first point, features like GPS (used in routing and navigation) and the camera (scanning and proof-of-delivery) will drain a battery faster than anything else on your phone, and these are central to most delivery apps.
Run out of battery halfway through a delivery route?  
That'd be a big problem when you're entirely reliant on it for finding drop-off points and recording complete deliveries.
Battery life is critical!
Our advice: While manufacturers offer their own guides in 'hours', we advise making sure that you do your own research on the size of the battery within the phone. Ideally, you should have a lithium-ion battery with at least 4,614 mAh (although for routes of 200 stops and using route navigation we advise closer to 10,000 mAh.
3. Memory Size
First of all, memory size is more important than it first appears when choosing a phone for a driver.
In fact, a better way to think of 'memory' when it comes to smartphones is 'brain capacity'.
The biggest differentiator when it comes to the cheapest smartphones and the most expensive, is usually what we refer to as Memory or RAM. In simple terms, the better the memory in a phone the more fast, reliable and easy it will be to use.
Some tasks like route optimization within delivery apps can take quite a bit of computing power, and you're not going to want to spend all day waiting for your phone to calculate the quickest route.
If you've ever used a delivery driver app on a phone and found it slow and frustrating, it is quite likely that the phones 'memory' just wasn't up to the task.
Random app crashing, scanning taking ages, and (worst of all in our opinion!) only telling you about a stop a few seconds after you've passed it are all tell-tale signs that its memory/RAM is not up to the job.
Our advice: When looking at your options, we suggest looking for a phone with at least 6GB of RAM. Don't cheap out on underpowered handsets!
4. Durability
The reality of doing deliveries is that it is a fast-paced, rough-and-tumble game.
Similar to your delivery vehicle, the build-quality and durability are going to be key to ensuring that your phone is up to the task.
Even the most expensive phones on the market can leave a lot to be desired when it comes to durability, so it's important to know what phone is going to be able to take a bit of a beating.
In the past, there was a trade-off between 'rugged phones' designed by tradespeople to be durable, but not fast, and more desirable phones that were fast and slick to use but didn't stand up to the riggers of a delivery driver day-to-day.
As technology has improved and the field has evened amongst manufacturers though, 'rugged phones' can now be every bit as advanced and smooth to operate as your flagship iPhones and Samsungs.
Our advice: Don't be fooled by the price tag. Big differences in price often doesn't reflect the build-quality and durability of a phone. Big name brands like Samsung and Apple aren't necessarily built to endure the rigors of a courier driver's life.
5. Screen Size
Since the first mass-adoption of the smartphone a decade ago, they have gotten increasingly bigger in size. Believe it or not, that wasn't necessarily as a result of consumer demand, but more as a necessity with ever evolving technology and the need for physical space to store it in the phone's casing.
Most of us have now got used to the bigger screens, and it's definitely an advantage for delivery drivers to have the ability to see everything with ease (especially at a glance while driving), and be able to hit the right buttons.
Although we don't have it higher on this prioritized list, screen sizes can be a bit of a tricky one as many of the better-known brands like Apple reduce the screen size in their cheaper phones like the iPhone mini.
It's a simple thing, but getting into a store and getting a feel for the different phones on offer is a good exercise.
Our advice: We recommend looking for a phone with at least a 6-inch screen to make following routes, checking order details and collecting sign-on-screen signatures as easy as possible while on the job.
6. Camera
Yes, the camera is important, but maybe not as much as you think!
Again, this is one of the key pieces of technology that manufacturers have focussed on in recent years as they sought to maintain an edge over their competitors. The result is that the camera in phones has increasingly become the main differentiator between 'budget' and 'flagship' phones.
The good news?
That means that even the cheapest phones on the market have fantastic cameras that will be more than up to the task of scanning barcodes and QR codes, and capturing clear photos for proof of delivery.
Our advice: Don't focus on complicated metrics. Just make sure it has flash and you should be good to go with any 'mid-range' phone release from the last few years.
4 of the best phone for delivery drivers
Now that we know what we're looking for in a phone, let's take a look at some of the best options available to you.
While it would be easy to tell you to fork out for the newest iPhone or Samsung Galaxy, the cost of doing so is, we think, prohibitive for most owner-drivers or someone starting a courier business. With the iPhone 14 starting from around $800 dollars, that might not be feasible.
So, we'll offer up what we think are 4 of the best options available at a reasonable price.
1. Blackview BV9300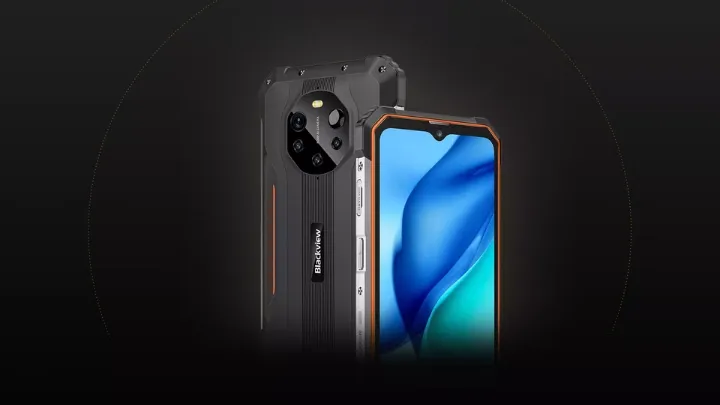 We kick off our list with something of an unknown in the Blackview BV93000, but the specs of this phone make it the ultimate delivery or courier driver phone.
For those that scan every parcel on their vehicle in the morning and want an even faster unit, the Blackview BV9300 is the big brother of the BV7100 with a 6.7-inch screen, 12GB of RAM and a 50 MP camera. Making this an all-round, top-spec phone that will perform the duties of a courier driver with ease. In terms of its capabilities, it more than matches the specs of high-end, better-known brands.
It's also far more durable than others and with a 'drop-to-concrete resistance' up to 1.8m, dropping it while taking parcels from a van or while grabbing things from height at the depot won't be an issue.
One downside of the Blackview phones is that customers have reported that customer support is not as responsive as major brands, but at around $400 less than similar specs on an iPhone, we think it's worth a shot.
Check out this in-depth review on TechRadar.
2. Blackview BV7100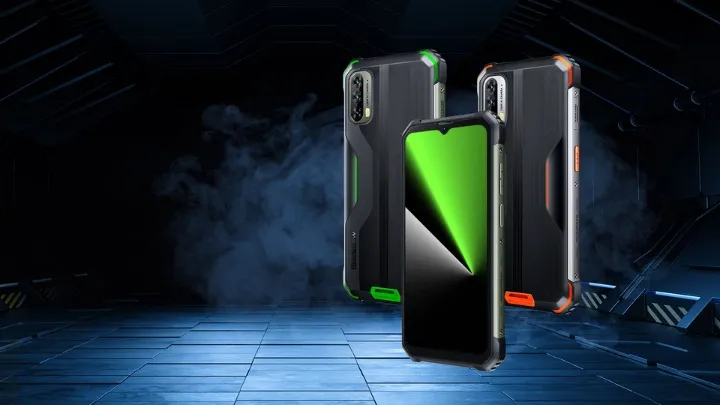 The Blackview BV7100 is the little brother of the 9300 already listed above.
Digging a little deeper, it has a lithium-ion 13000 mAh battery with 51% charge in just over an hour. Compare that to the iPhone 14 which has a 3279 mAh battery, and you've got a device that has infinitely more life in it on a single charge. Many drivers report getting 2 full days on a single charge on routes of up to 200 drops!
With a 6.1-inch screen, 6GB of RAM and a suitably strong camera, the BV7100 should be more than up to the task.
While we can find others with similar specs, the difference is this is a 'rugged' phone that is built to endure. The only downside of the phone is that it is significantly heavier than your more established brand names.
3. Google Pixel 6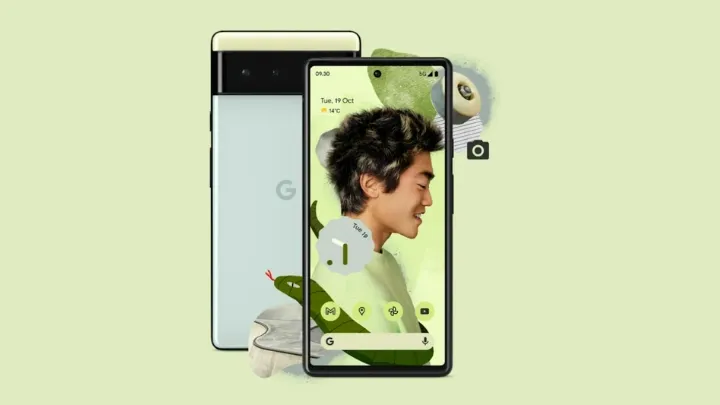 Unlike the phones listed above, Google has the benefit of having a huge presence in the US/UK/Europe and offers some fanatic phones at very reasonable prices.
The Google Pixel 6 is equipped with a 6.4 inch screen, 8GB RAM, and an astonishingly good camera at the price. In fact, the camera is the main selling point of Google phones, using AI technology to bolster the capabilities of the lens and hardware in the camera itself.
On the downside, the battery isn't going to be quite as long-lasting as the Blackviews with a 4614 mAh battery (almost 3 times smaller).
The reality is, that this isn't going to last a full day in the life of a courier without spending a bit of time on a charger.
The workaround is a battery case that will add around 60% more battery life on each charge, bringing it closer to the capabilities of the Blackview phones. However, this will have a degrading effect on the internal battery in the Pixel so expect to change the handset after 2-3 years.
If customer support is a concern with the Blackviews, then the Pixel has that in spades along with a strong reputation for reliability, and guaranteed updates from the owners of the biggest mobile operating system developers in the world (Android).
At around $390 (likely to reduce further with the release of the Pixel 7), it will be slightly more expensive than a Blackview, but again, that comes with a strong brand reputation and reliable support.
4. Apple iPhone 13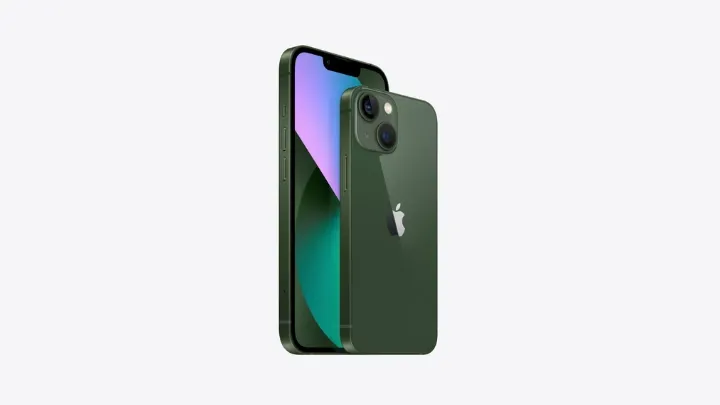 For those of us that have been using an iPhone for many years, the idea of making the switch to an Android device just isn't an option. That sleek, easy-to-use interface and the familiarity with the consistency of the devices means that you're going to want an iPhone that can do the job you need it to.
Like Google, Apple is a brand that consumers have come to trust.
The downside, however, is that you're going to need to buy a more recent edition of the iPhone to ensure that it can stand the test of delivery apps.
We think the iPhone 13 is a suitably modern edition with 6.1 inch screen, 4GB RAM, and a 3240 mAh battery. Yes, those specs are significantly lower than the options above, but you are getting a well-developed product with a strong reputation for reliability.
The biggest obstacle with the iPhone is likely to be that shorter battery life, and again, you're going to need to buy an additional fast charging unit and/or a battery case to extend it for use over the course of a day. With the phone itself coming in at around $800, that might be an unwelcome additional cost for a phone that doesn't come loaded with the same specs as some of the options above.
There may also be a temptation to go with refurbished phones, but we'd advise against it, especially with the demands placed on a battery that will almost certainly not be at its factory capacity.
Your delivery app is as important as the phone it's on, and that's where SmartRoutes wins
While the guide above is a great starting point for any driver or fleet owner looking to invest in a suitable solution, the quality of the delivery app used will also have a major impact on how reliable it is, and ultimately, how much value it will bring to the business.
If you're a driver using DPD Saturn, Amazon Flex or DoorDash, the apps should be pretty well-developed and run smoothly on the phones listed in this guide. At SmartRoutes, we've spent years dedicated to developing the very best route planning and optimization delivery app.
Other functions of our app include proof of delivery, customer notifications, and the ability to record information about delivery locations for future reference.
Our delivery driver app is designed to be as quick and easy to use as possible, having been created in conjunction with delivery drivers over the course of nearly a decade, while also being lightweight enough to work on even the most basic of mobile handsets.
If you're looking for a more reliable, efficient, and cost-effective delivery app for you or your business, you can check out our 7-day free trial to see its value for yourself.
If you enjoyed this blog, you might also be interested in: