How to Start a Courier Business
In this guide we have put together the 10 steps involved in starting a courier business.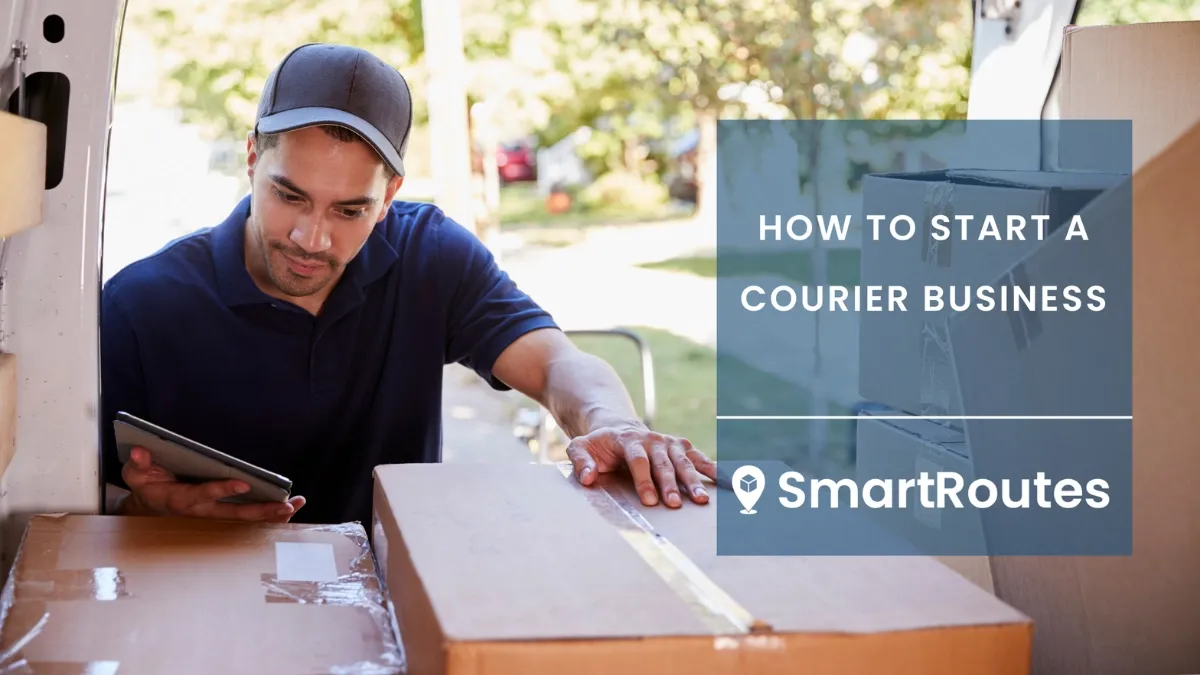 In recent years, the delivery industry has taken off in ways we might not have foreseen. With the rise in online shopping and pandemics, coupled with demand for locally produced goods and fast delivery, there has never been as much being delivered as there is now.  
At the forefront of this trend, have been couriers who deliver smaller quantities of goods to a greater number of premises. In fact, in the United Kingdom alone, the number of e-commerce users is expected to grow to 58.4 million in 2025. As a result, the need for couriers has become greater and meant that both large logistics providers and small courier businesses have thrived in recent years.
Whether you've spent time in a larger courier business as a driver and now want to learn how to start a courier business or you want to change industry entirely to take advantage of the boom in last-mile logistics, this guide will provide you with some of the key information you need to get started.
We'll first take a look at what exactly a courier company is and then look more closely at what type of courier business model might work best for you.
We'll take a look at some key considerations for you before you invest in getting a business off the ground. Finally, we'll take a look at some essentials in terms of resources that you'll need to get right from the outset if you're to embark on the journey of setting up a successful courier business.
What is a courier business?
Although this might seem obvious, it's worth examining what exactly a courier business is.
At its most basic, a courier business provides a service, delivering packages and parcels for independent companies. Courier companies usually charge their clients a fee to deliver parcels and packages, an agreed rate based upon various factors (volume of parcels, the weight of parcels, distances traveled to deliver, etc.). While traditional postal companies like Royal Mail and USPS provide a similar service, they are often slower and less efficient, although they do often cost less.  
While the definition above of a courier business is simple, the operations of a courier business can differ significantly. Deciding on what type of courier business you start will depend on your resources, ambitions, and personal preferences.
Below are some examples of different types of couriers:
1) Independent Owner/Driver Couriers
This type of courier is an independent courier that has their own book of business and contacts and deals directly with end clients to collect and deliver parcels on their behalf. As the owner of a single vehicle, they are reliant on themselves to source work and carry out all the tasks required of the business including everything from invoicing to vehicle maintenance.
For this type of courier business, it is entirely down to the individual owner how they operate the business and whether or not it's successful. Oftentimes, owner-drivers will start out at larger courier companies before venturing out on their own once they have built a book of contacts or discovered a niche that isn't catered for in their immediate market (like white-glove delivery, for example).
2) Subcontracted & Partner Courier Businesses
The most difficult part of starting a courier business is finding customers.
The reality is, that every vehicle in the company will require a predetermined number of deliveries in a given day to be profitable (the lower end of this number for a traditional courier is around 70). We've all become accustomed to waiting patiently to see the delivery van pull up outside our door with something we've ordered online, and they're usually carrying the livery of UPS, DPD, DHL, or whoever is most dominant in your area.
What you might not know, is that the drivers delivering to you are not working for these big franchises, but rather for a subcontracted courier business.
The way it works is a business owner with a fleet of delivery vehicles, signs a contract with one of these franchises to deliver an agreed number of parcels or to cover a specific geographic area. They then allocate all their orders for that area to this company owned by this business owner. As part of the deal, they brand their fleet with the franchise's logos and colors and also enjoy some advantages in terms of technologies and resources provided by the company.
If you've got the financial resources to start a courier business, but haven't got the book of clients, this might be an option for you.
3) Independent Courier Business
You've got the starting capital and you've got the book of clients waiting or spotted an under-served niche in the market.
In that case, you're ready to go it alone with a fleet of vehicles and won't need to rely on a franchise for work.
An independent courier business is, as the name suggests, independent of any of the bigger delivery companies and simply collects and delivers on behalf of their own clients.
Not all independent couriers are the same, however. While some will operate like traditional couriers taking pretty much any booking from the general public, some independently owned operators will operate on a contract basis, delivering for a set number of clients in the B2B and B2C industries. One such company that we have supported in the mold is Deliver-It, which delivers goods on behalf of a few large B2B organizations.
If you're reading this guide, you likely fit into one of the three categories above, so it's a case of understanding your goals, your needs, and your available resources before making a start.
We've left out the franchise option above because frankly, it's beyond our knowledge. But if you're planning on becoming the next FedEx or UPS, we fully applaud your ambition and wish you every good luck!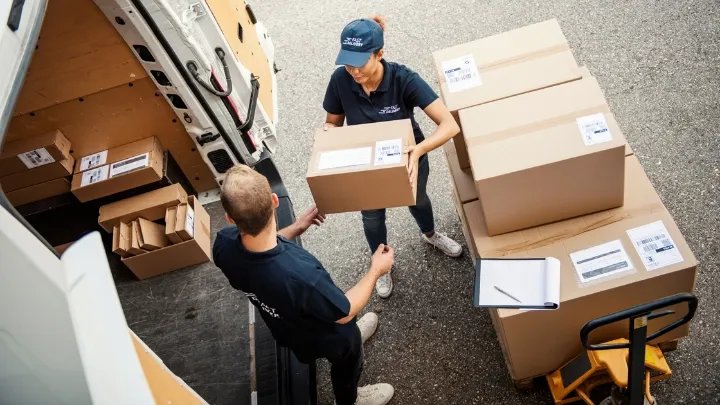 How to start a courier business in 10 steps
So you've decided what type of courier business you're going to set up.
You might now be asking yourself the question, 'how do I start a courier business?'
While the choice of the type of courier business is going to have a bearing on what you need to do next, this guide should give a high-level understanding of the fundamentals you need to consider:
1. Write up a business plan
No matter what business you're starting, you need to draw up a plan before you start making moves. While the contents of the plan will vary from case to case, you must have realistic budgets, rates, timelines, financial forecasts, goals and milestones, branding and logos, etc.
It might end up changing as your courier business gets off the ground, but having a solid foundation will help guide you through this challenging period.
2. Decide on your courier fleet
Now that you've got a business plan in place, you should have a better idea of what kind of delivery vehicles you're going to use. Again, this will depend on specifics such as the type of goods you plan to carry, how much territory you want to cover, etc.
You might also want to consider whether you go with lease and hire, or buy vehicles outright and whether you go with new or used. This isn't an exact science, so use your best judgment and try to use data to inform your decisions as much as possible.
3. Take out insurance.
When starting a courier business, you assume a lot of responsibility.
Every vehicle spends its days on the road where accidents are a possibility, and your drivers carry out heavy work that can take its toll on the body. On top of that, you're transporting goods that people pay a lot of money for and breakages are part and parcel of the game (pardon the pun!).
Depending on where you are establishing the business, you're going to need to check out exactly what type of insurance you need. Usually, this will include vehicle insurance, health insurance for employees, and goods in transit insurance. Also, be aware that certain types of couriers will need more protection and have more barriers to entry than others. For example, to start a medical courier business, you're going to have to get HIPPA compliance certified amongst a whole host of other clearances.
Again, we can only guide you in so far as the most common ones, but you will need to do your due diligence and discuss this with an insurance company in your region.
4. Choose a warehouse and delivery depot
This one isn't always given its due attention, but it can make or break a courier business.
Choosing a warehouse and depot is critically important for several reasons. You need to ensure that it is central enough in your serviced territory that drivers are not spending hours and your precious cash to get to the starting point on their delivery route. Being at a central location can also be useful when hiring drivers as it increases your employment pool significantly.
On the flip side, you're not going to want to base your courier business too centrally, as it will simply end up with your vehicles starting in congested traffic and losing valuable time before getting to the starting point on a route.
It's a case of scouting out potential locations and doing your research on the traffic and surrounding infrastructure.
The warehouse itself needs to meet the needs of the business too. Make sure it's big enough with easy access for the type of vehicle you've decided on!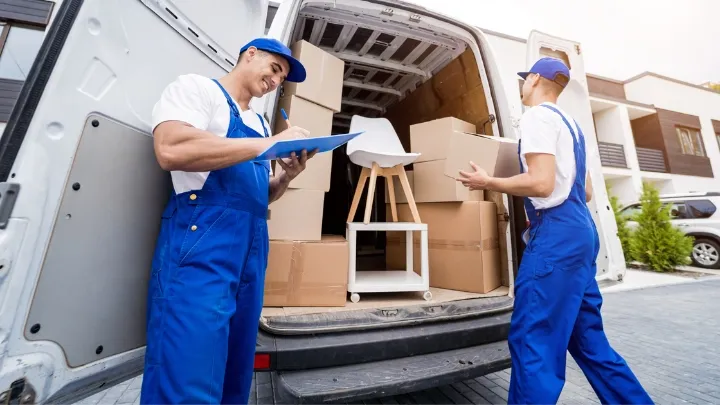 5. Establish an online presence
No customers mean no money.
Finding customers can be the hardest part of starting any business, even more so in the courier industry. While you may get some initial success with word-of-mouth and your network, you're going to need to find new customers to make the business a success. That's why getting your website, social media, and adverts in niche online publications is going to be your best chance.
In particular, a functioning website that allows customers to both find out information about the business, and ways of making bookings as easy as possible are vital. It's best to get this building block in place before you get the business going as it can take some time to perfect and you may be too busy with courier-specific tasks before you know it.
We recommend a CMS-type website builder like WooCommerce that allows you to easily build the website, but that also has very useful courier-oriented themes like GO Courier that will make everything easier for you and more professional for your potential customers.
It's also worth getting social media profiles started on the likes of Facebook, Linkedin, Twitter, and Instagram so you can spread the word to people in your area about the services you offer.
6. Source Equipment & Material
With the wireframe of your business in place, you're now going to want to get the right toolset to carry out the day-to-day operations. Uniforms, hand trucks, boxes, and tapes are the essential tools of the business, but you might need some other materials depending on the nature of your business too.
A lot of what you use will be consumable goods, so building a relationship with reliable suppliers will be worthwhile in the long run rather than looking for the cheapest option every time.
7. Onboard and train drivers well
Having lost around 15,000 van drivers following Brexit, and with another 15% of drivers planning to quit within 12 months, finding drivers for your business might be your biggest challenge.
With profit margins tight in the industry, keeping driver salaries to a minimum is a must for a new courier business to survive. But it's a fine line between having such a high driver turnover rate and keeping the business afloat in the early days. The reality is, that pay and conditions are low in the courier industry and no matter how well-intentioned you are, it's likely to be the same at your company.
To negate this, you must have a great onboarding experience for new drivers, welcoming them with a drivers pack containing new uniforms, and even small touches like reusable coffee cups (these can be ordered from wholesalers at a small cost). On an even more practical level, ensuring that they have a courier app that helps them to navigate their route, find drop-off locations and easily capture proof-of-delivery can make their experience a much better one.
Small perks like free fruit at the depot or pizza on a Friday can work wonders for employee morale too. If the tradeoff for spending a little more on looking after staff is a better driver retention rate, it's going to save you a fortune in the long run.
8. Have a robust invoicing process
When starting a courier service, you need to be on top of billing and invoicing customers for work from the outset.
Because of the nature of the work, you're going to have to invoice more customers than any other business out there. Whether you do it by hand or digitally, it's vitally important that you consider it a core function of the business and that it gets done no matter what on a near daily basis. You can't always depend on the cash flow of your clients and some will take longer to pay on occasion than you would like. By making sure that you bill your clients promptly, you will at least give yourself the best chance of keeping your cash flow in order.
9. Provide an exceptional customer experience
You might note that we've steered clear of the day-to-day running of the business to a large degree in this guide. After all, we're just trying to help you get an idea of what you need to start.
However, customer service considerations should be a prerequisite for any business planning. As we've mentioned, margins can be quite small and the landscape can be quite competitive with big players already in the market. Going the extra mile for customers can be the differentiator you need to succeed in your business. Small things like providing live parcel tracking and instant proof-of-delivery can be the deciding factor that turns a once-off customer into a repeat customer.
A local courier business can end up being much more than just the company that delivers parcels. For some people, the delivery man or woman might be the only social interaction they have in their day and the relationship can be a huge comfort to them.
Take note: a friendly delivery driver is your best asset, so all the more reason to heed the advice above in step 7!
10. Invest in the right technologies at the start
There may be a temptation to cheap out on courier management software when starting your first courier service.
Don't!
The reality is that a courier business won't survive without one in this day and age. Route optimization software alone is proven to reduce distances traveled by at least 33%, meaning big savings on fuel and wages.
This is your opportunity.
You might assume that the big players in the market all have the very best solutions in place, but it isn't always the case. In a lot of circumstances, they are still running on outdated solutions that cost a lot to install, and replacing them is mistakenly seen as a big undertaking.
A wide-ranging report into the last mile industry has found that nearly half of all transport companies in the world said their technology is outdated. In Canada, three-quarters of all transport companies indicated their technology is outdated, with that figure just under half in the United States.
A solution like SmartRoutes Delivery Management Software can cost as little as $\£\€30 a month and provides a host of features that can completely transform the way your courier business works, saving you hours in time and a lot of money in the process. It also means that as your business grows, you can easily manage everything quickly and easily and scale to meet the demands of your customers.
It's worth signing up for a free trial of the solution before you even start the business to get an idea of what it can do and how you can make the best use of it in your situation.
How to start a courier business
Save time and money in delivery management. Cut carbon emissions. Impress your customers with superb communication tools.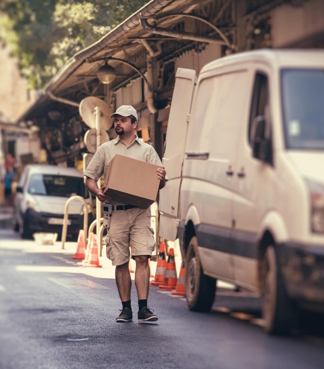 While this guide won't cover everything you need to do to start a courier business, it is a comprehensive overview of the essentials that you need to consider before you go out and buy a van.
Remember, starting any business is a big undertaking and getting the foundations right sets you up for success.
At SmartRoutes, we have helped hundreds of couriers radically transform their courier operations into well-oiled machines that provide industry-leading service to their customers. Our blog is full of resources such as guides like this, industry news and highlights, and case studies on how we have helped businesses to overcome delivery challenges. Feel free to check it out for yourself.
Starting your own courier business?
If you're trying to figure out how to start a courier business, feel free to reach out to us for help and advice on how to get started with your courier business. We've helped lots of clients in the very same situation and can advise on how to avoid the biggest pitfalls and implement strategies and solutions that will make everything easier. We can answer any questions you have about how other courier businesses approach things, and what kind of solutions are available for the type of business you intend to start.
You might also be interested in: