Order Fulfillment for WooCommerce
Order Fulfillment can be the difference between a profitable WooCommerce store and an unprofitable one. Here's the complete guide.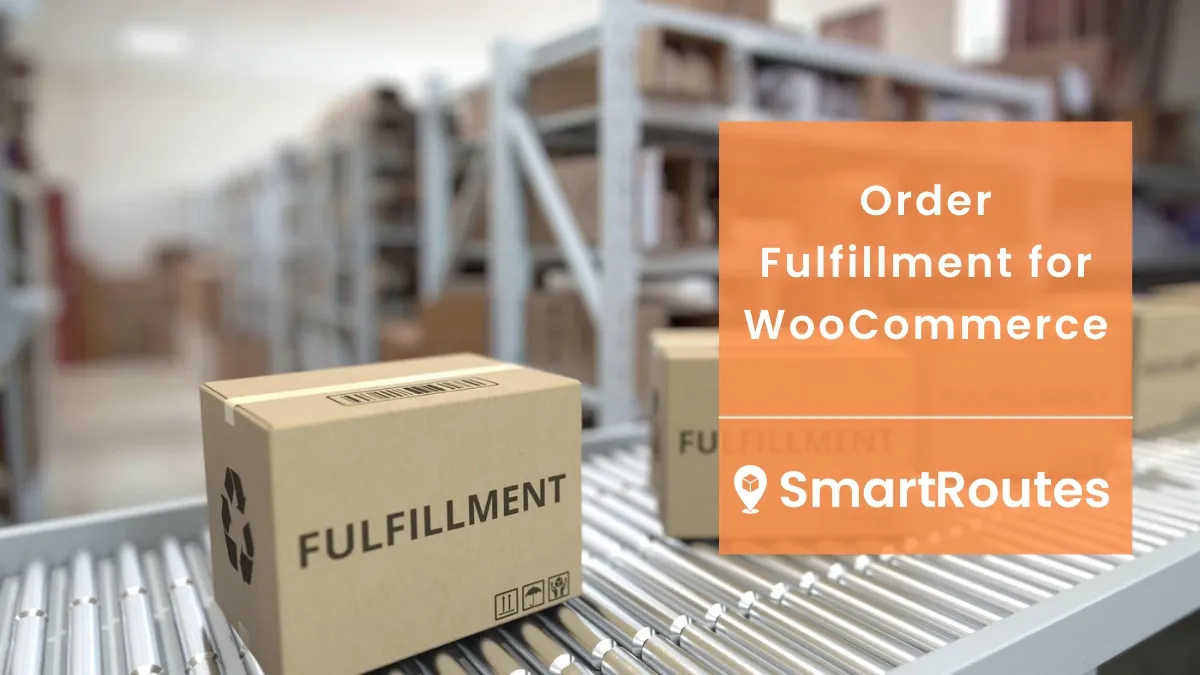 SmartRoutes helps WooCommerce retailers exceed customer expectations with faster, more affordable delivery management. SmartRoutes software seamlessly integrates with WooCommerce to automate order fulfillment and inventory management for a more streamlined last-mile delivery experience for customers.
With fuel costs rising, the push to minimize every cost and shift to a fine-margin business model across the industry means that technologies now play a central role in the operation of WooCommerce stores.
In this article, we'll discuss exactly what order fulfillment for WooCommerce can look like, how to get inventory into the hands of customers quickly and what delivery management software might be best for your specific business needs. We'll also look at some of the key features of SmartRoutes delivery management software and how you can get started with it for your business.

Order fulfillment in-house or through shipping agents
Why is order fulfillment important for WooCommerce?
Order fulfillment for WooCommerce use cases
Key requirements of order fulfillment for WooCommerce
Top 5 providers of order fulfillment software for WooCommerce stores
Order fulfillment in-house or through shipping agents
In-house order fulfillment is exactly as the name implies—all of your customer orders are processed, picked, packed and shipped under your roof.
This means your business is responsible for handling every phase of the order fulfillment process, including receiving and storing inventory as well as the delivery teams to cover the last-mile to customers.
For a business to handle its own order fulfillment, it needs to have enough physical space to store and pick products as well as the vehicles to manage deliveries. If your WooCommerce business has this capability then managing in-house is probably the best option.
For smaller businesses or for organizations that do not want to manage the overheads required to do in-house logistics then outsourcing to a third party logistics provider or a shipping agent can be best. This means you might outsource delivery to the likes of FedEx or Royal Mail. You might also want to outsource all of the storage and inventory management to a third-party. This simplifies the process for you but, as you can imagine, it will incur large costs to your business to have this outsourced. Best to look carefully at costs before you commit to this.
Although it varies from company to company, the overall goals of order fulfillment include:
Ensuring smooth transition from customers ordering product to the delivery team
Connecting order management and inventory to your delivery management software
Optimizing route planning and optimization for planners and drivers
Providing better oversight of deliveries to depot managers, logistics teams, drivers and end customers
A streamlined way for warehouse staff or pickers to assemble orders without mistakes ready for delivery
SmartRoutes and WooCommerce
Order fulfilment with WooCommerce. Seamless integration. Streamline the last-mile delivery experience for your customers.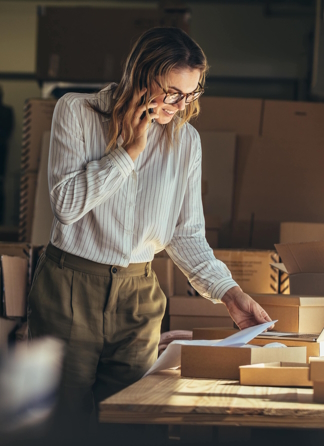 Why is order fulfillment important for WooCommerce?
Although it varies from company to company, the overall goals of order fulfillment include:
Ensuring smooth transition from customers ordering product to the delivery team
Connecting order management and inventory to your delivery management software
Optimizing route planning and optimization for planners and drivers
Providing better oversight of deliveries to depot managers, logistics teams, drivers and end customers
A streamlined way for warehouse staff or pickers to assemble orders without mistakes ready for delivery
Let's look at two situations where order fulfillment for WooCommerce requires good management:
Order fulfillment for WooCommerce use cases
Jake's Cakes is a confectionery provider who takes orders through WooCommerce and commits to next day delivery to his customers within a 50km radius of their store
Receives orders, collections and or/deliveries from the customers online and by phone
A member of the team can see orders due to be delivered at the beginning of each day
Orders are automatically assigned to Driver A or Driver B based on those two drivers territories in the north and south of the delivery radius
Routes are sent to the drivers' phones and they get a notification of any changes if necessary
Order labels are printed by the dispatcher or drivers and attached to each order box for the drivers to double check before delivery
Proof of delivery is captured by e-signature or barcode scan to prove delivery
Customers get a live tracker map of their cake/order so they are sure to be home to receive it and to avoid unnecessary customer service calls to the store
International House Freight is a specialist high value automotive logistics company
Orders for classic cars to be shipped to various parts of the country are taken on WooCommerce powered website
Orders and deliveries are collated automatically by WooCommerce and sent to their delivery teams
The delivery software has to account for complex routes that are a mixture of locations to collect vehicles and deliver vehicles
The company has three sizes of vehicles which the system needs to take into account, correctly assigning orders to the appropriate vehicle for the job
Driver capture proof of delivery within the same app and get photo evidence to go along with e-signatures and barcode scans as inventory is of high value
Admin and depot staff can see where all drivers are on the road, if they are ahead or behind schedule and if the inventory is safe
These two situations show the absolute necessity of WooCommerce order fulfillment being streamlined from inventory to drivers and back to depot. This level of oversight allows both companies to give a very high level of service to their customers. Savings versus managing delivery manually after an order has been placed include.
Lower miles driven by 33% compared to traditional planning [tested with 180 vehicles]
4-5K lbs carbon emission reduction per vehicle on the road
Improve customer NPS scores by over 12% [tested with fleet of 30 vehicles]
Reduce customer enquiries by 75%
Key requirements of order fulfillment for WooCommerce
Having solved order fulfillment for so many WooCommerce merchants worldwide it is worthwhile reviewing the key requirements that ensure successful in-house delivery.
Whether you go with our offering or an alternative, there's a few 'non-negotiable' feature that you should be on the lookout for when making the choice:
Connected and integrated platforms
Critical to the success of your WooCommerce fulfillment operation is the ability to connect your order taking and management system with your delivery management system.
Through our API connection you can synchronize your orders with your delivery teams. The rules by which orders get put together into routes and passed to a specific vehicle or driver can all be set in advance.
Now get busy selling online and you don't need to worry about fulfillment as orders will automatically be assigned to pickers and drivers so nothing gets lost or overlooked.
Advanced delivery planning
This is one of the most obvious for us but often overlooked. At the end of the day, planning the routes for deliveries and giving them to drivers is one of the most fundamental tasks of your order fulfillment for WooCommerce. So much so, it becomes just another routine that doesn't get any more thought. It just needs to be done.
Advanced route planning includes things like:
Database sync - Easily integrate your WooCommerce database of orders or customers for easy route planning
Route scheduling - Schedule routes in the click of a button and assign those routes to direct to driver's app
Order management - Create dispatch notes, manifests or order sheets for each order
Route management - View all data related to routes such as distance, duration and driver activity. Create saved routes and skeleton routes as needed
Order tracking - Filter orders by scheduled, in progress, completed or undelivered to successfully manage orders
Label printing - Print out manifests or labels direct from system
Customer mapping - View your map of customers to facilitate regular visits and deliveries
Team permission sets - Permission settings for all of your team from drivers to depot managers to super-admins
Load balancing - Automatically manage the workload for your delivery teams based on criteria like work hours, number of stops, etc
Driver skills - Certain team members or vehicles might be required to fulfill certain orders so automatically assign the right order to the team capable of doing it
The reason we add this to our list first, is it can save hours every week in planning time, and the optimized routes it produces can reduce distances traveled by up to 33%. We don't need to tell you what that means to your fuel bill! As we say, a non-negotiable feature.
Mobile fulfillment apps
If you have ever managed order fulfillment teams in the wild you know how fundamentally important it is to have mobile apps in the hands of your delivery teams. Why?
They act as delivery vehicle trackers via GPS tech
The sync orders directly drivers so they know what to collect from depot and deliver
They act as navigational devices when out on the road
They capture proof of delivery, driver notes, barcode scans and much more
They maintain dispatch notes for drivers so they have the collective knowledge at their disposal
They are a huge time saving device compared to paper order sheets, route planning meetings and all those other inefficient practices from a previous time
They are a fun and great experience for fulfillment teams
Customer communications
Order fulfillment is about making your end-customers happy, right? Obviously, you are aiming for customers to receive their order in a timely manner and be delighted with the product. However, one of the key requirements of a successful fulfillment process is communicating effectively with the customer during the process.
Here are the things you need to be doing:
Auto SMS and email messages informing the customer of their delivery ETA
Triggered SMS messages based on location of driver, eg, when vehicle comes within 3 miles of the delivery location a 10 minute warning is triggered.
A live delivery tracking portal that allows customers to see their delivery in real-time with an updated ETA attached
A follow up email to customers showing proof of delivery confirmation and asking for feedback, rating, referrals, etc
Is order fulfillment for WooCommerce expensive?
Order Fulfillment for WooCommerce is inexpensive and furthermore, it provides real, measurable ROI within the first months of its implementation.
A solution like SmartRoutes can cost as little as $49 per driver, per month. This includes a WooCommerce integration as standard, no set-up costs, no extras. That's still less than a cup of coffee a day! What you get in return is infinitely more control over almost every aspect of your order fulfillment process.
More comprehensive packages for WooCommerce customers can come with dedicated account manager, custom integrations, and customer user roles can be obtained from around $1,000 per month depending on specific requirements.
What you get in terms of the pricing is better broken down on our pricing page.
Top 5 providers of order fulfillment software for WooCommerce stores
SmartRoutes - Designed for WooCommerce merchants who want to control their own order fulfillment and cut shipping costs. Particularly for businesses whose customers are predominantly in their local area. It allows you to plan and optimize your routes while tracking drivers and capturing proof-of-delivery. SmartRoutes keeps recipients informed of their delivery with up-to-the-minute notifications and a delivery tracking portal. Implementing a smart solution for delivery management saves logistics teams time and money with increased efficiency and reduced fuel costs. You will also increase control and insights into last-mile operations.
Logistia - Designed for any business with their own delivery fleet, Logistia helps you control your resources and dispatch drivers on the best possible route. Save energy, time, and fuel in organizing the last-mile delivery chaos. Define your own rules and plan the routes in seconds to save hours of manual work. If the driver is on the move, you and the customer will know for predictability and transparency. Available in English, Spanish, French and Romanian languages.
AntsRoute - AntsRoute is a cloud-based software for route planning and optimization. Developed by the French start-up Antsway, the solution helps companies to organize their field service or delivery routes. The easy-to-use routing software makes it easier to smartly schedule orders, optimize daily routes, automate dispatch to drivers using iOS or Android mobile app, track their progress in real-time and keep customers updated with SMS alerts. It offers integrations with your favorite business applications.
Route4Me - Routing chaos finally solved. Extremely easy-to-use, Route4Me automatically plans routes for your business and dispatches them to a mobile app with built-in navigation. Perfect for field service, field sales, field marketing, territory management, and every business requiring last-mile optimization. Route4Me provides the world's most used route sequencing and optimization software for small businesses and enterprises to over 35,000 customers.
Shipping software - Take your pick from the likes of UPS, USPS, FedEX, DPD and so many more with a shipping software that offers you label printing and carriers in one place. Like we said, it is an expensive option and much of your profits will be taken through increased costs that can't be passed to consumers without you becoming uncompetitive. That being said, it is a simple option.
Next steps
If you're thinking about implementing order fulfillment for WooCommerce, go ahead and give us a quick call, message or contact us here and we'll get you up and running with a free trial right away. A kick-off call is always great to make sure you've got your account calibrated just right and it means we can help with any questions you might have over the course of the week too.
Frequently asked questions
1. What is WooCommerce order fulfillment, and why is it important for my e-commerce business?
WooCommerce order fulfillment refers to the process of receiving, processing, and delivering customer orders placed on your WooCommerce-based e-commerce store. It is crucial for your business because it directly impacts customer satisfaction. Efficient order fulfillment ensures that products are delivered accurately and on time, which can lead to positive customer experiences, repeat business, and a good reputation for your online store.
2. How can I streamline order fulfillment processes in my WooCommerce store?
You can streamline order fulfillment processes in your WooCommerce store by:
Automating order processing: Use plugins or integrations to automate tasks like order confirmation emails, printing shipping labels, and updating order statuses.
Implementing inventory management: Maintain accurate stock levels, set up low-stock alerts, and integrate your inventory system with WooCommerce to prevent overselling.
Optimizing order picking and packing: Organize your warehouse efficiently, use barcode scanners, and develop a clear order fulfillment workflow to reduce errors and improve packing speed.
Integrating with shipping carriers: Integrate your store with shipping carriers' APIs to generate real-time shipping rates, print labels, and track shipments seamlessly.
Providing order tracking: Offer order tracking to keep customers informed about their order's status and location, reducing customer inquiries.
3. What are the best practices for maintaining accuracy and efficiency in order fulfillment for WooCommerce?
To maintain accuracy and efficiency in order fulfillment for WooCommerce, follow these best practices:
Accurate product listings: Ensure product descriptions, images, and prices are correct to avoid confusion and disappointment for customers.
Regular inventory updates: Continuously update your inventory to prevent overselling and ensure accurate stock levels.
Order tracking: Implement order tracking to keep customers informed and reduce inquiries about order status.
Use technology and integrations: Leverage WooCommerce plugins and third-party integrations to automate and streamline various aspects of order fulfillment.
If you enjoyed this blog, you might also be interested in: