3PL Software: Case Study
A case study for any 3PL provider of delivery or third-party logistics to clients. We look at how route optimization and analytics software helps with efficiency and reporting.

Deliver-It
When third-party logistics (3PL) company, Deliver-it, approached us they had a new client who had presented them with a great opportunity. In order to accept the contract, Deliver-It faced a challenge. The new contract meant that owner, Barry Rabbitt, would need to increase his fleet and hire new drivers and become more efficient.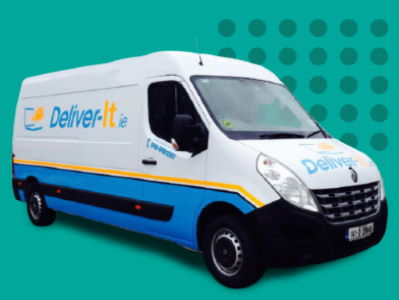 3PL Deliveries Solution
Deliver-It had received the data on where his drop-offs would be and the predicted volume and frequency of orders from the new client. They could then upload this data and optimize his routes and vehicle designation. In doing so, he was confidently able to guarantee that he could meet his customers demands and obligations.
Once the new contract started, Deliver-it were able to immediately begin using SmartRoutes Courier. Each evening, their client would send over the order list, delivery addresses, and any specific dispatch notes pertaining to them. Previously, they would have had to manually plan which vans would take which items. Now, however, Barry simply needed to upload the data from his client to the SmartRoutes Desktop Route Planner. The planner did the work for him and at the click of a button, he was able to send all his routes directly to his drivers.
Initially, Barry had queried how receptive his drivers would be of the app. At SmartRoutes, we've worked hard to make our app completely user-friendly and intuitive. Not alone did drivers embrace the app, but they reported that it made their job easier. They could now see their routes the night before, keep track of any undeliverables and keep all their POD's securely.
Throughout the day, Barry was able to keep track of all his vans and drivers from his Desktop Route Planner. This visibility and oversight of his new drivers was critical and put his mind at ease. It also meant that he was able to give his client real-time ETA's updates on the deliveries.
The Goals
Integrating new client & existing customer/drop-off data to speed up onboarding

Putting a system in place that would make multi-drop routing as efficient as possible, saving on time, money & resources

Establishing a way of bulk distributing routes to drivers the night before

Keeping real-time oversight of van locations throughout the day and track proof-of delivery
Key Features for Deliver-It
Desktop Route Planner
Multi-vehicle Route Optimization
Zoning (Geographical Territories)
Reporting
Proof-of-Delivery
Live Tracking
Real-Time ETA's

"My whole company is now using SmartRoutes in some capacity, and the support they've received from their team has been exceptional. It's made life easier for everyone and made my operations more efficient across the board"
- Barry Rabbit, Owner
Results from 3PL Software roll-out

2,000
hours per year saved on driver & admin time

€5,000
saved on fuel based on existing routes over 1st year

24,000
less miles traveled in the first year

4.12
tonnes of emissions prevented from entering the atmosphere over first year
Outcome
The outcome of our project with Deliver-It surpassed all expectations. Driven by necessity to accept a new contract originally, the resulting impact on the business was much more widespread than anticipated.
Bench-marking off existing contracts and operations, Deliver-It estimated that they required 1 less van than they would have with their existing manual routing process. Fuel costs alone we reduced by at least €100 per week as a result.
To read more case studies about how we have helped a multitude of clients on various industries, you can check them out here.
If you'd like to learn more about how SmartRoutes multi-drop route planner can help you to optimize your courier operations, feel free to get in touch using the contact form below: