Courier management software
Managing a courier business is not easy so why not use the best courier management software to help? We've taken the time to research and assess the possible options for you.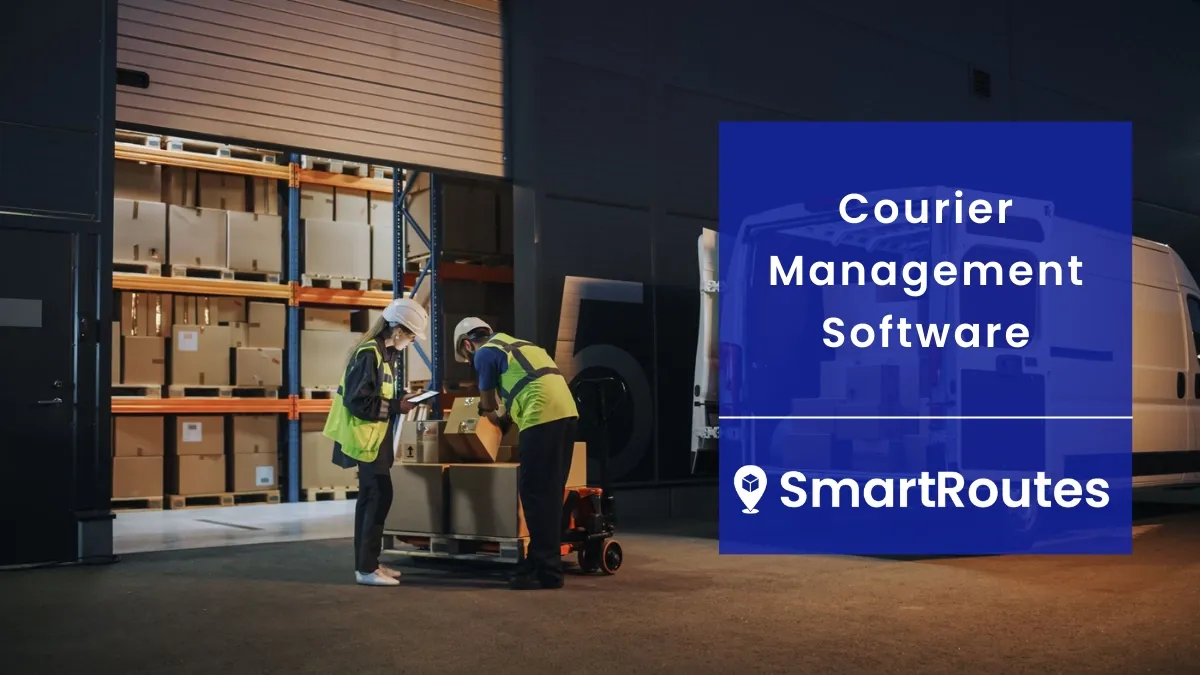 Managing a courier business is no easy task. If you're reading this blog, it's quite likely that you already own or are involved in the running of a courier business. Either way, you're going to want to get things right from the outset. A courier management software that meets the needs of your business is critical in minimizing costs and helping with fine margins.
In this blog, we'll discuss exactly what courier management software is. We will outline what its limits are and what delivery management software might be best for your specific business needs. We'll also look at some of the key features of SmartRoutes delivery management software and how you can get started with it for your business.
Here is a handy breakdown of the article so you can skip to where you want quickly
What is courier management software?
Courier management software (CMS) is a technological logistics programme that helps courier businesses to manage and optimize the various tasks associated with the operations of a courier and/or transport business. Unlike standalone softwares like route planners and mobile routing apps, a CMS automates and integrates the multitude of tasks carried out in the day-to-day of business. These can include creating and optimizing routes, managing orders, capturing POD's (proof-of-delivery) and automating communications with customers.
Although it varies from company to company, the overall goals of implementing courier management software include:
Eliminating costly routine manual admin tasks
Streaming and optimizing the entire delivery process
Optimizing route planning and optimization for planners and drivers
Providing better oversight of deliveries to depot managers, logistics teams, drivers and end customers
Eliminating costly human errors in the delivery management process
Enabling flexibility and scalability in the delivery process without issues
Why is courier management software important?
There was a time in the not so distant past when operating a courier business involved an experienced logistics team using readily-available tools like Microsoft Office to organize everything from the depot or office. A team would like to have a mix of logistics staff, route planners, customer service staff and accounts professionals working tirelessly to keep the wheels moving and ensure that mistakes were kept to a minimum. It's likely that there are still some old-school operations that run in this manner. It's quite likely they are successful too. However, this may be a result of well-established client-bases and trust built over decades. The reality is that this is no longer suitable for modern business and as newer entrants to the market have looked to streamline every cost associated with running a courier business. These businesses have turned to the help of digital solutions that cut out human error, automate many of the mundane tasks, and reduce the wasted resources associated with running a fleet of delivery vehicles.
SmartRoutes solves last mile challenges for you
Save time and money in delivery management. Cut carbon emissions. Get oversight on your fleet. Delight your customers with superb communication tools.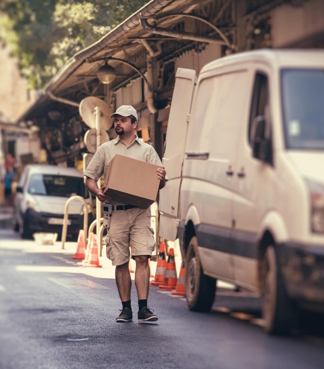 Courier management software use case

Company A still operates without a CMS and has a business process which looks something like this:
Receives orders, collections and or/deliveries from the customers by email and phone
A member of the admin staff collects them from the email and records them in a spreadsheet
These are then manually allocated to routes/drivers the evening/morning before dispatch
These routes are then printed off and given to drivers either in paper format or digitally (email or SMS)
Driver use inappropriate app to navigate delivery route
Driver manually records proof-of-delivery/invoice signature
They return to office and give these to the admin staff to file
Company B uses a CMS and has a business process which looks something this:
Orders received digitally through online order system
Orders and deliveries are collated automatically by the CMS through a basic integration with online portal
The CMS creates optimized routes based upon the order/delivery addresses and the number of available vehicles and drivers
Routes are automatically dispersed to driver dedicated delivery route navigation app, where they can gain foresight of deliveries and route
The driver captures electronic proof of delivery within the same app and it is automatically sent to the depot/admin staff and-or consignees
Admin and depot staff can access all live route information including POD's, driver progress etc., eliminating needless communications between drivers and customer support staff
The difference between the 2 above scenarios in terms of efficiency and profitability is staggering. As an example, SmartRoutes client, Deliver-It, estimates that the most basic features of our CMS has saved:
2,000 hours per year saved on driver & admin time
24,0000 unnecessary miles traveled
Upwards of $5,000 in fuel costs (based on 2019 pump prices!)
Now, bear this in mind: all of this is with a fleet of less than 15 vehicles!
The importance of courier management software in today's courier industry is illustrated best in the examples above, but even this only scratches the surface in the importance of its role. The secondary benefits of a decent CMS are far more wide reaching for couriers in terms of delivery experience, scalability, business oversight, basic business analysis and financial control!
While the fleet of vehicles and the professionalism of your drivers is still the bread and butter of a courier business in today's world, a suitable courier management system plays an equally important role in keeping it competitive and profitable. There's a whole host of features within CMS's like SmartRoutes that can make your life easier as a courier manager and bring much greater profitability and scalability.
The 3 key features of a courier management software
Being in the industry ourselves, we often see clients coming to us with specific requests for functionality for our courier management system. Oftentimes, this might be in an attempt to overcome a particular choke point in their business operation or in order to satisfy a request from one of their own end-clients.
Whilst we can nearly always help to overcome the challenge, many are unaware of the value that other elements of a CMS can bring to their businesses. (Don't take our word for it, you can check out some of those customers' stories here).
Whether you go with our offering or an alternative, there are a few 'non-negotiable' features that you should be on the lookout for when making the choice:
Route Planning & Optimization
This is one of the most obvious for us but often overlooked. At the end of the day, planning the routes for deliveries and giving them to drivers is one of the most fundamental tasks of running a courier company.
The reality is that it can be automated all the way. Order lists become delivery lists which are synch'd across to a delivery driver app as a manifest without any human involvement whatsoever. Once this automated route planning becomes part of the routine, you might not even give it a second thought.
The reason we add this to our list first, is it can save hours every week in planning time, and the optimized routes it produces can reduce distances traveled by up to 33%. We don't need to tell you what that means to your fuel bill! As we say, a non-negotiable feature.
Live fleet tracking
The second feature we see as being necessary for any courier management software in today's industry, is live fleet tracking. With a modern CMS, you should be able to see where every vehicle is at any given moment.
There is the most obvious benefit in fleet oversight of driver security and the peace-of-mind of knowing where your businesses most valuable assets are at any given time. But the benefit extends far beyond that too. Being able to see where vehicles are means you can tell your customers where their packages are. It also helps you and your depot staff to significantly reduce the time spent serving customer queries.  
At SmartRoutes, we have built fleet trackers into our native smartphone driver apps. This eliminates the costly exercise of having to source standalone devices and have them fitted and maintained. The desktop delivery management system then allows you to see where these drivers and vehicles are on the live tracking map.  
We go even further in the drive for business oversight through our tracking technology too. We also provide a delivery tracking portal which allows your customers to see where their package is in real-time, and get up-to-the minute ETD's.
Proof of delivery (POD)
If you're already a courier, you know it! The job isn't done once the package is delivered.
For many that start out in the industry it can come as a bit of a shock that the most time-consuming tasks in the business can come after delivery. You can end up answering calls, dealing with disputes around damaged and missing goods. You might have to contact clients to let them know where you left the package. All of this can eat up hours of admin time and, ultimately, make your operations less profitable.
A robust proof-of-delivery solution is absolutely crucial to the smooth running of your business.
The SmartRoutes POD solution is developed through direct experience and examination of our own clients' challenges. Our iOS and Android delivery driver apps allow drivers to capture both photo and signature proof of delivery from customers and also see specific delivery requests from clients about where the want items placed. You can even barcode scan items at the delivery point as proof of delivery.
Once proof of delivery is recorded by the driver, it is automatically transferred to the desktop courier management software back at the depot and directly to the customer if necessary. This allows customer service staff to quickly and accurately answer questions from customers. We fully believe that in an industry where the margins of profit are so fine on every delivery, providing a 5-start delivery experience to your customers can make the difference between those that thrive and struggle in the game
Is courier management software expensive?
Courier management software is inexpensive compared to manual processes and, furthermore, it provides real, measurable ROI within the first months of its implementation.
A solution like SmartRoutes CMS can cost as little as $29/£22/€26 per driver, per month. The way we look at that, is it's less than a cup of coffee for a driver every 2 days! What you get in return is infinitely more control over almost every aspect of your courier and logistics business.
More comprehensive packages for courier enterprise can come with dedicated account manager, custom integrations, and customer user roles can be obtained from around $1,000 per month depending on specific requirements.
What you get in terms of the pricing is better broken down on our pricing page. You can also try our courier management software for free!
Is courier management software easy to use?

For many, the value of a courier management software is obvious, but the perceived learning curve can be a bit off-putting with everything else you might have on your plate. But the reality is, that if you use both social media and an app on your smartphone, you'll get to grips with a CMS intuitively in no time. At SmartRoutes, we designed our desktop delivery management system to mirror a combination of social medias like Facebook and the familiar Google Maps. Once you've set your parameters around vehicles and drivers, you'll be surprised just how effectively the software will do the rest of the work for you.
We also have dedicated support staff onboard to help you get it setup and give you pointers in the first weeks of implementation. There is also a learning section within the software which teaches you through a series of easy-to-follow videos and manuals.
And let us tell you, it's MUCH easier than fiddling with unsuitable solutions like excel and word!
Tips for choosing the right courier management software for you
As we say, if you're already in the last mile logistics game, or you're about to enter, it's always a good time to look at your options for a tool that will make your life easier.
The first thing we advise you to do is try to gather as much information as you can about your business process. This is as simple as writing down a complete day's task for you, your driver and your office/depot head.
Simultaneously, it's good to get in touch with an expert in CMS software to the typical process you've noted down. Working through the list, an expert will identify certain features within the software that will help you with your business, and also give you tips and advice on how best to implement it from the outset.  This can be useful for small things that might slip your mind like driver onboarding, staggering return times to the depot etc.
We even offer a full 7 day free trial to boot which gives you enough time to try it out and make and get a feel for it without having to make a purchase off the bat. However, having the free consultation is definitely going to help you make the most of that free trial.
Frequently asked questions
1. What is courier management software?
Courier management software is a specialized tool designed to streamline and optimize the operations of a courier or delivery business. It encompasses a range of features that facilitate order tracking, route planning, inventory management, and communication, ultimately improving the efficiency and productivity of the entire delivery process.
2. What are the key features of courier management software?
The key features of courier management software include:
Order Tracking: Real-time monitoring of parcels from dispatch to delivery.
Route Optimization: Efficient planning of delivery routes for time and fuel savings.
Customer Communication: Automated notifications and updates to keep customers informed.
Performance Analytics: Data analysis tools for evaluating delivery performance and optimizing processes.
Fleet Management: Monitoring and maintaining a fleet of vehicles for optimal utilization.
3. How can courier management software benefit my delivery business?
Implementing courier management software can benefit your delivery business in several ways:
Increased Efficiency: Streamlining operations leads to quicker deliveries and reduced transit times.
Cost Reduction: Optimized routes and inventory management help minimize fuel and operational costs.
Enhanced Customer Service: Real-time tracking and communication improve customer satisfaction.
Accurate Reporting: Access to analytics allows for data-driven decision-making and process improvement.
If you enjoyed this blog, you might also like: