8 of the Best Apps for Delivery Drivers
Take a look at our top picks for the best apps for delivery drivers.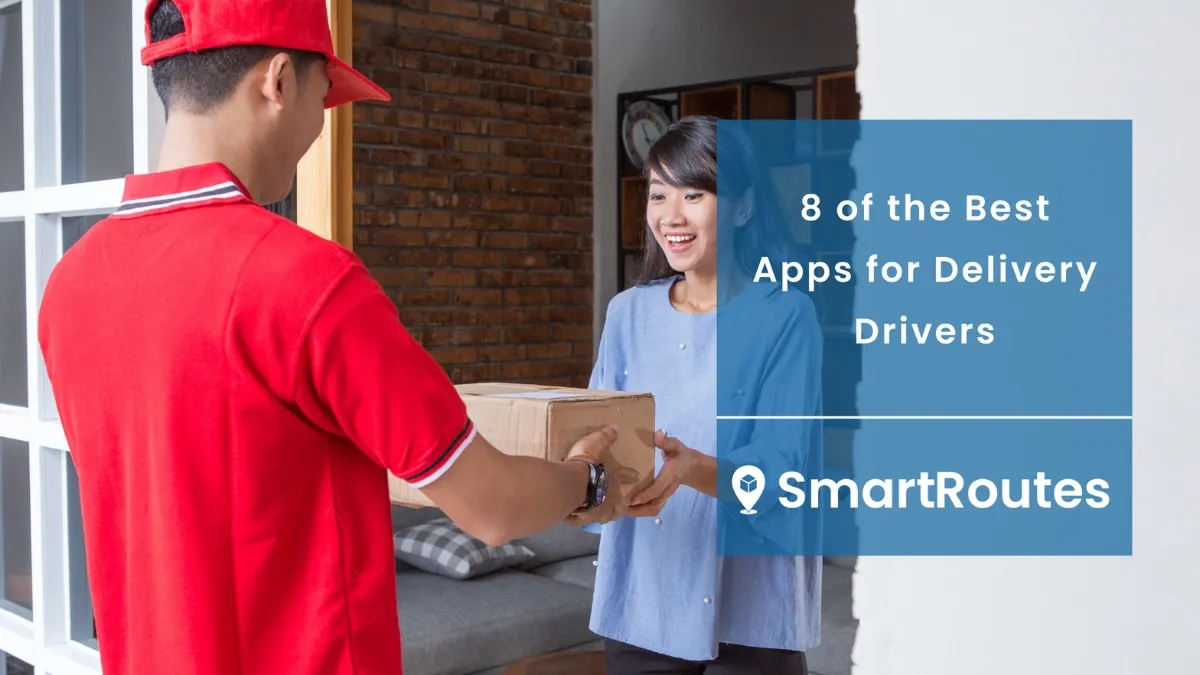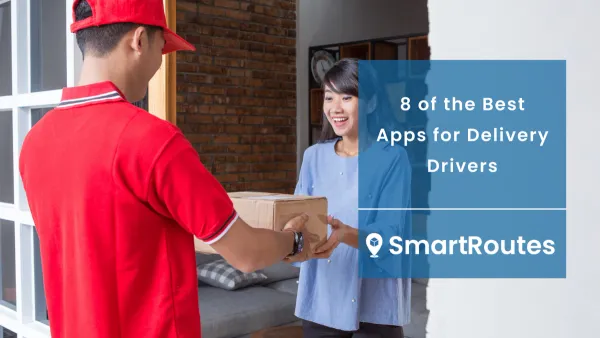 Here at SmartRoutes we are all about trying to help improve your workday. As a delivery driver, it's important to look into ways that make your workday easier and less stressful. You also need to ensure you are efficient, productive and accurate.
Having a good work-life balance paired with low-stress & comfortable journeys will make sure you keep your body and mind healthy while out on the road.
Sounds easy right? Not so much in practice.
Taking care of oneself can be easily forgotten when focusing on the task at hand. But it's important to make time for yourself and to use whatever tools are out there to make life that bit easier.
We think apps can be really useful for delivery drivers. They can help plan out your routes and your day, all while helping to manage your time and stress.
Between the Apple App Store and Google Play Store, there are a combined total of over 5.4 million apps worldwide. We have done the hard work for you and put together a list of the most useful apps for delivery drivers to help manage and improve your workday.
Here are our top 8 apps for delivery drivers:
1) SmartRoutes - for delivery management and route planning
One of the first things we mentioned in this article was the importance of efficiency. In order to complete successful deliveries throughout the day, reduce time wasted and better the delivery experience for customers, it is important for delivery drivers to have the right tools. SmartRoutes is a great option if you are looking for the best GPS app for delivery drivers.
An automated route planner helps with manual tasks like route scheduling and optimization. Route planner apps can save you hours of precious time and can also optimize your routes ensuring you're only on the road as long as you need to be! SmartRoutes however goes beyond route planning offering features such as:
Route optimization: routes are automatically planned and optimized based on your criteria. The app also allows for real time modification
Fleet tracking: for total oversight on drivers
Order management: integrations with ecommerce platforms such as Shopify and WooCommerce allows for auto fulfillment on orders, streamlining your whole process
Customer notifications: keep customers in the loop with real time updates and customisable SMS notifications. (You can also add live tracking links to your notifications!)
And so on. What we're saying here is that instead of spending much of your valuable time on tasks that can easily be automated, make your day simpler!
SmartRoutes is really user friendly. Just upload your list of addresses or integrate with your ecommerce site and you're on your way! SmartRoutes even takes into consideration drivers' skills, time windows, vehicle capacities etc.
Available to download on both Android and iOS devices. Why not take a look at our pricing plans to see what will work best for you!
SmartRoutes solves last mile challenges for you
Save time and money in delivery management. Cut carbon emissions. Get oversight on your fleet. Impress your customers with superb communication tools.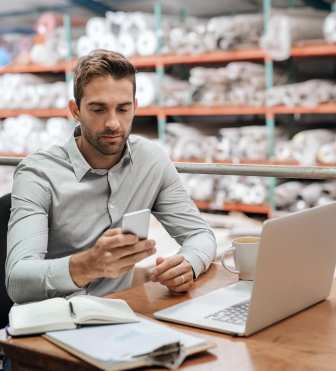 2) PetrolPrices and GasBuddy - for fuel prices and nearest stations
The recent surge in fuel prices has really increased the cost burden on delivery drivers. Knowing not only where the next fuel station is, but being able to plan which has the best price can be a life saver!
GasBuddy (available in the US) and PetrolPrices (available in the UK) provide real time fuel prices to drivers. A very handy tool to both plan your fuel station visits but also to find the best prices to help save costs on fuel.
GasBuddy and PetrolPrices can help delivery drivers in a few ways:
Both help you find the nearest fuel station. They also provide information such as prices, fuel type and the brand of the station. Thus allowing you to find the best value fuel in the areas you travel through.
Drivers can enter their start and end location to estimate the amount of fuel they will need for the trip.
Both apps can also help you track your habits and offer tips and tricks based on your patterns to help you use less fuel.
They allow you to track your fuel usage to use as an export log for reimbursement.
Gas buddy offers exclusive deals and rewards for their users and offers a free fuel card that helps drivers save up to 25c per gallon.
GasBuddy is available on both IOS and Android and PetrolPrices is also available on both IOS and Android.
3) Google Maps - for route planning up to 10 stops
Google maps can be a pretty useful tool, it's familiar and easy to use. Google maps offers accurate driving directions along with live traffic information. It can also help you find services that you may need to use along the way.
Google Maps can help drivers by:
Find the nearest hotels, shops, restaurants and fuel stations.
With live view, drivers will be able to follow along their chosen route with accurate decisions given up to the destination.
You receive voice guided directions
You can view live traffic information as well as your progress.
Google Maps is free to use and is available on both IOS and Android
However it does have its limitations. Such as, you can only add up to 10 stops per route. This however may not affect you if you are not delivering on a large scale.
It also does not optimize your routes or allow for other variables like driver skillsets or vehicle capacity. If you are running a medium to large scale delivery operation then you may need to look elsewhere for your route planning and optimization software. However, it's still a great free option!
Available to download on both IOS and Android.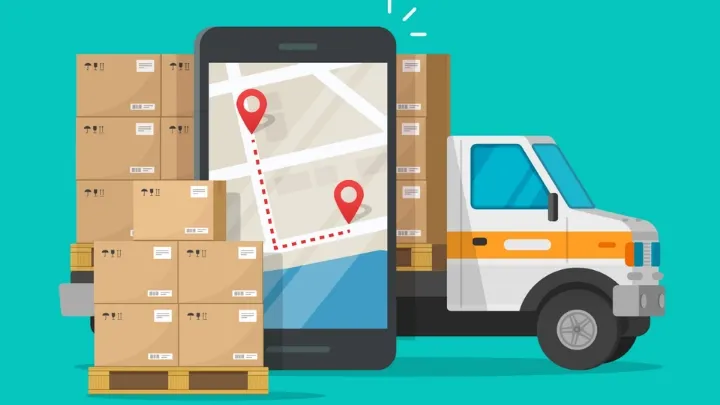 4) WhatsApp - for communication
This may be an obvious one but WhatsApp is a great way to keep in touch with employers, customers and friends! The great thing about WhatsApp is it's free to use. There's no limitations other than needing the other person to also have the app but with approximately 5 billion downloads, it would be hard to find someone who isn't a user! The only other thing you need to use this free app is either wifi or remote data connection.
WhatsApp can help delivery drivers by:
Simply keeping in touch with anyone while out on the road (obviously not while driving!)
You can use it for SMS, audio and video calls all without any charges.
Keeping up communication with people while out on the road is really important for one's mental health

Available to download on both IOS and Android.
5) Flush - to Find Public Bathrooms
Delivery drivers can be on the road for a long portion of time. If you don't know the areas you're passing through it can be hard to plan your day and to find necessary facilities along the way. With apps for delivery drivers like Flush, you can easily find your nearest public bathroom along your route!
Flush can help drivers by:
Displaying the nearest toilets to them and whether they are accessible, free to us and/or require a key.
It offers directions on how to reach the bathrooms from your location
You can help improve the app by adding other bathrooms you know of to the app and by rating and reporting different ones for future users of the app.
This app is a must-have for delivery drivers. It is free to use but it does come with ads.
Flush is available to download on IOS and Android.
6) Headspace - for mindfulness
Headspace is a great app to help with stress management. Making sure you're happy and stress free along your journey can make sure you end your workday on a positive note.
Headspace can help drivers achieve this by:
Giving you the tools you need for meditation, getting a good night's sleep, managing stress and anxiety and helping create mindfulness.
You can even take quick breaks along your route and work meditation into your schedule, however if this isn't an option adding it to your morning routine can be a great way to start the day.
The app comes with a 14 day free trial and the monthly subscription thereafter costs $12.99. And the annual subscription costs $69.99.
Headspace is available to download on both IOS and Android.  

7) Spotify - for music and podcasts
Spotify is a great way to both pass the time and keep yourself focused while driving. With both music and podcasts available in various styles and themes, there's something for everyone!
Spotify can help delivery drivers by:
Passing the time on long journeys with pre-made playlists or creating your own.
You can search and discover new topics of interest by listening to podcasts.
Keeping you focused and alert along the road and thus reducing the chances of driver fatigue
Spotify is available on both IOS and Android for free however the free version does come with ads. The subscription is $9.99 a month for the premium version.
8) MyFitnessPal - for Healthy Eating and Exercise
The best apps for delivery drivers aren't just for route planning, you also need to think about keeping your mind and body active!
Maintaining a healthy diet while out on the road can be a challenge. Using an app like MyFitnessPal can be a great app for keeping track of your calorie intake, especially if you like to practise healthy eating and exercise, or if you're just curious! You can also log your workouts and track your water intake!
MyFitnessPal can help drivers by:
Offering a way to track your calorie intake along your journey
The app offers workout plans for all lifestyles which can help you maintain good physical health
A great way to keep track of your nutrition and fitness goals as a whole
MyFitnessPal is available to download on both IOS and Android and there is a premium version with more content to unlock.
Looking for the best apps for delivery drivers?
There you have it, our top 8 apps for delivery drivers. Apps can be a great way of helping make your day more productive and easier. The best apps for delivery drivers help make your journey more manageable and comfortable.  Hopefully, you have found some useful information here or it encourages you to do some of your own research into the best apps for delivery drivers!
If you're looking to try SmartRoutes delivery driver app, you can try it out with our 7-day free trial or book a demo today. We can get you up and running in minutes and help you to make the most of it from the outset.
If you enjoyed this blog, you may also be interested in: