5 Best Onfleet Alternatives in 2023
We have put together a list of 5 Onfleet alternatives that give you bang for your buck.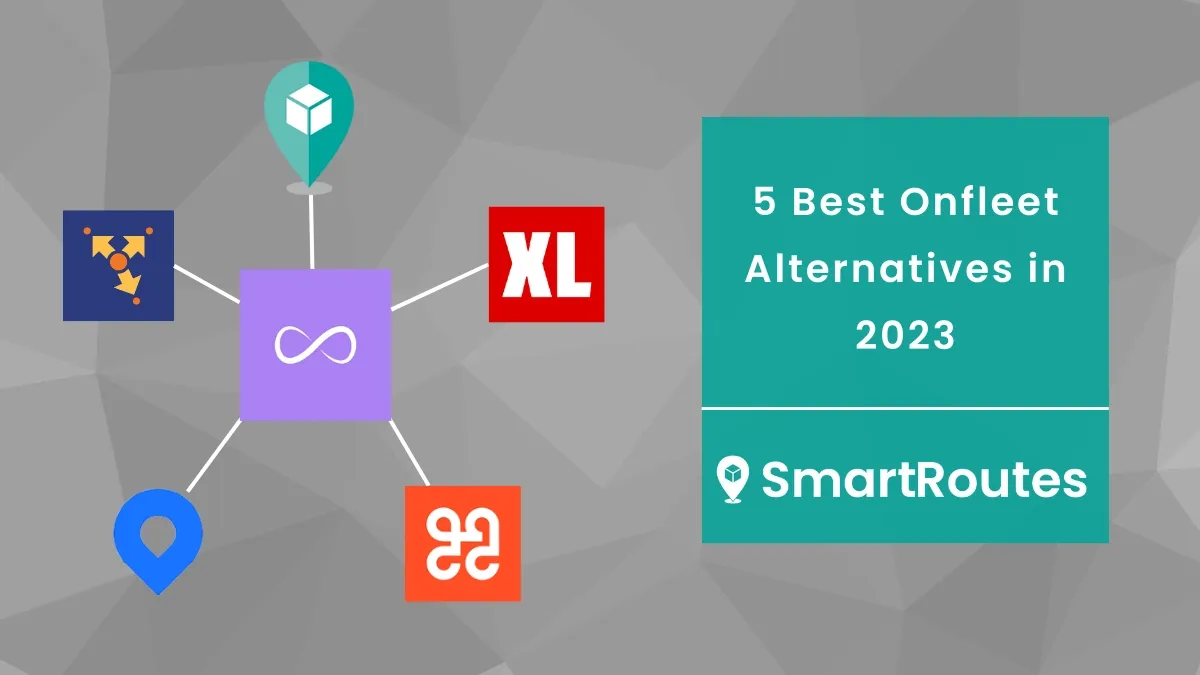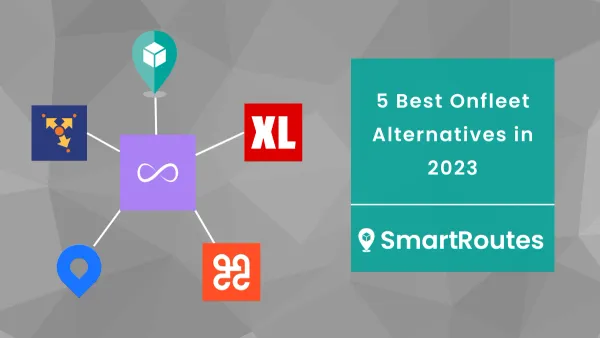 Searching for an alternative to the popular last mile delivery solution, Onfleet? Whether you are trying to save some money or its feature limitations have you looking for other options for your business - we have put together a list of 5 Onfleet alternatives that give you bang for your buck.
In this blog we will take you through:
Why You Should Switch To Onfleet Alternatives
Why You Should Switch to Onfleet Alternatives
From Onfleet's feature limitations, to their high price and negative reviews from their customers via Capterra reporting systems lags, we take a look at why you should switch to Onfleet alternatives:
Price
Onfleets monthly subscription has quite a steep price starting at $500 and this just includes the basics for what they call 'new and small teams'. This high price is quite off putting for many small and medium sized businesses. With that starting price being just for standard capabilities, you must fork out $1150 per month to attain many of the much-required features for delivery management software. There are many other options available in the market offering similar standard functionality at a much more reasonable price point (of which we will go into more detail later!).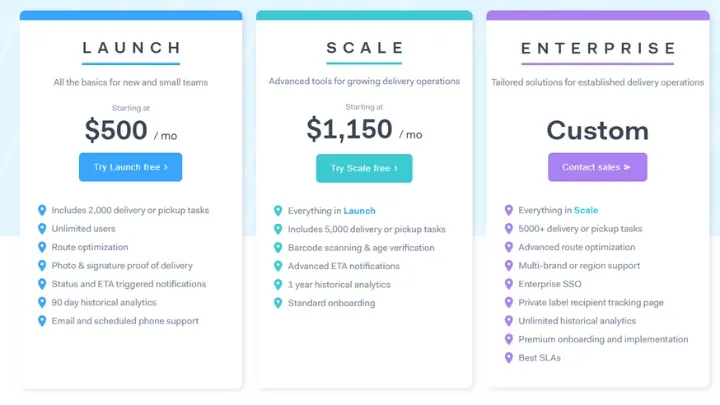 Route Planning & Optimization
Onfleet has been around for a while however their route optimization was only added to their software in 2016. Many Onfleet users have listed route optimization as one of the main issues with their software (based on reviews given on Capterra and G2). Many users are facing issues while entering the address as it takes time or would not get you the exact location, making the process longer, the opposite of what it should be doing!
Usability
Many users of Onfleet have cited the platform as being quite complex to use. They note that it requires much training to get started. There are also many complaints about the reliability of the app with many stating it lags and even crashes when handling large volumes which is not ideal considering its price implies it deals with larger volumes!
5 Best Onfleet Alternatives
Here are the best 5 alternative options for the Onfleet delivery management platform. Let us take you through them one by one.
1) SmartRoutes
SmartRoutes is an industry leader in delivery management with a wide array of features that are backed up by detailed customization even for smaller clients. The user-friendly solution allows you to plan routes in a matter of minutes with unlimited stops. SmartRoutes has outgrown the simple 'delivery route planner' title and has become a full-service delivery management software that has similar functionality to Onfleet. SmartRoutes optimizes routes for maximum efficiency and it automates much of the dispatch management and customer communication requirements. Navigation is done through the map apps on the driver's phone so they can choose their favorite and will have the benefit of a familiar interface while out on delivery rounds.
Main features of SmartRoutes
Automated Planning and Optimization
SmartRoutes route planning and optimization feature uses travel time data to plot the shortest route between any number of stops. Eliminating the need for manual route planning. By automatically optimizing your routes you can reduce the distance traveled and thus reduce the cost on unnecessary fuel usage! With functionality whereby routes that are already in progress can be updated. Updated routes are sent directly to the drivers' phone app via a push notification.
Live Tracking and ETA
You can choose to send automated notifications via SMS and/or email to customers when orders are out for delivery with an expected ETA and live tracking link. (You can also opt to send delivery notifications that are geofenced and triggered by location). This live tracking portal allows customers to follow their order via a live map as it makes its way to them.
Driver App
The app for both iOS and Android gives the driver access to route information, contact details, driver notes and more. Routes that are updated remotely are immediately available to the driver via the app. The driver app allows for better communication between driver to driver, driver to back office staff and driver to the customer!
Proof of Delivery
Proof of delivery (POD) can be easily captured electronically with e-signature, photos and notes using the driers app. POD email can be forwarded automatically to customers, third-party clients or internally for reporting purposes.

eCommerce Integrations
At SmartRoutes we have created dedicated integrations between WooCommerce, Shopify and more. Ultimately, these have been designed specifically for integrating route management and planning with your existing technology.
Intuitive & User-friendly interface
SmartRoutes have worked tirelessly to make our solution as easy and familiar to users as it possibly can be. Using leading user design principles, we have built a solution that requires little time to become familiar with and works with transport planners and rivers alike to make their lives easier.
What are the benefits offered by SmartRoutes:
Give your office staff 100% oversight over drives routes to ensure efficiency
Drivers receive their assigned optimized routes automatically
Gives driver clarity on their working hours for the day and ensures workload is shared evenly
Keep customers informed with realtime notifications and updates on their order
Easily record electronic proof-of-delivery and retain a searchable database of this information
Improved efficiency leads to better use of time and reduced costs
Eliminate manual route planning
Easily relay information from drivers to customer support staff for incoming queries
SmartRoutes Pricing
But don't just take our word for it. You can sign up for a 7-day free trial below to test it for yourself:
SmartRoutes solves last mile challenges for you
Save time and money in delivery management. Cut carbon emissions. Get oversight on your fleet. Impress your customers with superb communication tools.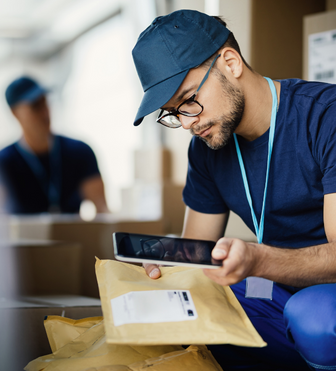 2) Circuit
Circuit is a route optimization and delivery management software for businesses that are managing teams of delivery drivers. Dispatchers can add addresses one at a time or bulk import via a spreadsheet. Optimized routes are created in minutes for the driver. Priority time windows can be added for specific deliveries when customers make a request for a timeslot. This is useful for those offering premium same or next-day delivery services.
Circuit tracks each driver's progress in relation to every stop along the route. This also allows for ETAs to be given to customers and keeps them updated on route progress. Dispatchers can add extra stops and pick-up points while routes are in progress.
Pricing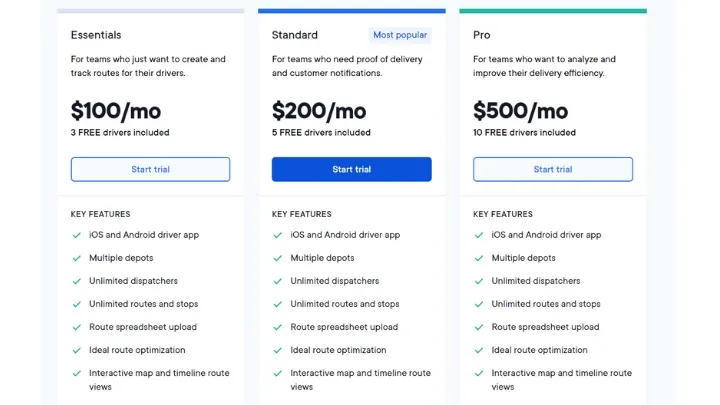 3) Bringg
Bringg is an enterprise delivery management software that deals with both the back-end operations involved in managing supply chains and inventory, as well as delivery operations. Bringg is designed purely for large operations that offer either first mile delivery or last-mile delivery services.
Bringg allows you to integrate with some eCommerce platforms and fleet management platforms. They allow for inventory tracking using a barcode scanner.  As far as delivery management features they offer route optimization, the capture of PODs, automated dispatch for on-demand delivery, communication between drivers and driver analytics.
Pricing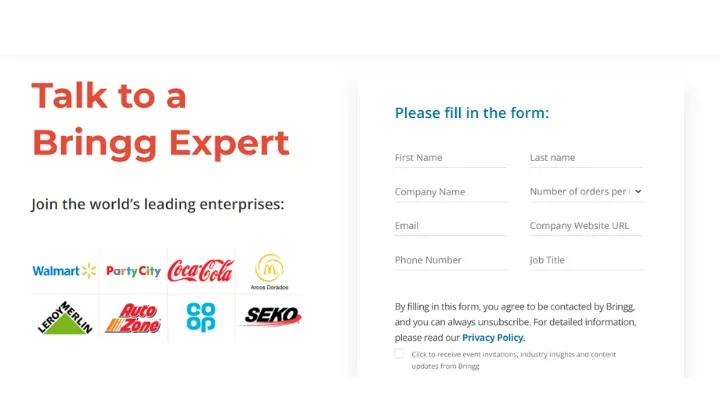 As you can see from the image above, pricing information is not readily available on their website. Instead, you can request a meeting and in the drop down you have options for how many orders you do - less than 30k, between 30-60k or above 60k.
4) RouteXL
RouteXL is a simple routing tool for optimizing routes with multiple destinations. It offers budget-friendly prices for delivery businesses. RouteXL can be used for driving directions through sat nav systems such as Garmin and Tom Tom, and they offer an API. It imports the data directly from the spreadsheet and finds efficient routes.
RouteXL has limited offerings that might hamper your delivery operations. Limitations such as there being no mobile app, ie. route optimization is limited to the desktop interface. Optimized routes can only be printed out, sent by email, or followed on sat nav systems. Once routes are created they can't be changed easily. Each driver's route must be calculated separately which makes the process much more time consuming.
Pricing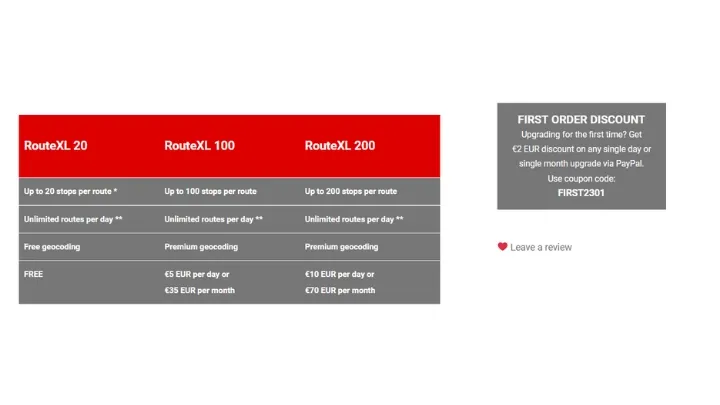 5) Route4Me
Route4Me is first and foremost a route optimization tool. Route4Me is designed for field service businesses in various different industries however it's not specialized for deliveries. It offers a lot of customization options, which makes it well-suited to fleets that need to do other tasks apart from deliveries.
With Route4Me, you can monitor and analyze driver performance and behavior by tracking vehicle speed, unscheduled stops, and braking patterns. You can use a geofencing tool to notify customers the driver is in their area based on how far away the vehicle is from the locations or how long it will take the field rep to arrive. You can also plan recurring routes for field reps who regularly travel to the same destinations.
Pricing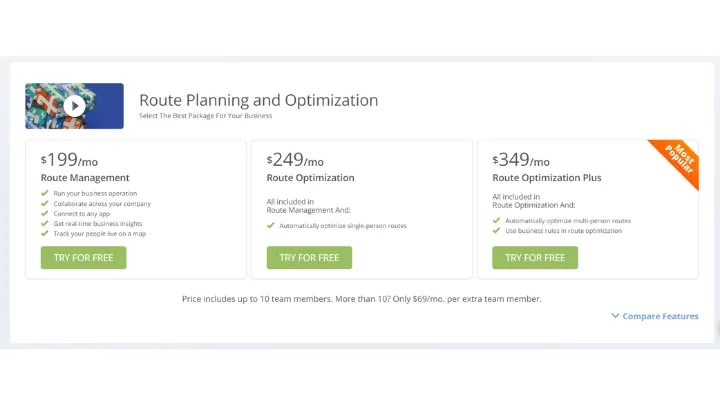 So, Which Onfleet competitor suits your business?
If you're interested in streamlining your delivery operations, you can get in touch with us here at SmartRoutes today to get a demo of the solution. Our team is on-hand to help, so don't hesitate to contact us.
You may also be interested in: