Optimoroute alternatives: SmartRoutes
OptimoRoute is an industry leading route planning software but how does it stack up against SmartRoutes? We find out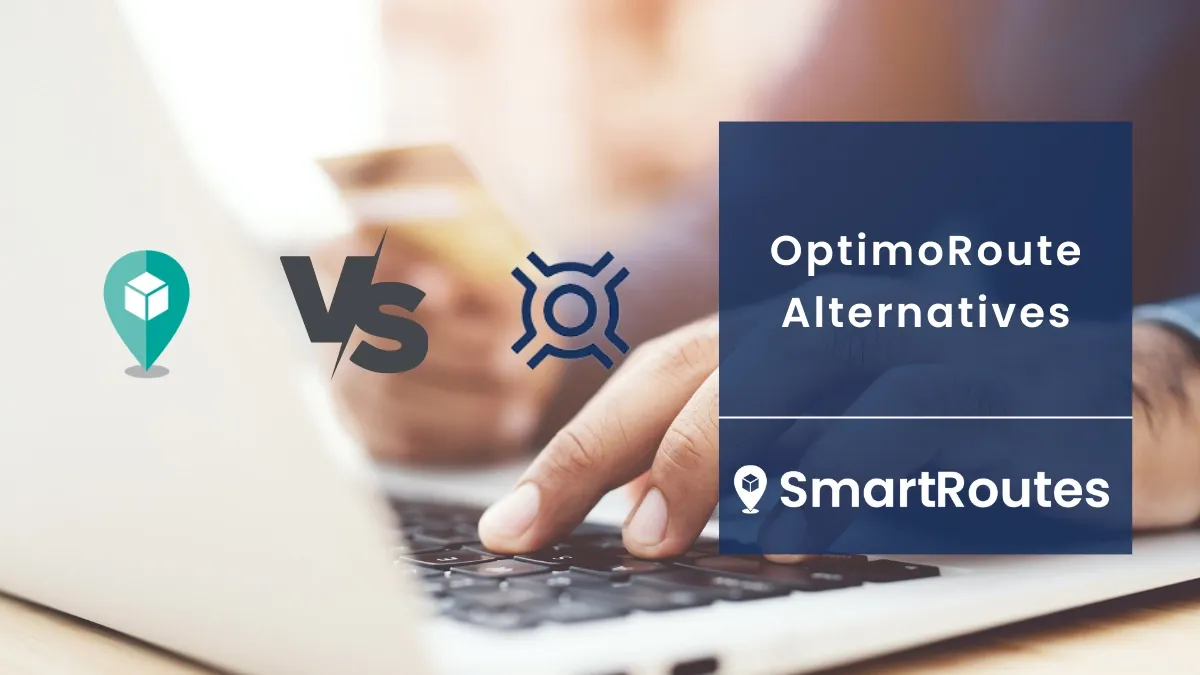 The purpose of this article is to compare and contrast OptimoRoute with SmartRoutes and see which might be the best solution for your business.
OptimoRoute is a route planning tool that is widely used among fleet managers and anyone doing deliveries. It has a lot of functionality built up over the years that is tailored to the logistics industry. It has, however, raised its prices in recent months to an entry-point of $39 per month per driver which has made it unaffordable for many.
SmartRoutes is an industry leader in delivery management with a wide array of features that are backed up by detailed customization even for smaller clients.
Let's take a look at how OptimoRoute compares to SmartRoutes:
SmartRoutes vs OptimoRoute

OptimoRoute - Automated Planning and Optimization
Easy importer of orders, efficient routing and advanced routing parameters including real-time route modification.

SmartRoutes includes all of the route planning and optimization functionality and can update routes that are already in progress. The SmartRoutes algorithm uses travel time data to plot the shortest route between any number of stops.

OptimoRoute - Driver and Vehicle
Driver shifts and restrictions. Vehicle capacities allow planners to automatically assign the right orders to the most appropriate vehicle and team.

SmartRoutes has all the same features with the addition of driver skill sets so drivers with certain skills can be assigned certain orders also.

OptimoRoute - Live Tracking and ETA
Fleet tracking is updated with real-time information on each vehicle.

SmartRoutes has a live map of vehicles to help with delivery experience including an ahead/behind schedule counter telling you if the route is on track. You can also compare and contrast the planned route versus the actual route taken by the driver with SmartRoutes.

OptimoRoute - Customer notifications and Live Tracking
Template SMS/email messages to customers telling them when the delivery is due to arrive.

With SmartRoutes you have a variety of delivery notifications including geofenced options triggered by location. Customers also have access to a live tracking portal including a specific ETA and the vehicle in relation to their delivery location.

OptimoRoute - Mobile App for Drivers
Native app for iOS and Android manages complete route, order information and navigation all on the driver's phone. Route updates and order status immediately available.

SmartRoutes also includes iOS and Android natively built apps where complete route information is automatically sent to the driver's phone. The app also allows for push notifications on any updates to routes.

OptimoRoute - Proof of Delivery
Capture proof of delivery electronically with e-signature, photos and notes.

SmartRoutes proof of delivery can be captured by e-signature, photos, notes and barcode scanner. POD email can be forwarded automatically to customer, third-party clients or internally for reporting purposes.

OptimoRoute - Delivery and Collection
Plan routes with passengers or goods passing from location to another without going through your depot.

SmartRoutes allows for advanced route planning with vehicles factoring in vehicle capacity and ideal route when both collections and deliveries are being done in one route.

OptimoRoute - Multi-day routes
Drivers can complete routes over several days. They can stay overnight and continue the next day without breaking the route into two.

SmartRoutes has the capability to do multi-day routing to service long-haul vehicles.

OptimoRoute - Workload balancing
Workload balancing based on working hours or number of orders per driver.

SmartRoutes workload balancing factors in any criteria by which work is distributed among drivers including hours, drops, weight, etc.

OptimoRoute - Order Management
Coordinated orders feature can allow you to put more than one driver on a job maintaining efficient schedules for everyone.

SmartRoutes order management tab allows you to make multiple orders in one delivery, scanning and organizing the order by tote if necessary. Orders can be tagged and coordinated and will help the picking team to assemble orders correctly.

OptimoRoute - Analytics
Concise reports automatically generated from route data to identify best performers. Get insight into exactly where planning hits the target and where to make adjustments.

SmartRoutes reports include end of day reports, driver efficiency reports, delivery on time reports and detailed individual stops breakdown reports. Bespoke reports are available as part of our Professional Services plans.

OptimoRoute - API Integration
A robust, easy-to-use API allows end-to-end integration with your ERP, CRM, POS, FSM or any other platform.

SmartRoutes includes Shopify and WooCommerce integrations as standard. Our API is open and allows for integration with any other platform. Custom integration options are available from our team.


OptimoRoute - Territory management
Keep your drivers within specific service areas, or cluster tasks and deliveries together before driving to another area.

Territory management is included with SmartRoutes allowing you to create zones and assign a zone to a driver or drivers. This means you can now automate any delivery stops in that zone to that driver/s. This is used to better allocate deliveries to drivers and allow them to build a local knowledge of an area.


OptimoRoute - Multi-depot structure
With OptimoRoute this functionality is not available.

Comes with all Enterprise packages in SmartRoutes allowing larger organizations to create a total oversight on their regional or national operations.


SmartRoutes versus OptimoRoute Pricing
SmartRoutes is more affordable per vehicle and includes more functionality in each of its plan types compared to OptimoRoute.
The use-case for route planning software is clear. Manual route planning is incredibly time consuming and the routes created are always less efficient than those created by algorithmic solutions.
The benefits of a delivery management system are now clear:
Fewer miles driven [up to a third compared to traditional planning]
Reduced carbon emissions and improvement in sustainability objectives
Better customer service and delivery experience overall
Reduce customer enquiries as a result of live tracking
Improved operational oversight and insights that can be transformative

Without delivery management software like SmartRoutes or OptimoRoute, you cannot see what is happening with your drivers in the field. You also cannot notify customers accurately of delivery times. Inefficient routes and fleets that are invisible to you are not good for business and they are not good from a carbon emissions standpoint.

Conclusion
In conclusion it is clear that both SmartRoutes and OptimoRoute are very valuable solutions from a  delivery management perspective. The feature set is similar but SmartRoutes has a slight edge in terms of customization and advanced route planning. The pricing is clearer since OptimoRoute raised its price points early in 2022 with SmartRoutes offering more for less.

SmartRoutes solves last mile challenges for you
Save time and money in delivery management. Cut carbon emissions. Get oversight on your fleet. Delight your customers with superb communication tools.