A full guide to Fleetmatics and how it differs from SmartRoutes
We investigate how Fleetmatics, a marketing leading logistics software, compares to SmartRoutes.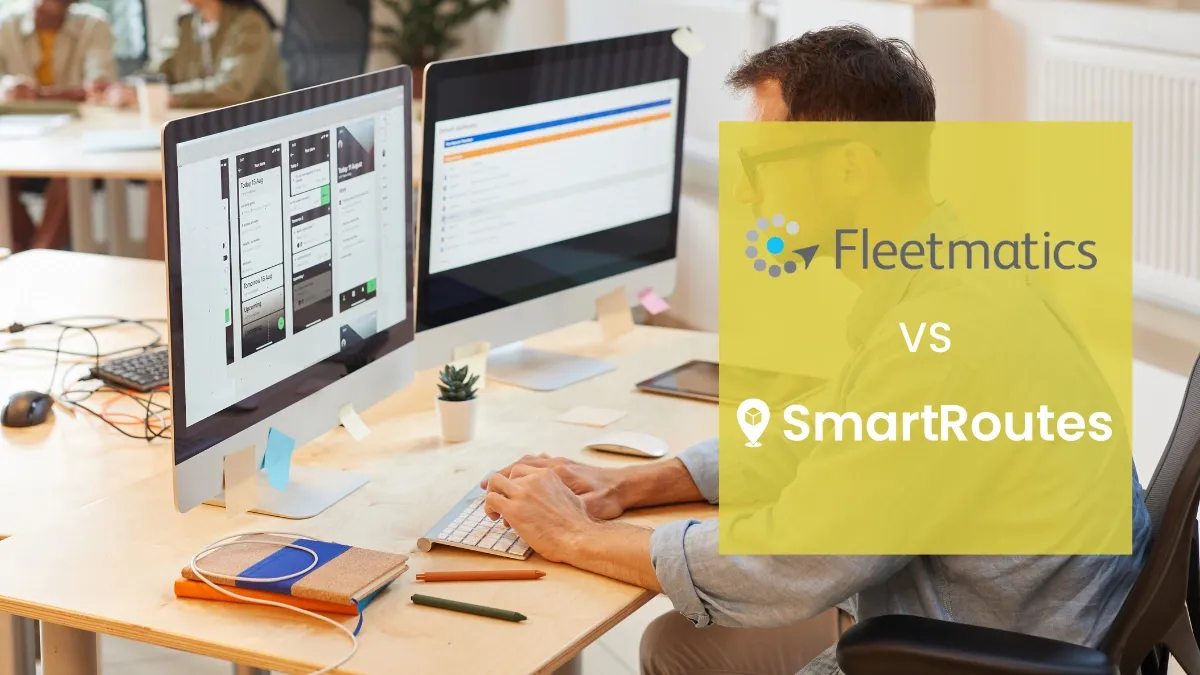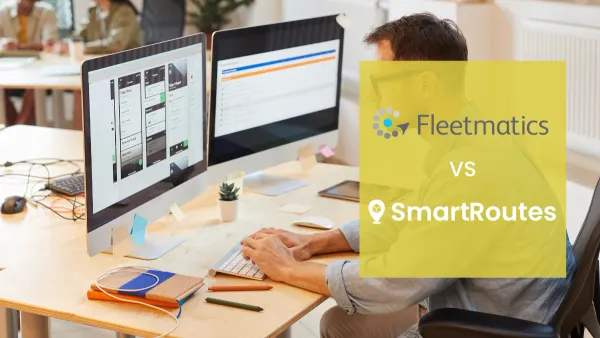 For those that have been involved in the management end of road transport and logistics over the past decade, the name has probably at least been on your radar at some point. Initially, Fleetmatics was an Irish-founded fleet management SaaS company providing a solution that helped businesses with road-going fleets to track and manage their vehicles while out on the road. As a testament to the success of the solution, US telecom giant Verizon purchased the business in 2010, seeing it as a natural fit for their mobile/GPS-based businesses. The business first differentiated the newly acquired solutions as Fleetmatics Reveal and Fleetmatics Worknow, but they have now been entirely integrated with the wider "Verizon Connect" portfolio fleet management tools.
In this guide, we'll take a closer look at what exactly Fleetmatics is and does, how it could be of benefit to your business and what kind of costs are involved in implementing it.
We'll also take a look at what the difference is between Fleetmatics/Verizon Connect and our own SmartRoutes Delivery Management Software. While both have similarities, we often get asked about how we compare, so we'll take you through a few key differences and which offering may be best for your business.
How much does Fleetmatics cost?
How is it different from SmartRoutes?
What is Fleetmatics?
Fleetmatics is a fleet management software that helps businesses with vehicle fleets to track their most valuable assets; their vehicles and drivers.
Fleetmatics is best known for 2 key logistics software components - GPS Tracking and Fleet Management.
Fleet Tracking (Fleetmatics Reveal)
Fleetmatics is most well-known for its GPS feature that allowed business owners and transport managers to see where their vehicles and drivers were at any given time. The solution was designed to give transport management staff more oversight and control over their fleets and increased visibility into the behavior and movements of their drivers. Although driver GPS tracking has now become commonplace in most logistics companies, the Fleetmatics team pioneered it in the early 2000s, having implemented the first GPS vehicle tracker, long before the advent of the smartphone.
Today, Fleetmatics Reveal offers much more than just tracking with the added benefits of live route mapping, driver and vehicle data collection, geofencing and reporting
Electronic Logging for Driver (Fleetmatics Work)
The second key feature of Fleetmatics, was the electronic logging devices (ELD) that enabled drivers to manage many of the routing safety tasks that would previously have been logged manually in a diary in previous times.
With safety being of the utmost importance for logistics companies, this was/is a solution that has improved safety by allowing drivers to do their walkaround checks more easily, forecast repair schedules more accurately, and improve their craving behavior to reduce fines and wear on the vehicles. With the costs associated with running delivery fleets skyrocketing in recent years, having solutions in place that help to avoid nasty surprises are now a must-have. Fleetmatics ELDs went some way to alleviate such challenges, and Verizon's decision to integrate it into its wider telematics suite of transport technologies was evidence of the demand for it in the industry.
SmartRoutes: The Fleetmatics Alternative
Save time and money in delivery management. Cut carbon emissions. Get oversight on your fleet. Impress your customers with superb communication tools.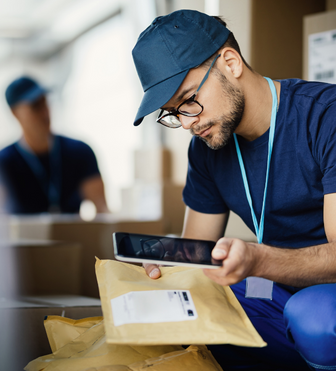 How does Fleetmatics work?
Fleetmatics has long been seen as a one-stop shop for everything a fleet manager or owner might need to keep their fleet running as smoothly as possible. Since it has been integrated into the wider Verizon Connect ecosystem, that has become the case in an even bigger way.
Not alone does Fleetmatics still have GPS tracking and vehicle logging functions, but it now hosts a whole lot more, including:
Asset Tracking
Dashcam Solutions
Fuel Management Apps
Route Optimization Software
The features above combine to become what is called a 'Telematics Solution', a catch-all term for monitoring road-going vehicles and other assets by using GPS technology and on-board diagnostics (OBD) to create a computerized map that gives full visibility of movement
At its core, that is how it works, but Verizon has layered lots more modern technology on top to make it a remarkably innovative technology solution. They rely on cloud-based storage to host the solution so it's quick and doesn't require the same implementation expense as it once did, and it now combines mobile and desktop technology that integrates seamlessly and is easy for drivers to use.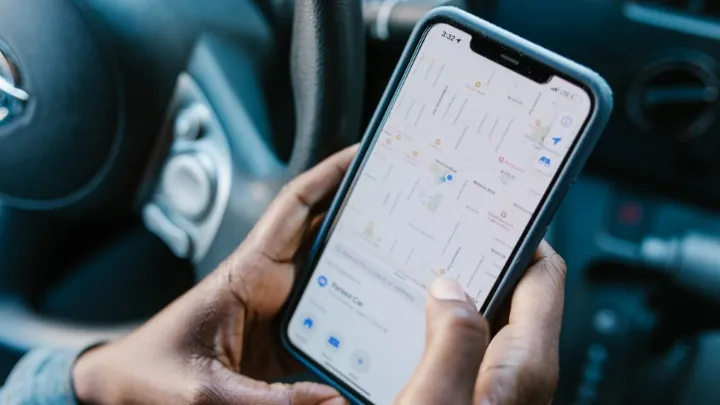 With the mass adoption of smartphones over the past decade, mobile phones have played an ever more important part in the utility of telematics solutions. It means that data transfer between OBDs (onboard diagnostic devices) and drivers' mobiles make it more accessible for drivers to see how their vehicle is performing, and if there is anything about their driving behavior that needs altering.
The way it works is quite simple for a solution that has revolutionized the transport and logistics industry. As with all great digital solutions, the proof of its value is in its ability to work without much thought, and Fleetmatics does just that.
How much does Fleetmatics cost?
It's difficult to say how much Fleetmatics Reveal and other VerizonConnect offerings will cost without knowing exactly what features you require, how many vehicles are in your fleet etc.
However, it's not as expensive as many think, and there is no upfront cost to get started with it as such. For Fleetmatics Reveal, your monthly operating costs will come in somewhere around $35. It is worth bearing in mind that it will require a sim card with a data plan for the GPS, so that figure is closer to $50-60 per vehicle, per month.
While the costs for the REVEAL platform is pretty straight forward, it's a little more opaque for the WORK offering that helps drivers with electronic vehicle logging. Verizon will only provide a quote after an online consultation and the end cost will be dependent on the level of features you'll require, fleet size, location etc.
And while it's a solution that has stood the test of time, there has been some criticism by US transport industry expert, FreightWaves, who notes that the system is a 'bit light' in terms of features when compared with other options on the market, has a complicated installation process (not a simple OBD plug and play), and the mobile app has been poorly reviewed on Google/Android Play store.
How is it different from SmartRoutes?
One question we get asked quite a bit here at SmartRoutes, is just what is the difference between what we do and how it differs from Verizon Connect.
Firstly, there is some crossover in terms of functionality, so example both solutions provide:
Route Optimization
GPS Fleet Tracking
Fleet Management
While we share these features, their work is a little more nuanced. At SmartRoutes, our GPS Tracking relies on existing GPS technology within drivers' mobile phones so that there is no necessity to install costly standalone trackers on your vehicles that will require regular maintenance. By simply enabling GPS on your mobile, and allowing access to the SmartRoutes Delivery Driver App, you will be able to track your drivers' location at any given time.  
While our solution has the advantage of being cheaper, easier to implement, and included as part of a wider package of features, it does have a bit more data. By plugging into the vehicle itself, it will provide more detailed vehicle and driver insights.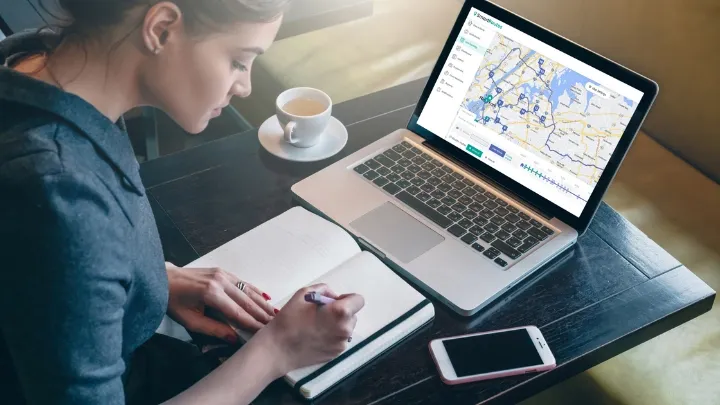 In terms of fleet management, our solution is much more focused on the management of drivers, route scheduling, planning and optimizations for your vehicles and the management of loads to maximize the profitability of your fleet.
And this is where the main difference in what we do becomes clearer.
While Telematics solutions like Fleetmatics are primarily focused on ensuring the safety of vehicles and drivers, our Delivery Management System is more focused on making the entire delivery process as easy and efficient as it possibly can be for entire delivery fleet operations.
With our entire digital ecosystem making use of existing company assets like smartphones and computers, our solution can be implemented remotely in a matter of minutes and includes more 'delivery-centric' features as standard, like:
Automated Route Creation
Route management
Vehicle Capacities & Load Balancing
Customer Updates via Email/SMS
Proof of Delivery
Customer Mapping for Field Sales Outreach
A full list of our delivery management features can be found by clicking on this link.
The benefit of our solution is that we have designed it to be as agile as possible so that it is easy to get started, and works as it should with minimal work to implement. We offer a 7 day free trial, with our team on-hand to help you configure it and make the most out of the week.
We also include integrations with popular platforms such as Shopify, WooCommerce and Mintsoft free of charge with our Standard Plan.
We also offer a good deal more flexibility in our pricing model, which works on a per vehicle, per month basis (we have annual discounts), allowing you to scale up your number of licenses as necessary.
Thinking about a fleet management solution for your business? SmartRoutes offers 5-star support
As a team, we pride ourselves on providing 5-star customer support to all of our customers. The reality of the logistics industry is that things are constantly moving and problems arise and your business needs can change and evolve over time too.
Our dedicated IT team is always on hand to answer queries, assist with solving new challenges for your business and ensure that you're getting the most out of our software.
Why not see for yourself? You can try SmartRoutes for free for the next 7 days!
Frequently asked questions
1. What is Fleetmatics, and how does it work?
Fleetmatics is a fleet management and vehicle tracking system that helps businesses monitor and manage their mobile assets. It works by installing GPS tracking devices in vehicles, which then transmit real-time data to a central software platform. This platform provides insights into vehicle location, route history, driver behavior, and more, allowing businesses to make informed decisions about their fleet operations.
2. What are the key differences between Fleetmatics and SmartRoutes?
Fleetmatics and SmartRoutes differ in several ways. Fleetmatics is primarily a fleet management and vehicle tracking solution, while SmartRoutes focuses on route optimization and delivery management. Fleetmatics offers comprehensive fleet monitoring capabilities, whereas SmartRoutes excels at optimizing routes, reducing delivery times, and enhancing overall delivery efficiency.
3. Is Fleetmatics suitable for small businesses, or is it more geared towards larger enterprises?
Fleetmatics is designed to serve a wide range of businesses, from small to large enterprises. It offers scalable solutions that can be tailored to the specific needs of different business sizes. Whether you have a small delivery service or a large fleet, Fleetmatics can be customized to suit your requirements.
4. What customer support and training options are available for Fleetmatics and SmartRoutes users?
Both Fleetmatics and SmartRoutes offer various customer support and training options. You can typically access customer support through phone, email, or online chat. They also provide documentation, user guides, and video tutorials to help users get started and make the most of their software.
If you enjoyed this blog, you may also be interested in: