Delivery fleet management
Delivery fleet management is important for all businesses selling online regardless of whether the delivery fleet is in-house or outsourced.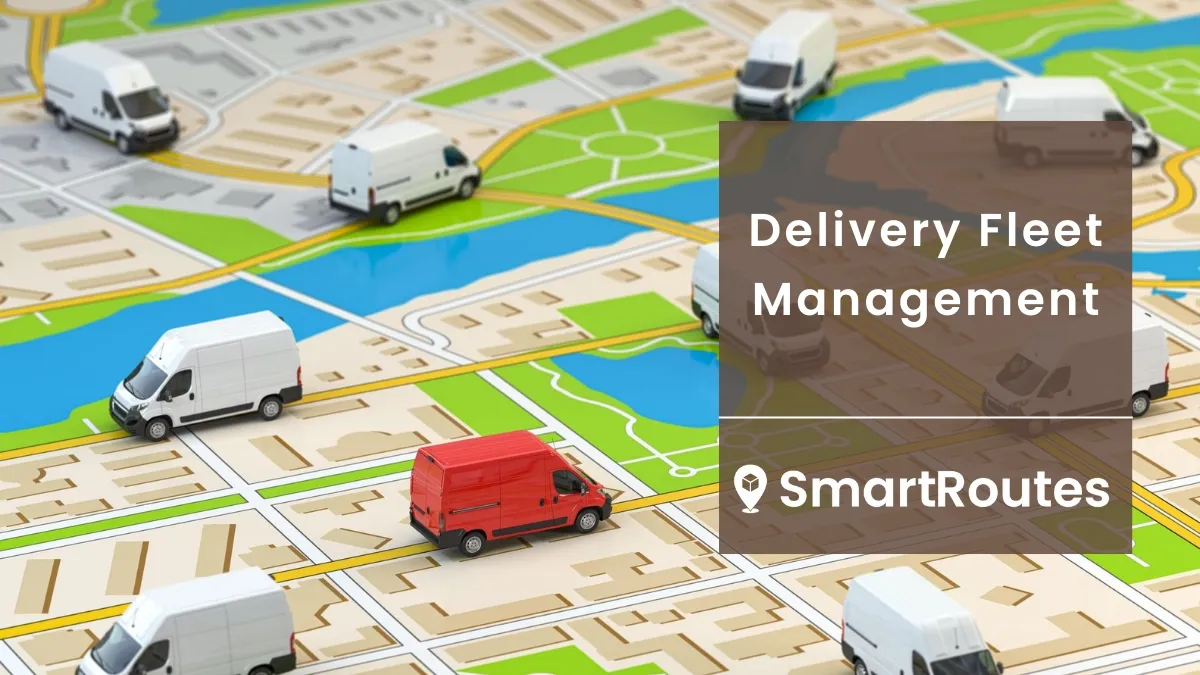 Like it or not, if you sell goods online then you are in the delivery business. Online ordering with home or business delivery is the new normal and that is not going to change. So how do you do delivery fleet management without making your business unprofitable or getting choked with fleet and staff costs? Simple, you use software to turn delivery fleet management into the most efficient part of your business. In the process you will reduce carbon emissions, save money and delight your customers. Let's take a look at how to do it.
In this article we will cover:
What is delivery fleet management?
In practice, delivery fleet management helps organizations to get the most from the vehicles and drivers they have. This, in turn, reduces costs, carbon emissions and customer complaints. Tech solutions are driving [pardon the pun] these improvements and will form the bedrock of delivery fleet management into the future.
Delivery fleets shouldn't only be seen as vehicles and drivers directly owned and employed by the company in question. In many cases companies outsource deliveries to third party couriers, gig workers or logistic companies. They can still retain full control over these outsourced providers if they retain control of the software managing the deliveries. This is what the smarter companies are doing thereby reducing their exposure to fleet costs without losing control.
SmartRoutes' Delivery Fleet Management Platform
Save time and money in delivery management. Cut carbon emissions. Get oversight on your fleet. Impress your customers with superb communication tools.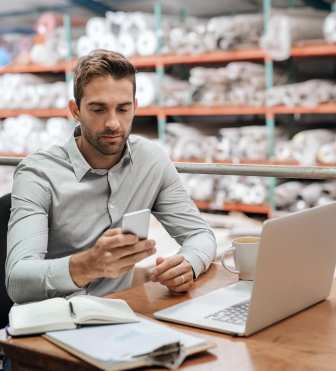 What does delivery fleet management software do?
Delivery fleet management software usually comprises:
Route planning
Where do you start when you have pages and pages of delivery details, several drivers on different shifts all focusing on different areas? Upload your delivery details and the route planning software does the rest. Reduce your logistics costs by 20-40% and start earning back that missed profit.
Route optimization
A route optimizing algorithm will reduce cost per delivery by at least 33% versus traditional planning and allow you to factor in complex variables like time windows, load balancing, zonal territories and even vehicle variables to avoid missed deliveries and deadlines. Vehicles leaving the depot fully loaded results in greater profitability.  
Fleet tracking
Delivery fleet management provides you with real time visibility over your fleet in the field. Visualize your delivery fleet with a live map to manage and adjust routes in real-time. Be more efficient and take the guesswork out of delivery operations. Be less dependent on a driver's local knowledge by implementing a data-driven model of fleet tracking.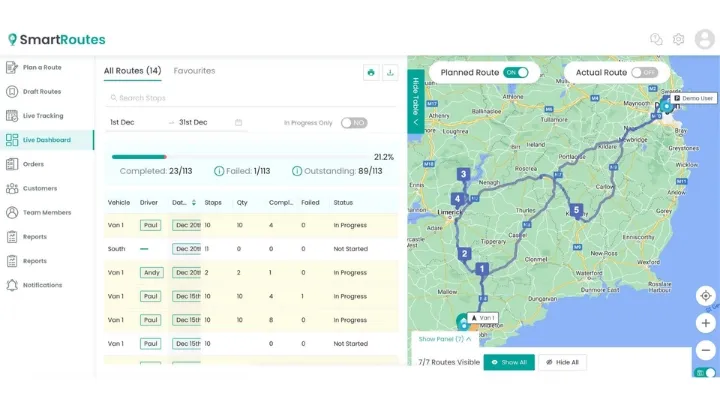 Driver app
Mobile apps optimize and navigate their delivery route. It also allows them to capture proof of delivery and keeps them in constant contact with the depot through dispatch and driver notes. With driver turnover rates at 25% on average annually, delivery driver apps will help to retain staff and improve efficiency.
Delivery management
A total solution to delivery management is critical for all business types in order to control costs and protect the customer experience with you. Lack of investment in delivery management can result in 38% customer churn and spiralling delivery costs as a result particularly of missed deliveries that need to be repeated.
Delivery experience
Excel at the delivery experience for your customers keeping them in the loop with real-time notifications and a live package tracking portal. Cut out missed deliveries and unhappy customers with a simple to implement solution that anyone in your business can use. Increase customer return rates and control your costs on the most expensive section of your logistics journey.
Proof of delivery
Capture proof of delivery by e-signature, photo or barcode scan for total security and compliance. Automate email confirmation to customers or to the relevant ERP system.
Delivery notifications
Stay in constant contact with your customers over the last-mile with delivery notifications and updates by text or email. Automate the customer support requirements and provide certainty to customers. Reduce delivery windows and increase delivery hit rates to decrease cost per delivery and reduce customer churn.

Territory management
Create zones of delivery and allow our AI to intelligently assign and manage work within this area. Route and territory optimization all in one.
Reporting capability
Become a data-driven delivery team with end-of-day reports on all aspects of your operation. Measure your success and improve your performance month on month.
Multi-depot management
Scale your organization and reflect the scope of your logistics team with multi-depot management. Create a network of depot accounts to manage large distributed organizations with super-admin role permissions and regional depot managers depending on requirements.


5 great ways to ensure your delivery fleet management is fit for purpose

1. Obsessively monitor drivers and vehicles

Any delivery fleet manager will tell you the most important part of their job is knowing what is going on once drivers leave the depot. Tracking movements in real-time means you can orchestrate so much more efficiently. You can accurately tell customers when their delivery will arrive, you can check that fuel costs are being mimimized, you can see if drivers are sticking to their routes. This monitoring of drivers is done simply through their mobile phones and it can be turned off outside of work hours.

However, monitoring drivers isn't just to act like Big Brother, it is really important for getting an operational understanding of fleet activities. Seeing the movements of delivery vehicles in practice allows managers to figure out better ways to do things. They might deliver in certain areas at certain times because of traffic congestion, or they might delivery to a specific zip code on a Monday every week. They might even close down the depot or factory when delivery vehicles are out on the road and then open back up when they return. Operational oversight and insight comes from the obsessive monitoring of vehicles and drivers.

2. Focus on productivity to solve for other problems

There are a number of areas where you can become far more productive with the same resources than you were before.
You can optimize your routes to be driven.
You can cleverly assign drivers and vehicles to certain territories thereby decreasing commute miles.
You can pinpoint unprofitable customers or catchment areas.
You can reduce factor up-times or decrease fleet size.
You can ensure vehicles are always fully loaded by mixing deliveries and collections in one route plan.
You can even see if drivers are using vehicles and fuel for non-business purposes.
The choices and potential for efficiency and productivity are endless but the upshot of making these decisions is transformative. Getting the very best out of your fleet ensures the business is profitable which is one big benefit. Typically, customers are happier when deliveries are run efficiently because it necessarily entails them receiving their delivery within the allotted ETA. Finally, in the age of climate change, efficient fleets mean sustainable fleets.

3. Double down on routing settings including territory
Route settings contain multitudes.
Setting parameters for vehicles so orders are automatically cut off when they reach the vehicle capacity for weight or size.
Drivers can have skills associated with them so they are correctly assigned deliveries that depend on those skills to complete the work.
Territories can be created and assigned to a driver so they get to know a small area really well.
Load balancing can ensure no one vehicle in the fleet is taking too much of the order book.
Time windows can be adjusted depending on the type of delivery, for example is it furniture installation taking a few hours, or is it a newspaper delivery taking a few seconds?
Are there priority items that need to be delivered first no matter what?
Or do you just want to manually readjust routes sometimes for whatever reason.
Finally, do you have a mix of collections and deliveries or the need to return to the depot during the day?

All of these route settings need to be taken into account automatically in delivery fleet management if you are not to return to the days of transport managers scratching their heads all day and dealing with unforeseen issues. The software powering your delivery fleet management needs to internalize all the various requirements you have and produce efficient routes for your team.

4. Never ever leave customers in the dark
Delivery fleet management can be perfect in every way but if you don't communicate with end-recipients then it can still seem a failure.
Yes, delivery fleets need to be efficient but customers have to know what is going on too. So, what communications can be automated?
Firstly, your management system needs to send SMS or email notifications before, during and after the delivery. This means they are informed of delivery ETA and afterwards they are sent proof of the delivery and perhaps asked for a rating on the delivery experience. These messages can be written in advance and populated as they are sent out. They can be triggered at a specific time of the day or based on a geo-location of the vehicle [geofenced delivery notifications].
Secondly, customers should be given a live map of their location and the location of their delivery vehicle. This can be sent to the customer via email or SMS on the day of the delivery so they know exactly where it is at all times. The beauty of this is that it reduces missed deliveries and customer enquiries on the day of delivery. It is, obviously, also a great experience for the customer.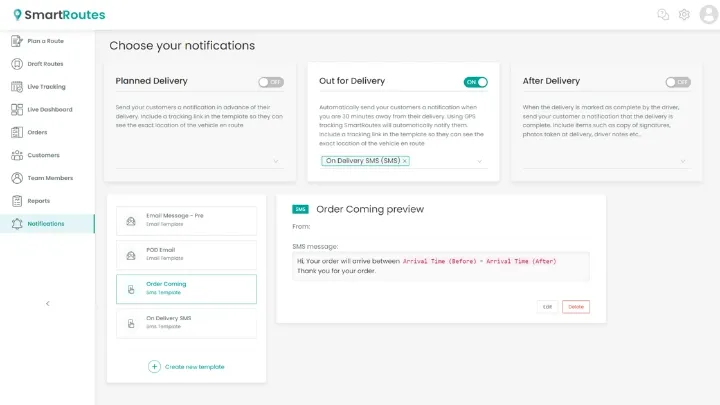 5. Lean in to AI
Artificial intelligence uses data to suggest the fastest delivery routes, it can trigger customer notifications, it can even highlight fleet maintenance and safety improvements. AI is part of delivery fleet management systems nowadays and you should be investing in systems like these to make the most of your budget.


What are the benefits of delivery fleet management?
Increased logistics efficiency leading to a happier end user
Automates a hugely time consuming process - save 30-50% versus having no system
Captures all e-signatures, photos and delivery notes in our easy to use app
Automated planning with routes sent directly to drivers
Recipients no longer need to wonder how long they need to wait for their delivery by tracking live delivery feed
All your collection and delivery drops in one journey
Total overview of fleet on the ground
Easily pull reports for data driven insights
Scale your delivery operations with ease#
Start Improving your Delivery Fleet Management, Today!
If you're looking for a delivery fleet management platform for your business, you can try a 7-day free trial of SmartRoutes or book a demo to discuss your needs. We can get you up and running in minutes and help you to make the most of it from the outset.
If you liked this blog you may also be interested in: