SmartRoutes: The Go2Stream Alternative
There are many options when it comes to route planning platforms, let's compare SmartRoutes with Go2Stream.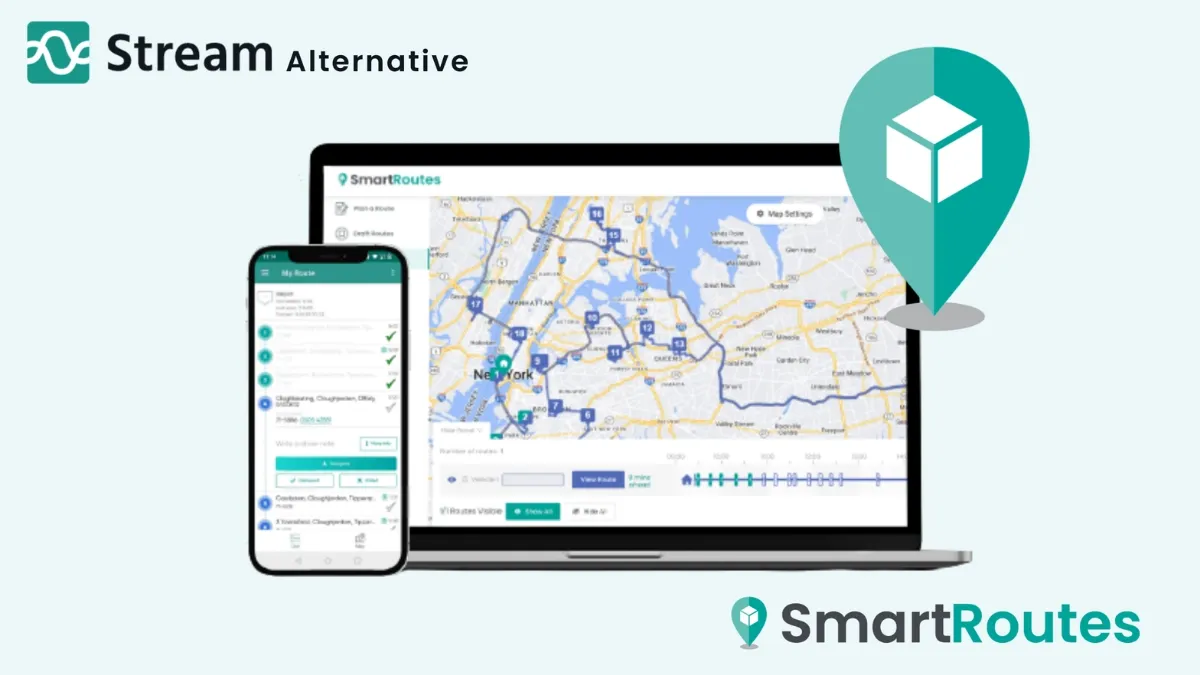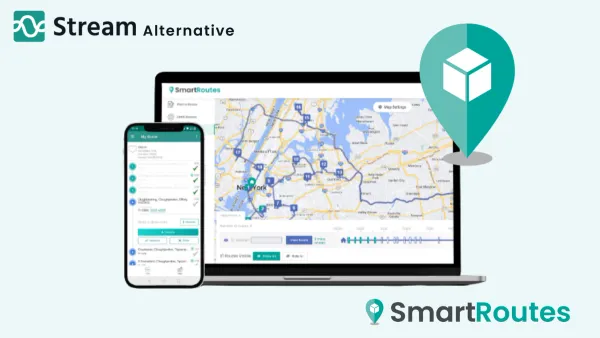 With the explosions in intelligent route planning softwares in recent years, businesses have begun to realize the value of making the road transport operations as efficient as possible.
While there is now a whole range of solutions out there that can help to transform route planning into an automated business process, choosing between the various options can leave you scratching your head.
For enterprise-level transport operations, one of the more prominent solutions in the market in recent years has been Go2Stream. Below, we will look at some of the key features they're solution offers and how our own solution (SmartRoutes) stacks up in comparison.
What features does Go2Stream offer?
Go2Stream offers a hybrid of a route planning software solution, and a vehicle inspection/vehicle walkaround solution. What makes this unusual, is that vehicle inspection solutions are usually included in more broad telematics suites that are used for managing fleets of vehicles.
However, Route planning and optimization are without doubt the key selling points of this solution.

The difference between standard routing solutions and enterprise-standard ones is often in the detail and flexibility that they offer. To this end, Go2Stream is definitely one that caters to big companies with big fleets. Some of these features include:
Map-based planning
Multi-depot management
Mixed-fleet management
Trunk Stocking
Cross Docking

While features like fleet tracking, delivery management, and proof of delivery are all regarded as basic functionality in today's routing software world, the list of feature above go beyond what many in the space are able to offer
The benefit of being a UK-based route planner
It's true to say that the digital transformation that the transport and logistics world has undergone in recent years has changed the landscape and been harsh to those who failed to move with the times.
The reality is, no matter where a technology solution is developed, it shouldn't make any difference to how it operates across borders. And while we also believe this at SmartRoutes, we feel there are still some advantages to having your solution provider at least being based in the same geographic and timezone region as you.
As enterprise-level businesses scale, so too do the unforeseen challenges and issues that haven't been seen before. At SmartRoutes, we're confident we have the very best Route Management Software in the world.
But that doesn't mean things go to plan 100% of the time.
With many of the market's route optimization softwares being developed by tech companies in the United States, there is a valid question to be asked around customer support. The reality is, when a tech company is beginning their working day on the West Coast of the US, a UK-based business is already coming to the close of their business hours.
For this reason, we believe that being based in Europe or the UK is critical to the valuation process for any enterprise that is looking to implement a route management system in their workplace. With both SmartRoutes and Go2Stream fitting this criteria, we think it puts them both in a strong position to support UK & European transport operations.
SmartRoutes vs Go2Stream
SmartRoutes and Go2Stream are two of the UK/Europe's leading providers of delivery route planning and optimization software. The purpose of this guide is to provide you with a Go2Stream alternative that can solve some different business challenges that you are facing.
SmartRoutes is a comprehensive route management system that offers much the same as Go2Stream. However, there are some features of SmartRoutes that may be of use to you:
eCommerce Integrations
While Go2Stream offers a host of integrations with ERP and Telematics solutions like SAP and Sage, it appears to rely upon Zapier integration for popular ecommerce solutions like Shopify and WooCommerce.
Although this may be perfectly fine for your business needs, at SmartRoutes we have created dedicated integrations between WooCommerce, Shopify and other EPOS and order management systems. Ultimately, these have been designed specifically for integrating route management and planning with your existing technology, as opposed to relying on third-party solutions like Zapier.

Transparent, Simple & Cheaper Pricing
The downside of Go2Stream pricing is that it's a little unclear as to how much a full suite solution including core functionality like GPS Navigation and ePOD for your drivers, and customer data retention.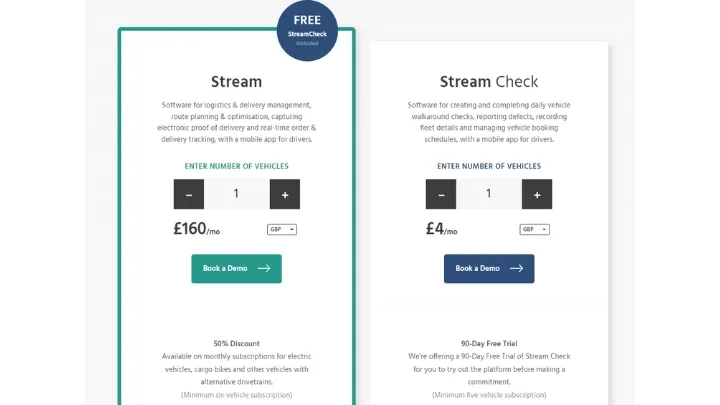 Their basic package starts from £160 per vehicle, but is incrementally cheaper per vehicle as you add to your fleet. While this is somewhat unclear, it is a fair pricing model.
The real drawback is that the features we mentioned above are priced additionally to this. With Smartroutes' Enterprise option, we include our full feature set (including things like ePOD & GPS Navigation) as standard.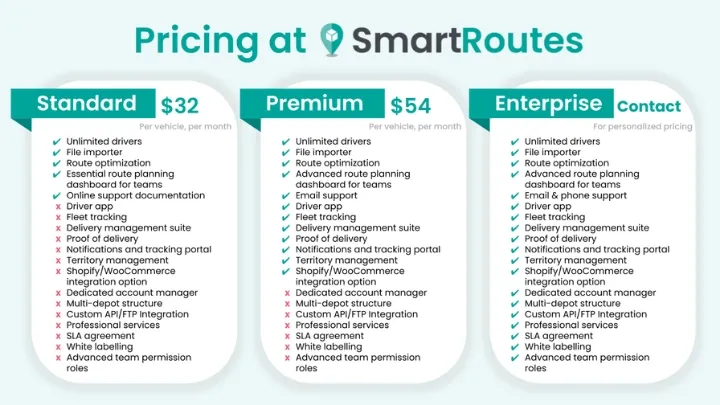 While implementation costs will vary based upon the scale of the operations and the specific development required, the per vehicle cost is significantly cheaper at around £42 per month.
Intuitive & User-friendly interface
We admit, that this one is subjective and Go2Stream are far from the worst on offer in terms of their user interface on their desktop route planner and Go2Stream app.
However, SmartRoutes have worked tirelessly to make our solution as easy and familiar to users as it possibly can be. Using leading user design principles, we have built a solution that requires little time to become familiar with and works with transport planners and rivers alike to make their lives easier.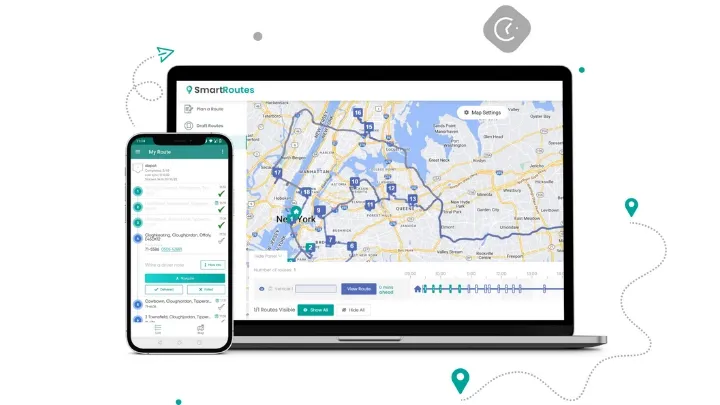 But don't just take our word for it. You can sign up for a 7-day free trial below to test it for yourself:
SmartRoutes: The Go2Stream Alternative
Save time and money in delivery management. Cut carbon emissions. Get oversight on your fleet. Impress your customers with superb communication tools.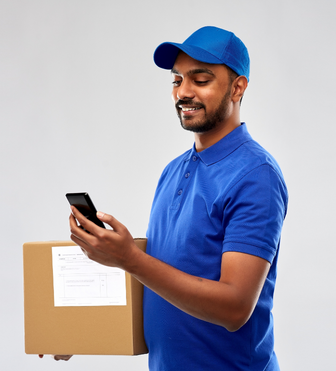 Both Stream Go and SmartRoutes are leading route planning and optimization software providers in the UK, Ireland and Europe and can boast some heavy-hitting enterprise clients on their books.
Whether one is better than the other is likely to be a question of what the businesses specific needs are. For example, if you don't have a telematics solution in place already, walkaround features may be of use to you and give Go2Stream an advantage.
However, if you already have a number of technology solutions in-house that require custom integration work, SmartRoutes have a team of specialists that can ensure that transition is as smooth as possible.
Looking for an alternative to Go2Stream?
If you're interested in streamlining your delivery operations, you can get in touch with us here at SmartRoutes today to get a demo of the solution and a custom calibration/setup to see how it can work best for you. Our team is on-hand to help. You can book a demo with us today to get a better understanding of the features we offer.
If you liked this blog you may also be interested in: