How To Start A Medical Courier Service
A medical courier service can bring big rewards when compared with traditional delivery businesses. We take a look at how to start one.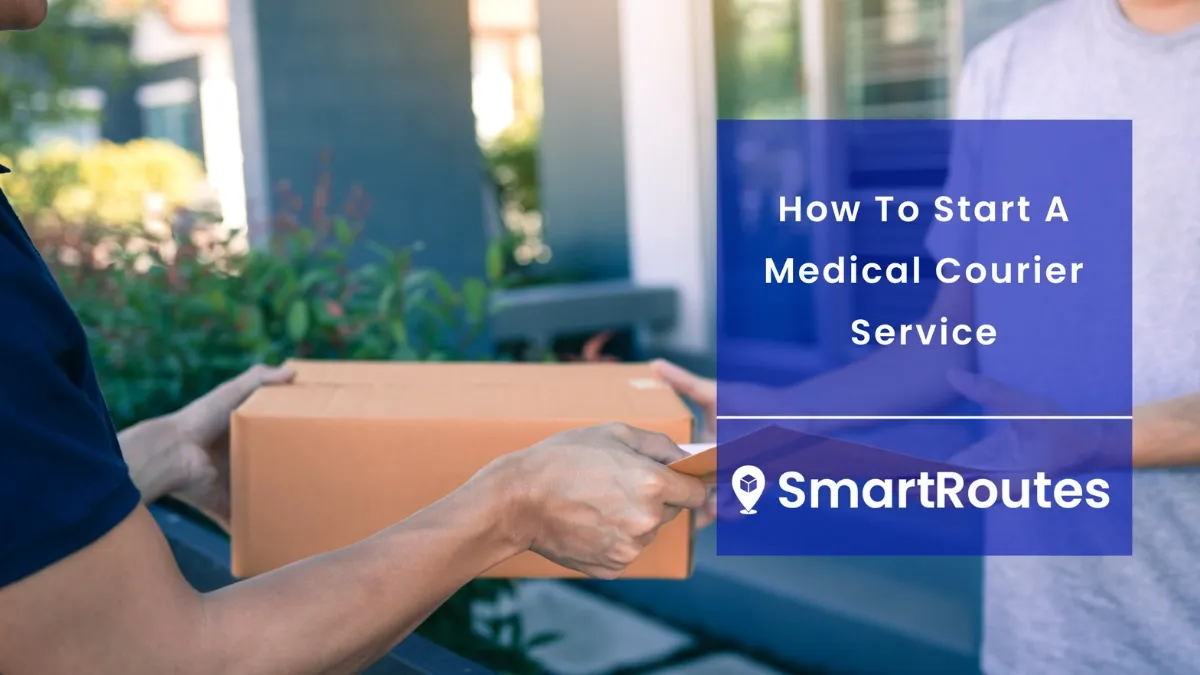 As we have transitioned to an on-demand consumer society, more people have become reliant on delivery services to bring them to goods and services they need day-to-day. In fact, medical courier services have become a central part of how many people live their day-to-day lives. For those reliant on medication and healthcare supplies, these delivery services can make a huge difference to the quality of life a person might have.
With an increased number of vulnerable people being forced to isolate during the recent pandemic, the need for such services become infinitely more important. For some, they still have a newfound need for these services, while others have become so accustomed to the convenience they offer that they could scarcely go without them now.
On the commercial side of this trend, there is now a greater demand than ever for medical delivery services of all kinds.
And like in various other areas in the medical industry, the potential rewards outweigh those in other sectors by quite some way. There is no doubt about it, delivering medicine and supplies is a more lucrative venture than delivering Amazon products as a 3PL provider.
However, the barrier to entry for a medical courier service is quite a bit higher than that of a regular courier company. We've documented the process of setting up a regular courier business, and that guide serves as a great way to start planning any type of delivery service that you might be considering starting. You can check that post about how to start a courier business to get a broader idea of the work involved.
The purpose of this guide is to delve into the additional considerations involved in starting a medical courier. Whether you are looking to add the niche service to your existing delivery service, or you're keen to move into the lucrative niche from the outset, this should get you off to the right start.
What is a Medical Courier Service, and Why Does it Matter?
Before we go about starting one, what exactly does a medical courier do differently to a regular courier service?
Medical Couriers are responsible for delivering large volumes of multi-drop deliveries of medical-specific goods. This can include everything from daily medicine, to special medical devices for vulnerable patients, or even the collection of blood samples from multiple clinics for transport to a central testing hub. There are a lot more niche examples in between, but this gives you an idea of the kind of industry-specific work they do.
The biggest difference in the type of work a medical courier and a logistics couriers is simple;
While not having a pair of shoes delivered before a big date or wedding might seem like a major inconvenience, it's just that at the end of the day; an inconvenience.
However, if you rely on a delivery of medicine to treat a serious illness every day, it can literally be a case of life and death. Similarly, if your shoes turn up the wrong size or with a small defect, it's not the end of the world. For someone receiving the wrong prescription, the consequences can be much more serious.  
As a result, a medical courier is a highly regulated, specialized business that needs a certain level of expertise to run. We'll take a close look below, but it often requires a lot of work to meet regional laws and regulations, have a fleet of temperature-controlled vehicles and ensure that drivers are well trained and vetted upon hiring.
So without further delay, let's take a look at how to get started.
How to start medical courier business
Let's take a look at the steps involved in starting up a medical courier business:
Know the rule and regulations governing the transport of medicine in your region
Do research on the competitive landscape in the region you wish to start the business
Scope out the cost of a temperature-controlled delivery vehicle
Vet, Hire and Treat Your Drivers Well
Know the rule and regulations governing the transport of medicine in your region
First and foremost, you're going to need to get to grips with the rules and regulations in your specific country or state. As a whole, the medical goods and services industry is heavily regulated and the transport of medical goods is no different.
Of the most prominent in the USA, HIPPA compliance is a series of regulatory standards that govern the use and disclosure of protected health information (PHI). Almost every business in the medicine and pharmaceutical industries are tied to these standards and getting certified is often a long process. It involves proving that you have systems in place to prevent the leak of any personal data accidentally or otherwise. At SmartRoutes, we have developed our delivery management software to assist with the collection and storage of such data in a way that meets such regulations.
In terms of your fleet of vehicles, you also need to ensure that they are climate controlled and maintained to the highest of hygiene standards. In the EU, since May 2022, regulation on medical devices and in vitro diagnostic is covered under regulations 2017/745 and 2017/746. A quick look at either of the these links will give you a better idea of what is involved in meeting the minimum standards to operate a for a medical courier service in the EU.
We suggest putting the kettle on before you get into it. There's quite a bit to digest!

Do research on the competitive landscape in the region you wish to start the business
Medical courier service rates can certainly make the niche worthwhile, but the highly regulated nature of the industry also makes securing contracts with clients a challenge. Unlike parcel delivery, it may not be a case of canvassing for work, but making applications through RFT (request for tender) processes that require detailed reports on your own business, provision of certificates, and quoting costs outright for the work on a per mile or per drop basis. If there are other medical courier companies in your area, many of them will already have multi-year contracts on the back of such tendering processes. This can make it difficult for new entrants to the market.
When considering where to look for works, you might check the following:
Your regional health board for upcoming RFT's
Local clinics
Hospitals
Blood Banks
Retirement & Nursing Homes
Again, this is something that can be done in advance of purchasing a fleet of vehicles to gauge the demand for a medical courier service in your area.
Scope out the cost of a temperature-controlled delivery vehicle
While buying a paneled van might be enough to get you delivering parcels from the get go, delivering medical supplies is a different ball game.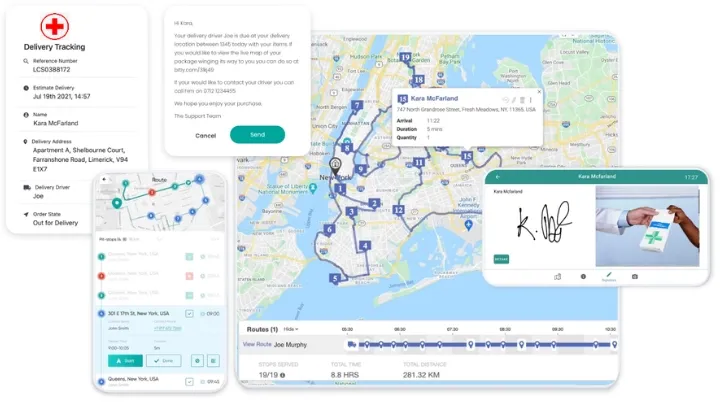 If you're going to be delivering critical medications, you're going to need to have a modern, temperature-controlled van to ensure the products don't spoil. In fact, as part of the tendering process that we mentioned above, many will require that you provide live GPS fleet tracking and a live feed of in-vehicle storage temperature. At SmartRoutes, we have helped clients to integrate all of these features into one easy to manage delivery management system with functionality for logistics managers, drivers, clients and end-patients. Some other features include:
Ensuring there is visibility over every aspect of the business from planning to delivery execution is critically important for medical courier operations, and a good delivery management software will be your key to this.
Vet, Hire and Treat Your Drivers Well
Consider this;
As of 2020, Time Magazine reported that of fleets with over $30 million dollars in revenue, driver turnover in the fleets reached 92%. Without exaggerating, that's 9 out of every 10 drivers walking away from their job.
While that might be sustainable for parcel delivery companies where drivers can be hired, trained and put to work within a day, the same isn't true for medical courier services.
To deliver medical supplies, drivers need to have in-depth training, be vetted by local authorities and an ability to provide a great experience to their customers.
Hiring for the hard skill of driving can be the easy part. While medical courier service jobs are typically sought after by drivers, hiring for the soft skills of friendliness and courtesy can be the real hurdle.
When Homecare Medical approached us at SmartRoutes (more on that below!), they were keen to stress that they needed a solution that would make the medical equipment delivery business watertight. This meant that drivers could see their route before they started, easily and accurately log missed delivery, delayed and missed deliveries at the touch of a screen. It also meant that drivers would have detailed notes on every delivery to cater for the needs of each patient that they encountered and enabled them to provide the required level of service.
Giving drivers an easy to use delivery driver app is central to ensuring that their working lives are made as easy a possible. Other small perks such as good uniforms, free water and fruit and generous performance bonuses are all advisable as standard for a courier business that wants to retain drivers.
You may also want to consider candidates that might not necessarily have driving experience but make up for it with expertise in pharmaceutical or medical device industries. The switch of profession can ensure that some of the bad habits of long-term drivers can be avoided, and the experience in the industry can be harder to teach than the driving itself. Furthermore, they may also have some of the prerequisite training and clearances that can take months to attain for drivers that have never worked in the medical space.
On the flip side of the drivers, ensuring that your logistics and admin staff have access to real-time information on deliveries including up to date ETA's, and instant access to proof of delivery records can ease the anxieties of vulnerable patients that rely on the deliveries. Ensuring that the customer support staff can handle queries from such customers easily, ensures that the drivers experience on the doorstep is all the better for it. It also ensures that drivers are not wasting time dealing with queries from customers or customer support staff on the roadside as well.
Real-life Case Study of a Medical Courier Service
At SmartRoutes, we're constantly helping delivery businesses of all types to bring their operations to the next level of efficiency, growth and reputation. That puts us in a unique position of understanding what works for individual businesses within the last mile industry.
Of the numerous medical courier companies that we have supported, Homecare Medical have seen unprecedented success in using our delivery management solution. When they got in contact with us, they had recently been awarded a contract for delivering medical devices to patients homes throughout the entire country. As part of the contract, they knew they needed to have fully optimized routes for their drivers to ensure they would realize a reasonable profit based on the contracted quotation.
Furthermore, they had provided their drivers with a competitive salary to ensure they got the most responsible and trustworthy staff possible. In order to keep these staff. They wanted to ensure that their drivers had a mobile application that made their interactions with patients as frictionless as possible. This was done through great route navigation and having all the details of specific deliveries available in a secure, easy-to-access format.
In terms of the delivery experience, the ease of access to the information meant that they could easily cater to the specific requests of vulnerable patients and made contactless deliveries much more secure and hassle free.
You can learn more about how we supported Homecare Medical here.
Starting your own medical courier service?
Save time and money in delivery management. Automate your route planning and optimization. Impress your customers with superb communication tools.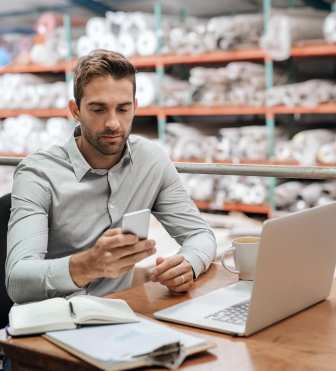 Making your medical delivery service a success
The real keys to success of any courier service is doing your homework and setting the right foundations for smooth operations.
When it comes to the medical delivery industry, this homework is much more rigorous and will almost certainly test your will. But that's what makes the space so appealing to those with the starting capital.
Having a robust business plan is a bare minimum, but having an understanding of regulations, required vehicle specs and a full understanding of what you need from your delivery management system will all be mandatory.
Starting your own medical courier service?
If you're in the early stages of starting a medical courier service or if your growing your current operations and want to scale it wisely, we'd love to talk to you. Building upon our existing experience, we can advise you on some other pitfalls and help to guide you in the right direction.
With years of experience in route planning and optimization solutions, we can also advice on how best to make it work for your specific needs.
If you're ready to talk, you can get in touch with one of our team here to see how we can help.
Frequently asked questions
1. What are the essential requirements for starting a medical courier service?
Starting a medical courier service requires careful planning and adherence to specific requirements. Some essential requirements include:
Vehicle: You will need a reliable vehicle with appropriate storage space for medical items. Refrigerated or temperature-controlled vehicles may be necessary for certain medical supplies.
Business Licensing and Permits: Obtain the necessary business licenses and permits for your area, which may include a healthcare transport permit.
Insurance: Secure insurance coverage, including liability and cargo insurance to protect against potential risks.
Driver Qualifications: Ensure your drivers have the required licenses, certifications, and clean driving records. Background checks may be necessary, especially for handling sensitive medical items.
Compliance: Familiarize yourself with healthcare regulations, including HIPAA, and ensure you and your staff adhere to them.
Logistics Software: Invest in logistics and tracking software to manage deliveries efficiently.
2. How do I ensure the safe and secure transportation of medical equipment and supplies?
Ensuring the safe and secure transportation of medical equipment and supplies is critical. Here are some steps to achieve this:
Proper Packaging: Use specialized packaging for medical items, including shock-absorbing materials and temperature-controlled containers as needed.
Training: Train your staff in proper handling procedures, security protocols, and safety measures.
Security Measures: Implement security measures like tamper-evident seals and tracking systems to prevent unauthorized access.
Temperature Control: Maintain proper temperature conditions, especially for items that require it, using refrigerated or insulated containers.
3. What regulations and compliance standards should I be aware of in the medical courier industry?
The medical courier industry is subject to various regulations and compliance standards. Some of the key ones to be aware of include:
HIPAA (Health Insurance Portability and Accountability Act): Ensure compliance with HIPAA regulations, which protect the privacy and security of patient information during transit.
FDA (Food and Drug Administration) Regulations: Some medical items, like pharmaceuticals and medical devices, may be subject to FDA regulations. Comply with these standards.
State and Local Regulations: Different states and localities may have additional regulations or permits specific to medical transport services. Research and follow these accordingly.
If you enjoyed this blog, you might also be interested in: