How to run a pharmacy delivery service
Pharmacies are undergoing a huge change in the way prescriptions are filled and delivered into the community. Learn how to start a pharmacy delivery service here.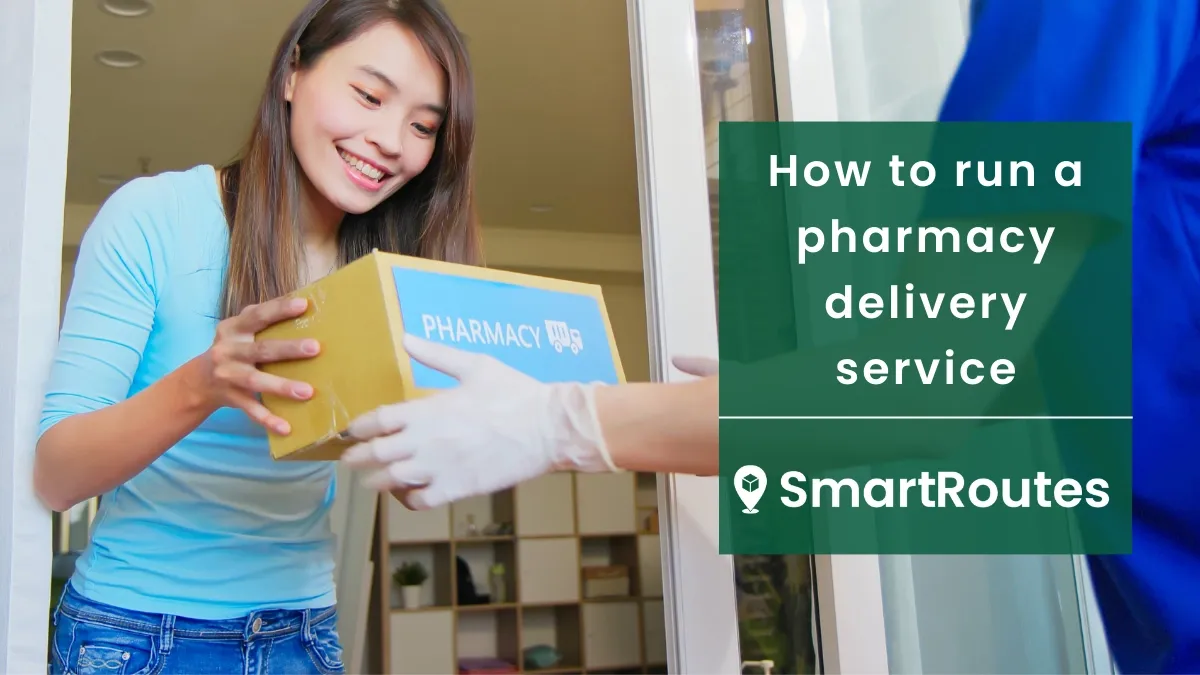 The way in which patients shop from their local pharmacy has changed. We no longer spend time in the pharmacy waiting for prescriptions to be filled and our busy lives mean that we want simpler options.
The eCommerce trend has moved beyond the realm of basic consumer goods like groceries and sneakers though, and home delivery services are now central to the way in which many people access medicines too. The reality is, that of those shopping online in  the U.S,  62 percent of online buyers shop at least once per month (Episerver, 2019). The likelihood is, you're seeing a lot more of your local UPS or Fedex truck than you did in the past.
If it's a physical product, it's most likely being delivered direct-to-consumer now. And that goes for pharmaceutical products too. But it's not likely to be UPS or Fedex delivering prescription medication.
The transit and delivery of pharmaceutical goods is much more tightly regulated than that of ordinary consumer goods. There are also further considerations such as patient confidentiality, data privacy and specific transit conditions like temperature control to be considered.
Delivering medication to people's homes can be a lucrative business though. So whether you're starting a pharmacy delivery business from scratch, or looking to add the service to your existing delivery business, this guide will help you to get started.
What is pharmaceutical delivery?
Why is pharmaceutical delivery important?
Can prescription drugs be delivered?
Case study: medical delivery service
The rules and regulations for delivery services
Temperature-control for pharmacy deliveries
Adherence to data privacy regulations
On-time delivery is key for pharmacy delivery
The risks and rewards of pharmacy delivery
What is pharmaceutical delivery?
Pharmaceutical delivery refers to the transport and delivery of medicines and pharmaceutical products to end-customers or patients. Pharmaceuticals are delicate, temperature-sensitive and need to be handled with due care and attention.
Why is pharmaceutical delivery important?
Unlike regular consumer products, pharmaceutical products are critical to the health and wellbeing of a significant cohort of the population. For anyone suffering from an illness or injury, getting timely delivery of medicine can be a literal lifeline.  
Since the emergence of the Corona Virus in 2019, pharmacy deliveries have played an even more important role for those that need regular delivery of medication. For those that are immunocompromised, getting their prescriptions delivered to their home was the only way to ensure their well being.
The reality is, we can all likely wait a bit longer for delivery of a new kitchen appliance for example, but someone that requires life-saving medication does not have the same luxury.
Can prescription drugs be delivered?
Yes. While the delivery of prescription drugs is a tightly regulated space, they can be delivered directly. Drug delivery is basically like any other delivery service, save for the difference in the product being delivered. In fact, with the rise in subscription services, many people have now turned to subscription services that deliver their medicine directly to their home at specific time intervals. In fact, many of the larger pharmaceutical retailers in the United States like CVS and Walmart now offer home delivery management services for prescriptions.It shouldn't come as a surprise that the big chains are ahead of the curve in terms of delivering medication to people. After all, they have the means and the knowledge to provide these services to their clients.
But it's not a closed shop. In recent times there have been other entrants into the pharmacy delivery market such as Pillpack (an Amazon venture). Critically, Pillpack sorts your daily dosage into separate containers and delivers them to your door.  
The thing with pharmacy delivery is that it can be a lucrative side to a delivery business. After all,  almost half of all Americans use at least one prescription drug at any given time.
Case study: medical delivery service
Homecare Medical delivers specific healthcare products directly to people's homes. Things like medical furniture, equipment and pharmaceuticals.
Using SmartRoutes, they gained total oversight of fleet and goods, reduced drivers hours by 18% and ensured greater transparency and service levels for their customers.
The rules and regulations for delivery services
If you own a delivery business and you;re thinking of branching out into pharmaceutical deliveries, you might be put off by the strict conditions and regulations that need to be satisfied first.
Likewise, if you're a small independent pharmacy, you might be wondering what you need to do in order to start your own delivery service.
That's what we've put together a quick and easy list for you below to move you one step closer to providing it. To clarify, we're not saying that it is the easiest delivery venture to start, and it definitely does require some prior knowledge of the field. But this should get you moving in the right direction:
Temperature-control for pharmacy deliveries
When it comes to medicine, the in-transit conditions required are far more stringent than those required of ordinary consumer goods. Like foodstuffs, medicine needs to be transported in temperature-controlled vehicles. In fact, for many medicines, a change in temperature of just 2 degrees can quickly spoil the delivery and render it 'waste'.

The first thing you need to have at your disposal for pharmacy deliveries is a fleet of temperature controlled vehicles. If you're acting as a third-party delivery service for a pharmacy, it is even likely that they will require you to provide live data on the temperature of their goods in transit. For some context, 27 of the 50 top-selling drugs require transport at 2 degrees to 8 degrees celsius.
The delivery of drugs and medications is part of the wider 'cold chain delivery' sector where the product needs to be temperature controlled from every step in the supply chain from creation to human consumption.
The thing with cold chain logistics, is that it is significantly more expensive than ordinary logistics too.
Adherence to data privacy regulations
Despite what many think, the US does have data privacy laws. Yes, they may not be a as stringent or centralized as the EU's GDPR regulations, but they do have a particular role in federal law.
In particular, the Health Insurance Portability and Accountability Act (HIPAA) is a piece of legislation that governs the patient confidentiality and protected health information (PHI).
Although the delivery of pharmaceutical products is a bit of a grey area under the HIPAA regulations, if you're a third-party delivery business, your pharmacy clients may well dictate that you get HIPAA compliance certification. You can check out more about HIPAA on the CDC website.
While it is possible to secure, you might want to start thinking about vetting employees, putting reporting mechanisms in place, and securing your customer data before splashing out on the cold chain fleet.
Security of fleet in transit
While there are no specific regulations around security standards for pharmaceutical goods in transit, you do need to consider it and ensure that your operation is adequately prepared to keep products and your drivers safe. Pharmaceuticals are high-value products and are prey for specialist criminals. Ensuring that your fleet is equipped with trackers, locks and emergency alarms is a standard pre-requisite.
While isn't an insurmountable hurdle, it is one you need to take into accounts factoring the costs and responsibilities of such a service.
On-time delivery is key for pharmacy delivery
Like with temperature control, getting products to customers on-time is critical to the success of any delivery service. Again, the reality of delivering drugs is that they are a vital part of many peoples lives. Unlike the delivery of a new gadget from UPS, getting medication on-time, every time is critical for people.
At SmartRoutes, we have helped pharmaceutical companies to ensure that deliveries are made on time, whilst keeping missed deliveries to the very minimum. Route planning and optimization can take a lot of the uncertainty out of deliveries with accurate ETA's attached to every delivery. Furthermore, the ability to automate SMS messages to customers in advance of delivery with the planned ETA, and a link to a live tracking portal for their delivery is key.
In routine delivery services, we label this 'delivery experience', but in pharmacy delivery, it is something much more important. It's the guarantee of communication that ensures customers get their medication every day without fail.
The risks and rewards of pharmacy delivery
As of 2021, the cold-chain pharmaceutical market is forecast to be worth $16.6 billion, which implies a five-year CAGR of 6%.
There's no doubt that it is a burgeoning market for any delivery business to get involved in. And there's no reason you can't.
But you need to make meticulous plans before entering the market. Unlike other areas of the last mile delivery market, it requires that every single product is delivered as promised. It also requires that you have a contingency plan for everything that can possibly go wrong in the course of delivery.
At SmartRoutes, we have helped delivery businesses to successfully enter the pharmaceutical delivery market. If you're interested in learning more about how we can leverage our experience and software to help you, get in touch here.