Home Delivery Medical Equipment: Case Study
Home medical equipment delivery is a fast-growing area of the medical industry. Here we look at why that is and a specific case study of how to do it right.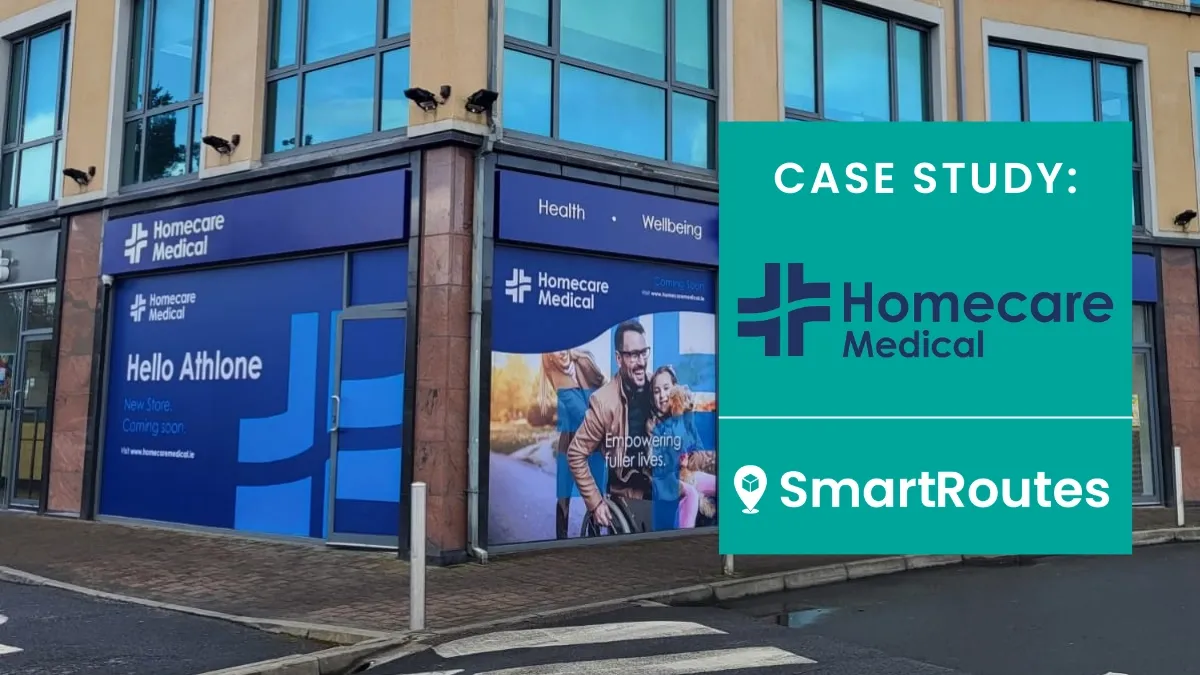 Home medical delivery
Home delivery of medical equipment and durable medical goods is now a huge and growing market. In this piece we will take a look at some of the reasons why people are choosing home delivery over going to a store and we will take a look at a specific case study including delivery route planner.
Since 2005, the home delivery of medical equipment industry has nearly doubled in size, with more people choosing supply deliver over traditional brick-and-mortar retailers. The growth is expected to continue, with supply delivery overtaking retailers as the primary method of getting medical supplies in the near future.
What we will take a look at in this article:
3 Reasons why medical home delivery is growing fast
Privacy
For many people the medical equipment that they are ordering is sensitive for them. They may not want others to know what they are ordering and they may not want to browse and shop for this equipment in a public setting. Home delivery of the medical equipment or durable medical goods is a better option for them in this case.
There's no other industry that protects privacy more than healthcare. In the US HIPAA and other regulatory practices regulate businesses serving healthcare needs ensuring that privacy is maintained. In this sense medical supply companies are held to higher privacy standards than other eCommerce providers. In the European context GDPR regulations apply to all businesses but also medical supplies to ensure that privacy is maintained. Only information that is pertinent to the completion of the sale contract is allowed to be held and it needs to be deleted once it is no longer necessary.
Service quality
Service quality is simply better with home medical supply delivery for a number of reasons. Firstly, medical supplies are best showcased and installed in the place that they are to be used. Secondly, the delivery people can help to install the supplies correctly as they may be bulky and hard to get into position by the patient themselves. Thirdly, asking sensitive medical questions can best be done in a person's own home and they may be more comfortable doing this.
There's very little room for error when it comes to answers about medical supplies, so people are moving to medical supply delivery. With no retail spaces to upkeep, there's greater opportunity to invest in teams  dedicated to educating and supporting patients. The extra product support results in a better experience, and people like that.
Convenience and Reliability
If there's one thing that the pace of modern life has taught, it's that time is precious. It's a lesson that people are showing they've learned through their shopping habits. In the past few years, consumers have reduced the amount of time they actually shop, opting for online services that are much faster. Speed and convenience are now top-ranking concerns for most consumers, and this is especially true for patients.
It should be no surprise, then, that medical supply delivery is becoming the preferred option for patients. Rather than making frequent trips to the store to restock, we check in with patients each month before fulfilling their recurring order. Assuming there are no changes, the whole process requires only a few minutes every 30 days. That's a lot of extra time that can be dedicated to things other than worrying about when you have to make another supply run.
Medical supplies are not items that people can go without, and this is where brick-and-mortar stores struggle. Retailers confined to a physical location are limited by the space they have to display products. This means they must be more discerning, choosing to only offer items that are the most popular or bring in the most revenue.
This is not the case for patients who use medical supply delivery. Orders ship directly from distribution warehouses, so availability is rarely an issue. Because there are no restrictions with retail space, medical supply companies can offer a far better range of products. For patients, this means fewer situations in which a patient cannot get what is needed. And that's very good news to someone who relies on them for their well-being.
Homecare medical
Homecare Medical is a family-owned healthcare business, employing 100 staff across Ireland. They supply quality products and services to the healthcare market. As part of their service, they supply critical products directly to people's homes right across the country. In this case study, we discuss how our Delivery Route Planner helped them to bring efficiencies their home-delivery service.

The Medical supply delivery problem
When Homecare Medical approached us, they had been awarded a contract for distributing specific healthcare products directly to people's homes throughout the country.
They have years of experience and expertise the distribution of products on a wholesale basis and home-delivery services, they wanted to bring further efficiencies and cost savings in the management of routes for drivers.
The key challenge would be to successfully plan routes and ensure successful delivery in a time efficient manner.
Medical delivery solution
Having identified the specific challenges and goals of the project, we set about working with Homecare Medical to help them optimize their services by working more efficiently.
We quickly had all logistics and admin staff trained on our intuitive Desktop Route Planner, and all drivers onboarded with the Mobile Driver apps.
The ability to set separate start and end locations for routes on a driver-by-driver basis also meant that drivers could return home directly after a route, knowing in advance what time they could expect to finish their working day.
When it comes to medical products, it is critical that they are delivered to customers promptly and that they can be updated about any delays.
In this regard, SmartRoutes' in-built GPS live vehicle tracking was important to the Customer Support staff. By assigning "Helpdesk" (read-only) logins to the CS team, they had oversight of vehicle locations, and access to up-to-the-minute ETA's, and were able to provide clarity and peace-of-mind to customers.
As with any nationwide delivery operation, there are always challenges. At SmartRoutes, we know that no two days in a home-delivery service are the same. That's why we work closely with all our customers to ensure success. In the initial weeks and months of this project, we worked closely to tailor certain solutions to the needs of Homecare Medical to streamline processes and make the most of all features.
Results
1 Week Setup
From the initial contact with SmartRoutes, all of Homecare Medical's Admin, Support & Driving Staff were onboarded and using the Desktop Route Planner & Driver Mobile Apps in less than a week. Getting up and running quickly is critical in any change management situation and the simple and intuitive experience was a great win for the implementation team.
Planning and Admin
Homecare Medical estimate that Route Planning time is reduced by 3 hours per day, a saving of 50% on administrative work.
Driver Hours
By maximizing vehicle capacities, driver hours are reduced by over 18% resulting in greater work-life balance and happier safer drivers. Driver hours being reduced also decreased the companies CO2 emissions helping the company to achieve its greening targets.
100% More Oversight
Customer Satisfaction and peace of mind is driven by accurate ETA's and prompt responses to queries & updates on deliveries. The management team were able to learn from the insights they got from SmartRoutes and were able to deliver a hugely improved experience for their customers including a live vehicle tracking portal for customers so they knew exactly when equipment and installation teams were arriving to their home.
To read more case studies you can check them out on our Customer Stories page. If you would like to know more about our services then you can contact us here and a member of our team will be in touch!