Driver shortage in the supply chain
With a global driver shortage threatening supply chains, we take a look at what's causing it and how it can be solved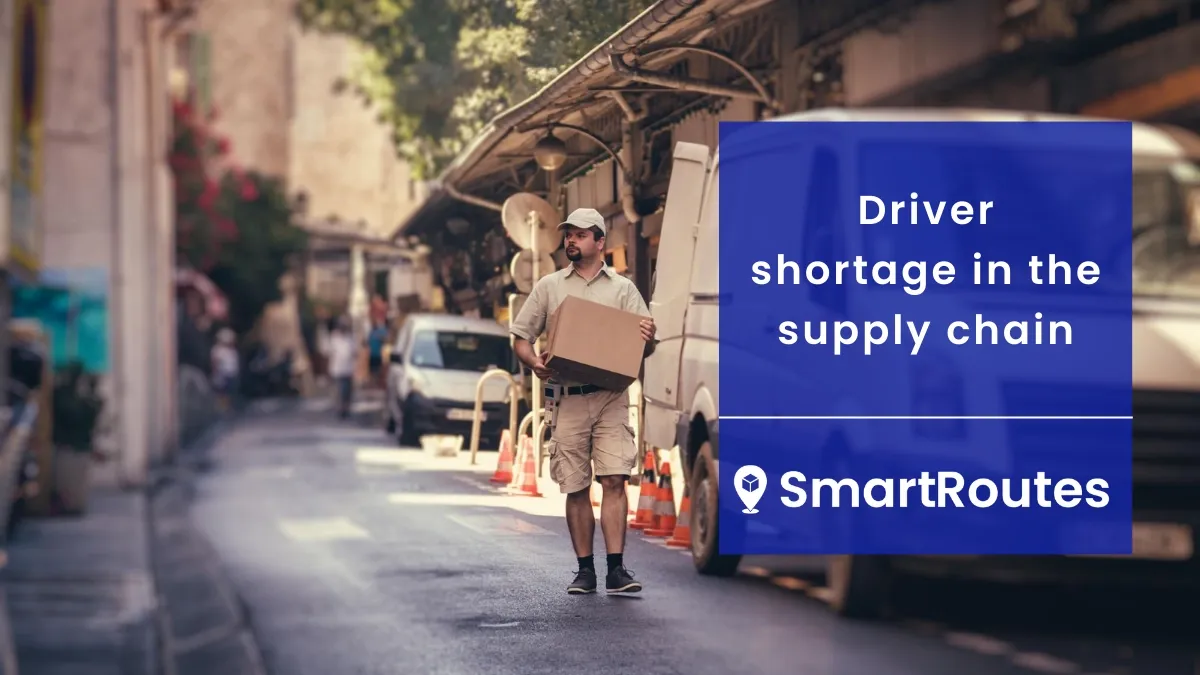 In recent months, there has been a lot of talk about a driver shortage and the consequences in store for supply chains as a result. Just this week, in the UK, MacDonald's ran out of milkshakes in the UK as a direct result of driver shortages. There's been similar warnings from the supermarket industry, with Co-operative Group chief executive Steve Murrells, warning that current food shortages are at a "worse level" than he has ever seen.
In the UK specifically, a combination Brexit, unsatisfactory working conditions for drivers, and rising costs for younger drivers entering the workforce have been blamed for the situation, but that doesn't tell the whole story.
The consequences for all businesses involved in retail will be significant but delivery and logistics companies are facing the most immediate consequences.
In this post we'll be taking a closer look at some of the problems, but we'll also be discussing how you and your business can cope with the challenges.
What's happening with supply chain driver attrition?
In recent months, headlines warning of a 'supply chain crisis' have been creeping into the media and social networks warning of empty shelves if shortages of HGV and van drivers is not addressed.
Across the world, but particularly in the UK and US, a decrease in the number of delivery drivers, coupled with record numbers of goods being ordered online and direct to consumers has created the perfect storm for the last mile logistics industry.
Large enterprises such as KFC, McDonalds, Co-op Superstores and Haribo have all seen the distribution of their products disrupted by shortages in  the workforce.
Many businesses are already warning of empty shelves come holiday season this year,  and it would seem that those fears are well-founded.
Why is there a driver shortage?
Those involved in the last mile of logistics have been sounding the warning sirens about an impending crisis in the industry for well over a decade. Quite simply, an aging workforce and a lack of new entrants was creating a classic supply and demand issue.
This seems to have come to a head over the past 12-18 months, but there has been a few other factors that have speeded up that process.
We take a look at the key factors causing the global driver shortage below:
Economic Factors
Over the past year, the covid pandemic has wreaked havoc with supply chains around the world. With factories shutting and shipping capacities limited by distribution to ports, the movement of goods on the global level was heavily impacted.
This disruption has led to a spike in trade as economies have re-opened and there is simply more demand for goods. This pent up demand has increased the volumes of goods to transported by last mile carriers, and there has not been then driver capacity to meet it. Estimates from the World Trade Organisation the volume of world merchandise trade is expected to increase by 8.0% in 2021.
In addition to an increase in global trade, a shift in consumer behavior over the covid lockdowns has heaped more pressure on the last mile industry. In the US alone, online sales increased by  43.7% year on year—and each quarter since registered growth in the 30-40%. With more consumers opting to shop online, there has been a boom in the parcel delivery industry as they look to meet the demand for direct-to-consumer services.
eCommerce puts particular pressure on the last mile industry, as drops per driver increase and the time to distribute goods is significantly more than that of in-store retail.
In the UK, Brexit has also meant added disruption to supply chains, but the departure of many drivers following the country's withdrawal from the EU has further compounded the issue. Many have returned to their home countries, faced by the uncertainty of visas and working rights.
Rising costs for new drivers
There was a time when becoming a professional delivery driver was a case of sitting a driving test, getting behind the wheel, and hitting the road. However, this is no longer the case and the barriers to entry for new drivers are now far bigger.
Driving lessons, driving tests, and annual competency courses have meant that the cost of becoming a HGV driver in particular, have prevented many younger workers from entering the driving profession. In the UK, the estimated cost of getting a HGV license stands at around £3,000, depending on ability.  Though technology like delivery route planners can help with these costs it is not going to gain wide industry usage for a few more years at least.
Insurance is another factor that has made it difficult to even get van drivers in the UK, with premiums rising annually and employers steering away from under 25's as a result. At 25, many young people have already embarked on careers, and the low sums and poor working conditions on offer in the road transport industry do nothing to entice them into the industry.
Drivers are an ageing workforce
With a lack of entrants at one end of the scale, the impending loss of many drivers to retirement is double the worry at the other end. In both the US and the UK, the average age of a HGV driver is 53, with over 60s representing 13% of all drivers. The situation is similar in the US, with the average age of a professional truck driver standing at 47 years old.
These numbers are currently moving in the wrong direction too, meaning that the pool of drivers in both countries is dwindling rapidly. With regulations becoming stricter, many have become disenfranchised with what they see as the unfair targeting of professional drivers at a time when the job is stressful enough already.
Poor working conditions for delivery drivers
There's no escaping the fact that courier delivery drivers have been under-appreciated at best, and disrespected at worst over recent years. Last year, we wrote about a newfound respect for delivery workers in light of the work they did while society was isolated from the covid pandemic.
However, many have since reported that at a time when they were making sacrifices and putting themselves in danger for the better of society, they were finding themselves without basic services at restaurants and fuel stations. If customers are to expect a great delivery experience then drivers too will need to experience decent working conditions.
Fast food operators McDonald's, Wendy's, KFC and Taco Bell were amongst those that shut dining areas amid the coronavirus outbreak and switching to a to-go model, emphasizing delivery and drive-thru orders. When drivers complained that they were not able to get basic food while serving the economy, their appeals fell on deaf ears.
And it's not like the working conditions were fantastic pre-covid either.
The industry requires workers to spend long, unsociable hours on the road. Early mornings and late nights are the norm for many drivers, as well as nights in the cab for many long-distance HGV drivers. Enticing new entrants to a job that requires them to do long hours away from family, often doing heavy work isn;t going to be easy. Especially when your asking them to switch careers at the age of 25.
Salaries for delivery drivers
For the hours involved in delivery driving, you'd expect salaries to reflect the time given to the job. But that hasn't been the case in recent years. We've compiled a list of the average salaries for drivers across the UK and US below:
Truck Driver in the US: $67,650
Delivery/Van Driver in the US: $34,730
HGV Driver in the UK: £30,200
Delivery/Van Driver in the UK: £22,426
By any standards, the responsibility of driving a truck or van is not reflected in the opportunity for financial gain in either country. By comparison, the average annual salary for a retail worker in the UK amounts to £22,500. For the extra responsibility of a vehicle and the heavy manual labor of moving parcels, the incentive is not there on a monetary level.
What this means for you in the supply chain
If you're running a logistics business or have in-house delivery operations for your consumer business, you may be facing the challenge of getting drivers to keep the wheel moving (pun intended).
Recruiting drivers is likely to become more challenging as you compete in an overstretched labor market.  If you're a driver, your bargaining power is about to become much stronger. We're already seeing signing-on bonuses from the likes of Marks and Spencer in the UK offering £2,000 signing-on bonuses.
Similarly, in the US, Baltimore-based Cowan Systems is offering new drivers a whopping $17,500 in bonuses to be paid within the first six months of employment.
For consumers, you may be finding it a little more difficult to find your favorite products on the shelf in the near future. It's also likely that the cost of household goods will rise as an increase in the cost of delivery is passed on at the checkout.
What you can do now?
At SmartRoutes, we're firm in the belief that driver retention trump's hiring drivers on a regular basis. As the saying goes, your staff are your greatest asset, and that is even more important when it comes to delivery drivers.
And it doesn't have to start with increased salaries.
Providing your drivers with a safe work environment should be the first show of respect from any employer. Making sure that drivers' vehicles are up to scratch and that all equipment such as boots, hi-vis vests and even small things like travel mugs and lunchboxes can show that you genuinely care about your employees. These are things that don't go unnoticed by employees and can make all the difference when they don't have to fork out their own hard-earned cash for equipment they need for the job YOU require.
Naturally, we also believe that providing up-to-date software and solutions can make drivers' lives much easier. A solution like our delivery route planner includes geo-coding to help drivers find drop-off points with minimal fuss. Courier apps with features like dispatch notes attached to stops, proof-of-delivery and easily accessible customer details can also make their day much smoother and increase the chances of retaining happy drivers.
We've mentioned earlier in this post that the barriers to entry are becoming more difficult for new drivers to overcome. If you have the means, providing clear career progression and incentives for driver performance could be a great way to ensure your business does not end up short staffed. For example, Wincanton in the UK have rolled-out a driver apprentice program that allows van drivers to become fully licensed HGV truck drivers. Similarly, Hermes has rolled out an apprenticeship program for LGV drivers to address the driver shortage problem. Again, showing that you care about the progression of your employees can have a long-lasting effect on driver turnover rates and loyalty to your business.
Why not try SmartRoutes today for free or book a demo here.
Frequently asked questions
1. Why is there a shortage of drivers in the supply chain industry?
Several factors contribute to the shortage of drivers in the supply chain industry. Firstly, there's an aging workforce nearing retirement without enough younger individuals entering the profession. Additionally, stringent regulatory changes, such as hours-of-service regulations, have limited the number of hours drivers can work, impacting their ability to meet demand. Moreover, the demanding nature of the job, including long hours away from home and physical demands, has made recruitment challenging. Combined with a lack of interest among younger generations and a competitive job market offering alternative career options, these factors have led to a shortage of qualified drivers.
2. How does the driver shortage impact the supply chain?
The driver shortage significantly affects the efficiency and reliability of the supply chain. One of the primary impacts is delayed deliveries, leading to disruptions in product availability. This delay can cause increased transportation costs due to the need for expedited shipping or the utilization of more expensive carriers. Furthermore, the shortage contributes to a reduction in capacity, forcing companies to operate with fewer available trucks and drivers, ultimately affecting the overall flow of goods and services through the supply chain. It also puts pressure on logistics operations, leading to challenges in meeting customer demands and potentially affecting customer satisfaction levels.
3. What steps can companies take to address the driver shortage?
Offering competitive wages and benefits is crucial in attracting and retaining talent. Enhancing working conditions by providing comfortable and modern equipment, ensuring fair and reasonable schedules, and offering better job stability can also make the profession more appealing.
If you enjoyed this blog, you might also be interested in: