What3Words + SmartRoutes: Integration
Our integration with What3Words is invaluable for delivery locations that might not show up on traditional address locations like loading bays of large warehouses.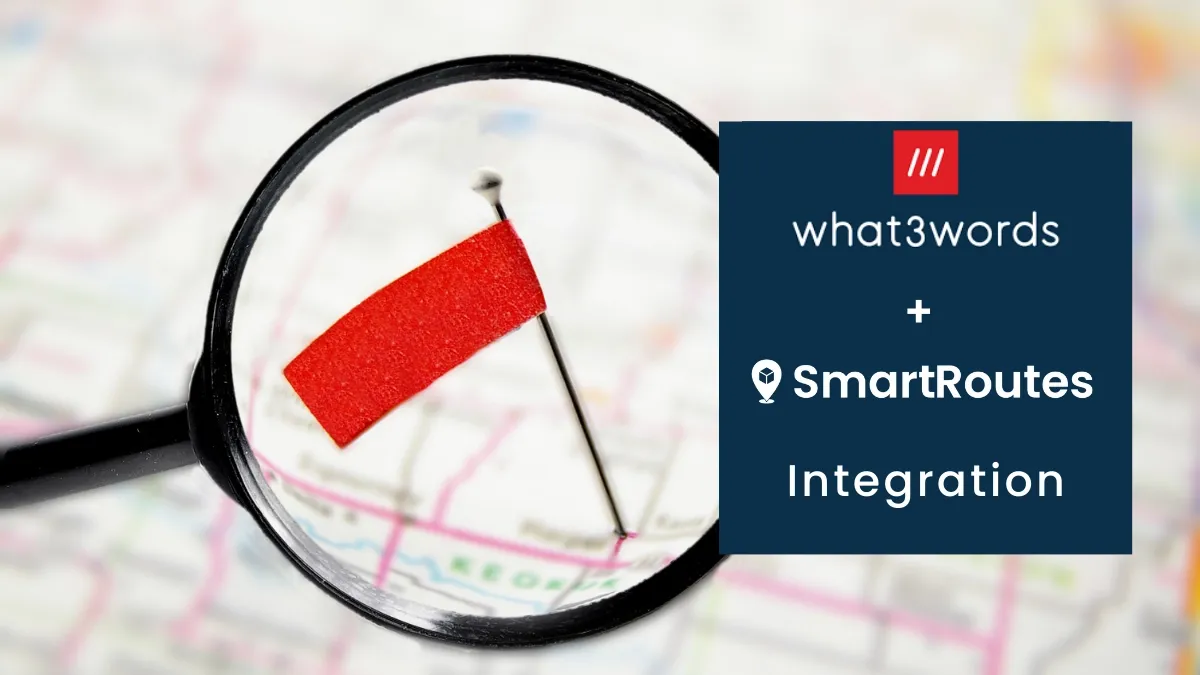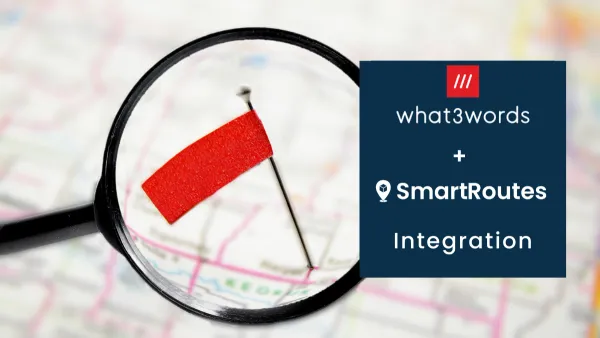 Maximising the first-time delivery rate can have one of the biggest impacts on the efficiency of any delivery service. Integrations with ecommerce platforms like WooCommerce and Shopify can streamline online ordering to delivery management. But locating delivery addresses can be difficult.
That's why SmartRoutes has partnered with what3words to help delivery drivers find the correct delivery location every time.
In fact, a study carried out by Aramex and what3words proved that using the solution addresses for city deliveries can reduce delivery times in the last mile by up to 42%, meaning faster delivery fulfilment and savings on mileage. This helps logistics teams to be an eco-friendly delivery service.

How what3words work?
SmartRoutes has integrated what3words into its system, allowing its business partners to use precise 3 word addresses to map their delivery routes. Customers can now enter 3 word addresses in their delivery information, which are then converted to GPS coordinates for route-optimised navigation. Deliveries are completed faster, businesses save time and fuel and customers get the best experience possible.
what3words provides a precise and incredibly simple way to talk about location. They have divided the world into a grid of 3m x 3m squares and assigned each one a unique 3 word address.
The what3words algorithm takes complex GPS coordinates and converts them into unique 3 word addresses. It means anyone can talk about anywhere with 3 simple words
Pop over to their website and check it out…. What3Words
What3words and contactless delivery
Throughout 2020, contact-less delivery has become even more important with elderly and vulnerable having to remain indoors. When taking orders from customers, you now have the option to ask for their what3words code and ensure that deliveries are always on-time and easy to access from the specified drop-off point.
Large warehouses and rural addresses
For anyone that has ever delivered to a large warehouse with multiple entrances, or rural addresses without house names and multiple houses with one yard, what3words provides the perfect solution.
By using 3 simple words, you can eliminate hours of time spent looking for the correct delivery location. It will also save you the headache of parcels ending up at the wrong location.
The delivery experience is more important than ever, and whats3words ensures happy customers every time.
The next time a customer requests you to leave their parcel 'in the porch', you'll know WHICH porch!
More about Address Validation
Our partnership with what3words is just another step we have taken as a business to ensure that drivers find valid addresses for every delivery, every time.
We have developed an automated process within our Delivery Route Planner that ensures that every address is correct before a driver even departs on their route.
You can check out how we do it in this blog.
Want to learn more?

You can check out the what3words blog, where they have discussed the many benefits of using their service when delivering goods.
If you'd like to see for yourself how it can help your delivery business to achieve over 95% first-time delivery rates, you can sign up for a free trial of SmartRoutes and begin testing it on the road right away.