Omnichannel Logistics might sound complicated, but it makes everything much simpler.
In this guide, we take a closer look at the definition of omnichannel logistics, exactly how it works in practice, and even provide you with some useful tips on how you implement your very own omnichannel solution.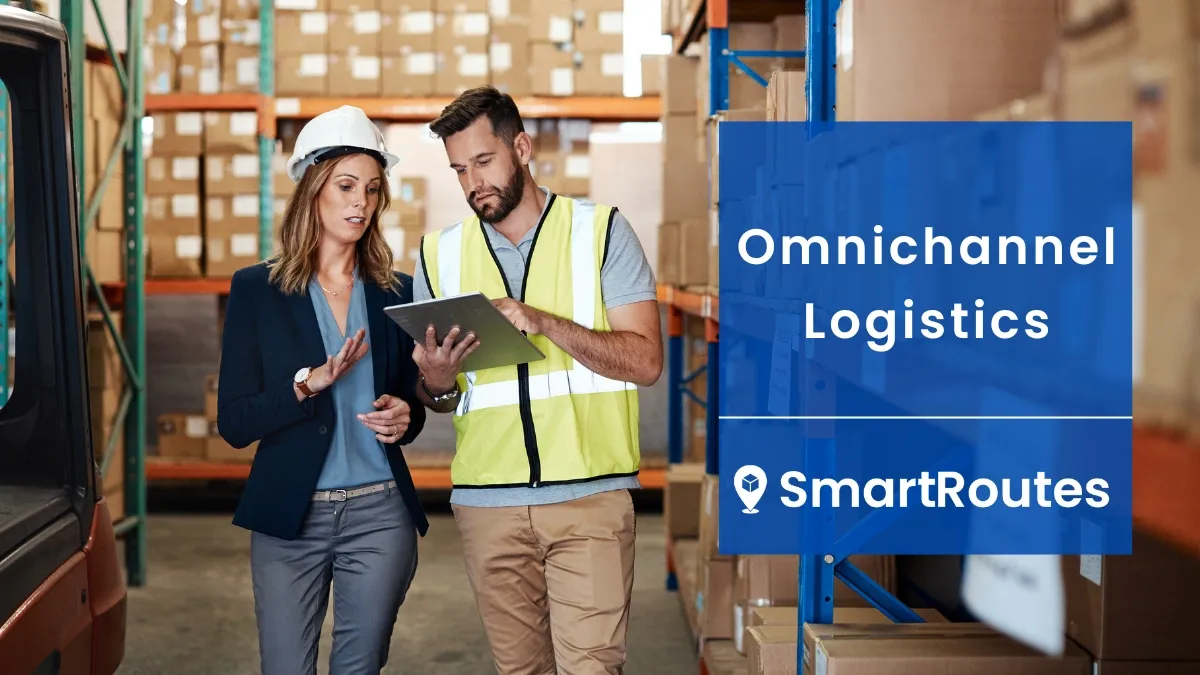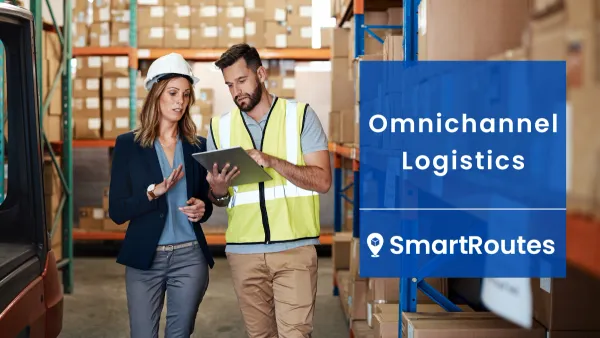 How consumers make purchases has gone through many changes over the past 20 years. In particular, the past 10 years have seen the most rapid transformation through the adoption of both new technologies like the smartphone and eCommerce solutions like online sites and native mobile apps.
With endless ways to purchase items today, the term omnichannel logistics has become something of a hot topic in the retail and delivery logistics industry.
As the name suggests, omnichannel logistics accounts for the new multitude of channels through which a parcel can pass in the modern supply chain. Whether that be a brick-and-mortar store or the same company's warehouse out of town, the omnichannel approach seeks to maximize each resource for the most efficient delivery process possible.
In this guide, we'll take a closer look at the definition of omnichannel logistics, exactly how it works in practice, and even provide you with some useful tips on how you implement your very own omnichannel solution.
We'll also look at how SmartRoutes has helped customers in the retail space to implement an omnichannel process and how to overcome some of the key challenges that our experts most commonly encounter.
What is Omnichannel Logistics?
Why should companies invest in Omnichannel?
How SmartRoutes enables the Omnichannel Delivery option for businesses
What is Omnichannel Logistics?
Omnichannel logistics refers to the alignment and synchronization of multiple parts of the last mile order and fulfillment process. Sometimes referred to as omnichannel distribution and omnichannel distribution, it is a practice adopted by the retail and logistics industry in order to ship products to buyers as quickly and efficiently as possible. Oftentimes, there will also be several stakeholders involved in the process such as the retailer, manufacturer, distributor, and wholesaler, making it more complicated than a standard direct-to-consumer retail service.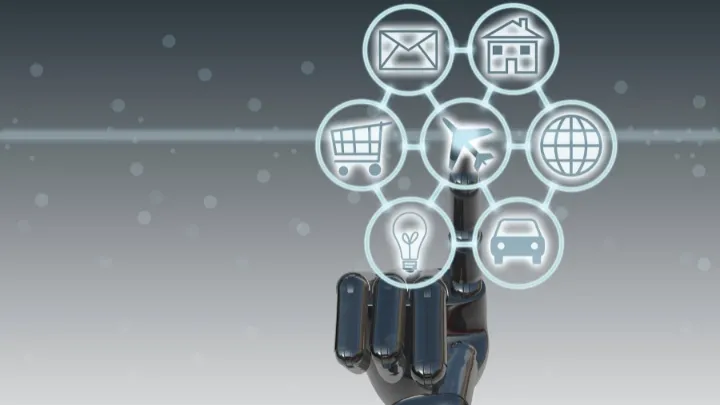 If this sounds a little complicated, it will probably make a bit more sense if we consider how it works in practice:
In 2023, US retail giant Target found themselves increasingly losing market share to Amazon. Coupled with high inflation and decreasing consumer confidence, they saw a decrease in sales of discretionary products.
However, speaking about how they had improved their services and expected returns, COO John Mulligan specifically credited a focus on their omni-channel logistics which made a measurable financial impact. In the Q2 results, he referenced:
4% growth in same-day services
7% growth in the 'Drive Up' service which allowed customers to purchase return items bought online through a convenient fast-food-style drive-through
The addition of a new Miami sortation center
The addition of a Last Mile Delivery extension facility in Smyrna, Georgia
Better leveraging stores' proximity to guests
A reduction in import lead times by 30 days when compared with the year previous
It's clear that Target focussed on the evolving way in which consumers want to buy products, and improving the omnichannel logistics process that the company employed as it was critical to meeting their demands. With almost 2,000 stores in the US, in-store sales are still a cornerstone of their business, but ensuring that they have that stock, that consumers have the option to buy online and have it delivered, or collect their item themselves is key to their future.
In effect, what Target aims to do is offer their customers ways to purchase products from them through any number of channels, whether online or offline, and get those same products to the customer in the most seamless and efficient way possible.
However, ensuring that inventory is measured across all of these channels is critical to reducing that import lead time in check and having a unified system that keeps track across all stores, warehouses and distribution depots is what makes or breaks the omnichannel strategy.
This strategy of unifying everything from online stores, brick-and-mortar stores, website apps, and more is the epitome of omnichannel distribution.
Sounds like a lot of work. Why should companies invest in Omnichannel?
Like the example above with Target, for the most part, the motivation to invest in omnichannel is 2-factored:
Increase profits by meeting changing/increasing customer demands
Decreasing costs by aligning every part of your business (store, online, warehouse, import etc.)
The reality is that companies like Amazon have got a head-start and worked relentlessly to optimize their omnichannel fulfillment & logistics over the past decade.
A customer in a small town buys an iPad?
It ships from a warehouse to a last mile fulfillment center and forwarded to the customer within the same day.  The other part of this jigsaw is that the inventory is being updated on a global system and when the United States runs low on stock, more is automatically ordered in bulk from the source country.
While it might be near impossible to match the type of resources that make a system like this work for a small business, making small improvements in your delivery logistics and sales processes can reap big rewards.
In particular, since the Covid-19 pandemic of 2019/20, consumers now have a much greater understanding and appreciation for where the goods they buy come from, and who is selling them. At SmartRoutes, we attribute this mindset shift to a renewed focus on local produce and retailers and the value they bring to our communities, and secondly, a better understanding of the impact these extra miles to deliver our goods has on the environment.
SmartRoutes Logistics Software
Streamline your entire delivery process, all from one platform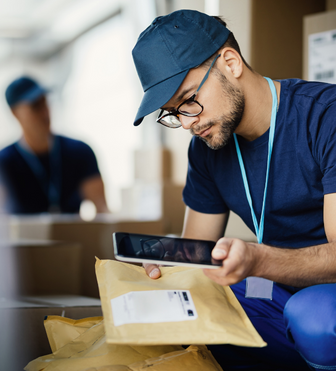 Businesses that have understood this have learned that you don't need to have the scale of Amazon's size to win back customers from the retail giant. Simply making the buying process more convenient for consumers will be enough to convince them to shop with you.
Still don't have an online store? Set one up with a convenient tool like Shopify.
Don't offer home delivery? Make use of the regular Postal service to test out viability
Don't have social media accounts? Set them up to allow customers to interact with you and learn about your business
It's all about taking the first steps into the unknown and making use of the 'channels' that are readily available to you at little or no cost. In doing so, you make it easier for consumers to find you, see what products you have, and conveniently buy from you the way THEY want.
As your business grows, it is much easier to integrate parts of your service than you might think. With endless delivery management and order fulfillment solutions out there that are quick, easy, and relatively cheap to implement.
---
How SmartRoutes enables the Omnichannel Delivery option for businesses
At SmartRoutes, we combine logistics, retail, and technology expertise to help all types of businesses bring their omnichannel process to life.
Working directly with businesses, we identify what their current business and logistics model looks like, where more sales and logistics channels can easily be added.
It's not a case of changing the way your business works, but identifying what already works, and supplementing it with new ways of communicating with customers, selling your goods, and delivering them with as little friction or disruption to your business as possible.
At the heart of what we do, is a solution that unifies all the business functions that already work through intuitive features:
1. Order Management Dashboard
SmartRoutes solutions center around route planning for businesses that do their own deliveries offering features that optimize every stage in the buying journey right through to door-step parcel drop-off.
The challenge for businesses is establishing a sales and delivery engine that is fully integrated can seem like a difficult task. The truth however, is that once you have implemented an order management system that keeps track of your stock, your business can scale without any extra work. Some of the benefits of integrating Smartroutes with your order management system include:
Automatic assignment of orders to delivery teams
Elimination of manual sorting and assignment
Seamless data transfer between your existing systems and our delivery management solution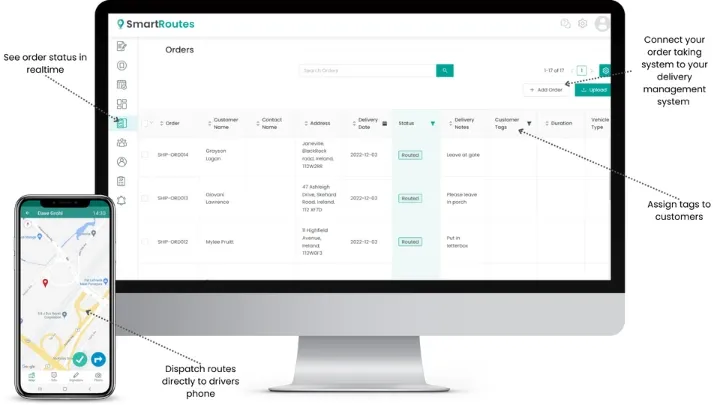 2. Delivery Experience
One of the key motivations for investing in omnichannel retail and logistics is the greatly enhanced service and experience you can provide to your customers. At SmartRoutes, one of our core beliefs is that by providing the best service possible to your customers, you enable your business to grow organically.
All the sales and marketing ploys in the world are great, but by building a reputation for 5-star service, you future-proof your business.
That's why we have placed so much focus on our Delivery Experience module, which aims to help businesses provide unparalleled experiences to their customers.
The kind that gets them talking!
Some of the benefits of our Delivery Experience module include:
Better communication with customers around orders and deliveries
Reduced admin and support for customer deliveries
Significantly greater first-time delivery rates and profitability
Unrivaled word-of-mouth recommendations from customers
3. Automated Route Planning & Optimization
For many of our existing customers, the first challenge they encounter when embarking on an omnichannel logistics project is planning and executing deliveries in the most time and cost-efficient way possible.
If you've organized deliveries using a combination of Google Maps and spreadsheets, you will have realized it's a tedious process that you just know could be better.
As our name suggests, smart route planning is at the core of what we do as a business. In simple terms, every order that your business receives has a delivery address attached, and our solution takes all of those addresses and creates the routes for you.
No manual input of details, everything is automated.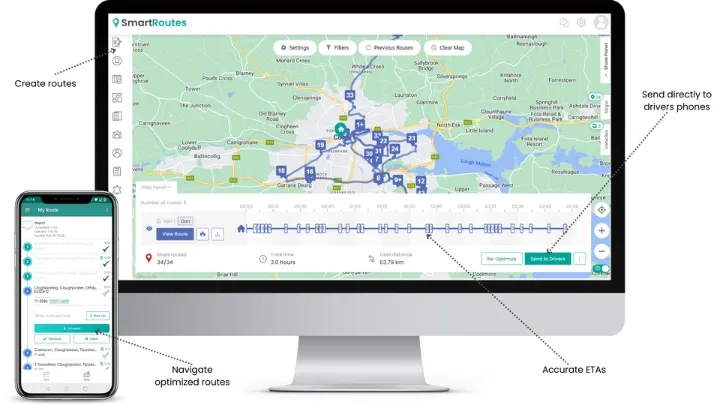 On top of those manual labor hours, our route optimization software then determines the most time and fuel-efficient way to complete those orders taking into account vehicle and driver availability, and parcel volume.
Some of the benefits of our Route Planning & Optimization module include:
An easy-to-use dashboard that requires little or no training
Instant ROI in terms of fuel consumption and driver wages
Cloud-hosted Desktop and Mobile apps that require no installation or setup costs
4. Multi-Depot Management Dashboard
As omni-channel logistics scales, one of the biggest challenges exists in synchronizing inventory, sales, delivery fleets, and staff across stores and warehouses. This is seen by many businesses as being the most challenging aspect of getting an omnichannel logistics operation off the ground.
Our Multi-Depot functionality allows business owners, logistics managers, and others involved in the omnichannel logistics operation a global view of everything that's happening across multiple business locations. The flexibility of this solution means that you can assign warehouse staff read-write access, specific depot and warehouse staff access to their own depots, and your logistics leaders full visibility over every depot with the ability to update it on the fly.
Some of the benefits of our Multi-Depot Management module include:
Toggling between depots at the click of a button
The ability to re-allocate resources and inventory based on a birds=eye view of you're warehouses, distribution depots, and physical stores
Greater control and transparency of every business function involved in the logistics process
5. Integrating with your current business solutions
Whether it's a Point-of-Sale or eCommerce platform that you've been successfully using as part of your day-to-day business, our delivery management system compliments it, rather than directly replacing it.
Although we include CRM and order management software, we also offer seamless integrations with solutions like Shopify, WooCommerce, Mintsoft and more.
In simple terms, that means that everything that happens in one of those systems automatically updates in SmartRoutes.
Receive an order through your online store?
It will be automatically added to the delivery route for the next day with any manual update. And while we have out-of-the-box API solutions for these solutions, we are always ready to help with custom integration of other solutions you currently use.
Some other benefits of SmartRoutes API integrations include:
Flexible REST API's that allow full integration with custom solutions you have already deployed
A two-way sync to provide delivery management in addition to the Dynamics CRM and case manager
A dedicated implementations contact at SmartRoutes that will help you determine the best workflows and process for your omnichannel logistics
Case Study: Transvalair
Transvalair is recognized as being one of the most successful third-party logistics providers in the UK. As one of the leading providers of 2-man delivery services, they find themselves with some of the UK's biggest furniture and homeware businesses on their book of clients.
However, working for multiple retailers, having hundreds of dispatch depots (both central and last mile), and having two-man teams of driver and mate can make the logistics of managing the business a challenge (and that's before we even get into the actual logistics!)
Synchronizing all of these internal and external stakeholders is a classic omnichannel logistics challenge.
However, the challenge becomes all that bigger when dealing with their primary cargo niche; furniture.
Miscommunications around deliveries, and thus, missed deliveries can come at a huge cost to a business like Transvalair as a vehicle with two crew members costs quite a bit to put on the road.
Miss a sofa delivery?
That's likely to be the only delivery made that day given the size of the goods in question.
When they approached us, they needed a system that was going to be watertight, but one that also synced with the multiple customers' order management systems. Working directly with their logistics management team, we devised a solution that helped drive 95% adoption of the online booking portal, and a measured increase of 40% more warehouse efficiency.
[You can check out more about how we helped them here: Transvalair's route planning & omnichannel delivery success.]
---
The way we see logistics is in transition and will look much different in the coming years
Without the benefit of a crystal ball, it's impossible to say exactly what the state of logistics will be in the coming years. However, the rapid pace of globalization, and the new ways of working, shopping and living will all force the last mile delivery industry to adapt to the preferences of consumers.
We have already seen the fruits of this shift in services like click-and-collect, buy-now, pay-later services, and increased focus on sustainability are already forcing retailers and logistics firms to re-think the way they operate.
What is an irrefutable fact however is that the omnichannel approach to logistics and retail will play a central part in the changes that come down the line.
Whether you're a mom-and-pop store, a retail giant like Walmart, or a logistics kingpin like FedEx, you're going to need to consider how your operations will be impacted by the shift.
We're experts in retail logistics!
At SmartRoutes, we combine some of the greatest minds in retail, logistics, and technology to help right omnichannel fulfillment strategy for your business. By using that expertise, our team can help you map out how a custom solution can work for YOUR business.
While our software is designed for retailers and logistics firms alike, it is in our partnership with clients that we devise the best solutions for you. At the end of the day, no one knows your business better than you, and with the right support and expertise on our end, we can transform your logistics operations.
Feel free to try SmartRoutes out for the next 7-days on us!
Frequently asked questions
1. What is omnichannel logistics, and how does it differ from traditional logistics?
Omnichannel logistics is a modern approach to managing the flow of goods and information in a way that provides a seamless and integrated customer experience across multiple sales channels. This strategy encompasses online and offline sales, allowing customers to shop and receive products through various avenues such as physical stores, e-commerce websites, mobile apps, and more. Unlike traditional logistics, which typically focuses on optimizing separate supply chains for different sales channels, omnichannel logistics aims to unify these channels. It emphasizes real-time visibility, inventory management, and efficient order fulfillment, resulting in improved customer satisfaction and operational efficiency.
2. What are the key benefits of implementing omnichannel logistics for businesses?
Implementing omnichannel logistics offers several significant benefits for businesses:
Enhanced Customer Experience: Omnichannel logistics ensures that customers can access products, information, and services through their preferred channels, resulting in a seamless shopping experience.
Improved Inventory Management: Businesses can optimize their inventory, reducing carrying costs and the risk of overstock or stockouts.
Increased Sales: By providing customers with multiple purchase and delivery options, businesses can reach a broader audience and boost sales.
Cost Savings: Omnichannel logistics can lead to cost savings through better inventory management and reduced shipping costs.
Competitive Advantage: Companies that implement omnichannel logistics are often more competitive and adaptable in a rapidly changing market.
3. What challenges do companies face when implementing omnichannel logistics strategies?
Implementing omnichannel logistics can be challenging due to several factors:
Inventory Management: Maintaining accurate and synchronized inventory across all channels is difficult but crucial to prevent stockouts and overstocking.
Technology Integration: Integrating various software and systems to support omnichannel operations can be complex and expensive.
Supply Chain Complexity: Managing multiple sales channels and delivery options can increase supply chain complexity, making it challenging to coordinate logistics efficiently.
Data Management: Handling and analyzing vast amounts of data from various sources is necessary for decision-making but can be overwhelming.
Change Management: Employees may need to adapt to new processes and technologies, which can be met with resistance.
4. How can technology, like routing software, enhance the effectiveness of omnichannel logistics?
Technology, including routing software, plays a crucial role in optimizing omnichannel logistics:
Real-Time Visibility: Routing software provides real-time visibility into the status of shipments, helping businesses track and manage orders effectively.
Route Optimization: It helps in optimizing delivery routes, minimizing transportation costs, and improving delivery time accuracy.
Inventory Management: Technology can monitor inventory levels across all channels, preventing overstock and stockouts.
Order Fulfillment: Automated order processing and fulfillment help reduce errors and speed up order delivery.
Customer Communication: Technology enables businesses to provide customers with order updates, increasing transparency and improving the overall customer experience.
Data Analysis: Routing software can analyze data to identify trends and areas for improvement, leading to more informed decision-making.
If you enjoyed this blog, you might also be interested in: