The 5 Best Ways to Improve Your Delivery Logistics Operations
Learn how you can improve your delivery logistics operations. Our tips and tricks!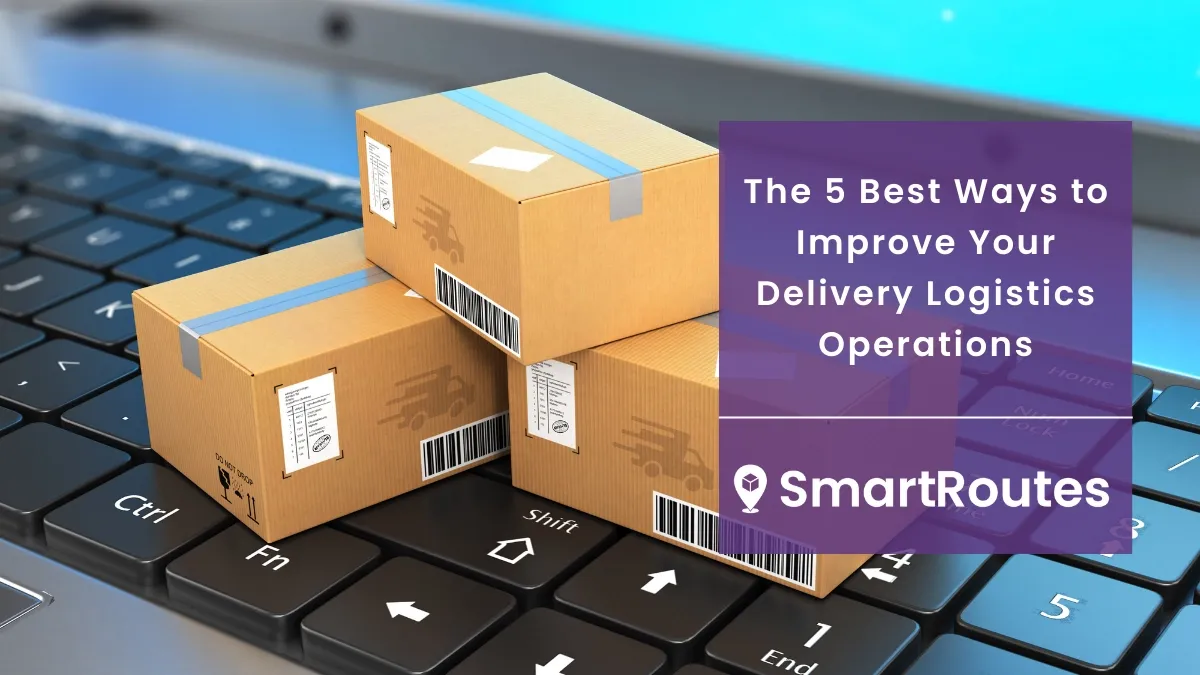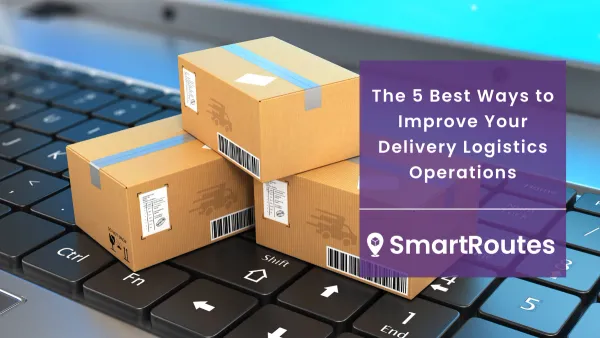 Delivery Logistics: Simple… yet not so simple?
While there are whole teams dedicated to it within even medium-sized organizations, and years-long courses at top universities, there is only one overarching aim of logistics:
"Move physical goods from A to B in the most timely and cost-efficient manner possible."
While that might seem a little over-simplistic, it is the truth. Delivery logistics is entirely about the ability to keep your entire delivery operation running in sync with your business, and getting goods to customers with minimal fuss. In fact, a good delivery experience for a customer is often one that the customer doesn't even particularly notice.
Nonetheless, failing to have your logistics process in order can lead to catastrophic business failures ranging from chaos in your warehouse and stressed out staff (and higher staff turnover), to irreparable damage to customer satisfaction rates and retention.
In this guide, we'll take a closer look at what exactly the logistics of delivery entails, what steps you can take to strengthen your own operations and a broader look at how technology solutions like delivery management software can make things more organized and easier to manage.
In this article we will take a look at:
5 Easy Ways To Improve Your Delivery Logistics
How SmartRoutes Helps Logistics Providers Improve Last Mile Delivery Services
SmartRoutes: The Complete Solution For All Your Delivery & Logistics Needs
What is Delivery Logistics?
Delivery logistics is a catch-all term that refers to both the operational and process-led tasks involved in the distribution and delivery of physical goods. The logistics of delivery involves (but are not limited to):
Warehouse Management
Route Planning & Optimization
Fleet Management
Customer Communications
After-sales support (proof-of-delivery, invoicing, data management, etc.)
Managing deliveries can be a full-on job with so many individual, yet related tasks at various stages of completion at any one time.  
If you run a courier business, or deliver your own goods using a company fleet of vehicles, it is important that you have a system in place that allows your service to run as smoothly as possible. This requires having a good understanding of this particular part of the supply chain, and knowing how to solve the challenges that arise within it.
SmartRoutes: The Complete Solution For All Your Delivery and Logistics Needs
Save time and money in delivery management. Cut carbon emissions. Get oversight on your fleet. Impress your customers with superb communication tools.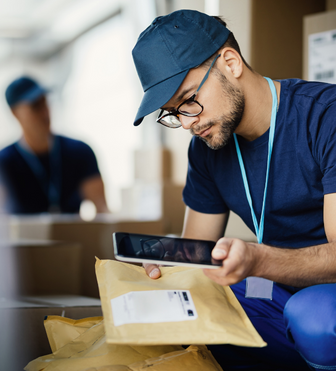 5 Easy Ways To Improve Your Delivery Logistics

1) Carry out a logistics audit
Getting a delivery operation running smoothly requires a little bit of inward reflection.
Your delivery service is completely chaotic and you want to bring some order to it, or it might already be a high-functioning function within your business that you want to bring to the next level.
Regardless, undertaking a logistic review will help you to identify areas of your logistical operations that can be improved. Doing a deep analysis of it might seem like a lot of work, and it might also seem like if there were inefficiencies, you'd already know about them.
By spending even a week observing every minor detail in your delivery team's daily duties, you will find countless little parts of the process that can be done more efficiently. What might seem like a saving of a few minutes or seconds here and there, can make a huge difference to the overall running of your business.
What is also important to note, is that as your business will scale, these inefficiencies can multiply and actually begin to cost your delivery business financially.
With margins so tight in the last mile industry, even small time savings count. It's easiest to nip those inefficiencies in the bud when they are still small.

2) A logistics app for drivers and warehouse teams
Driver turnover in the logistics industry is estimated to cost $7,000 per driver in the US.
That is a pretty staggering number, but the truth is, it might not even be the whole story. When a driver leaves you, they take with them a wealth of knowledge built up about the types of goods they deliver, the routes they drive, and in many cases, they also take the invaluable (and often-times only) face-to-face relationship that your business has with your customer.
Next, think about how difficult, time-consuming and difficult it was to hire that driver in the first place.
Preventing turnover doesn't have one fix-all solution. After all, it can come down to pay, conditions, personal circumstances, and a whole host of other factors.
But to give you the best chance of holding onto your key business asset, you need to provide them with the basics to get the job done with minimal fuss.
While a clean, trustworthy vehicle and proper uniforms and safety gear are the bare minimum they should expect, a proper delivery logistics app will also make their job a whole lot easier.
Delivery Driver Apps like SmartRoutes allow drivers to see their routes in advance on their mobile, and manage every aspect of the delivery process that they're responsible for in one centralized solution. Features of such apps include:

Route Navigation
E-signature and Proof-of-Delivery Capture
Re-Routing Capabilities
Easy access to customer and delivery details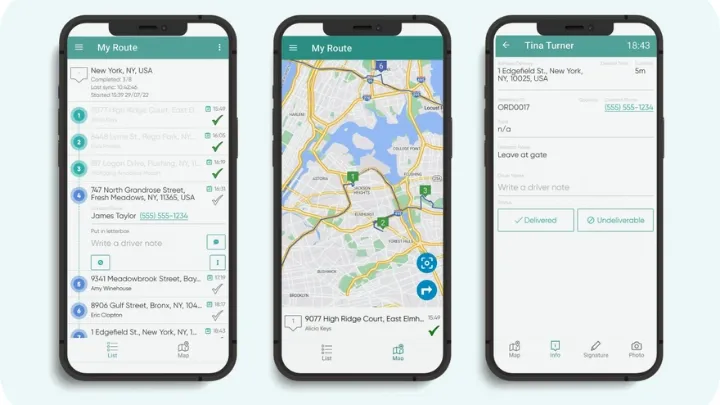 While pay and conditions are key to driver retention, they don't vary an awful lot across the industry. Ultimately, the reason a driver will opt to stay with any particular parcel logistics firm is because they feel valued and their job is enjoyable.
Embracing technology is the key to this and with any number of package delivery apps available at minimal cost, you really don't have any excuse for not having one.

3) Clear delivery notifications and communications

Communication is key.
That rings true for almost every area of any business, but nowhere is it more true than in the last-mile delivery game.
For online retailers in particular, their reputation is now reliant on customers receiving a 5-star service at every step from landing on the homepage of the website, right through to having their order delivered on their doorstep.
If you're doing parcel drops for your own D2C business, you already know the importance of this. But if you offer same-day delivery on behalf of a client, they're going to want you to go that extra mile for their customers.
That might seem like a pretty big burden to have to shoulder the responsibility for your clients' reputation, but at SmartRoutes, we see it as an opportunity to set yourself apart from your competition.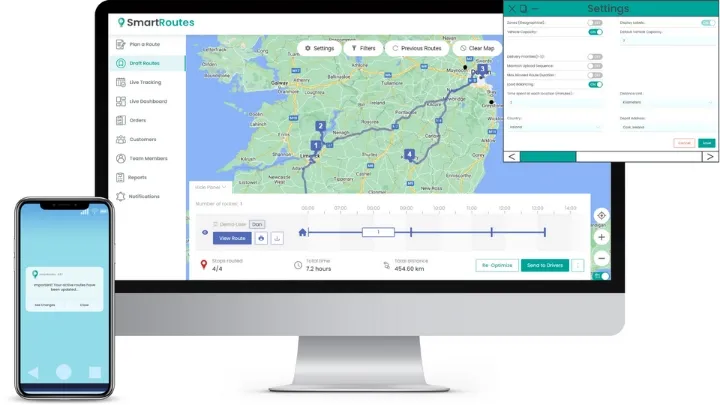 With our solution, you can automatically send SMS and Emails to customers based on the routes that are planned for your drivers. If your driver is scheduled to arrive at 10:30 in the morning, the customer can be made aware of it the night before without any manual input on your end.
4) Robust onboarding and logistics training for staff
Just bring them in and they can learn on the job, right?
Wrong!
As it is precisely that belief that has many logistics providers in the mess that they are in today.
When you hire staff, you need to give them the best possible start to allow them to get up to speed as quickly as possible. That means actually dedicating another member of staff to train them in the processes, systems, and tasks they need to be familiar with to provide the jobs you expect of them.
Now you don't have to go out and hire a dedicated trainer, but you do need to delegate the responsibility for helping them get up to speed to someone experienced. You also need to be mindful of what it will take for both the new hire and the person tasked with doing the training.
Training and development shouldn't just be a tick-the-box exercise though.
We've all been there. We've been in a job for months, and now it's too late to ask that seemingly stupid question that we think we should know the answer to.
The truth is though, there are whole teams within the business that are too afraid to ask that same question. Quick training sessions can help to educate your staff about things you feel that are important, but it also helps to unearth those seemingly silly questions that everyone is afraid to ask.
5) Fleet Tracking and Delivery Tracking
What's more, you can embed a link within those notifications that can allow your customer to live track their delivery via a GPS signal from the driver app.

Finally, once a delivery is complete, the photo proof will automatically appear on the centralized delivery management system so that customer support staff can work quickly and easily handle queries.
With delivery tracking, customers can use a real time ETA and plan their day around their delivery. This is particularly important if the item being delivered is of high monetary or emotional value. For example, a piece of furniture like a sofa for a new home is likely to be a big deal for a young couple, and they're going to want to be there to make sure it's the right one, and that it can be brought inside by the delivery crew.
By knowing exactly what time to expect the crew, they don't have to spend their day waiting around. That's great for your customers, but it also ensures that you don't have the added delivery costs associated with late and missed deliveries!

How SmartRoutes Helps Logistics Providers Improve Last Mile Delivery Services
Transvalair is one of the UK's leading logistics providers, catering predominantly to the commercial and eCommerce sectors.
By implementing SmarRoutes delivery management system, they managed to increase warehouse efficiency by up to 40%, while enabling them to more accurately measure success and improve performance.
You can check out the full case study on how we helped them achieve it here.
SmartRoutes: The Complete Solution For All Your Delivery & Logistics Needs
SmartRoutes offers a flexible and easy-to-use solution that can help to transform everything from large courier businesses to small brick-and-mortar stores starting out with their own home delivery service. Features include:
Route Planning & Optimization
Order Management
Easy-to-use driver app
Centralized desktop management system
If you'd like to know more about how SmartRoutes can help drive your business forward, you can sign up for a 7-day free trial or feel free to book a call with one of our experts today.
Frequently asked questions
1. What is meant by delivery logistics?
Delivery logistics refers to the process of planning, implementing and managing the movement of goods and services from one location to another. It encompasses all activities involved in the movement of products, including transportation, storage, inventory management, and order fulfillment. The primary goal of delivery logistics is to ensure that products are delivered to the right place, at the right time, in the most efficient and cost-effective manner.
2. What are the key challenges in last-mile delivery logistics, and how can they be overcome?
Last-mile delivery logistics refers to the final leg of the delivery process, from a distribution center to the end destination, which is often the most complex and costly part of the supply chain. Key challenges in last-mile delivery logistics include congestion, high delivery costs, and customer delivery preferences.
3. What is the role of technology in improving delivery logistics operations?
Route Optimization: Advanced software and GPS technology help optimize delivery routes, reducing travel time and fuel costs.
Real-time Tracking: GPS and IoT sensors allow real-time tracking of shipments, improving visibility and enabling better customer communication.
Inventory Management: Software systems assist in managing inventory levels and ensuring products are in stock and ready for delivery.
Data Analytics: Data analytics and artificial intelligence help in making data-driven decisions, optimizing routes, and predicting demand.
Customer Experience: Technology enhances the overall customer experience through features like online tracking, delivery notifications, and flexible delivery options.
If you liked this blog you may also be interested in: