5 reasons why you should be using furniture delivery software
Delivering furniture comes with its very own set of challenges. Learn how delivery software can help your business save money and delight customers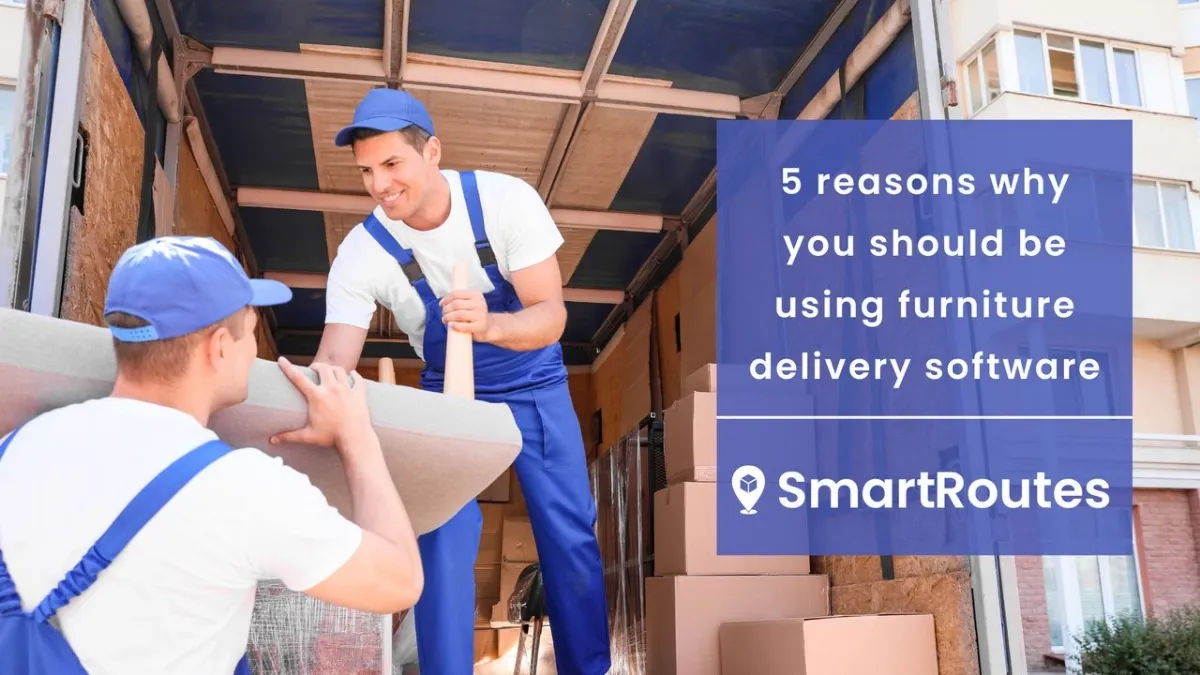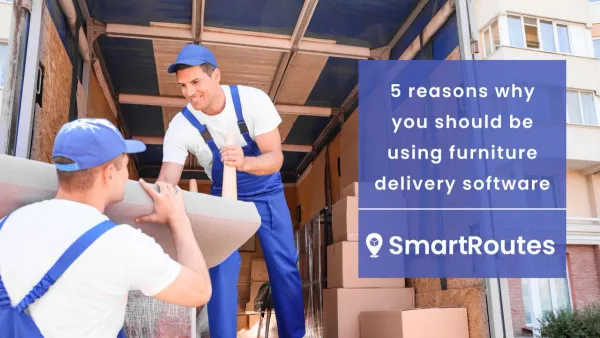 Even if you are a furniture store owner, it might come as a surprise to learn that furniture sales represented a pretty substantial 17.28 percent of total U.S. e-retail sales in 2021.
Unlike delivering conventional parcels that can be left on a porch or handed over to a customer, furniture delivery requires a little more strategic planning and coordination with customers to ensure a smooth process.
If you own or manage a furniture company, you'll be well aware of how significant a purchase of a new sofa, bed or even wardrobe can be for your customers. Whether it's a young couple getting furniture for their first home, or elderly customers upgrading a mattress for greater comfort, it can often be a very considered decision that involves them spending significant money.
The same is true for you as a business owner.
After all, these pieces are high-value items and ensuring their efficient, safe and professional delivery is a key to the long-term reputations and success of your company.
Today, furniture delivery software is designed to make the entire process of delivering furniture as simple and efficient as possible. Ultimately, it's about improving the efficiency of your delivery routes, the experience of delivery drivers, and the delivery experience for your customers.
Below, we will take a look at some of the key features of furniture delivery softwares that can help take your business to the next level!  
What is Furniture Delivery Software?
5 reasons to start using a furniture delivery system today
Case Study: Castle Davitt Furniture
What is Furniture Delivery Software?
The term Furniture Delivery Software refers to technology solutions that help furniture businesses to plan, manage, and optimize every aspect of the delivery process. This includes everything from planning routes and delivery schedules, giving drivers easy access to information about deliveries, and keeping your customers in the loop about when they can expect their deliveries to arrive.
Such solutions eliminate many of the inefficient activities like planning routes manually, missed deliveries (no one being present to provide access to the building), and even helps drivers to find their drop off locations without any of the usual stress.
Below, we'll detail 5 benefits of getting started with a delivery management system for your furniture business.
SmartRoutes' Furniture Delivery Software
Save time time per delivery and increase driver capacity. Automate your route planning. Keep your customers up to date with realtime updates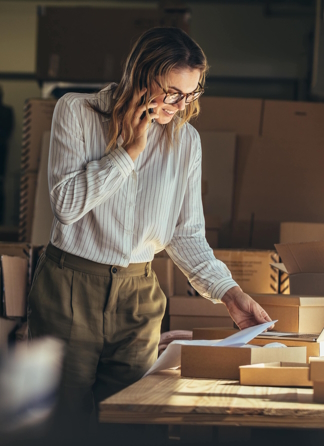 5 reasons to start using a furniture delivery system today
Reduce driving time and save on fuel with optimized routes
If you own a furniture business, furniture is your primary focus.
What many come to learn, however, is that planning and scheduling deliveries can quickly eat into valuable time that can be spent on the core of your business. If you are undertaking multi-drop deliveries routes for more than one vehicle, planning the route you take, estimating the time you'll arrive and then relaying the information to your drivers can end up taking hours.
Route planning functionality removes all of this by pulling all orders from your existing systems and creates optimized routes for your deliveries based on the address. You simply input your available drivers, vehicles and any other information and the routing solution takes care of the rest.
The result is at least 6 hours of manual planning time saved over the course of a week, and a reduction of up to 33% on the distances traveled while doing the deliveries. Of course, a deskside lamp isn;t going to be the same size as a sofa, but a top furniture delivery solution will account for capacities of vans and the items themselves when creating routes.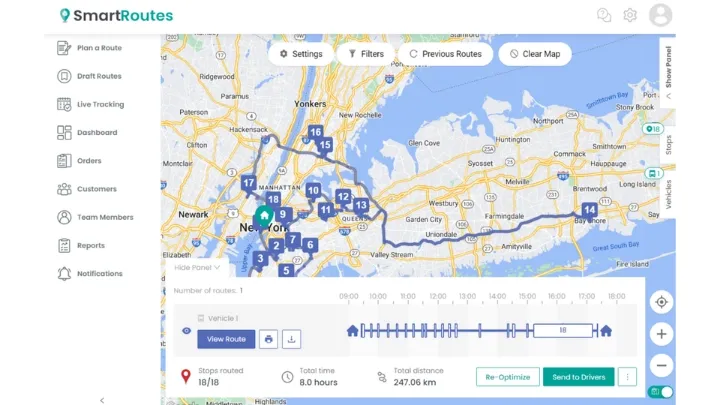 Eliminate driver stress by removing uncertainty
In an industry where driver turnover rates are as high as 90% year-on-year, you want to try and keep your reliable drivers for as long as possible.
For drivers, there is no worse feeling than arriving at a home and discovering that a door frame is too narrow to fit a piece of furniture through. It's even more frustrating to later learn that there was a request from the customer to leave it in an adjoining garage because they are having the windows replaced in the house and plan to get it in that way when the job is being done. It means the driver has wasted time, has had the added headache of wondering how to get in, and now they have to return to the same location all over again and maybe encounter challenges with the garage door as well.
Mobile driver apps that integrate with furniture delivery software have standard features such as routing, scheduling and navigation, but they also have the ability to store specific instructions on each drop, complete with contact details for the customer.  These tools can make a drivers job infinitely easier and avoid a lot of the post-sale admin tasks that arise from poor communication between the store, customer and delivery driver.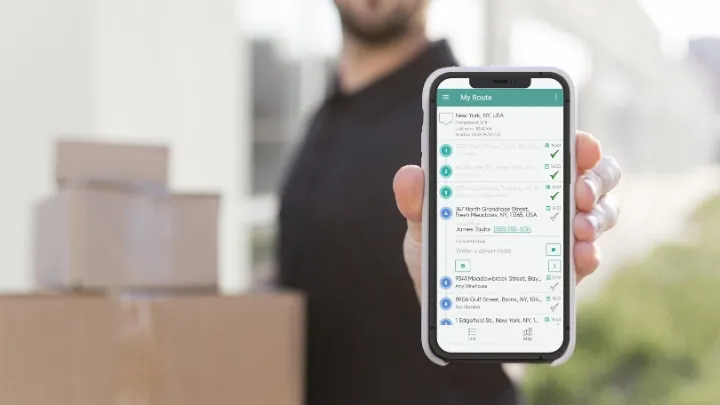 Maintain your business reputation by keeping customers updated on their delivery
Furniture is a significant investment for a lot of people, and before they make the purchase, they tend to get direct referrals from friends and family about their experiences with furniture stores in the area. With word-of-mouth being your strongest marketing tool, you want to ensure that your business reputation is 5-star.
A dedicated delivery solution will allow you to keep your customer informed of the progress of their delivery at every step of the way. Once routes have been sent to drivers, customers automatically receive a branded SMS and/or email as a customer notification, complete with the driver's name and the estimated delivery time. In addition, customers can also be provided with a last-mile tracking link which gives them real time visibility over their order.
Such features work to put your customers at ease and give the impression of a business that respects the decision to shop with them.
This is proven to increase customer satisfaction and sales through word-of-mouth!
Avoid costly disputes about damages
Disputes about deliveries and the condition of items upon delivery are an unfortunate reality for furniture sellers. Even more unfortunate, is that it is often too expensive to reimburse customers with new items and there is no sure way to cover yourself from fraudulent claims.
Proof-of-delivery software goes a long way to reducing the number of claims and gives you a much stronger position when such incidents occur. Using a driver mobile app, delivery drivers can take photos of every angle of the piece of furniture as it sits at its final destination. Having photos automatically attached to your order details when customers call can give you the confidence to make a judgment call on how to proceed with disputes.
In addition, there is also sign-on-glass technology built into most driver apps that enable drivers to get a signature from customers upon delivery stating that they received the item in the agreed condition and that everything is above board.
Even one dispute between you and a customer can lead to a negative backlash online that can be hard to get a handle on before it spirals out of your control. Give yourself the best chance of avoiding such scenarios with POD technology!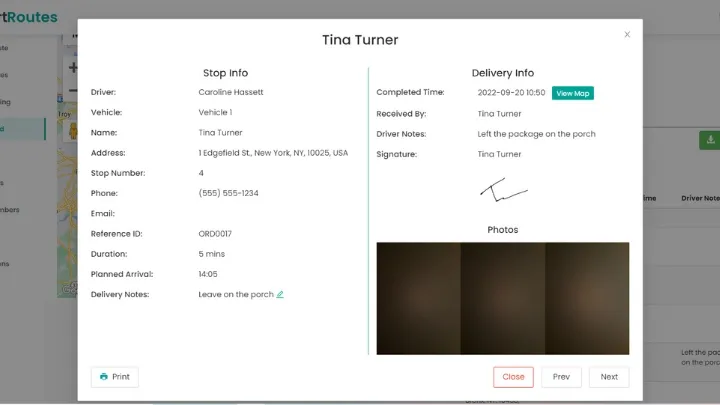 Scale your business with ease
Growing a business is one of the most rewarding experiences for any entrepreneurial-minded person. After all, when you start any business, you need to dream big!
But with success, come success problems (or success opportunities as we like to call them!)
The more you sell, the more you deliver, and the more vans, drivers and in-store staff you need to manage. While this is great, you can quickly discover that new challenges arise as the business grows and simple tasks begin to take up most of your time. Unfortunately, this can be the biggest killer of growth for business.
Automation is the answer!
While automation can sound scary or intimidating, it's actually much more simple when those who design furniture delivery software already know the processes and have out-of-the-box solutions ready to cut hours of admin time from your schedule by automating tasks.
For a typical furniture store, they can receive an order online or in-store, capture the customer's details from them there and then, and then add them to a list of orders. Based on how many vehicles and drivers you've then allocated in the system, the route optimization feature will create the routes and send them to the drivers' mobile apps the day before.
Once drivers complete their deliveries on the road, they are marked complete with proof-of-deliveries recorded on a central database. You can even have invoices automatically sent to your end customers once they have received their goods.
All of this makes scaling delivery business simple. Add your drivers, add your vehicles, set your driver break times and working hours, and the software does the rest for you.
You now have an infinitely scalable delivery process for your furniture business.
Helping Castle Davitt Furniture to simplify their route planning and improve the delivery experience
At SmartRoutes, we've helped lots of furniture shops to implement a solution that helps to make their delivery operation more professional.
When Castle Davitt furniture approached us, their problems were typical of those that we had seen before:
Too much time being spent planning routes efficiently using Google Maps
A realization amongst drivers that they were missing stops or doubling back on areas they were already in
Too much time spent connecting with customers to notify them of delivery times
After implementing SmartRoutes, they instantly saw real results:
30% reduction in planning time per day
70% reduction in inbound customer queries
25% increase in deliveries per route for each vehicle
We're ready to help you get started with a furniture delivery solution
Whether you're starting with furniture delivery for the first time, you're experiencing problems with your existing delivery operations, or your business is growing and you want to bring more control and scale to the process, we have a solution for you.
We have a dedicated team on-hand to listen to your needs, provide solutions, and get you up and running with a no-obligation trial of our route management software. You can check out the full suite of features that can help you and get a sense of what value it can bring to you.
Feel free to get in touch with our team to book a no-commitment demo today!
Frequently asked questions
1. What are the benefits of using furniture delivery software?
Efficient Route Optimization: It helps in planning the most efficient delivery routes, reducing fuel consumption and saving time.
Real-Time Tracking: Customers can track their deliveries in real-time, improving transparency and reducing anxiety.
Cost Savings: By optimizing routes, reducing fuel expenses, and improving overall delivery efficiency, it leads to significant cost savings.
Reduced Errors: Automation reduces the likelihood of human errors, ensuring more accurate and reliable deliveries.
2. What are the key features of a good furniture delivery software?
Route Optimization: It should provide intelligent routing algorithms to optimize delivery routes for speed and efficiency.
Real-Time Tracking: The software should offer real-time tracking for customers and managers to monitor the progress of deliveries.
Communication Tools: Effective communication tools, such as SMS or email notifications, for keeping customers informed about delivery times.
Proof of Delivery: The ability to capture electronic signatures or photographic proof upon delivery.
Analytics and Reporting: Detailed reports and analytics for performance evaluation and improvement.
3. How does furniture delivery software improve customer satisfaction?
Real-Time Updates: Customers receive real-time updates on their delivery status, reducing uncertainty and increasing trust.
Accurate ETAs: It provides accurate estimated time of arrival (ETA), minimizing wait times and frustration.
Fewer Errors: Automation reduces the risk of errors, ensuring that the right products are delivered on time.
4. Is furniture delivery software suitable for small businesses or only for larger operations?
Furniture delivery software can benefit businesses of all sizes. While larger operations may have more complex needs, smaller businesses can still gain substantial advantages, including route optimization, cost savings, and improved customer satisfaction. Many software solutions are scalable and adaptable to meet the specific requirements of different business sizes, making them a valuable asset for small and large furniture delivery businesses alike.
Enjoyed this blog? You can read similar blogs below: