The 3 Best Driver Tracking Apps This Year
Driver tracking apps are much more than a way to see where your drivers are. They are the basis of all the changes that technology will make to last mile delivery in the coming decade.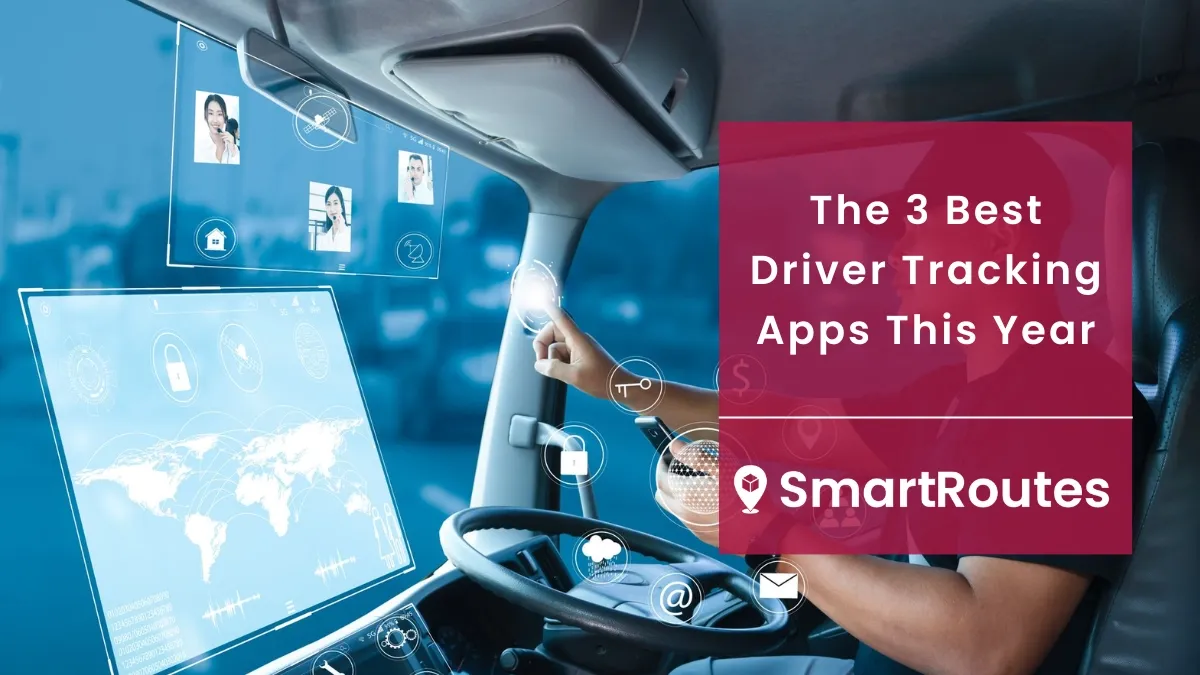 What is driver tracking software?
Anyone who runs a delivery management team knows the uncertainty of field operations. Once those vehicles and drivers leave the depot anything and everything is likely to go wrong. It can be traffic snarl-ups, vehicle breakdowns, people not being there to receive deliveries, or simply locations that are hard to find. Sending vehicles out in the field is an inherently uncertain activity.
I was struck by a story that one of our clients told me recently where he [the dispatch supervisor] was surprised to see his drivers all arriving back to the depot within 10 minutes of each other. Not just one day, but every day. The uncertainty of delivery operations is being changed now by technology that brings visibility and clarity to what is happening in the field in real-time.
Driver tracking apps are the reason why that dispatcher was amazed at the coordinated return of his drivers. Tracking drivers via GPS on their mobile phones allows software systems to see exactly what is going on and then help optimize it. Oftentimes this might be to factor in things like roadworks or a broken down vehicle and to ensure that other drivers pick up the slack or that alternate routes can be found quickly. The updates to drivers in the field need to be done immediately via mobile app with revised dispatch notes or new routes being fed into the drivers phone.
Why use driver tracking apps?
Driver tracking apps then are more than just seeing where a driver is at any one time, it is more like an holistic view of operations that allows better decisions to be made while the delivery is happening. Driver tracking via GPS is real-time data that allows delivery teams to become data-driven and more intelligent.
Driver tracking is not without its controversy of course as many professional drivers have mixed feelings about their movements being tracked by dispatch managers. Tracking real-time activity shows fleet tracking managers where inefficiencies are occurring and what they can do to eliminate them. It also creates intelligence within the organization that certain routes are the best and can subsequently be 'fixed' and passed to other drivers. This reduces a company's dependence on local driver knowledge and undermines the position drivers might have with companies as being the brains behind the delivery operation. In gig-economies or contractor-driver situations this represents a real shift in the balance of power. However, technology is a force of change in every industry and the overall efficiencies granted by driver tracking are make-or-break for most 3PL or delivery operations. Without intelligent data on driver movements, companies cannot estimate time of delivery correctly, they cannot reduce cost-per-delivery and then ultimately, cannot compete in the marketplace. For that reason driver tracking is an essential technology for logistics managers and dispatchers to implement this year.
Benefits of driver tracking software
Before we look at some of the best driver tracking apps on the market, let's take a quick look at the benefits of fleet tracking software:
Optimizes routes
Route optimization is really an algorithmic formula that takes into account hundreds of different factors like traffic conditions, and vehicle dimensions and speed to determine the best and fastest route. In order to send someone on that route the GPS tracking of the phone is essential. Without driver tracking route optimization doesn't work. This is before we even talk about reoptimizing routes based on changes that happen unexpectedly during the route.
Reduces operating costs
Decisions about how best to allocate resources like vehicles or drivers have to be made based on data. Tracking apps give you that data and allow you to generate insights. Many of our customers split their delivery areas into territories and assign those zones to specific drivers thereby shortening the drivers time to depot and avoiding unnecessary distance. Seeing field activity in real-time and visually allows logistics managers to simply understand what is happening better and make better decisions to save money.
Reduces fuel use and costs
It is clear everyone now wants a green last mile delivery solution.Critical to reducing fuel costs is lowering the number of miles travelled which is possible with route optimization algorithms and careful territory management as described above. However, driver behavior including the speed at which they drive, unnecessary stops or deviations from the route can also add up to wasted resources very quickly. Training drivers in better behavior has to come from knowing what they are doing when they are not in the depot. With good driver behavior and well-crafted routes the logistics manager can be confident that fuel costs are being minimized.
Improves security
A GPS tracker is usually on the driver's phone but it can be a piece of hardware in the vehicle itself. From a security perspective these help greatly with tracking if a vehicle has been lost or stolen. It also helps to locate a driver if they are away from their vehicle or there is a concern for their safety. You can even set alerts to tell you if the tracker has strayed from expected zones or behaviors to give you an early warning of problems or threats.
Improves asset efficiency
Tracking driver's movements accurately fixes one of the industry's biggest issues which is accurate payment for hours worked. Self-evidently, if a driver is being tracked they cannot submit false overtime or hours worked. They also can be tracked in unusual activities during the workday that do not conform to the optimized routes that were assigned to them.
Understanding real arrival and departure times, stop durations and travel time from one stop to another, plus periods of driver inactivity helps you improve asset efficiency. You will know if jobs are being done correctly and if personal business is being conducted by drivers during the workday or after-hours.
Validates completed work
GPS tracking usually also comes with the ability to capture timestamp and location stamp proof of deliveries completed. With SmartRoutes, for example, drivers can take photo proof of delivery completed or get an e-signature. This avoids issues with customers querying your work and builds trust over time.
Delights customers
GPS tracking has the huge secondary benefit of providing super-accurate times of delivery and the ability for customers to look at a live-map of a package making its way to them. Customers now expect smooth and speedy deliveries and if you can meet those expectations you will get repeat customers. Contactless delivery options also need to be considered to safeguard public health.
3 of the best driver tracking apps on the market today
1. SmartRoutes
SmartRoutes bills itself as a delivery route planner and allows users to create routes with unlimited stops. The interface has been updated in the recent past and it is now a user-friendly solution that allows you to plan routes in a matter of minutes.
SmartRoutes solves the problem of driver tracking with an in-built GPS tracker in their driver app. It allows logistics managers to track activity in the field and manage driver behavior. It also, unlike its competitors, allows managers to set certain routes as 'fixed' so the company is learning from the best way to navigate a territory and then pass that fixed route to another driver easily.
There's some nice delivery-specific features available on the delivery driver app too. Dispatch notes can be added to stops, and proof of delivery and driver notes can be captured at the drop-off point and accessed in your route history at a later date.
If you're using a delivery route planner on a daily basis, it will provide great value for money at $29 per month. There's also a 7-day free trial to get to grips with it before you decide if it's for you or not.
Usability: 5 stars
Reliability: 5 stars
Value for money: 4 stars
Support: 5 stars
2. OptimoRoute
This Zagreb-based solution provider is another of the established names in the route planning and optimization world.
OptimoRoute combines a desktop-based route planner and driver mobile app that hosts a lot of great delivery features. In fact, their solution hosts over 50 different features that will be of benefit to a multi drop courier, such as delivery tracking, reporting and driver management.
For drivers, their pricing starts at a reasonable $17 for their driver app alone, and for multi drop businesses with multiple vehicles and drivers, their full package that includes desktop planning and some extra features like real-time order tracking and proof of delivery starts at $35 per driver, per month.
One thing to be aware of is that there is a cap of planning 250 orders at once on the driver app, and a cap of 700 orders at once on the full package. Those are pretty big limits, but it's worth checking over previous routes you've completed to ensure you're not running into issues.
Best suited to: Businesses with a lot of vehicles, completing medium-high volume multi drop routes.
Advantages: Good value, transparent pricing, and a 30 free trial.
Limitations: A dated desktop interface and no drag and drop functionality for drivers or planners to amend routes as necessary.
Usability: 5 stars
Reliability: 5 stars
Value for money: 4 stars
Support: 5 stars
3. Routific
Routific is another great option for businesses doing large volumes of deliveries with multiple vehicles.
Like others on this list, it combines a desktop and mobile app that makes route planning and optimization great for business owners, in-house staff and drivers alike.
Their pricing is also straightforward, starting from $39 per vehicle, per month.
It does get a little more expensive when you move into the next plan for features like SMS notifications and proof-of-delivery coming in at $78 per vehicle, per month.
If there is anything to fault the solution on, it may be that the interface is a little more complex than other solutions. This can make the learning curve a little longer if you're not familiar with routing software, but it can be overcome with their learning support material.
Best suited to: Small to medium business with more than one vehicle
Advantages: Reasonably priced entry point, lots of features with full packages
Limitations: Older style interface and a steeper learning curve when getting started.
Looking for the best driver tracking app?
If you're looking for the best driver tracking app then look no further than SmartRoutes. But don't take our word for it, you can try it out with our 7-day free trial or speak to one of our team today. We can get you up and running in minutes and help you to make the most of it from the outset.
Frequently asked questions
1. What are driver tracking apps?
Driver tracking apps are software applications designed to monitor and manage the movements and activities of drivers, especially those involved in delivery services, logistics, or fleet management.
2. How do they track drivers?
Driver tracking apps primarily utilize GPS technology through a smartphone app installed on the driver's device. This app continuously collects location data from the device's GPS sensor, transmitting it to the app's server. This data is then displayed on a dashboard, allowing administrators or managers to track the driver's movements, routes taken and other relevant information.
3. What are the benefits of driver tracking apps for delivery drivers?
For delivery drivers, driver tracking apps offer numerous advantages:
Efficiency: These apps help optimize routes, enabling drivers to take the most efficient paths to their destinations, reducing delivery times and fuel costs.
Real-Time Updates: Drivers receive real-time updates about traffic conditions, allowing them to avoid congested routes and optimize their schedules accordingly.
Enhanced Accountability: These apps track driver performance, ensuring they adhere to schedules, follow designated routes, and maintain a high level of service quality.
Customer Satisfaction: Timely deliveries, accurate tracking information, and efficient service contribute to higher customer satisfaction levels.
If you enjoyed this blog, you might also be interested in: