Courier app and software
Couriers require the best software and mobile apps to manage route planning and efficiency including up to 20% reduction in emissions and 30% increased route capacity.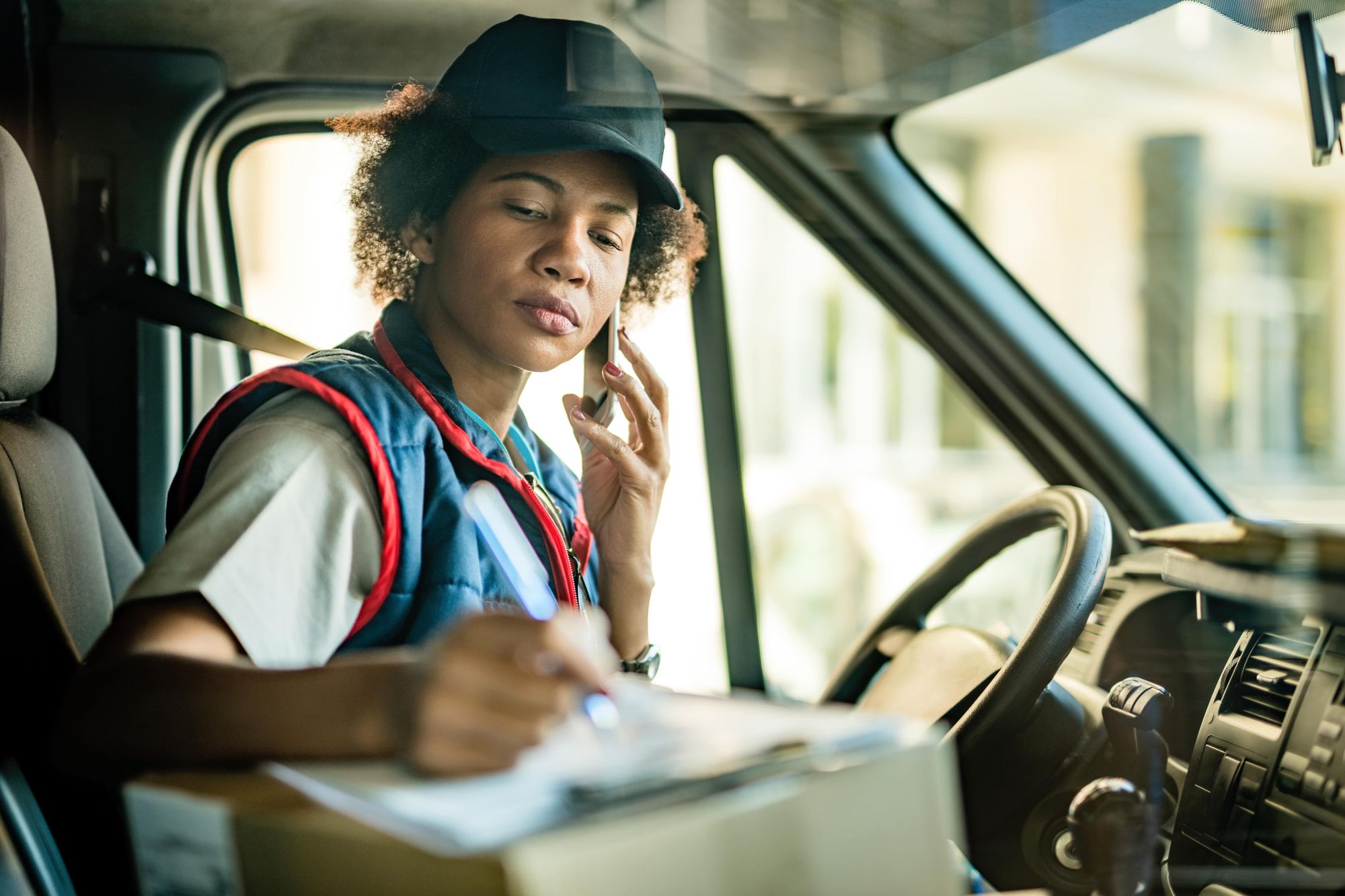 For couriers and courier companies route planning software is an absolute must. SmartRoutes delivery management dashboard and driver apps will allow you to control last-mile operations and just-in-time delivery drops and collections.
And because your customers are not only the recipients but also the client who has contracted you the critical piece of the puzzle to get right is reporting and insights on operations. SmartRoutes gives you the end-to-end features and functions you will need. Whether it is planning, routing, delivery management, proof-of-delivery or reporting we can do it all for you.
We know expectations are high. Your customers expect you to bring cutting edge operations to support their business, and that means delivering a quality service at the lowest possible cost. In other words, walking a last-mile logistics tightrope.
A solid business and its reputation depend on you having a robust system and process in place. SmartRoutes is just that.
5-20% Reductions in CO2 emissions, mileage and driving time
30% Average increase in delivery capacity on each route
80% Reduction in time spent on route planning & admin tasks
How to do route planning and optimization
Cut hours of admin and planning time by having multiple delivery routes, created at the click of a button with optimization software
Upload your stops routes by .csv .xl or input manually
Utilize Zip codes, Post codes and GPS coordinates to quickly and accurately plan deliveries
Create flexible geographical zones and automatically assign work within those parameters
Optimize vehicle efficiency with smart load-balancing that means vehicles go out fully loaded
Dispatch routes to drivers via their own app
Include dispatch notes for drivers so they know what to do/expect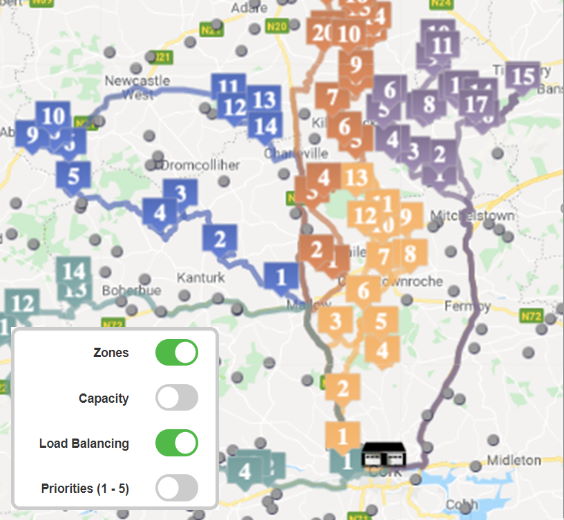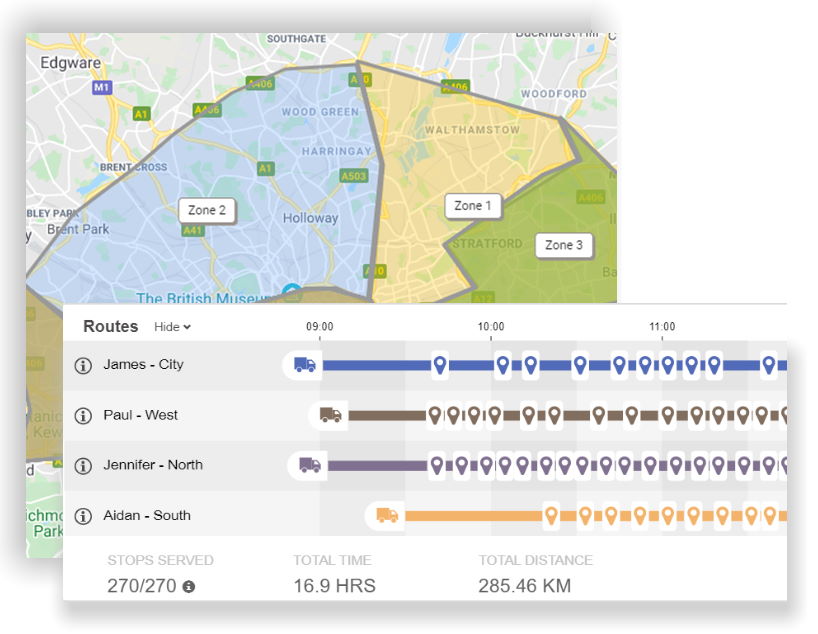 Delivery management software made easy
Increase capacity and reduce fleet size with industry-leading route optimization
Use Postcodes, Zipcodes, GPS Co-Ordinates & what3words to ensure accurate delivery addresses
Flexibly zone your deliveries, incorporating vehicle and driver assignment to specific areas
Get advanced insights and analytics from machine-learned routing data
Save money with smart load-balancing so every vehicle leaves the depot full
Clean your data and get addresses verified
Automate the cleansing and update of inaccurate addresses
Automatically verify the authenticity and location accuracy of addresses provided by customers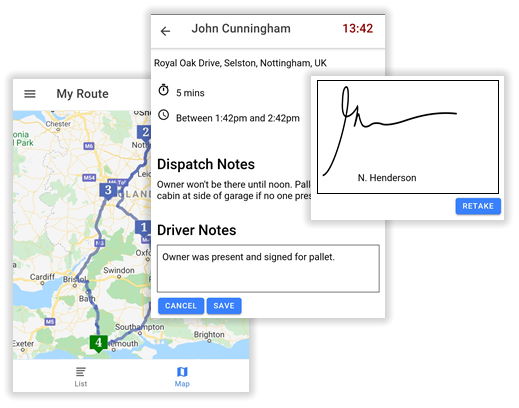 Courier delivery app
Let drivers get their routes assigned automatically
Give them clarity on their working hours for the day
Give dispatch notes to drivers by individual stop/customer so they know exactly what to do
Allow drivers to navigate their route effectively and on-time
Allow drivers take driver notes for end-of-day reports without having to talk to dispatch manager directly
Record signatures, notes and proof-of-delivery
Let driver routes be tracked in real-time to prove out efficiency and record work done
Improve data protection and security with a totally digital process
Reporting and insights
Fully customizable and dynamic reporting
Get frequent driver performance reports
Seamless & automated Delivery On Time and SLA reporting
Get the most from integrations with SmartRoutes
SmartRoutes is experienced in working with third-party software providers and can be seamlessly integrated with your current Telematics and Order Management Systems
Easily integrate with your existing Proof-of-Delivery solution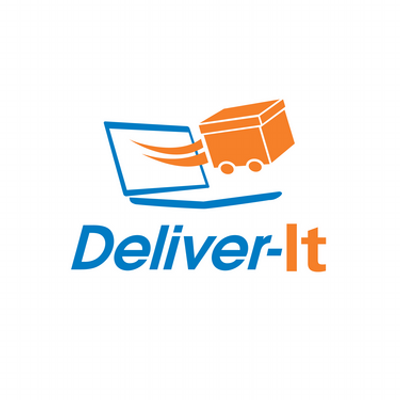 "SmartRoutes helped me reduce admin planning time by 85% and fuel by 20%. However, what really sets SmartRoutes apart is the ease of implementation and the on-going support they provide."

Barry Rabbitt - Owner - Deliver-It