9 Best Multi-Drop Route Planners
Multi-drop route planning can be a challenge but using the right software you can save your business time and money. We've done the research for you here.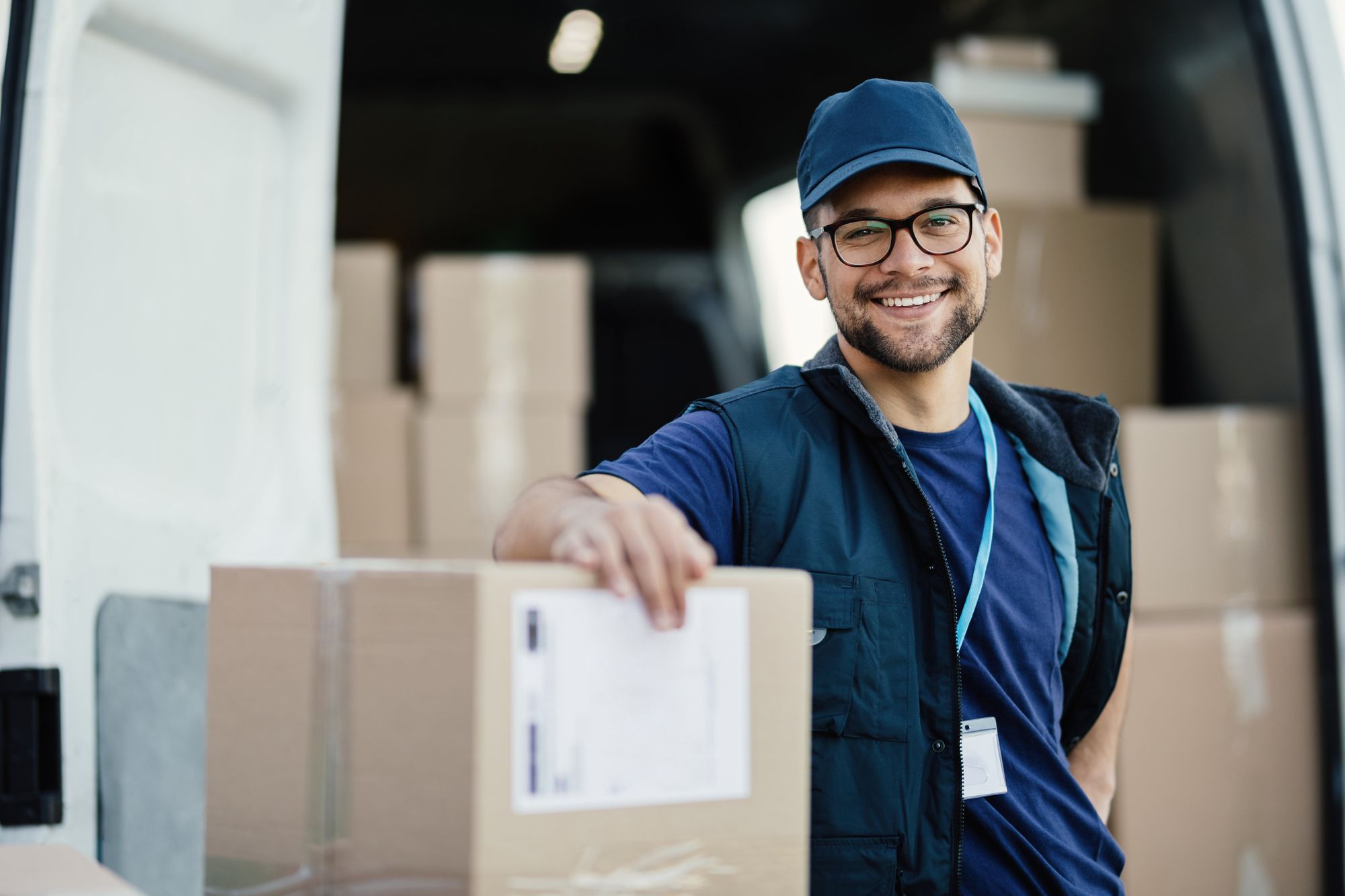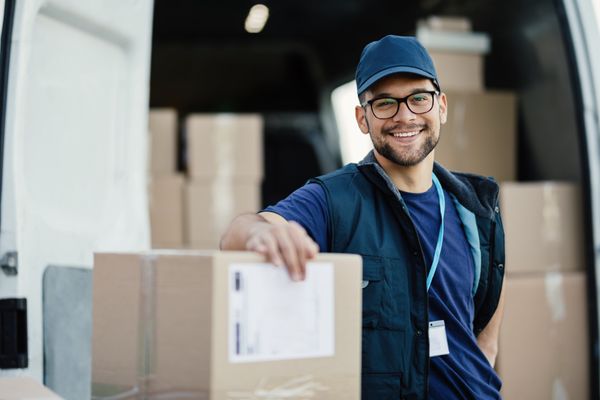 Multi-drop route planning
If you are a business that operates a delivery team of drivers and logistics people, you know that route planning is the key to your operations. In this guide we have done the research into what is the best multi-drop route planner that can help you and your logistics team.
For example, if you have 4 vehicles on the road, and each of those vehicles has to deliver approximately 70 parcels per day. That's a whopping 280 stops each of those drivers must make over the course of a day.
Deciding on which routes are best for each of those drivers would take hours. And even at that, it would be practically impossible to ensure that those routes were as efficient as possible.
Whether you own a courier company, or you deliver your own products directly to consumers, route planning can quickly become a task that takes hours. That's why there are dedicated multi drop route planners in the UK and in the US that rely on technology to save you time and money.
Of course, no two businesses are the same, and similarly, the solutions on the market cater to various needs of delivery businesses. In this post, we'll take a look at some of the best solutions on the market today, and which one is the best option for you. We'll cover the best free route planners and paid multi stop route planners. We will also outline the capabilities and limitations of each so you can make an informed decision. In the supply chain industry the challenge of route optimization is well known and the subject of constant research.
What you will learn in this guide
Why is a multi-drop route planner important?
As more and more consumers opt for home delivery rather than in-store shopping, the volume of goods being delivered direct-to-consumers continues apace.
Inefficient routes, hours spent planning them, and problems such as missed deliveries can quickly render your business model unviable. By using a suitable tool, your business can save thousands in costs associated with multi-drop deliveries.
The benefits of a suitable route planner can have even more far reaching consequences for your delivery service, such as:
Happier drivers (quicker routes, better work/life balance and less trouble on the road)
Happier in-house staff (more accurate insight into deliveries means they can give customers more honest, accurate and timely information on their orders)
A happier YOU (whether your driving or managing the routes, the easier they are to organize and the more time you save, the better)
A core of many route planners is route optimization, which is proven to reduce distances by up to 33%, so getting started can be a big step in the right direction for your delivery operation.
Let's take a look at your options!
9 multi drop route planners
1. Google Maps
Sometimes the best solution to a problem is the one you know best.
Google Maps is the most commonly used online route planner and with good reason. Google are leaders in technological mapping development and their solution was one of the first online mapping systems in the world.
If you're starting out in business, your routes might still be pretty small. If so, you can put in the addresses of your drops and be on your way in seconds.
The downside to Google Maps, however, is that it isn't a delivery route planner per se. The first big hurdle you face is that you can only plan for up to 10 stops.
The second biggest hurdle is that it doesn't actually 'optimize' the route, so it may not be the most efficient way to complete your deliveries.
Still and all, it's a good place to start if you're trying to get your business off the ground, your routes are small, and cash flow is still limited.

Best suited to: Individuals doing their own deliveries with limited drops for a new business
Advantages: Free, easy-to-use, desktop and mobile apps
Limitations: Only 10 stops per route, no route optimization, no delivery specific functions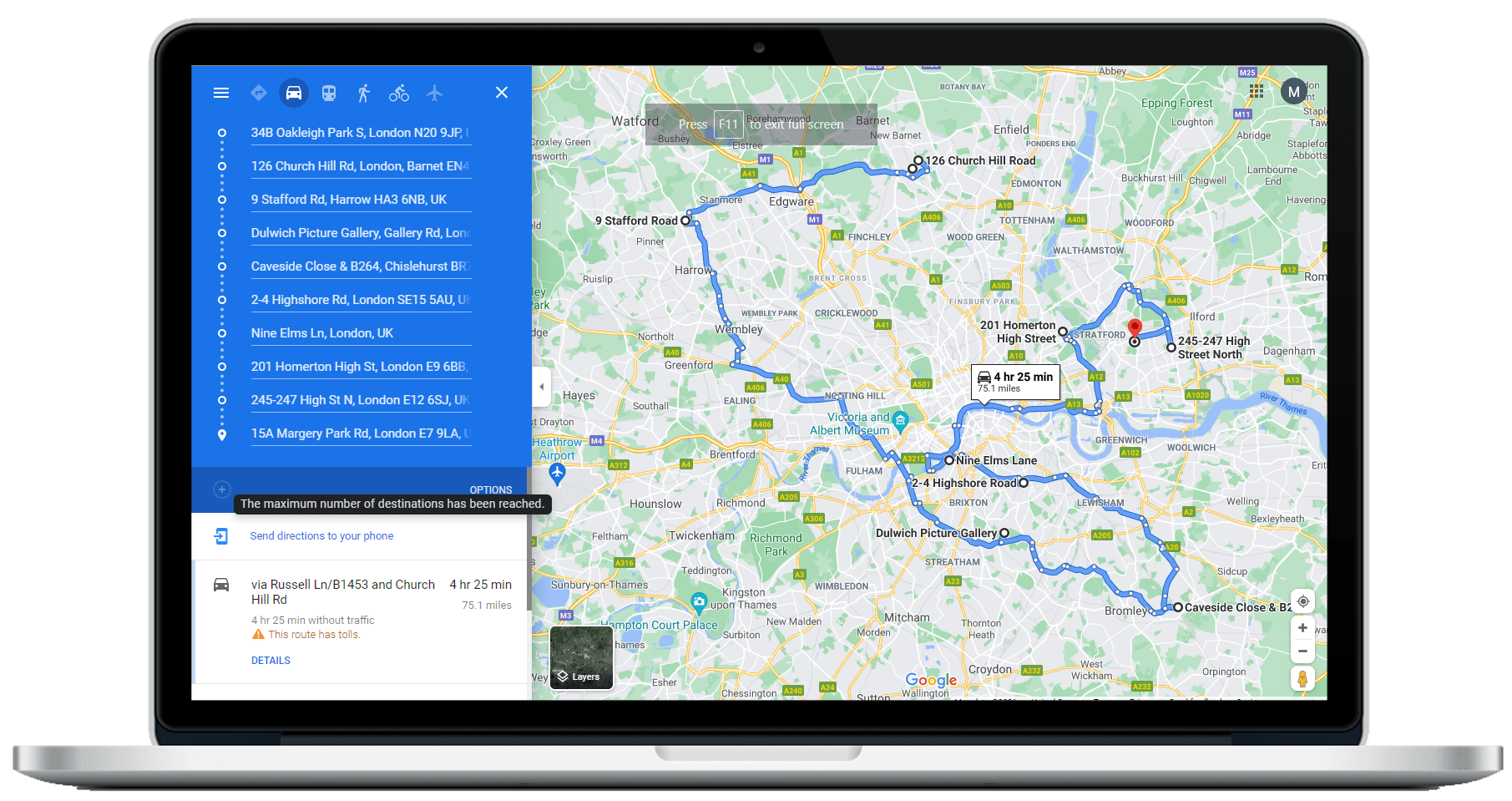 2. RouteXL
As we noted above, the big limitation with Google Maps is the cap at 10 stops and no route optimization.
Well, RouteXL gets its place next on our list as it solves both those problems, while still having a quick and easy free tier on the pricing front. Like Google Maps, if you're just getting your delivery business off the ground, you might be keeping an eye on costs and RouteXL will be a great help.
Although there is still a cap of 20 drops, it's likely you might not even need any more than that for a start. Another nice thing about RouteXL, is you can simply go to their website and start creating routes right away. No sign-up required.
Another helpful feature that will be of value to a small, emerging business, is the ability to import a number of addresses in one go. Although that might seem like a small thing, it will definitely save you a few valuable minutes in those early days.
The big drawback with RouteXL is that it's a web application (in non-technical terms, it's just a website like Google Maps).
If you've got a team of drivers, this will be a bit of a headache as they won't be able to follow their route out on the road. They do offer the solution of an integration with a partner, Webfleet Solutions, which in turn syncs with TomTom devices, but this can quickly add up on costs.  
Finally, it can be a little slow to create routes, so expect to be a little patient while it finds a route for you.
Best suited to: Small and new businesses that outgrow Google Maps
Advantages: Free, no sign-up, and more stops than Google Maps
Limitations: No multi-drop specific functionality, capped at 20 stops, and no mobile apps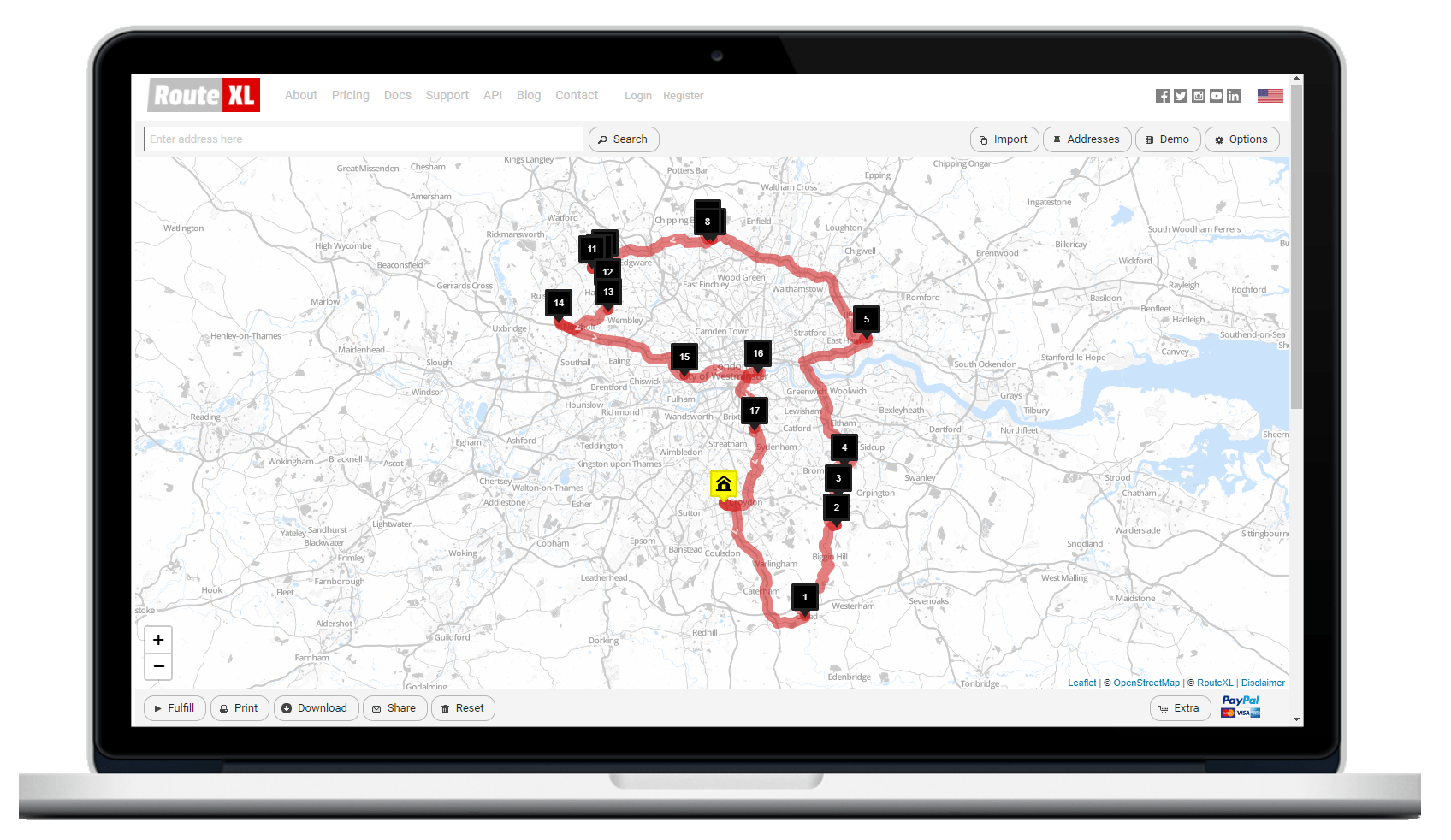 3. SmartRoutes
While the solutions we looked at so far are great for small businesses on tight budgets, if you're really getting into multi-drop routing, you'll find real value in a purpose-built multi drop route planner app. And SmartRoutes is just that.
SmartRoutes is a delivery route planner that covers every minute detail in a multi-stop route planning operation. The solution combines a platform for organizing your teams and mobile delivery driver apps that are available on both Android and iOS devices.
SmartRoutes works by allowing you to create routes for multiple vehicles and drivers in a matter of seconds. It also allows you to create optimized routes based upon your bulk import of drops. Importing your deliveries is super quick and easy, and can be done directly from an excel file. If you're using ecommerce platforms like Shopify or WooCommerce or even if you are using an ERP, it can be done over an API.
The route planner also allows you to add dispatch notes to each drop for drivers, and can also take into account vehicle capacities, driver hours and breaks, customer priorities and delivery time windows at the point of route creation.
Additional route planning features that can transform your multi drop business are geographical territory zoning, automated customer notifications (email or SMS) and barcode scanning. Contactless delivery is also an option now in order to protect customers and the general public.
Of course, multi drop deliveries are all about one thing; getting parcels and packages to customers in the best and fastest way possible. That's where a solution like SmartRoutes comes into its own with a best-in-class delivery driver mobile app.
The SmartRoutes Driver App allows you to send routes to your or your drivers mobile phone in advance of their route complete with all the order details for each stop.
On the app, they can view their route in a list or map format, and re-sequence and re-optimize the route throughout the day as necessary.
At the point of delivery, drivers can capture proof-of-delivery in photo or signature format, and take notes. Alternatively, if they're unable to complete the delivery, they can immediately mark the drop as 'undelivered'.
The real magic is that all of this information is transferred to the desktop route planner instantly, available to you and your support or admin staff. This can make life easier for everyone involved, and reduce customer queries by up to 90%, and make those that are served 70% quicker.
If you're planning multi-drop routes for 3 vehicles or more, the return on investment in a solution like SmartRoutes can quickly become apparent.
Unlike Google Maps and RouteXL, it is a paid solution.
You can check out our pricing options here.
Best suited to: Anyone doing more than 20 drops per vehicle
Advantages: Desktop & Mobile solution, unlimited stops & vehicles & full delivery functionality
Limitations: Free solution is only available on a 7-day trial
Transform your multi-drop delivery operations with SmartRoutes
Create optimized routes for multiple vehicles and drivers in a matter of seconds. Gain total oversight over your delivery operations.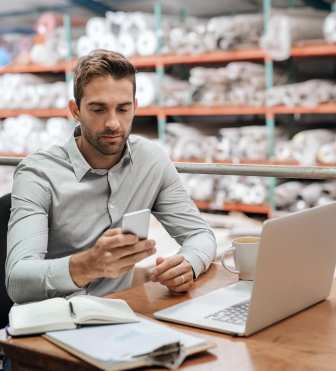 4. Waze
If you're a driver and you or your employer isn't keen on the idea of a paid route planner, you might be looking for a free solution to use while you're out on the road.
That's why Waze is a favorite amongst multi drop drivers around the world, as it plots efficient routes via a familiar mobile app.
The big advantage of Waze over Google Maps, is that data is submitted by users to a larger degree than Google Maps. Traffic, obstacles, and even speed cameras are displayed to drivers and it can give more up-to-the-minute information.
A little known fact about Waze, is that it is actually owned by Google.
Unfortunately, it is limited in its use as a multi drop planner, but the user-influenced nature of it makes it a favorite amongst drivers looking for a free solution.
Best suited to: Drivers looking for a quick and free way of routing on the road
Advantages: Up-to-the-minute road data and simple interface
Limitations: A basic navigation app with no delivery functionality

5. SpeedyRoute
The trouble with the free route planners that we've seen so far, is that they can have big limitations because they aren't designed with multi drop deliveries in mind.
Whilst not perfect, SpeedyRoute does take it into consideration and offers some useful functionality on its free plan.
Like Google Maps, it is limited to 10 stops on the free plan, but it does allow you to add more than one vehicle, and then creates optimized routes for those vehicles at the click of a button.
Unlike Google Maps, however, there is only a desktop-based web application. It won't be much use to drivers, but if you're looking for a quick and easy solution without reaching for the credit card, this may be a useful one for you.
SpeedyRoutes also have a paid offering: daily access for $10, weekly for $20, or monthly for $50.  
Even if you do have to reach for the credit card, that's certainly not going to break the bank and you have the flexibility to go day-by-day if your multi drop routes are irregular.
Best suited to: Small business owners planning occasional routes for multiple drivers
Advantages: Free tier allowing more multi vehicle route optimization
Limitations: No mobile apps, limited to 10 drops on free tier
6. Onfleet
Onfleet offers a pretty good route optimization and delivery management solution that will serve even the biggest of multi drop operations.
The San Francisco-based technology company offers a desktop-based route optimization solution and combines it with a multi drop route planner app with lots of delivery-related functionality like proof-of-delivery, driver and customer communication, and reporting.
Similarly to SmartRoutes, you can plan and optimize routes from other platforms through their API.
To pick fault with their offering, the pricing is a little complicated with functions like barcode scanning and customer SMS notifications starting at $799.
Onfleet also categorizes each drop as a 'task', and the cost of their solution increases based upon the number of drops you make, so it's worth getting a handle on how many drops you expect to do over a given time period.
Best suited to: Large businesses with established eCommerce of warehousing operations
Advantages: A very comprehensive solution with desktop planners and mobile driver app
Limitations: Expensive pricing for full feature set and large drop volumes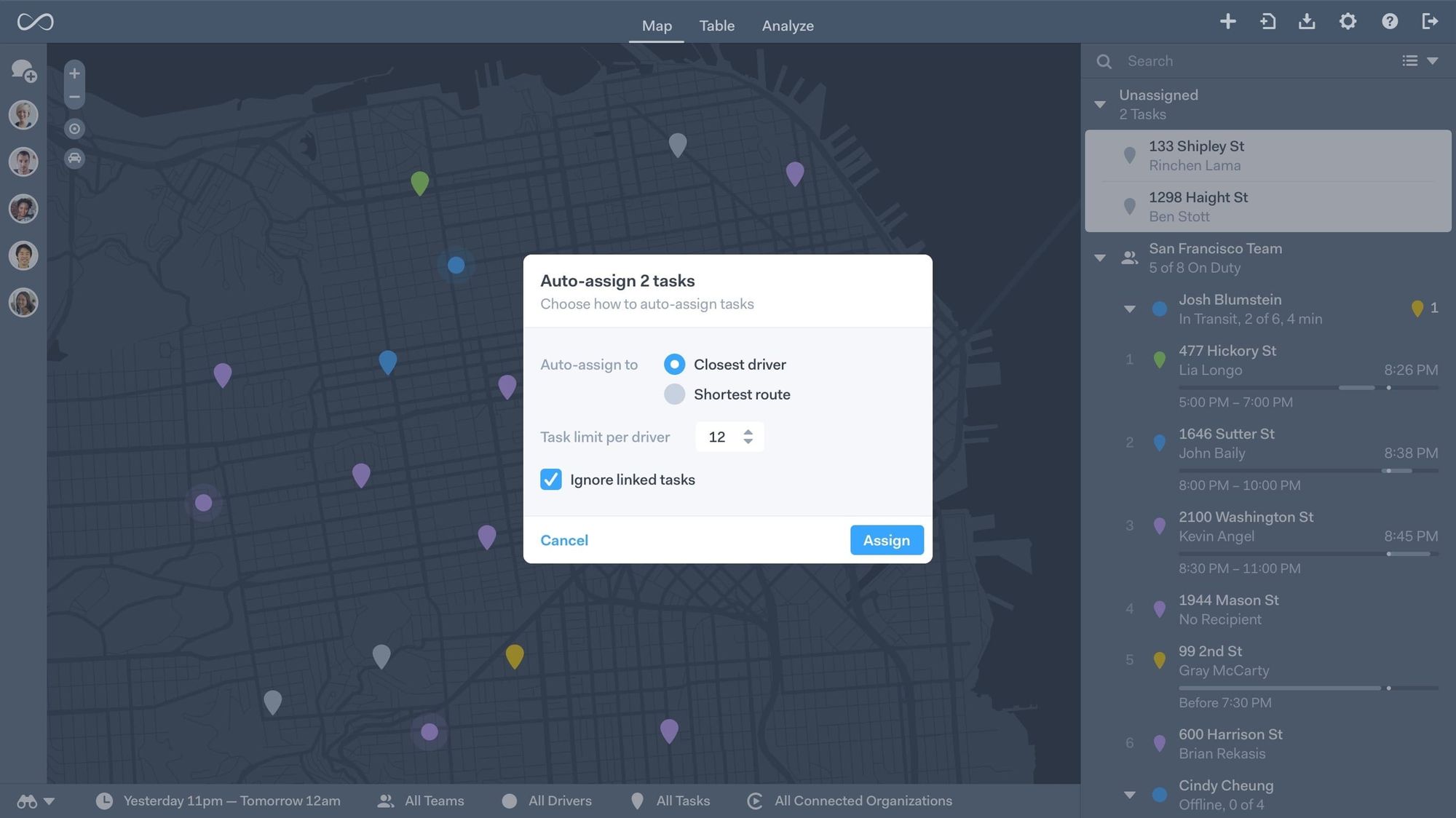 7. Circuit
This British-based route planner has found favor, particularly with couriers, throughout the UK.
Circuit bills itself as 'delivery software powering the next generation of delivery companies.' The solution combines a desktop-based route planner on the 'Team' pricing plan, and a mobile driver app that can be bought as part of the same package, or individually as a driver. Circuit for Teams is the more complete solution for teams as the name suggests incorporating user management, fleet tracking and proof of delivery elements.
The driver app uses a nice, modern, easy-to-use interface and is great on the road. For $20 per month, you get unlimited stops on the mobile app and route optimization for multiple routes.
As expected at this price-point, it does lack key features such as proof of delivery and dispatch notes, but it does the basics really well.
For delivery businesses, it offers a 'Teams' package that introduces a desktop route planner and additional features such as customer notifications and proof of delivery.
It is a little limited compared to other solutions, and is a relatively recent addition to their services. In time it may grow to a very complete solution, but at present it does look a little lighter than other solutions in the same category.
Best suited to: Drivers doing their high-volume multi drop routes
Advantages: Modern interface that makes the app easy to use while out on the road
Limitations: Pretty basic desktop-based web application for managing vehicle, drivers and routes for a multi drop business.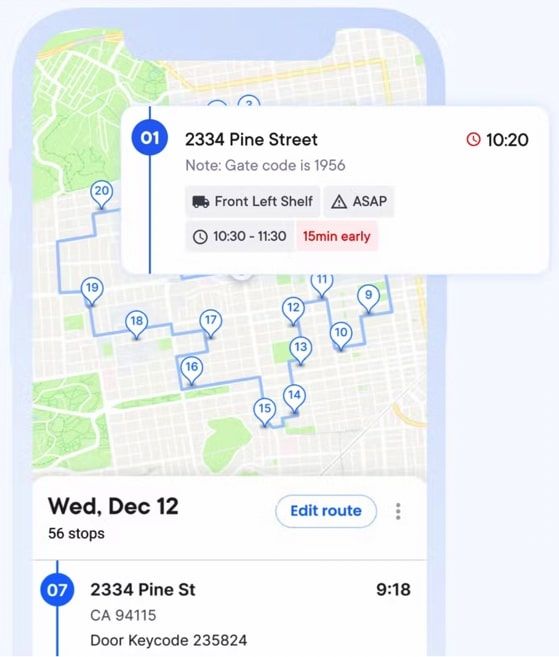 8. Routific
Routific is another great option for businesses doing large volumes of deliveries with multiple vehicles.
Like others on this list, it combines a desktop and mobile app that makes route planning and optimization great for business owners, in-house staff and drivers alike.
Their pricing is also straightforward, starting from $39 per vehicle, per month.
It does get a little more expensive when you move into the next plan for features like SMS notifications and proof-of-delivery coming in at $78 per vehicle, per month.
If there is anything to fault the solution on, it may be that the interface is a little more complex than other solutions. This can make the learning curve a little longer if you're not familiar with routing software, but it can be overcome with their learning support material.
Best suited to: Small to medium business with more than one vehicle
Advantages: Reasonably priced entry point, lots of features with full packages
Limitations: Older style interface and a steeper learning curve when getting started.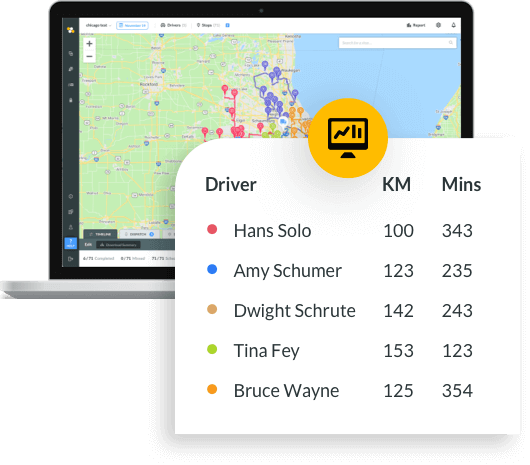 9. OptimoRoute
This Zagreb-based solution provider is another of the established names in the route planning and optimization world.
OptimoRoute combines a desktop-based route planner and delivery driver app that hosts a lot of great delivery features. In fact, their solution hosts over 50 different features that will be of benefit to a multi drop courier, such as delivery tracking, reporting and driver management.
For drivers, their pricing starts at a reasonable $17 for their driver app alone, and for multi drop businesses with multiple vehicles and drivers, their full package that includes desktop planning and some extra features like real-time order tracking and proof of delivery starts at $35 per driver, per month.
One thing to be aware of is that there is a cap of planning 250 orders at once on the driver app, and a cap of 700 orders at once on the full package. Those are pretty big limits, but it's worth checking over previous routes you've completed to ensure you're not running into issues.
Best suited to: Businesses with a lot of vehicles, completing medium-high volume multi drop routes.
Advantages: Good value, transparent pricing, and a 30 free trial.
Limitations: A dated desktop interface and no drag and drop functionality for drivers or planners to amend routes as necessary.
Summary and verdict
Whichever multi-drop route planner you decide to go with for you and your business, it's important to first analyze a weekly routine to identify the different tasks you and your drivers complete. When you are doing something for a sustained period, it can become second nature, and seem like it is the only way to do it.
Automating tasks like sending customer ETA notification and proof of delivery can save you hours of manual labor hours over the course of a week for example.
It's also important to ensure that functionality like route optimization, fleet tracking software and driver management come as standard if you are planning for any more than 3 vehicles or drivers at one time.
Are you ready to transform your multi-drop delivery operations?
If you're running a courier business or a D2C business, you should be looking at implementing a solution as soon as possible.
With big players like Amazon going from strength-to-strength in the space, using a purpose-built multi drop software will enable you to remain competitive, and even outperform them with better, more personal delivery experiences.
We hope this guide will help you to decide which solution is the best fit for you, your drivers and your customers.
If you're ready to begin planning and optimizing routes for your business, you can avail of a 7-day free trial of SmartRoutes. Our free trial doesn't apply any limits, so you can get to grips with the full feature set right away. Sign-up now by following this link.