SmartRoutes: Year in Review 2022
2022 was a busy year for the SmartRoutes team. Let's take a look through what we got up to this year!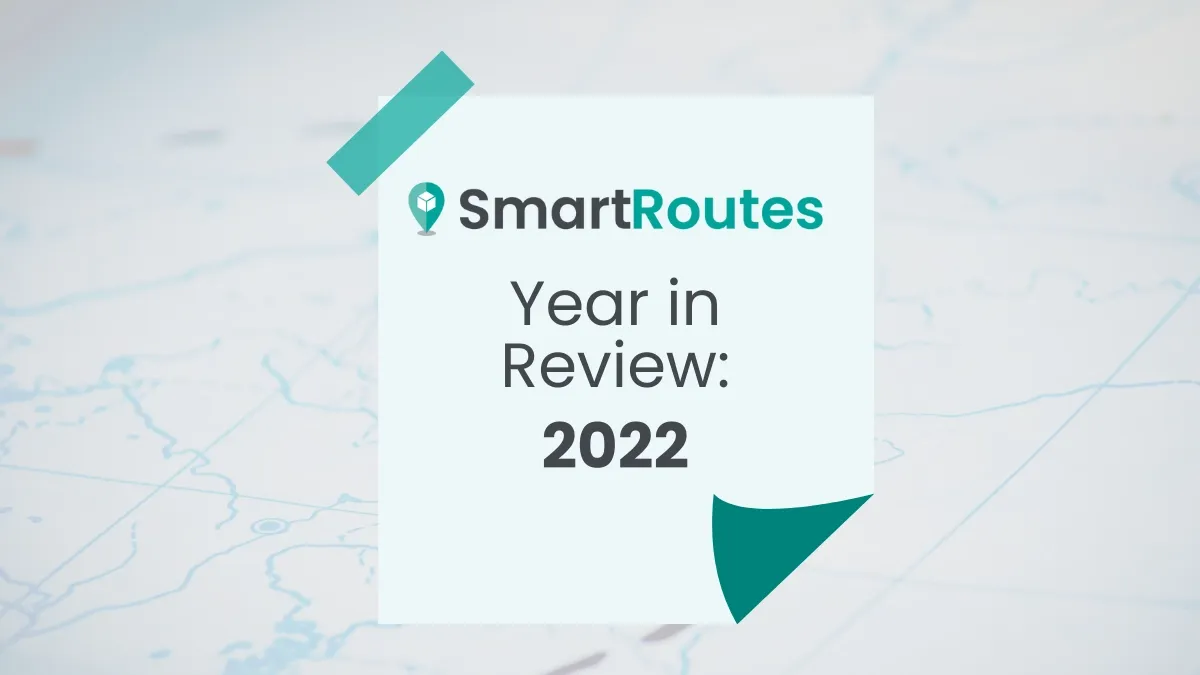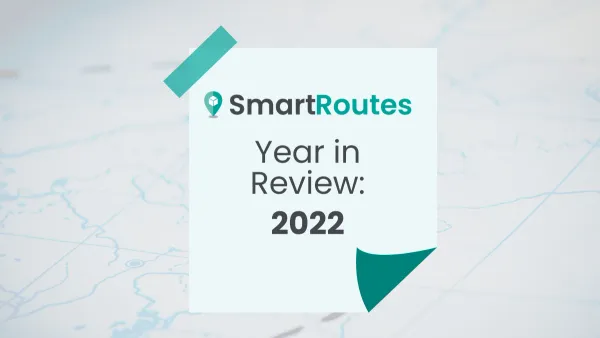 With only a few weeks left in the year, we wanted to take a look back at what we got up to this year. From new branding updates, awards, features added and more read on to find out what the SmartRoutes team got up to in 2022!
Highlights of 2022
In June SmartRoutes won the Regional South Award in the National Enterprise Awards!
These were 31 Finalists for this year's National Enterprise Awards. The Local Enterprise Office initiative, now in its 23rd year, took place on the 2nd of June at the Mansion House in Dublin.
The Finalists were all selected by their Local Enterprise Office as the most exceptional company in their local area for this year. The awards focused on specific areas such as Innovation, Start-Ups and Exporting along with eight regional awards as well as an overall National Enterprise Awards winner.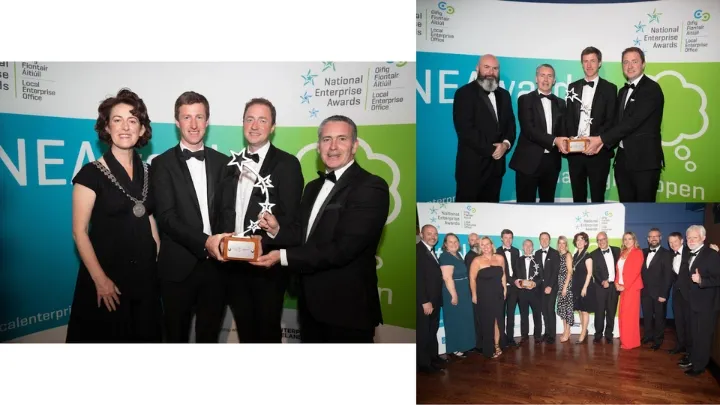 At the beginning of July we launched our brand new logo!
We launched our brand new logo as part of the ongoing evolution of our company's brand. We have altered our logo to reflect who we are today and to symbolize our dynamic future.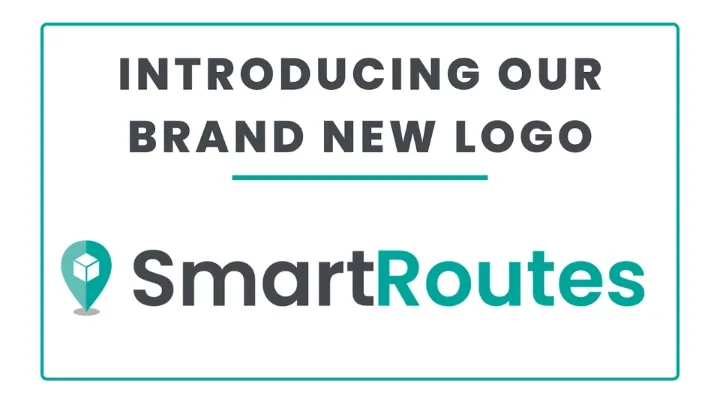 In August our CEO David Walsh was featured on RedFMs' "Red Business in Focus"
We are delighted to share another episode of 'Red Business in Focus' with Cork's Local Enterprise Offices. This week we will be chatting to David Walsh of SmartRoutes. Headquartered in Cork City, this forward thinking enterprise run by brothers David and Blake Walsh, has grown from strength to strength as it offers delivery management software for small businesses to large logistics teams to plan and optimise routes that are cost-effective, while making deliveries more efficient and sustainable. Working at the forefront to reduce these carbon emissions, is David Walsh.
Watch the full interview below -
In November SmartRoutes attended the Technology Ireland Annual Industry Awards where we were finalists in the Emerging Company of the Year category! Unfortunately we didn't pick up the award however we are delighted to be recognized by Technology Ireland and IBEC in this category and look forward to throwing our hat in the ring again next year!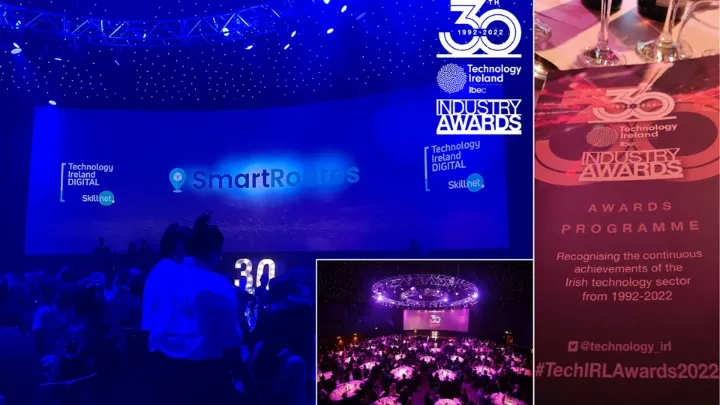 In November Our CEO wrote a guest post for DeliveryX
In this article our CEO David Walsh looks at how automating the delivery process can be incredibly beneficial and how it can improve every step of the process. He goes into more detail on:
Reduction in Human Error
Better Warehouse Management
Improved Customer Service
Make sure to check out the full article over on DeliveryX.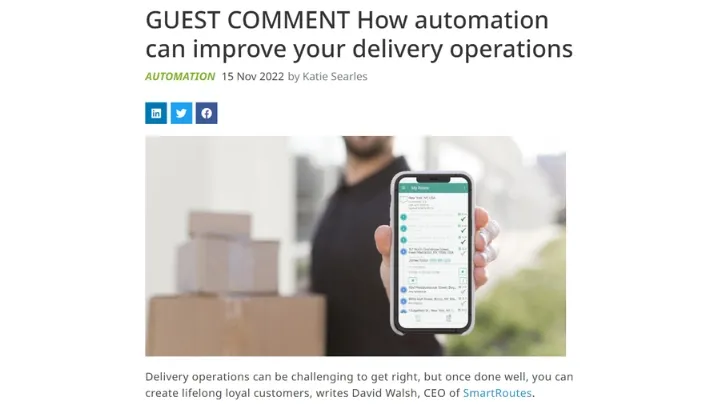 Features Added in 2022
Order Booking Feature
This new feature has been a great addition for our clients. SmartRoutes now allows you to send a SMS notification to your customer with a link to book their preferred delivery day. They can either confirm the given day or rebook to a day and time that suits them. Deliveries are then booked and routed once confirmed by the customer! (Tip: make sure to set the earliest date that the customer can book so your customers don't end up booking next day delivery if this isn't something that you offer!)

Integrations
We have developed the platform to integrate with many systems you may see yourself using. To find this menu login to the SmartRoutes platform > Settings > Integrations. You can find out more about integrations here.
Delivery and collection options
Multi drop deliveries are now easier thant ever with drop off and collection options available to add on each route.
Many of our clients have struggled with including both collections and deliveries on the same routes. Adding both is sure to be a good use of time, however when done incorrectly, it can mean sending your drivers in all different directions with their vans never emptying! Now with SmartRoutes you can create even more intelligent routes that take into account if a stop is a collection or delivery. Now you can make sure your vehicles are optimally loaded at all points in their routes!

For a more detailed list of features added in 2022 see our blog post.

SmartRoutes solves last mile challenges for you
Save time and money in delivery management. Cut carbon emissions. Get oversight on your fleet. Impress your customers with superb communication tools.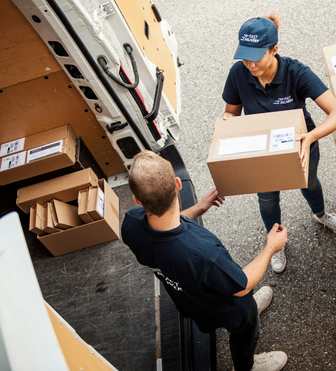 Top 3 Blog Posts in 2022
Wondering what our readers have been dipping and out of this year? Our top viewed blogs this year have been:
1) 9 Best Multi Stop Route Planners
If you are a business that operates a delivery team of drivers and logistics people, you know that route planning is the key to your operations. In this guide we have done the research into what is the best multi-drop route planner that can help you and your logistics team.
What you will learn in this guide:
Why is a multi-drop route planner important?
9 Best route planners for multi-drop delivery
Summary and verdict
Are you ready to transform your multi-drop delivery operations
2) Best courier apps for deliveries
Couriers have one of the toughest jobs in modern economies. They have to face difficult traffic conditions and huge pressure to get all deliveries done on time. Managing to make both dispatch and end customers happy is no easy task either. Couriers even struggle to gain access to toilet facilities when they are on the road all day! Courier apps should be designed to make a courier's life easier. In this article we look at the courier apps used by dispatch to optimize routes for courier drivers, track vehicles in the field and allow drivers to capture proof of delivery.
3) 5 of the Best Route Planner Apps
Route planner apps ensure that while you are out on the road doing deliveries or making calls and visits, that you are doing so in an organized and efficient manner. This can determine the success of your job or business. Route planning is so important when it comes to making delivery operations efficient. Route planners help you to plan out your deliveries in the most optimized manner in order to shorten your time spent out on deliveries, send our automated notifications when orders are nearby the final destination, easily capture proof of delivery and so much more! We've put this guide together to help you find the best 'route planner app'.
What you will learn about in this article:
What to think about when buying a route planner app
Top 5 route planner apps on the market
Which route planner app is right for me?
Make sure to keep an eye on our blogs in the new year to keep up to date with us throughout the year!
Improve your Delivery Operations today
If you're looking to streamline your delivery operations you can try SmartRoutes out with a 7-day free trial or book a demo to discuss your needs with our team of experts. We can get you up and running in minutes and help you to make the most of it from the outset.
Enjoyed this blog? You can read similar blogs below.