Mobile App GPS Trackers vs. GPS Tracking Devices
When it comes to choosing a GPS Fleet Tracking Solution, you have 2 options to choose from;
1. Dedicated GPS Tracking Devices
2. Mobile App GPS Trackers
Which option you go for, really depends on your individual needs.
So, let's take a look at the 2 options.
Mobile App GPS Trackers
Go back just 15 years, and you might just remember those earlier days of using Google Maps on your smartphone. It usually got you there, but it could be laggy and sometimes took you on a route that might not necessarily be the best one.
Fast forward to today, however, and it's fair to say that it is a near-flawless piece of technology (I certainly feel confident enough in it that I put in locations hours away and trust it to navigate me straight there).
While Google has worked to bring the App to where it is today, it doesn't entirely explain the marked improvement in its capability.
GPS chips have rapidly improved over recent years, and today's SmartPhones have an accuracy range of anywhere from 30 centimetres to 5 metres.
Coupled with improvements to the arrival of 4G and 5G technology standard for broadband cellular networks, there is now a way to communicate location data even quicker and more reliably.
With these advancements, many fleet tracking solutions utilises this existing GPS technology that every company has. After all, if each of your drivers already has a smartphone, why would you invest in standalone tracking devices?
At SmartRoutes, we utilise this technology, and our Live Vehicle Tracking feature is incorporated into our SmartRoutes Mobile Driver Apps. By building this into the app itself, it means that you can see where any of your fleet or drivers are located at any given moment.
GPS Tracking Devices
It might seem like tracking devices are becoming obsolete with the advancement of smartphone GPS technology, but they still have their role to play in fleet management. As good as smartphone technology is, dedicated tracking devices can still provide far more data to fleet operators.
GPS Tracking units work by plugging into a vehicle's OBD port. Similar to smartphones, these devices use GPS chips to identify the location of the vehicle to a satellite at any given time. The main difference is, that these standalone devices use the nearly always very best chips to improve accuracy, and also include vehicle diagnostics and driver behaviour alerts (hard-braking, rapid acceleration, etc.)
The other main benefits of these devices are their resistance to tampering from drivers, and a constant power source from the vehicle itself. With smartphone GPS, it can be easy for drivers to switch off the GPS function in their settings and go rogue. With installed tracking devices, however, it can be more difficult for drivers to tamper with.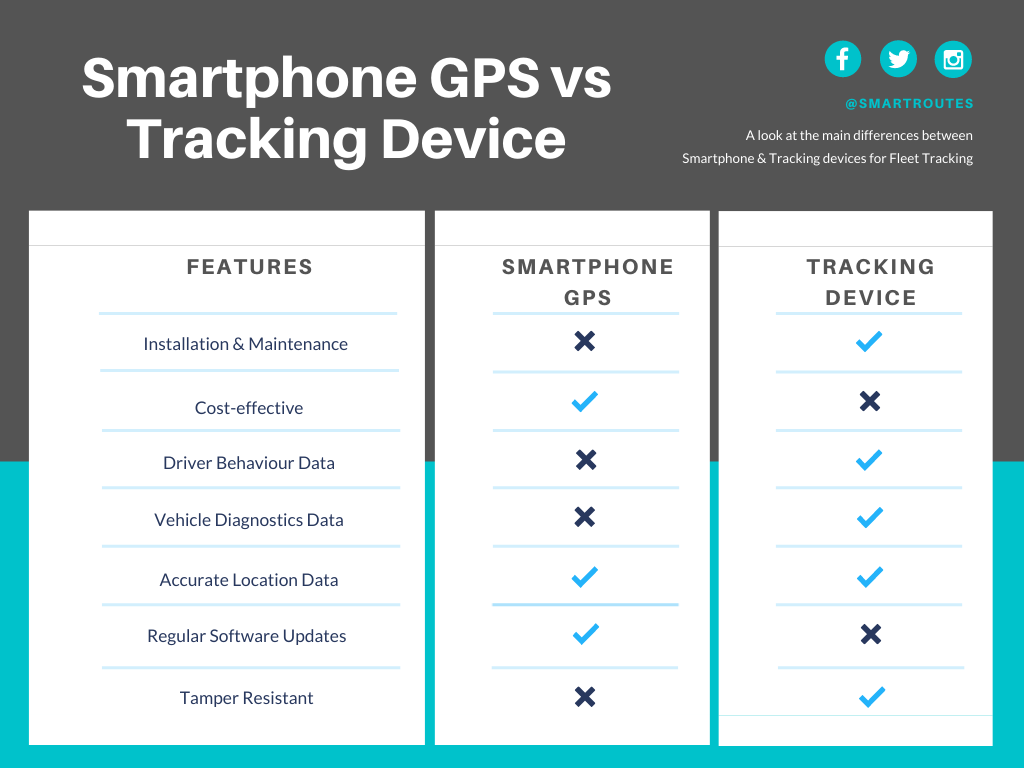 SmartRoutes Mobile App sends live GPS locations from the Driver Mobile App to the Desktop-based Live Tracking Dashboard