What3Words + SmartRoutes
What3Words is a unique mapping tool that complements and improves delivery locations. Learn how it works with SmartRoutes here.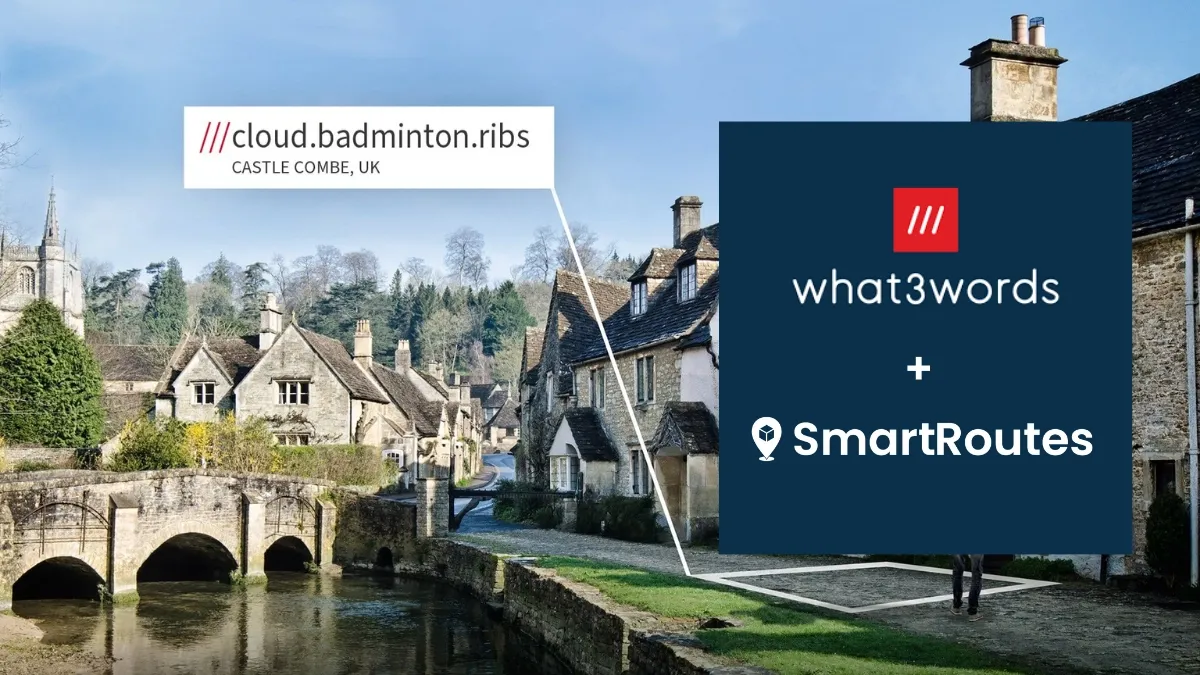 Introduction
SmartRoutes clients deliver to tens of thousands of people every day. They know that traditional addresses don't always work because the exact delivery location is not the same as the address. What3Words is solving this problem for last mile operators giving them the ability to get super accurate delivery locations that never fail. Take a bow W3W for helping to get the right package into the right hands at exactly the right location. SmartRoutes and What3Words work together to solve issues for modern last-mile delivery operators.
What you will learn in this blog
What is What3Words?
What3Words is a way to improve delivery locations by using a unique three word combination to map every part of the globe into 3sq metre squares. Just input a latitude and longitude into W3W to get your unique three word address. Type in a traditional address and it will tell you the nearest W3W grid square. Open the What3Words app and it will tell you the code for your current location.
Last mile deliveries are more efficient when couriers know exactly where each drop off point is.
Customers expect a quick and hassle-free service. With precise what3words addresses, couriers know exactly where to deliver. It's easier to predict delivery times, so customers receive a more accurate ETA and get their packages on time.
Using what3words addresses for city deliveries can reduce delivery times in the last mile by up to 42%, meaning faster delivery fulfilment and savings on mileage. With confirmed, highly accurate location information, more first-time deliveries are successful.
What is SmartRoutes?
SmartRoutes primarily serves the logistics function in businesses. It is also aimed at third party logistics companies that operate in last-mile deliveries. However, the range of applications for SmartRoutes is nearly unlimited. Any business that operates a vehicle doing multiple stops or deliveries can benefit hugely from SmartRoutes tech. Field sales teams that want to call to customers regularly, local pharmacies that drop medicines to their customers, even field service technicians doing multiple house calls daily can all benefit from the oversight and cost savings of route planning.
How delivery can fail with traditional addresses
It is a continual issue for delivery professionals that traditional addresses aren't always formatted correctly for deliveries. Sometimes that means that the location address is different from the actual delivery location. It might be to the rear of the property or at a different building on the property. In the fast paced environment of last mile delivery this time wastage in finding the correct drop off point can be frustrating.
It is also true that traditional addresses don't always map correctly into navigational aids like Google Maps. Having worked with last address datasets for many years it is obvious that addresses in urban locations are accurate to 90%+ but in developing countries or in rural locations that accuracy level can drop dramatically. If the address cannot be geocoded to fit into navigational tools then it is down to driver knowledge to find the location which can be disastrous from an efficiency perspective.
The future of last mile delivery with a blended approach to delivery locations
The future of last mile delivery will require a blended, smarter approach to the exact drop-off locations for deliveries and What3Words should form an important part of this.
SmartRoutes is integrated with What3Words to allow you to deliver more accurately. You can import your delivery list with W3W codes instead of traditional addresses or in addition to them. Our customers who use W3W see improved delivery success rates with shorter turnaround times at the delivery location.
If you would like to learn more about What3Words and SmartRoutes and how it can positively impact your business then talk to us today.