5 Best Waste Management Software in 2023
In the guide, we review 5 of the best waste management software solutions that we've encountered and make the case for each of them in their own right.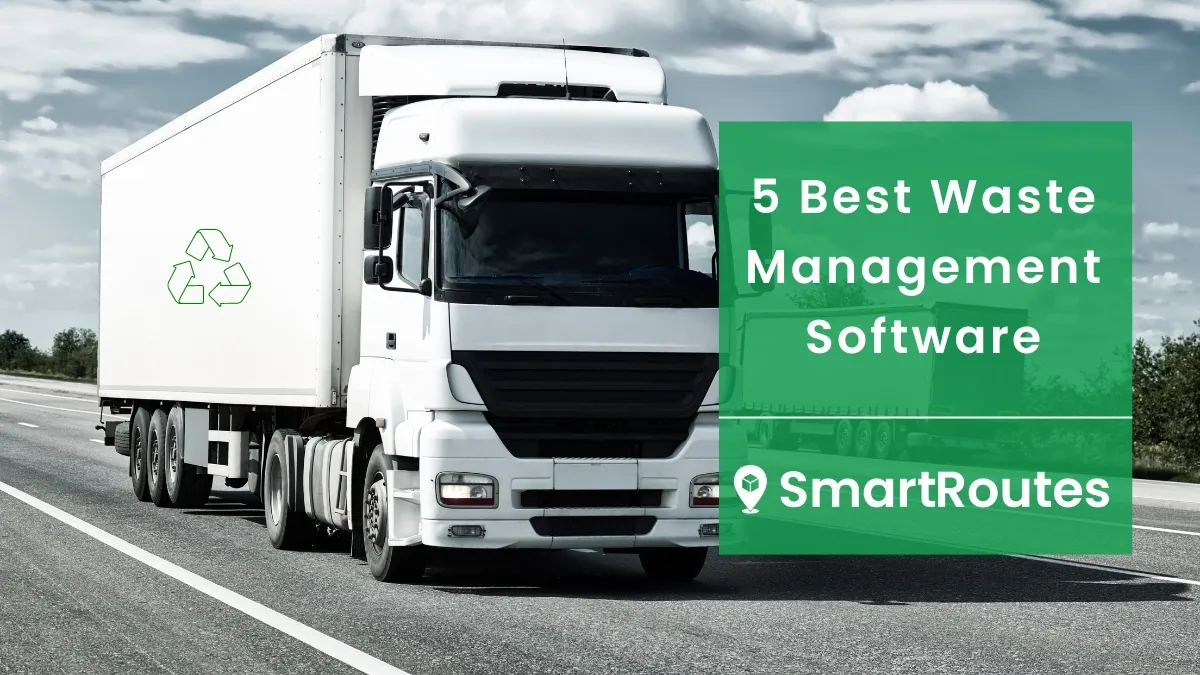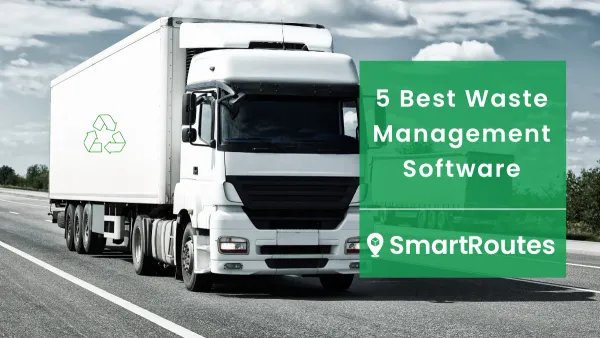 While Waste Collection Software isn't totally our domain at SmartRoutes, we have been helping a lot of businesses in the industry with various elements of route optimization and collection management in recent years. This has put us in the unique position of having helped a lot of waste collection businesses to integrate our routing software with their existing waste management solutions that have been serving their business.
With this unique insight, we've learned about the good and the bad from our customers about their experiences, while also getting a closer look at how they perform their tasks. With that in mind, we've decided to put this guide together to help you decide which solution will work for you and your business. With our unique insight into the space, we think we are well qualified to give an unbiased overview of the waste management software options out there.
In the guide, we'll review 5 of the best options that we've encountered, and make the case for each of them in their own right. Regardless of your company size or the type of waste disposal you are involved in, there is a solution that has the ability to transform the way you operate.
So, without further delay, let's check out some of the best options
Why is Waste Management Software Important?
The waste management industry has been digitally transformed unlike any other in the transport space in recent years. While the transportation space as a whole has seen these changes, the need for digitalization in the waste management space has been fuelled by a great demand from environmental regulators and increasingly environmentally-conscious customers.
While old waste disposal processes were a simple collect and deliver operation between residential and business premises and landfills, the modern collection process requires separation of waste types, on-the-go recording of collection and increased demands around communication from customers around pick-up times.
To add to the increased demands about the collection itself, there is an increased focus from regulators around compliance that demands that businesses receive confirmation of responsible disposal of their waste and that you as a service provider can account for the ethical and responsible recycling of the waste you collect. While these demands have seen a lot of waste businesses struggle to stay afloat with the extra resources that the demands require, those that have successfully identified where software can improve the workflows and automate repetitive tasks have flourished. In a sense, it is those who have embraced technology and digitized the waste collection process that have reaped the rewards of increased regulatory and customer demands.
While you'll have heard a lot of talk about automation, there is no better use case for it than the modern waste collection model. Having routes planned and optimized for collection saves a planner, driver and laborers time, while having collection reports automatically sent to a local government will be another time-saver. Add in the reduction in human error in the data-entry process and you are going to see big transformations in the efficiency of your waste disposal operations.
SmartRoutes Route Planning Software
Streamline your entire delivery process, all from one platform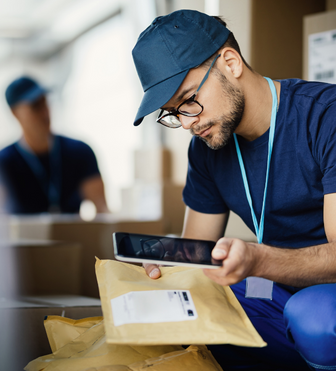 With all this considered, we've listed 5 of the best solutions that we have encountered on our journeys with businesses in the sector, and given a bit of background on what they offer. We hope this helps you to decide which solution to consider in your journey to digitizing your waste management processes.
5 of the Best Waste Management Software
1. AMCS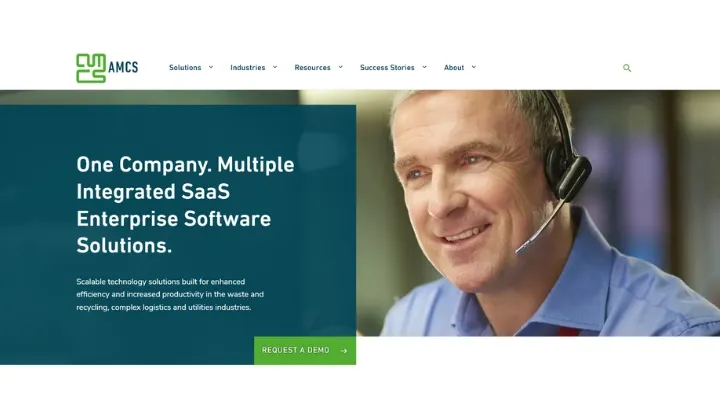 The name AMCS has long been associated with the waste technology space. With 30 years in the waste management software industry, it is fair to say that they were ahead of their time in their understanding of how we would manage waste in the 21st century.
What you get with AMCS software is a well-established, trusted set of products and features that have been developed to the very highest industry standards. The range of solutions they offer waste operators is also amongst the most extensive of any other player in the space.
Amongst the solutions they provide include:
ERP Systems
Transport Management Systems
Route Optimization
Fleet Management
Payment and Customer Engagement Modules
2. WAM Software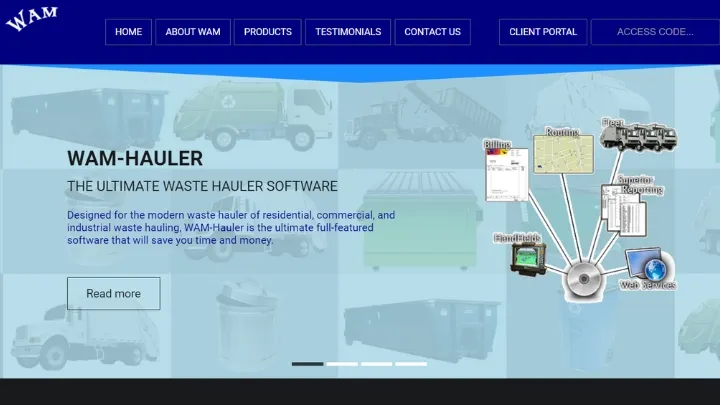 WAM Software is another that makes our list that deals with the logistics side of waste management. At its core, it is designed for waste collection, recycling and disposal processes.
In addition to the logistics functionality, it also helps to unify the accounting side of waste management within the same system. If you have ever been involved with the running of a WM business, you'll appreciate how useful this will be in making your accounting and admin staff as efficient as possible.
No chasing up the driver to know if a collection was made or not. It's right there on the dashboard in front of them.
When looking at solutions for their businesses, we're always keen to stress the importance of choosing software that was designed for the industry at hand, by industry experts. Looking through the functionality on the WAM website, it's clear that they meet these two criteria.
Amongst the features it includes are:
Route optimization
Customer management
Reporting and analytic
Regulatory compliance
Integration capabilities
As with any comprehensive software, it should be noted that there will be a requirement to train all staff on the software during the implementation stage, so account for a 'learning period' while you realize the solution's full potential.
3. Waste & Recycling One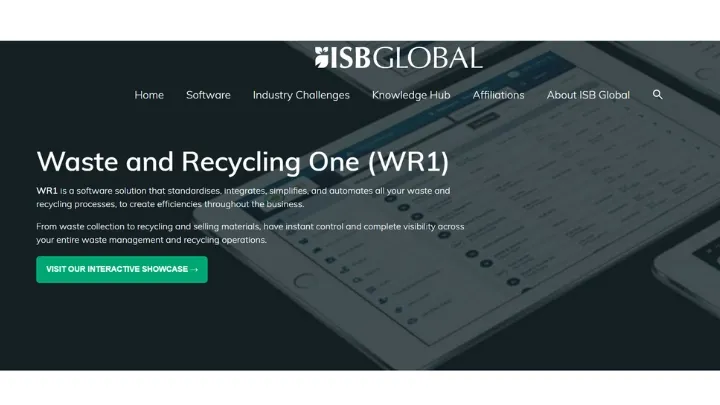 While the first WMS solutions in this page solve for the logistical side of the waste management process first, Waste & Recycling One takes a more business-centric approach to the design of their product.
While it still has route optimization for waste collection and accounting functionality, its main focus is on compliance and holistic operational efficiency.
For private operators, one of the two previous solutions in this list might solve your problems, but if you're a city or municipality official looking to fast-track your regulatory compliance and keep an eagle eye on it, this one may be the solution for you.
For example, it goes above and beyond in its consideration for all the stakeholders involved in the waste disposal process, including the end-customer. For local governments who might be responsible for the collection of waste from thousands of households and premises, they're customer portal is sure to reduce paper trails and make the customer communication process far more efficient.
For your district, that's going to be a big win as it will allow your staff to focus on improving services elsewhere in a more proactive manner.
Amongst the features it includes are:
Waste tracking
Customer portal
Reporting tools
Billing and invoicing
GPS tracking
4. RecycleERP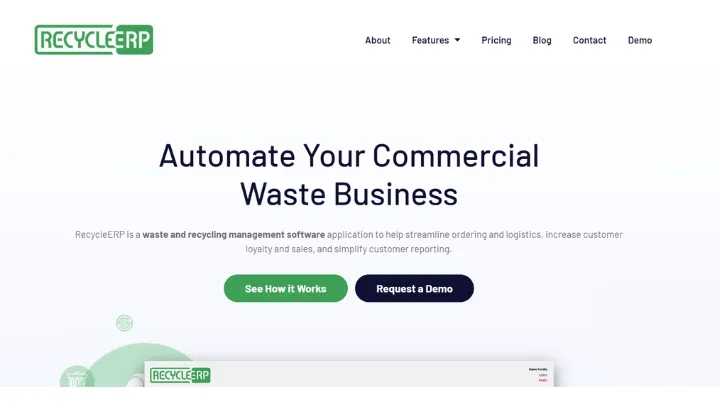 As the name suggests, RecycleERP bases its waste solution around the core functionality of an Enterprise Resource Planning tool like SAP or Microsoft Dynamics 365.
Billing itself as a recycling management software application, this one offers better oversight, control, and transparency of your recycling business and allows you to make informed decisions about the processes you employ. It promises tools to manage the entire recycling process, from collection to processing and reporting.
At SmartRoutes, we like software that takes an end-to-end approach to dealing with operational workflows as they are usually developed with the customer in mind first. By taking this approach, the real challenges of businesses are usually identified and solved first.
The result?
A solution that you can usually see measurable impact from within a short space of time after its implementation (both from an operational and financial perspective).
If the first three solutions on this list were focused on logistics, compliance, and operations, it would be fair to say that RecycleERP takes a more business-centric approach. The managers and Execs are probably going to like this one!
Amongst the features it includes are:
Material tracking
Inventory management
Compliance tracking
Financial management
CRM capabilities
5. Waste Logics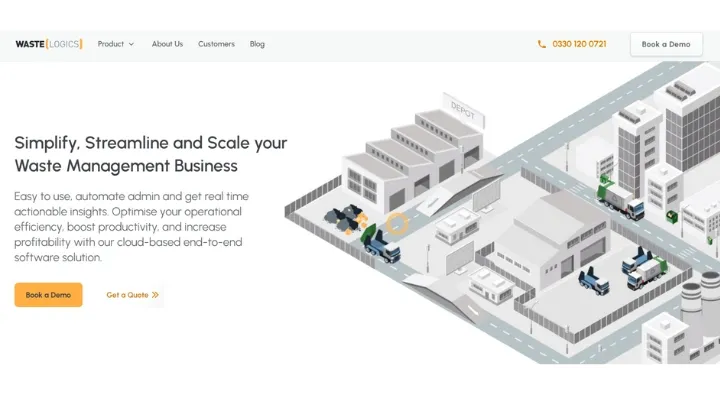 Another that makes our list billing itself as an end-to-end Waste Management Software.
At the core of Waste Logics offering is automation. With a focus on automating as much of the waste collection and disposal process as possible, they aim to make your business as efficient as possible and eliminate wasted spend on various areas of your business.
Of the solutions on this list, this is perhaps one of the most comprehensive in terms of functionality, but it does have the downside of having one of the most dated user interfaces too. In our opinion, if you're expecting staff to use a solution for the best part of their working day, we think they deserve something that's going to be enjoyable to use.
For businesses based in Europe and the UK, it might be reassuring to know that they are UK-based, so implementations and customer support may be more suited to the working hours in your region.
Amongst the features it includes are:
Waste transport management
Compliance monitoring
Customer relationship management
Financial tracking
Real-time reporting
Looking for Waste Management Software?
The days of telling a customer that their garbage is to be collected at the same time every week and hoping that there's no hiccups along the way are gone. Customers expect a much more personalized service that caters to their specific needs. Likewise, as we have all become more and more environmentally conscious, our expectations around traceability and accountability have brought further customer-related challenges in the space.
Add to that the increased regulatory pressures of national and regional governments and a once simple business is now one that requires far more oversight and administrative work to survive. There is now little choice but to embrace digitalization in waste management in order to equip your business for the 21st century.
As you try to help businesses navigate compliance challenges, improve efficiency, and enhance customer satisfaction, and more sustainable waste management practices, a robust waste management software is going to be central to your efforts.
While our list is not entirely comprehensive and does not account for the hundreds of solutions on the market, it does offer a variety of trusted solutions with varying core focusses and should serve as a good starting point in your journey to finding the right solution for you.
If you're looking for routing solutions that integrate with waste management software then why not try SmartRoutes? We offer a 7 day free trial and we also use open API which allows any business to plug the power of SmartRoutes into whatever system they are using.

Frequently asked questions
1. What is waste management software?
Waste management software is a specialized technology solution designed to streamline and optimize various aspects of waste collection, recycling, and disposal processes for businesses and organizations. It encompasses a range of tools and features that help manage tasks like route planning, customer management, billing, compliance monitoring, and reporting related to waste management operations.
2. What are the key benefits of using waste management software for businesses?
The key benefits of using waste management software for businesses include improved efficiency, cost savings, regulatory compliance, enhanced customer service and data-driven decision-making. Waste management software automates tasks such as route optimization, reducing manual effort and time required for planning and execution. This optimization results in reduced fuel consumption, labor costs, and maintenance expenses.
3. How can waste management software help with regulatory compliance?
Waste management software assists with regulatory compliance through various mechanisms. It automates record-keeping, maintaining accurate records of waste collection and disposal, ensuring that businesses can easily demonstrate compliance when required. The software also monitors key metrics and generates reports that help in evaluating compliance with waste management regulations. Additionally, it provides alerts for regulatory deadlines and changes in disposal regulations, ensuring timely compliance. Furthermore, it aids in the creation and storage of necessary documents, such as certificates of responsible waste disposal, making it easier to prove compliance to regulatory authorities.
4. What should businesses consider when choosing waste management software?
When selecting waste management software, businesses should take several factors into consideration. Firstly, they should ensure that the software is tailored to the specific needs of their waste management industry, whether it involves residential, commercial, or industrial waste. Scalability is another important aspect to consider, as the software should be able to grow with the business and adapt to changing needs over time. User-friendliness is key to facilitate staff training and adoption, so choosing software with an intuitive interface is beneficial. Integration capabilities should also be evaluated to ensure seamless compatibility with existing systems and hardware.
If you enjoyed this blog, you might also be interested in: